I asked Boo what her teacher usually does for kids' birthdays in her class…thinking I should do something.
Boo's reply: Oh nothing.  She  just sings Happy Birthday.
Well that's easy.
Then yesterday her teacher said: I asked Boo what her mother usually does for the class for her birthday and she said you usually don't do anything.
I told her teacher we had both been thrown under the bus.  But maybe Boo didn't want us to do anything for her?
We finally talked Boo into doing ice cream cups for the class…..because she should take advantage of the fact the she gets to choose the treat this time!
Why? Because Boo does not like any of the following:
chocolate cake
brownies
chocolate ice cream
…..anything chocolate.
She also doesn't like:
sprinkles
soda
most candy.
Strange I know.  That means she usually doesn't eat anything that the other kids bring to school to celebrate.
So today is Boo's 6th birthday. I had scraps left over from wrapping her presents last night so I used them to wrap up her lunch box items this morning.  I made a ton of confetti (which I'm sure the teacher will love) using a butterfly shaped hole punch.  I also included a party straw and wrapped her bottled water with a decorative label….her own personal party pack as she eats at her desk today:
Party in a Box: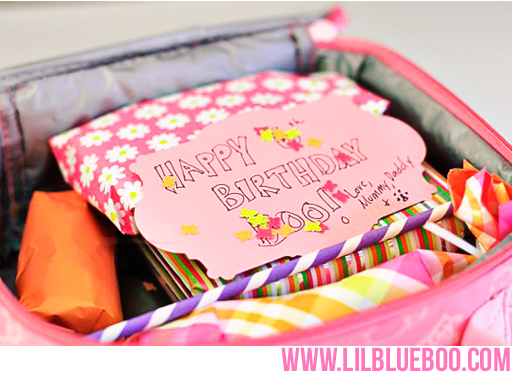 I didn't wrap them that well……very loose and easy to rip apart. I didn't want her struggling to open it all if she was hungry!
Oh, and vanilla ice cream cups are being delivered for a special treat at lunchtime.
We are having a little party for her this weekend. Can't wait to start sharing all the things I made for it……
Last year was the Krispy Kreme Donut Party.…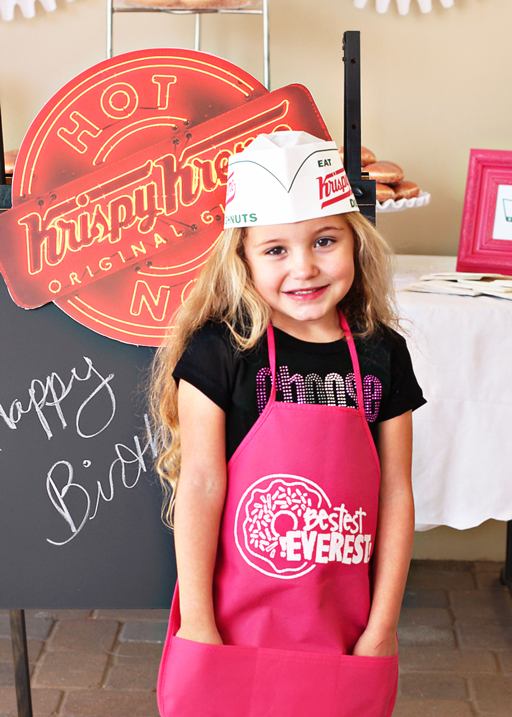 ……any guesses as to this year's theme?