Disclaimer: This post may cause cravings and/or obsessive doughnut thoughts.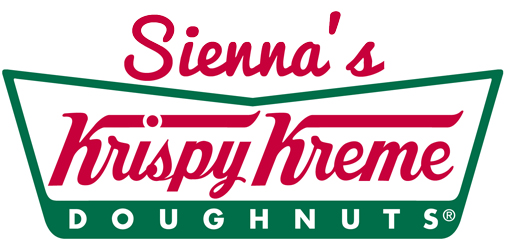 Today was Boo's big doughnut party! I put it together in about a week….only with the help of my friends and family and Krispy Kreme. We had about 4o kids and adults and the day was all about Boo!  She's been such a trooper the last 6 months with my surgery and chemotherapy…..I wanted to do something big for her.
I grew up on Krispy Kreme donuts so when Boo said she wanted a donut party for her birthday I immediately envisioned the red and green theme!
If you've never had a Krispy Kreme donut…..you. are. missing. out. They melt in your mouth!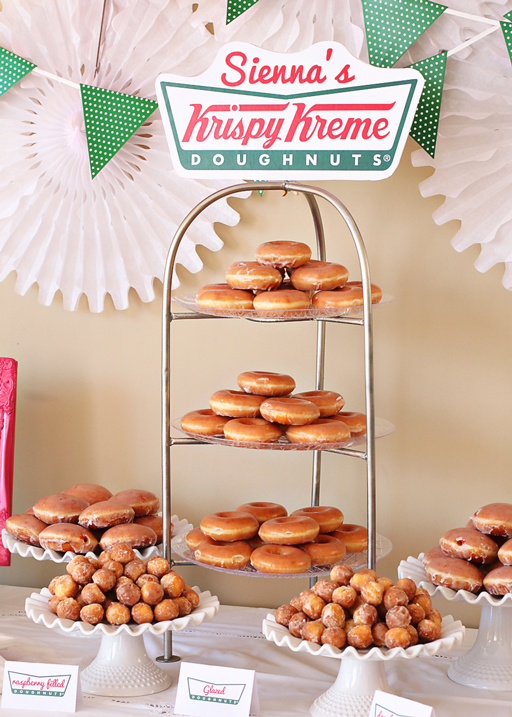 Here's Boo in her "donut shop"……with her donut hat and a hand silk screened apron. I bought the apron at Michael's and added the "Bestest Everest" artwork specially designed by Stephanie Corfee: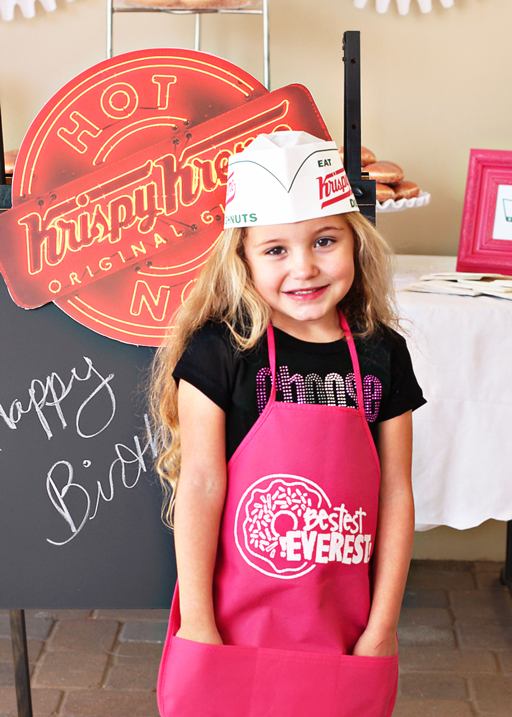 I even enlarged the neon "HOT NOW" Krispy Kreme sign to make it authentic. I printed it at Staples and used spray adhesive to attach it to foam board: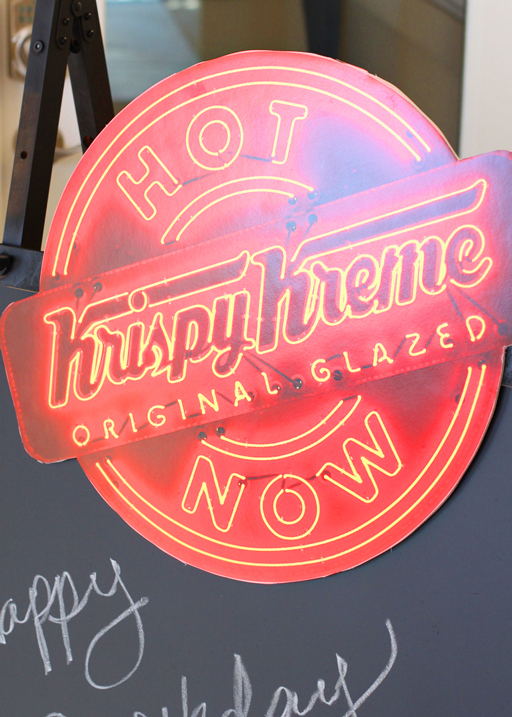 Lisa helped me with all the little Krispy Kreme themed tent cards for all the food: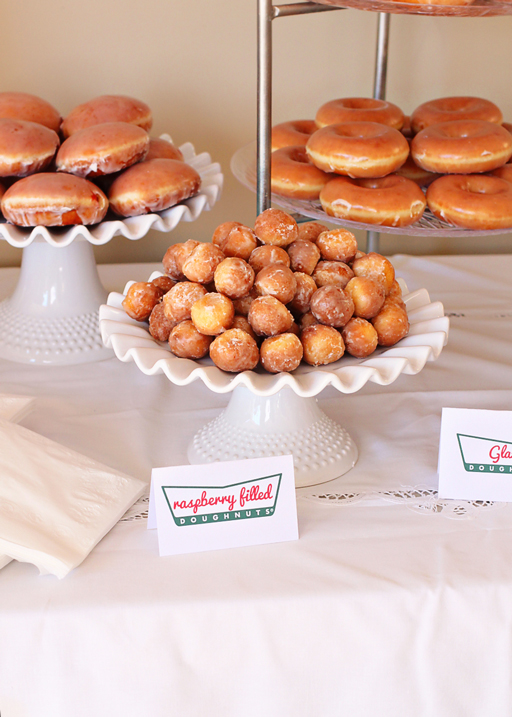 The doughnut table….complete with little vintage-themed mini milk bottles! I found them at Sav-on-Crafts for about $15 for a dozen!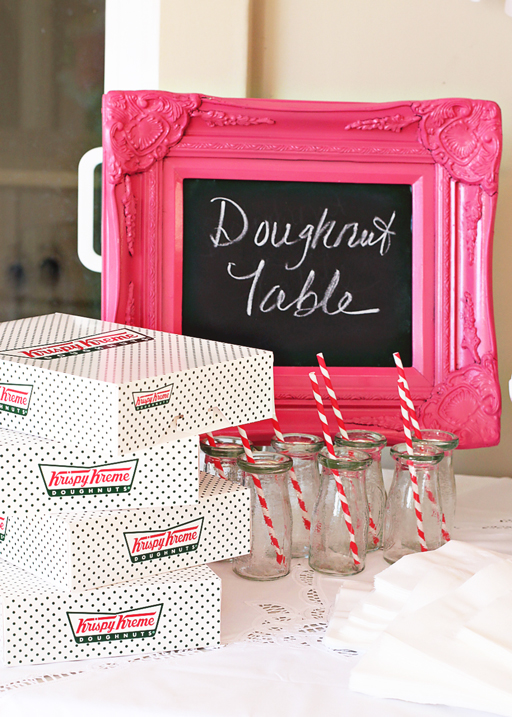 "To-Go" bags for the guests to take a doughnut home!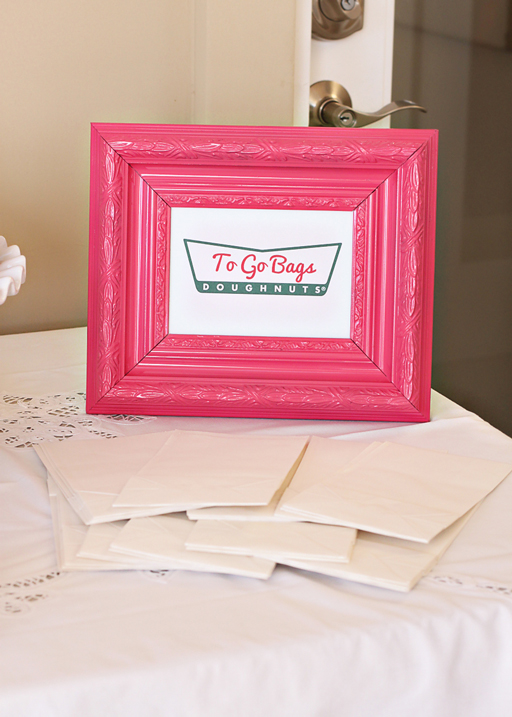 The coffee station: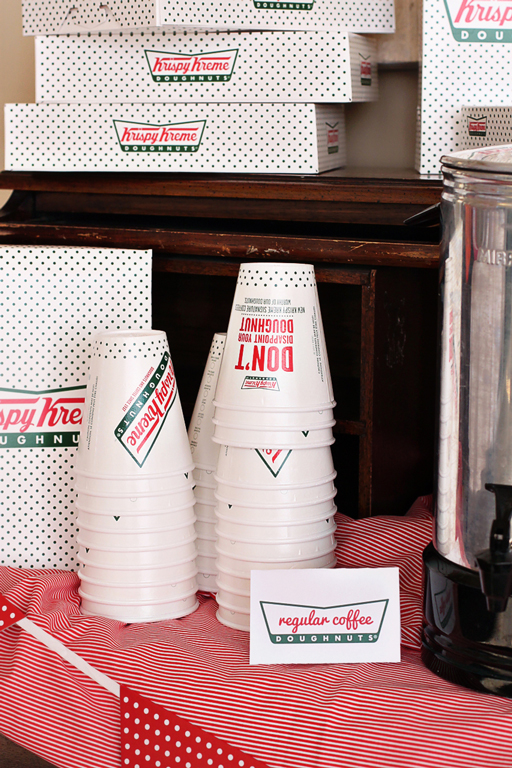 Krispy Kreme hats for everyone!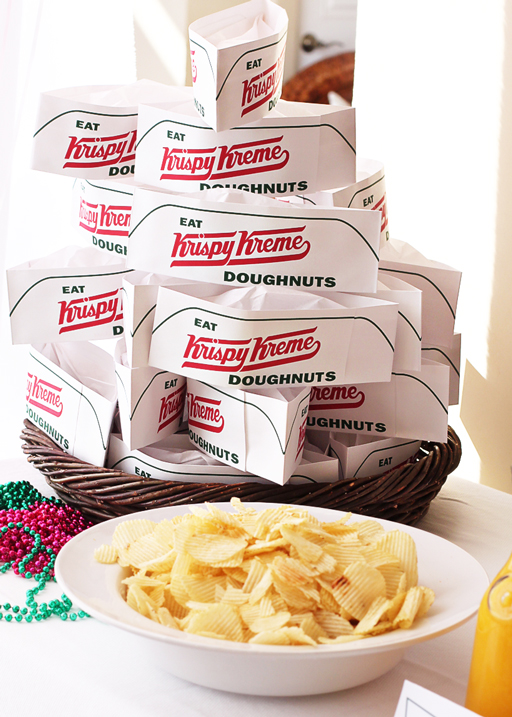 The food table: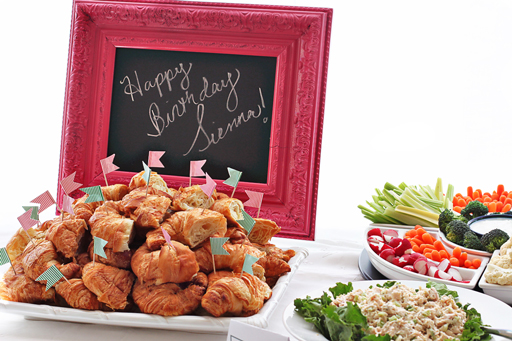 Boo and Mr. LBB….I had white aprons for about 6 adults so that we would have some donut servers: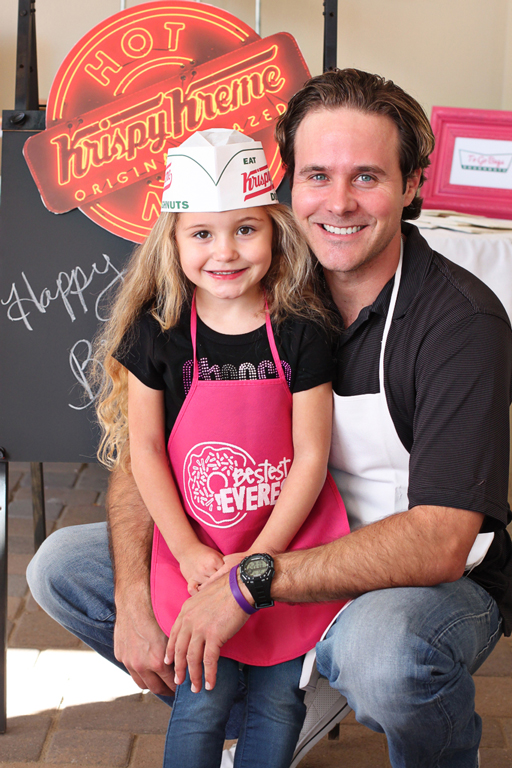 No cake….just donuts!
A few of Boo's friends….all wearing LBB!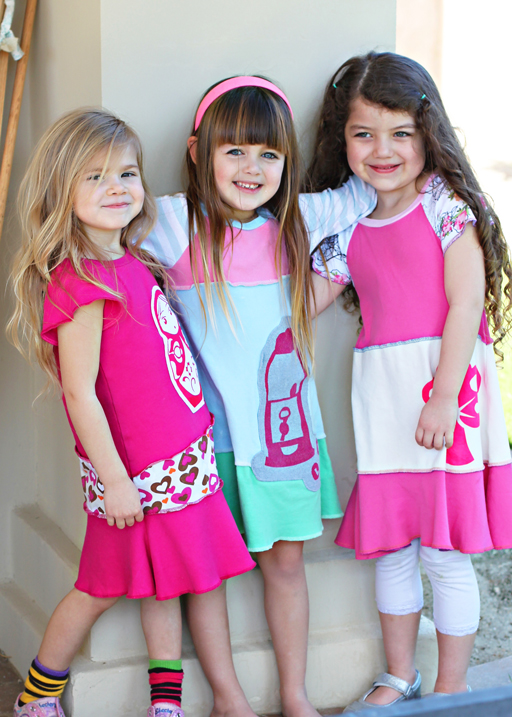 For some of the entertainment I spray-painted doughnuts and games onto our yard: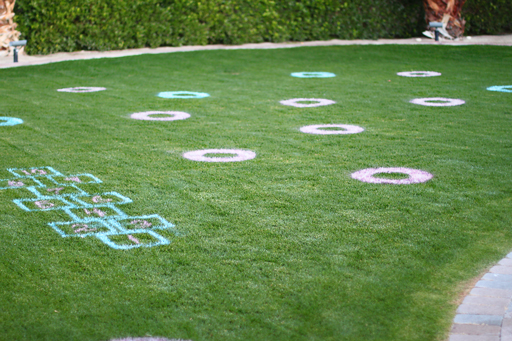 Hopscotch: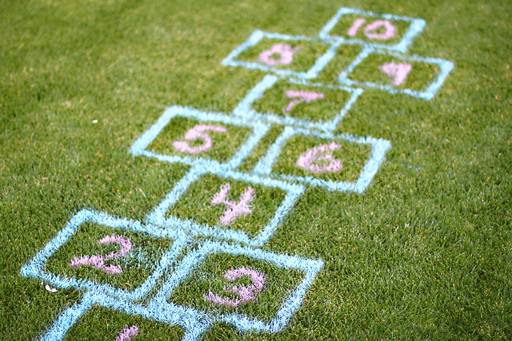 My little niece Sawyer playing in the doughnuts: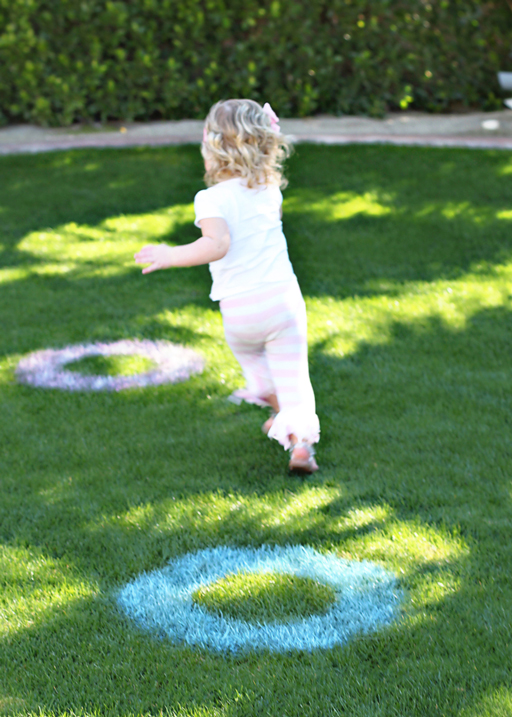 I was SO excited for everyone to get their favors!  Gicela helped me silk screen doughnut t-shirts for all the kids and Lisa made the cute little tags: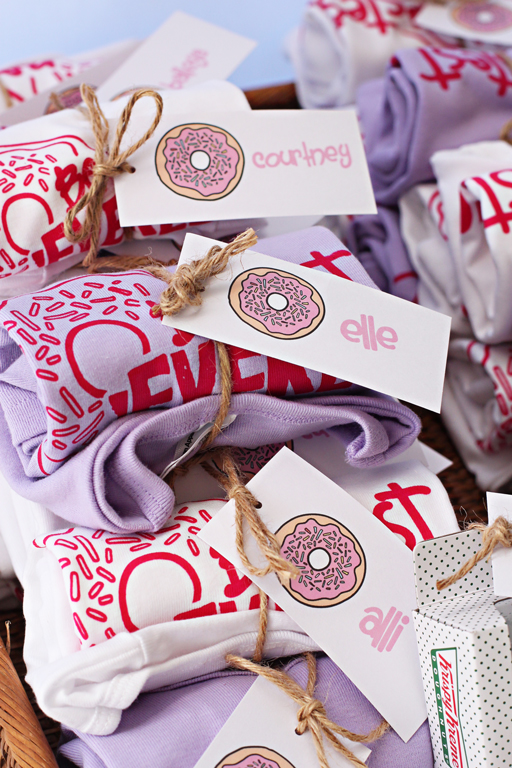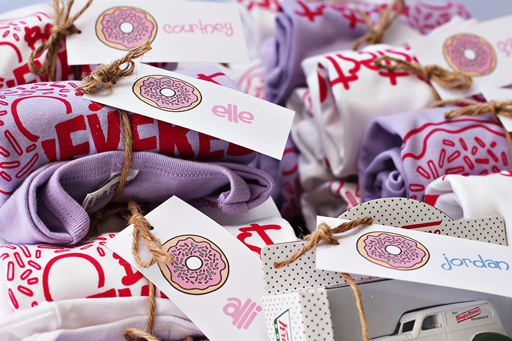 Little favor bags with stickers and pencils…..easily made with plastic bags and stapling printed paper over the opening: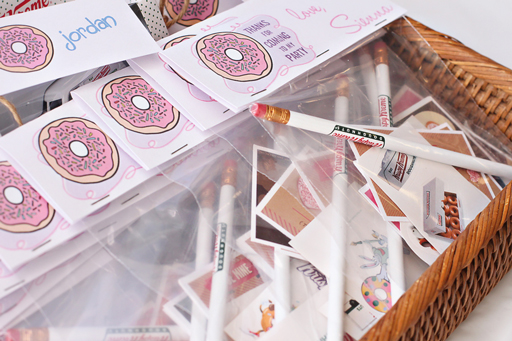 Boo's Choose Joy tee was made by Cristy of Paperlili! Isn't it adorable?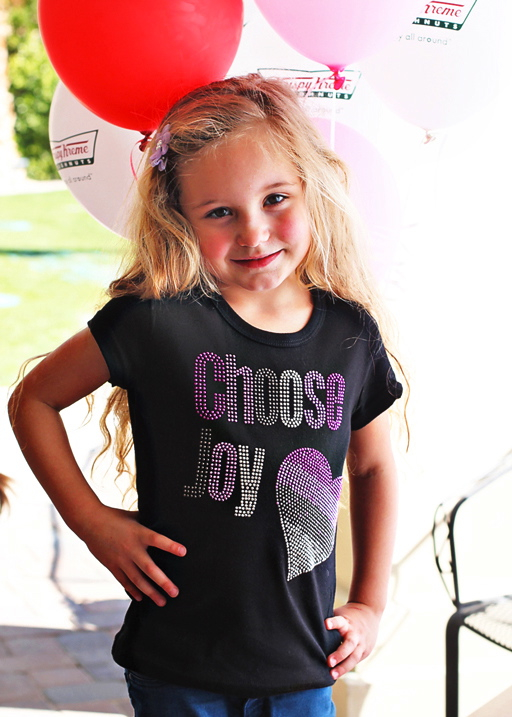 I love this photo of my in-laws and Boo's cousins. Boo's mouth is full of doughnut! My father-in-law was in doughnut shop character: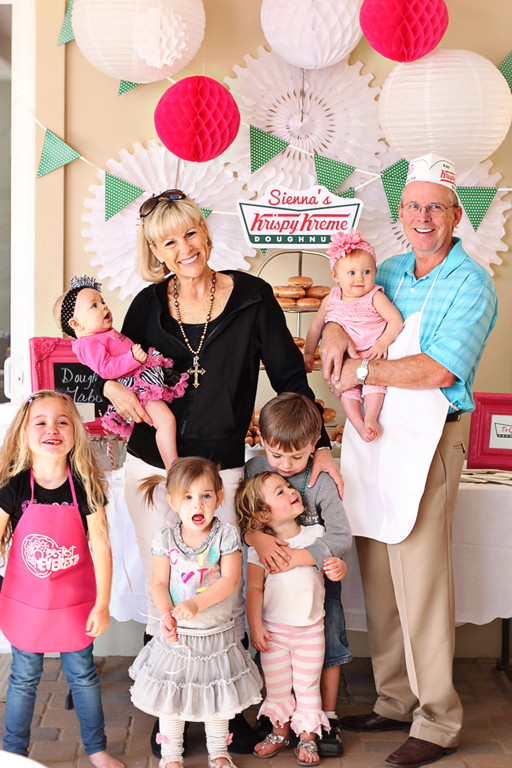 Look at all the Choose Joy bracelets at the party!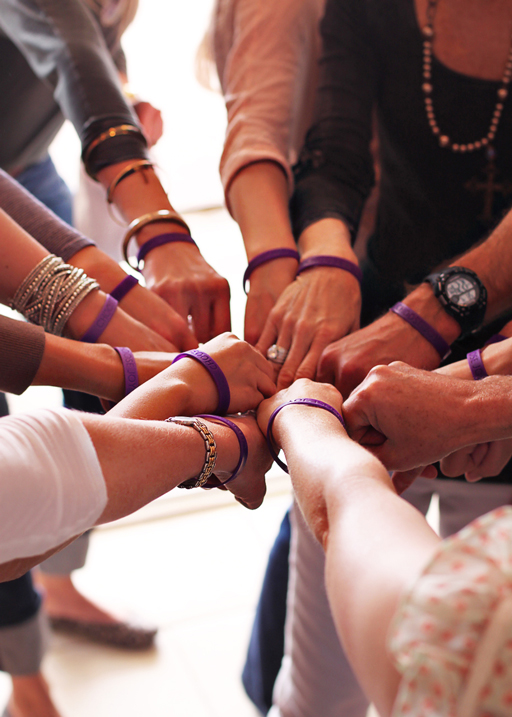 A few behind the scenes notes for planning your own party:
The awesome tower of doughnuts? I found it at the thrift store and repainted it! The platters were found at the 99 cent store and fit it perfectly!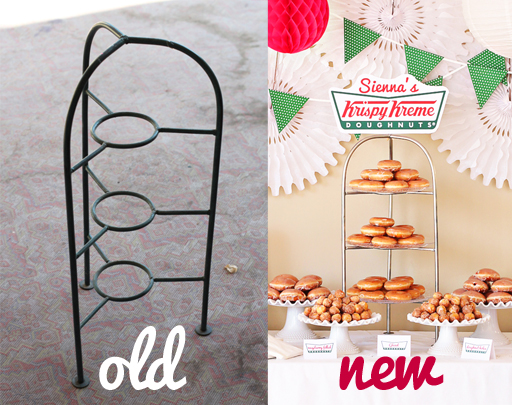 I spray painted various frames and added chalkboards to them for table decor…..easy and inexpensive!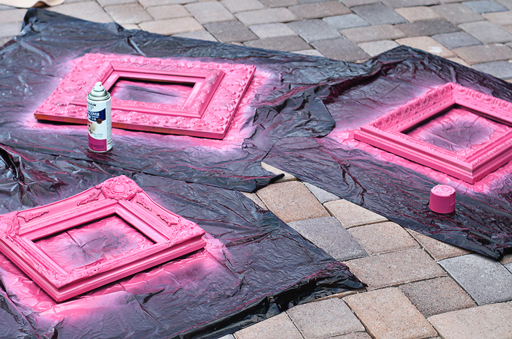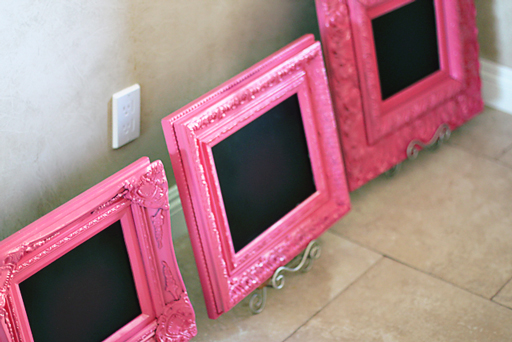 I made large stencils to spray paint the doughnuts and games on the grass. Hours of entertainment was added for the cost of 2 cans of paint!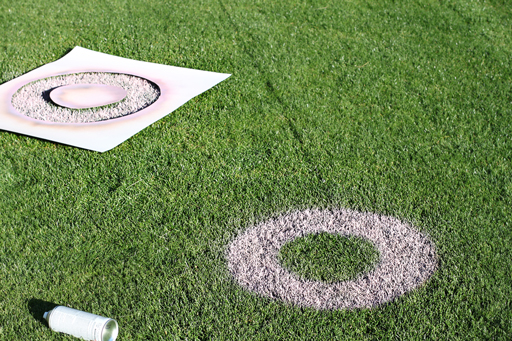 A special thanks to Lisa, Gicela, Gale, and Jenn for helping me put all this together in such a short time!  A VERY special thanks to our family friend Jim Morgan of Krispy Kreme for all the little details that made the party possible!!! Every little detail was just perfect….including the fresh Krispy Kreme doughnuts that we had brought in from Ontario more than an hour away. Thank you Jenn and John for picking them up for us!!!
It was a great day of hanging out with friends and family that we haven't been able to spend time with in quite a while!
This is the best party I've ever had.
-Boo