I once bought a book download….but I only got through a few pages of it. I didn't like having it on a screen. I couldn't feel the paper. I didn't get a chance to break the spine. It didn't have that "book" smell. I couldn't fold down the corners….flip back and forth easily….or highlight and underline.
*****

As much as much my job requires a tremendous amount of technology and social media…..I feel like I'm starting to regress. For example…I've been keeping my eye out for a rotary wall phone with a super long cord….one that will wrap around the kitchen island as I'm making dinner….one I can wrap myself up in. Napoleon Dynamite had one….so I need one.
Me: Hey, at least I'd be able to find the phone for once.
Mr. LBB: We have three wireless phones….how do you manage to lose all of them?
You know why I lose all of them? Because they aren't attached to the wall. And do you know why they aren't attached to the wall?  Because life keeps speeding up….every day…..faster and faster so if it was attached to the wall I wouldn't be able to keep up, right?
As much as I love innovation…..sometimes I wish we didn't have so much innovation. I wish we didn't have cordless phones, Ziploc bags and Netflix. I wish we didn't have 400 kinds of cereal to choose from. I wish there weren't so many crappy toys from China. I wish video games had never progressed past Pong.
….and sometimes I wish we didn't have smartphones or iPads or tablets……
I look at all the stuff we buy and own and wonder if any of it will be handed down to another generation…..will any of it be around in 100 years.  Probably not.
I do try and make a conscious effort not to be too dependent on technology……
I still use my paper calendar. I still keep all my addresses and contacts in a paper notebook.
I still write a lot…yes actually write…..with a pen and paper.
I stock up on classic games like Life and Monopoly (and not the crazy themed versions).
I take Boo into antique shops whenever we get the chance….I show her those vintage hand mixers, record players and 8 track tapes.  Even a VHS tape is an enigma to her.  I imagine the future sometimes like the movie Book of Eli and I think how prepared Boo will be with all the old contraptions she'd stumble across. (Don't worry I haven't made her start memorizing the Good Book yet).
And then I think about the fact that she's never heard a busy signal or the ring of a rotary phone or a film projector or a typewriter.
****
Except now she DOES know the sound of a typewriter.  Our friend Bonnie gave us this one when Mr. LBB mentioned I was on a search:
Boo: This is the best invention since the computer.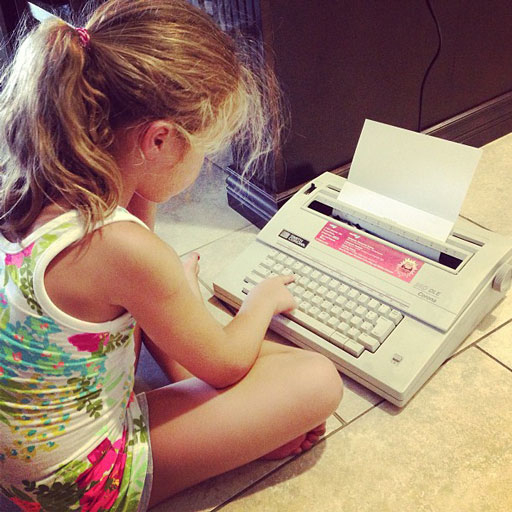 Heck yeah….no swiping needed to activate.  And you get to choose from a variety of ONE font.
But this one still has to plug in….so I'm on the hunt for an older one.
Okay so it's going to take a little practice as she learns to type……I showed Boo the ropes by making a quick little list.  I realized I am WAY too dependent on spell check.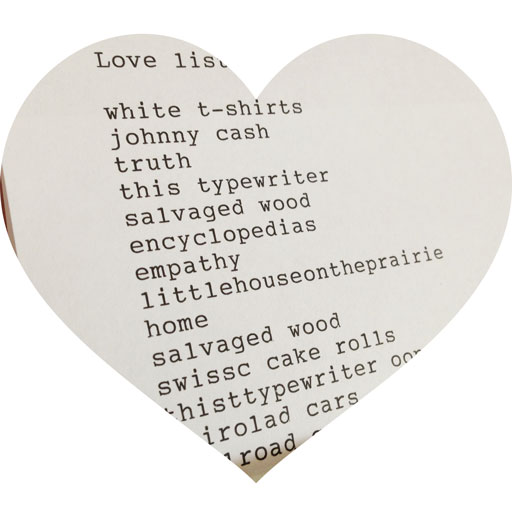 On my wish list….a pretty red typewriter like this one:
Love this USB Typewriter Video. I love the Typewriter Warehouse part mostly. I asked Mr. LBB how that old man could possible make a living selling typewriters. How many could he possible sell?
"The danger in always wanting the latest and greatest gadget, is that you can forget about technologies that are older and even obsolete that still might have value today. The typewriter is on the verge of going extinct. Almost no one makes typewriters anymore."
I'd been thinking about getting a typewriter for a while now….I thought about it every time I saw my grandmother's charm bracelet hanging next to my bathroom mirror.  (Oh, before I forget….remember how you'd push down all the typewriter keys at once and they'd get stuck. And you'd have to peel the stack apart one by one? That was awesome.) Anway, all of her charms signified an important part of her life in the 1940's….and just looking at it you can see how times have changed. I let Boo guess what 3 and 4 were…..her answers: a pizza cutter paintbrush and a see-saw for ants.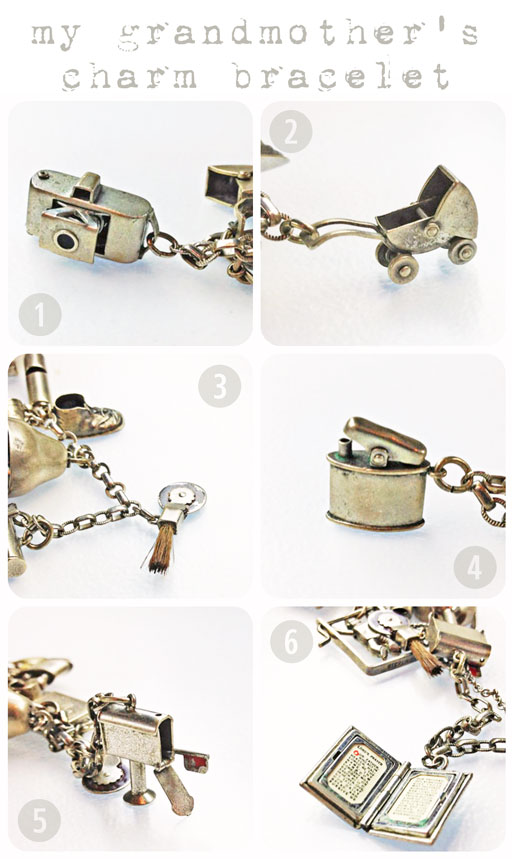 1. Vintage Folding Film Camera
2. Baby Pram
3. Circular Typewriter Eraser & Brush
4. Cigarette Lighter
5. Mailbox
6. Bible with the Lord's Prayer
The royal road to the future for a young woman starts at the secretary's desk. From it, as a base of operations, she can campaign for an eligible male in her vicinity or for advancement in her position. First, however, she has to be a successful secretary to stay at the desk long enough to accomplish either of both of these goals.

"A Secretary Is Set to Wed or Get Ahead"
New York Times, April 23, 1956

Ok so even though I'm nostalgic…. I AM  glad there are a few more job choices available now for women….
My grandmother failed typing class….I'm pretty sure typing skills are genetic.
You know what I really miss? The surprise that comes with developing 24 exposures on a roll of film.  Remember when you took one photo at a time….and you really didn't remember what you captured until you opened up that envelope from the film lab?  Remember when it took a little over a week to get your photos back? Cray. Z.
I watched that Sally Mann documentary What Remains again recently….she lugs that huge antique 8×10 bellows camera out with her…. and those glass negatives.  And I'm in awe all over again. Imagine the effort just for one photo. Her success was before the Internet.…I remember learning about her in photography class by slideshow (like real slides….in  a carousel).  I thought her photography was freakin' amazing. It never registered as something even close to pornography….and the Internet has pretty much ruined that….because, well…..that's what people associate child nudity with now. If you send a photo of your child topless to one hour photo you'll probably be arrested and on the front page of Daily Mail.
"It never occurred to me to leave home to make art."
*****

A close friend of mine and her family are traveling the world this summer…..amazing destinations like Thailand, Bali, Dubai, Japan, etc. Her husband happens to be a professional photographer…who recently retired. I asked him if he was going to take a camera along to document these amazing places.  He said no…..and pointed to his head: it's all in here. I thought that was pretty incredible……to just absorb every little thing….to allow yourself to be fully present on a trip around the world. I could use some of that.
When my dad died we found thousands of photos on his computer from trips he'd taken……95% of it was scenery. We kept only the ones that had someone we knew in the frame.  At Disneyland recently we shared a boat with 2 guys who recorded the entire It's a Small World Ride…..and then they complained that they didn't have any more memory left for the rest of their day. I kind of wanted to ask them if they'd actually been able to see the ride focused in on that tiny little screen the whole time.  I think about that a lot now when I'm taking a photo or video: have I had a chance to observe….see where I am?
*****
Oh what I'd give for film again….and more accessible Polaroid….among other things. Sometimes I think maybe I was born in the wrong time period. My sister says the same thing.  I think it would just be great to be unreachable for a while without having to explain that I left my cell phone somewhere or that the battery ran out. Or to be able to leave the phone off the hook so there was a busy signal……
And I worry about Boo and technology….that she'll be a little technology drone.  You know why? Because sometimes I'm a technology drone myself. Sometimes I'll be reading my phone and I don't hear her ask me for something THREE times. And she usually calls me out on it: Well, you didn't hear me because you were looking at your phone. You could put the phone down you know. I gave her my old phone for a few days and now I've taken it away until further notice. Why? Because I noticed an immediate change in her personality: i.e. she was void of it. It's made me be more aware of myself now with my phone since observing her.

I wish things would slow down. Or maybe I just have to slow down…..and let the world keep on it's own trajectory. It's hard not to worry about keeping up. There's so much emphasis on immediate gratification.  (We used to wait over a week for photos?!)
The last few nights we've spent with no TV with our noses buried in books.  Boo worked on some embroidery this evening and was so proud of herself.  I feel like we got our bearings again….something we need to do a little more often.
I'm the first to admit that my phone has been almost physically attached to my body the last few years….but the more I try to leave it aside, the easier it gets.  I set it aside an hour. Then 2 hours…and every once in a while I can go an entire day without looking at it. Of course then I get all the messages:
are you okay?
WHERE ARE YOU?
helllllo?
sending this again in case you didn't get it.
Did my text come through?
hello? hello?
So what do you think? Are we too dependent on technology? Or are all the advances what we need in this day and age…..
P.S. If you text me and I don't text back immediately…..it might be because I'm replying via typewriter…..
P.P.S. Make sure to sign up for my weekly newsletter.…it's where I give my weekly rundown. Your info is safe with me…..never shared with anyone else…..promise. I don't spam. Promise.