Someone asked me yesterday what to say to someone who has experienced loss.  I started to write back but it ended up being too long and so I've moved it here….and then it grew.
A few weeks ago I was with someone who had just lost a family member to a long drawn out illness.  I wasn't sure what to say and ended up at some point asking if they were going to be cremated or buried. I wanted to take it back as soon as I said it thinking:  Is it okay to ask that? Probably not, you never know these days. I guess what I didn't expect is that my question opened up a floodgate of conversation. In the end I was glad I asked it, and mostly I was glad that the family was understanding and gracious of the question in the first place.
I think sometimes when we have the most noble intentions, we end up trying too hard…..or we don't try at all.  We pretend to understand what someone is going through, as if all grief and suffering can be packed into a nice little "same" package.  I used to do one of two things when I heard something bad had happened to someone:
1. Avoid contact.
2. Steal a cheesy line from a sympathy card.
When my dad died I didn't want to hear that my dad was in a better place. I didn't want anyone to pretend everything was just business as usual. I didn't want anyone to come and hold on too tight. I didn't want to pray with anyone.  I didn't want anyone to feel sorry for me.  That's a huge obstacle course for someone to navigate. With all those rules how could anyone possibly know what the right thing to say is? And everyone has their own rules. So what do we say? I think we just say something. Anything. Sometimes all it takes is to just acknowledge that something crappy happened.  I got so much comfort in the most simple of words from strangers and friends:
I'm so sorry about your father. I'm at a loss for words.
I don't know really know what to say. I suck at things like this.
I'll just drive by and beep hello so you know I was there.
Here are some cookies.
I heard what happened.
None of those sentiments were profound. But they were all perfect. Cookies too.
Things I've recently said in response to someone that had something crappy happen:
Mother F. Why?!
Is this a joke? It's not a joke? (insert crying)
Life is ridiculous.
I have muddy buddies in my purse. Want some?
I have a funny book for you.
Ok so none of those were taken from a sympathy card. They aren't even in the same universe of profound.  Sometimes I just want to crawl into a hole after I open my big mouth. I think the important thing is that I tried. I opened a door.  I remember when I first told a stranger that my dad died on a flight back from Korea. Somewhere above Russia. The person replied: Gosh, I'm so sorry. So…um….what happens when someone dies on a plane?"  It was a weird question, but when I stepped back for a minute and faced the reality of it all I could put myself in the stranger's shoes. We talked about it for a long time. Afterwards I was truly grateful for his genuine interest.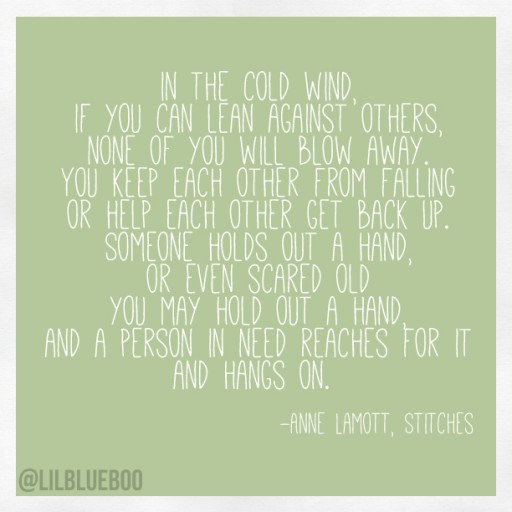 Quote from the book:
Stitches: A handbook on meaning, hope, repair
I think there is healing in genuine interest. A simple curiosity in others.  It doesn't mean you have to ask cremation or burial? It doesn't even mean you have to ask a question.  I get asked all the time: are you going to have more children? I know this hits a nerve with many people who struggle with infertility. Some might think it's nosy and inappropriate, but I see people just trying to connect.  How else will we truly connect with others unless we ask questions? Yes some questions make us uncomfortable, and yes they make us relive painful things, but at least they asked something.
I'll never forget when Boo was 2 years old and we were on an overbooked plane. Everyone was cranky and tense.  She stood up and peered behind us only to spot a man with an eye patch at which point she yelled at the top of her lungs:
LOOK!  A PIRATE!
I was mortified.  The people around me were mortified. After a long uncomfortable silence, the man with the eye patch yelled back:
ARRRGGGGGH!
I mean really?! How awesome was that guy. And gracious. He set the tone for the whole flight…except for a while Boo thought every person she saw with an eye patch was a pirate.
On the other hand, when I was in chemotherapy, one of the patients had a friend visit from overseas. He was missing an arm and I assumed he was in the military and had lost a limb.  When he left the room I asked his friend, "How did he lose his arm?"  And the friend said "He was a Thalidomide baby" but in a "duh-you-should-know-this" tone.  Two women sitting across from me nodded like they understood and glared at me as though I was an idiot. I had no clue what a Thalidomide baby was.  And so I just nodded and crawled back into my own little space, not connecting with anyone.  Later I got out my laptop and looked it up: in the late 1950s and early 1960s, more than 10,000 children in 46 countries were born with deformities as a consequence of thalidomide. I was only curious to know his story, but the reactions to my question scared me into retreat, they left me feeling like I'd obnoxiously yelled "LOOK! A PIRATE!!!" And for a while I found myself trying to avoid eye contact with people missing limbs, feeling ashamed of my curiosity.
When people used to ask me if I was a stay-at-home mom I usually said "Yes….but every once in a while I do go to the bank or grocery store. Sometimes, when I don't want to get in to the whole story, I use humor to deflect.  Are you going to have more children? Maybe….if the value on the black market goes up. And a wink never hurts either so that they know I'm not being a total smart ass. If someone asks an insensitive question, I think it would be worse to send them away feeling bad.  I think that says more about me than them.
My 2-year-old niece Coco was here the other day and as she followed me into my bedroom she said in the most brilliant matter-of-fact way:
I like your bed.
I like your medicine.
I like this lotion.
I like your doggy.
I like this table.
She went on and on and on. She liked everything. I felt like the most important person in the world. 
We don't have to be great orators to show someone we care or that we see them.   All we have to do is reach out just a little, right?  Empathy is not feeling for someone, it's feeling with someone.  And I guess the most important thing is if someone happens to say the wrong thing to you….cut them some slack.  At least they tried.
I like simple:
Hi there.
How are you?
I like your doggy.
I like this table.
Can I help?
What happened?
I'll beep so you know I was there.
Here's a cookie.