My mom has always said:
The more you own, the more owns you.
I am slowly but surely making my world a little smaller day by day.
I've started to part with things I thought I'd hold onto forever.
Simplicity is freedom.
Less is more.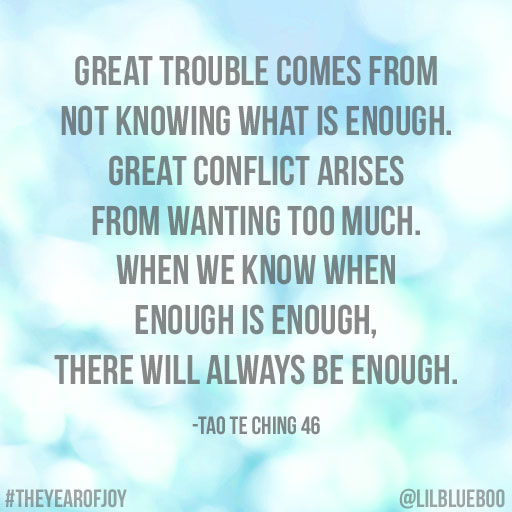 Each thing I own is more weight to carry around. When Mr. LBB and I moved across the country we brought an entire moving van filled to the brim with stuff. And it was just the two of us, plus a 2 pound dog. I can't believe how much junk we brought with us. Over the last 6 months I've been slowly going through each and every cabinet, each and every drawer, every closet and every box. I've reduced us to the bare minimum in things like dishes, furniture, gadgets and clothing.  Multiple trips with donations and giving away things to friends and family. And then we held our yard sale and we sold random collections, excess tools, spare electronics….you name it…it's gone.
Getting rid of things we no longer use helps us find what we have. It also strengthens us emotionally. Releasing old possessions helps us release the past. Old griefs, guilts, grudges, and regrets disappear, enabling us to live more fully in the present.
-from The Tao of Inner Peace
I use a "triage" method for simplifying.  I find an area in the house or garage where I can collect the items to get rid of….separating them from our living space. The area is separated into two sections: the first pile is stuff that definitely has to go, the second pile is full of items I know I should get rid of but I'm still slightly attached too.  Over time I've found that the second pile slowly makes its way into the first pile. I think deep down we want simplicity, but we have so many mixed messages around us saying: more, more, more.
And there are still things that I have trouble getting rid of: books, paintings, personal papers. I steer away from electronic storage because I have to be able to touch things. At least it's slightly organized clutter.
I've stopped buying in excess. Where I used to stock up,  I've started to buy just when I need something now.
Give us this day our daily bread.
That little prayer has helped me tremendously in my quest to simplify.  Everything is on loan from God: money, talent, time. I would think God would want a good return on his investment.  That makes me think of the man who gave away his Cadillac that I wrote about 2 days ago.  It was just a car sitting in his garage that he never drove until he gave it away to the car washer in an act of generosity and kindness. The joy from that one act just keeps on going as the car washer shares that story with awe and humility.
By making my world smaller I have more room to be faithful in the little things. I am finding joy in becoming increasingly unattached to things.  I once told Lisa: please get rid of some of that stuff in the studio, just don't tell me what you got rid of. I mean if I don't notice something's gone it doesn't matter right? That's progress. I'm slowly building up courage to let go of more.  With a smaller world around me there is less anxiety, less fear, less tendency to compare. There is less to lose and more to love.  This is what works for me.
What do you have trouble giving up?
Sometimes when you sacrifice something precious, you're not really losing it. You're just passing it on to someone else.
-Mitch Albom, The Five People You Meet in Heaven
Speaking of simple: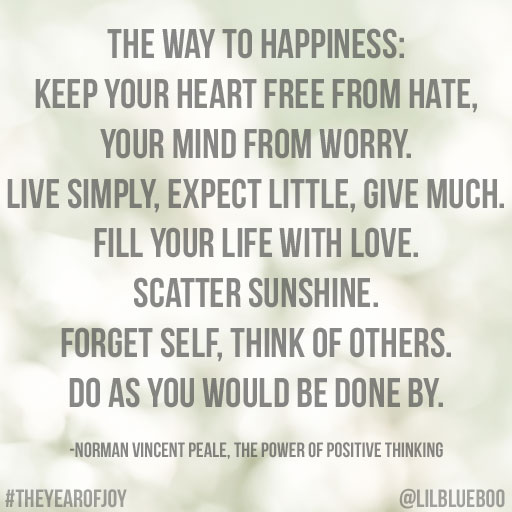 I also write for Babble.  I just finished up a complete guide to planning / organizing 2014 over there using Surface apps and tutorials.  Check it out if you get a chance.



The Year of Joy Recap:
Day 1: The Year of Joy: You are deserving of joy. Many times we confuse joy with happiness. They are two separate things. Happiness comes from circumstances, but joy is an attitude that defies circumstances.
Day 2: A Bigger Target: Focus changes everything. Our goal in life should be to be much, not to have much.
Day 3: Make Room for Joy: Quit Something Every Thursday: So how do we become deep people? Don't let time fillers dilute your life, intrude and thin out your joy.
Day 4: Availability is the Greatest Ability: I so often think I'm available, but really my mind is wandering around in the margins of life.
Day 5: People Gifting Cadillacs: So many lessons to learn in letting go. As well as giving and gifting. Some are so grateful to find a great treasure at any cost.
Day 6: Nothing is More Real than Nothing: These are the times that I just ask for grace and accept that I may have over-committed…just a little.