"Your family is bound closer together by something each can use. Even those in far away places will be nearer because you'll write more often."
-Remington Typewriter Ad c. 1940
I went to a type-in at the Rancho Mirage Library over the weekend.  I love and collect typewriters so I wasn't quite sure what to expect at a type-in…except I knew there would be typewriters there.

Artist L.A. Marler brought her collection of typewriters for visitors to try out.  My favorite was the Corona No. 4.  I think I'm going to track one down. The Corona No.4 is from around 1927.  Why is it call the No. 4? Because it has 4 rows of keys.  Because of it's compact and portable body it was said to be the typewriter that "launched a thousand typists." Hemingway typed on a Corona No. 3. (read that story here) Guess how many rows of keys it had.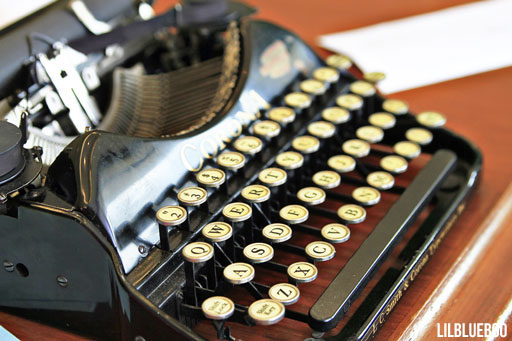 Ohhh…..love this old Underwood.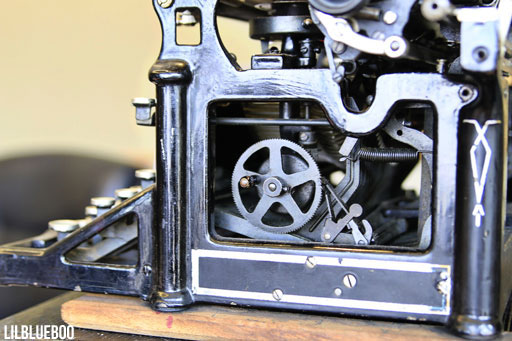 I think this one is a 1940 Royal Aristocrat or a Royal Arrow? Love the "Shift Freedom" button:
Free the Shift!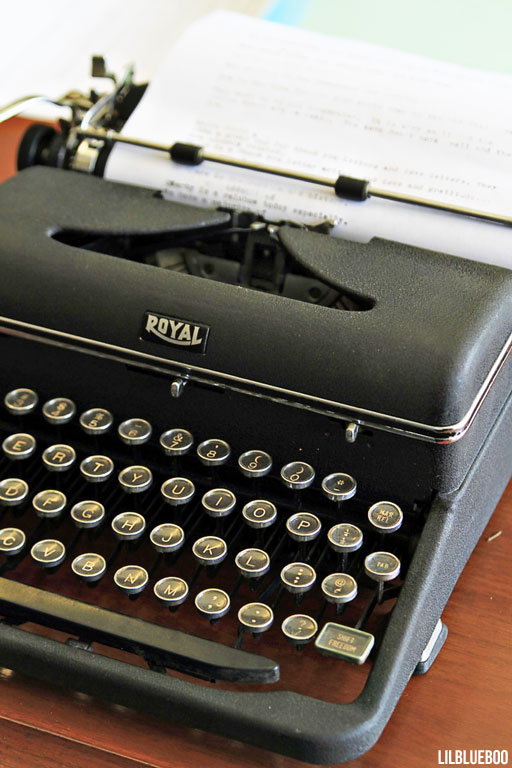 A 1965 Royal Safari: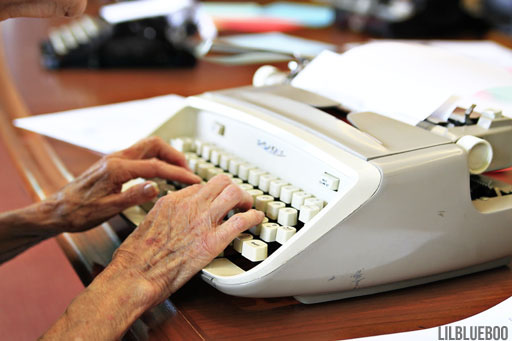 This is Louise (L.A.) Marler typing at one of her machines: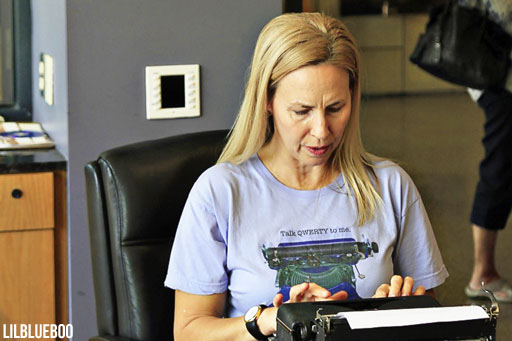 She had stamps available with her artwork on them so that you could mail a letter from the type-in: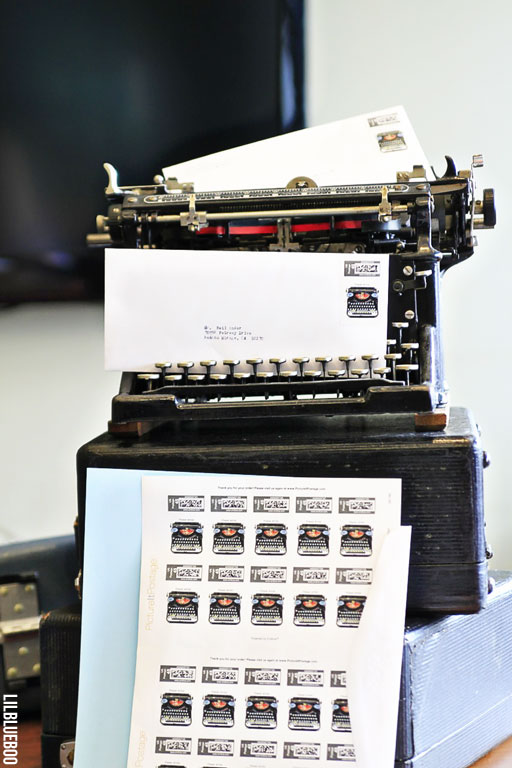 Me typing on my own Hermes Rocket that I brought along. This photo doesn't look posed or anything right?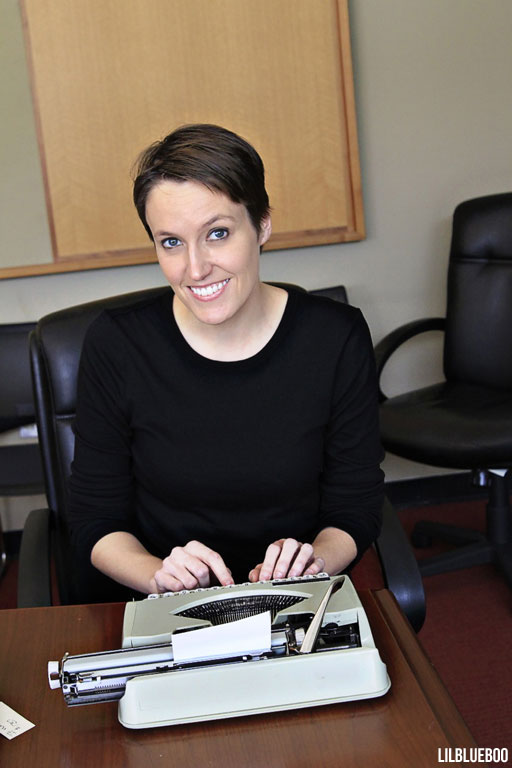 Testing out my typewriter on an envelope: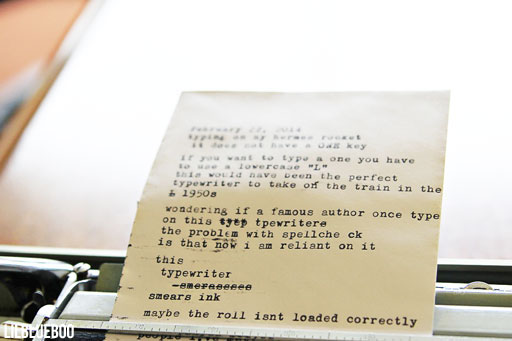 This woman, Dawn, sat down and started typing a gazillion words a minute.  I asked her what she used to do that gave her such amazing typing skills and she said she was a legal secretary, and a court reporter/stenographer too.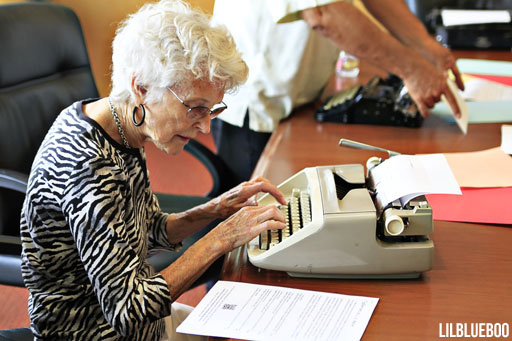 She wrote a beautiful love letter to her husband and read it to all of us. It made everyone teary.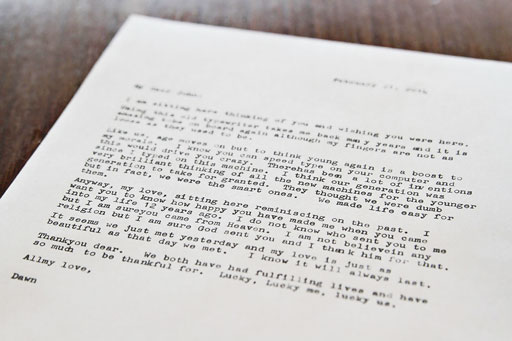 Many people left their "test" papers behind and I thought it was interesting to see their stream of consciousness as they familiarized themselves with the machines. I took photos of some of them….here's one:
"I am in pure joy to be here today."
Well…that needs the hashtag #theyearofjoy!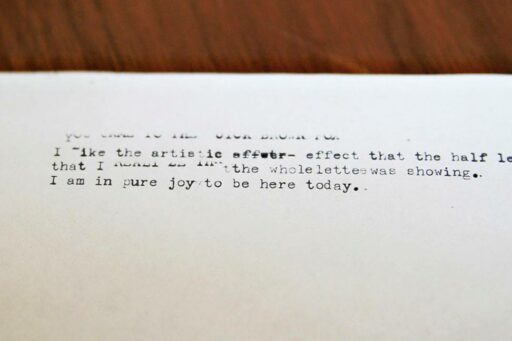 This was a quick visit:
"hello im emma good bye"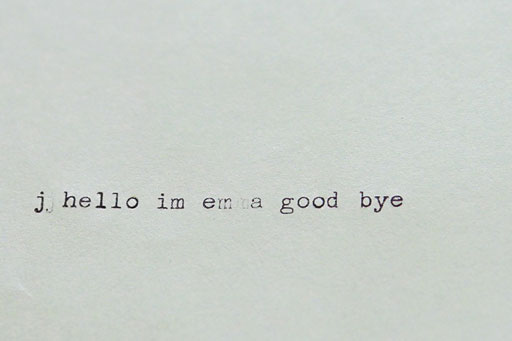 I met some really creative minds and loved hearing people's stories about typewriters.  One a typewriter enthusiast was only 6-years-old. He kept us all on our toes with his great one liners. I probably learned more from him in an hour about music than I ever did in school. He said he liked classical music and playing the piano. I asked him who his favorite composer was and he said Rachmaninoff. And I was like "could you please spell that for me?"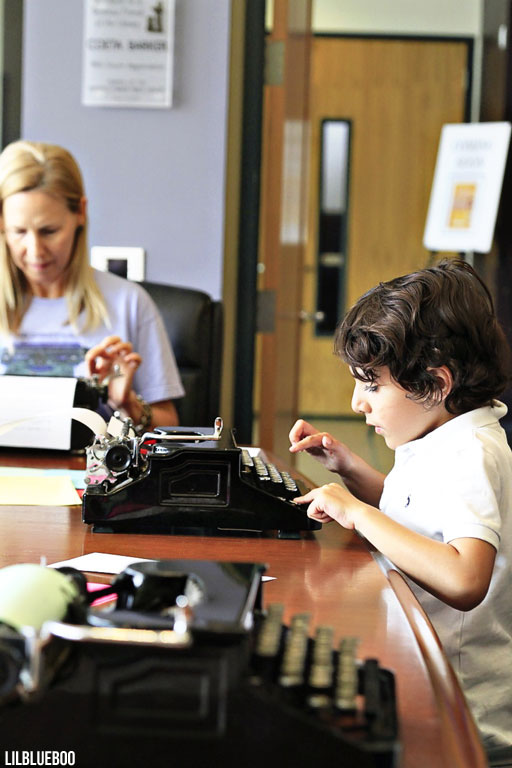 The next day Boo and I were going through some old National Geographic ads I'd collected over the years and this Magnavox one featuring Rachmaninoff caught my eye.  It's from around World War II I suppose considering the mention of war bonds. A day earlier and I probably would have just tossed it.  And guess what…the young boy gave me his mailing address. Today I typed him a letter and sent him the ad: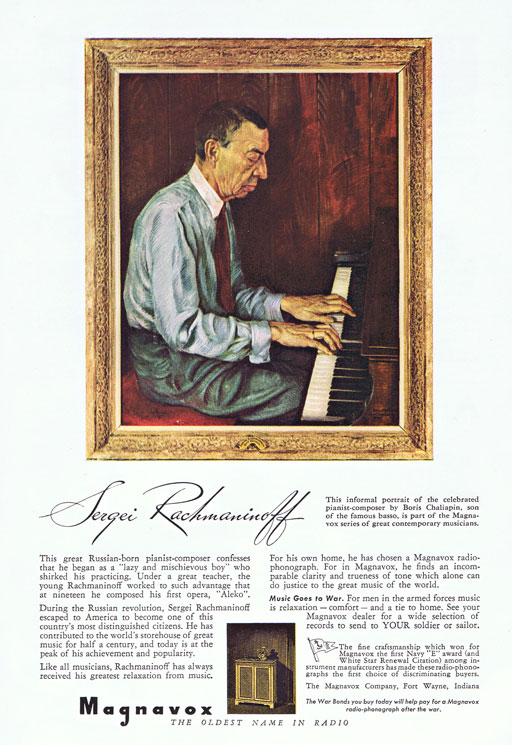 One of the issues with some old typewriters is that the platen, the rubber roller, hardens.  When that happens the keys will punch the letters right through the paper. I thought it was kind of a cool effect: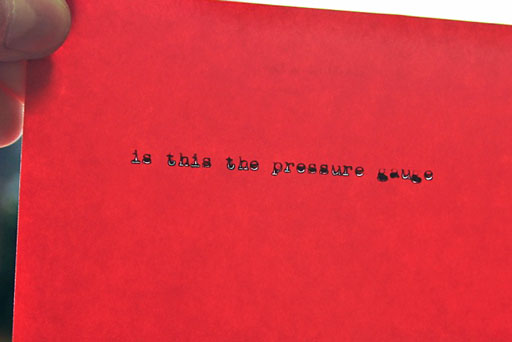 This is a 1960's Royal 440, a heavy desktop typewriter with half moon shaped keys:
Here's my Hermes Rocket, made between the 1950's and 1970's, and meant to be very portable. I could imagine typing on a train with this way back when: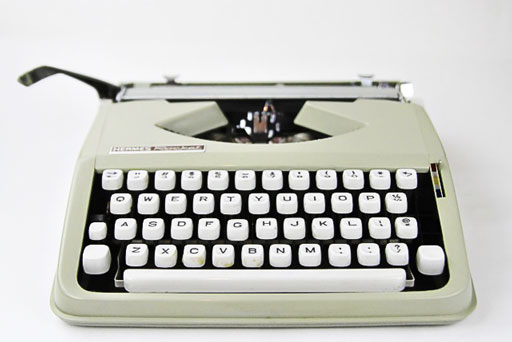 Some of L.A.'s print work: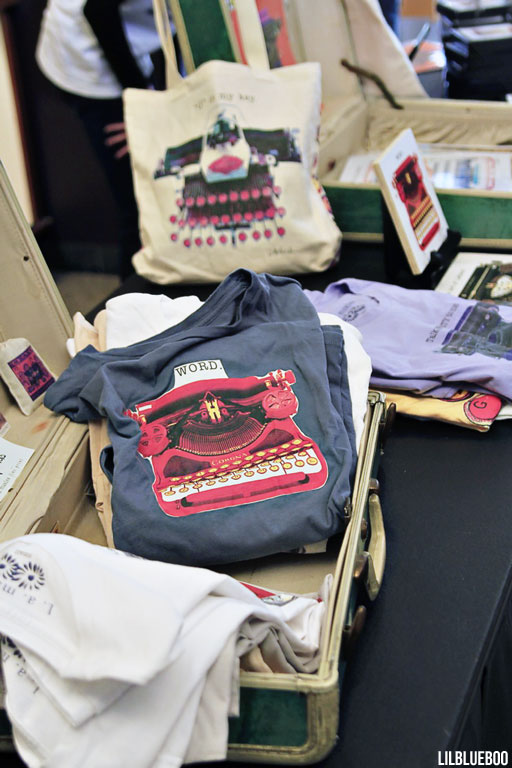 While everyone was typing there was lots of conversation going on about how the art of letter writing is disappearing.  One woman said that she never gets thank you cards from her children or grandchildren. "I don't know if they received it, or if it's the right size, there's no acknowledgement of gifts anymore.   It made me go right home and start finishing all my thank you cards from Christmas that I've put off. Thank you letters are a product of gratitude.  I'm really good at making Boo write thank you notes, but I sometimes end up slacking on my own.  (Another random thing that kind of bothers me….I've been experiencing a trend in the last few years of birthday parties where the kids don't open a single gift at the party. They open them up after the guests leave?  I've always made Boo open the gifts in front of her friends, so they can see her open them. I just feel like it's more respectful that way. Maybe it's just me…..)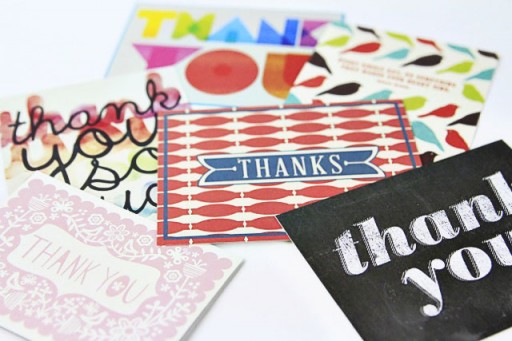 I've been thinking about the idea of unplugging more and more.  I had a discussion the other day with some friends about the fact that textbooks are slowly becoming obsolete as they become electronic. I can't read on an iPad. Can kids read on iPads? All of that scares me. I crave handwritten notes, penmanship, the keys of a typewriter, and actual book pages. I guess that's why I am making some big steps in the very near future (but don't worry, I'm not cutting out the blogging).
I have kept every letter and card that my mother and grandparents sent me over the last 36 years. They tell a story.  I recently went to a talk called Love Letters on the Labyrinth on writing that my friend Shivaun is starting to put on monthly.  One of the speakers wrote the most moving letter to her parents, address: heaven.  Hearing it made me want to really make an effort…at least just to get my thank you notes and an occasional letter to a friend finished.
I stumbled upon this short TED talk the other day, it's from 2007 by Lakshmi Pratury, on the lost art of letter writing and penmanship……..it also made me think about the shifting culture and how my child will be affected by it. It really hit me that letters are a physical record.
"that's when I take out his letters and read them, and the paper that touched his hand is in mine, and I feel connected to him. so maybe we all need to leave our children with a value legacy and not a financial one. a value for things with a personal touch: an autographed book, a soul searching letter…."
Update: Rachel shared these great links with me re: cursive and handwriting. Interesting reads. I think cursive should be taught in school. Boo thinks so too. She's already practicing her name. Also, I write in cursive…it's faster.
Benefits of Learning Cursive "Brain scans during handwriting show activation of massive regions of the brain involved in thinking, language, and working memory"
The Lost Art of Handwriting "Technology seems to have ruined our collective handwriting ability……Does it matter?"
*******
A few other ads I found….most from around the 1930's and 1940's:
I went to college just when email was starting to catch on….I emailed home but my mother actually thought to print the emails off and I have some of them.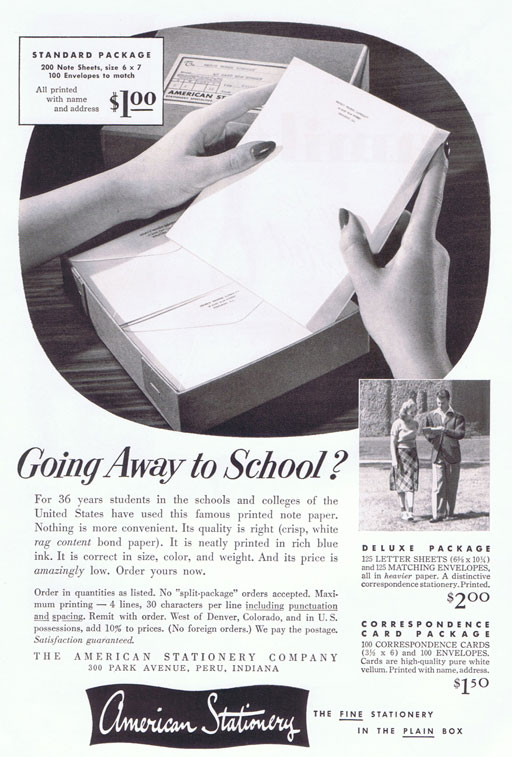 This one caught my eye because of the asterisk and I thought it was humorous that they felt it necessary to explain that men could be secretaries too:
"Yes, there are thousands of young men like Mr. Orbensen serving American Industry as secretaries to top executives."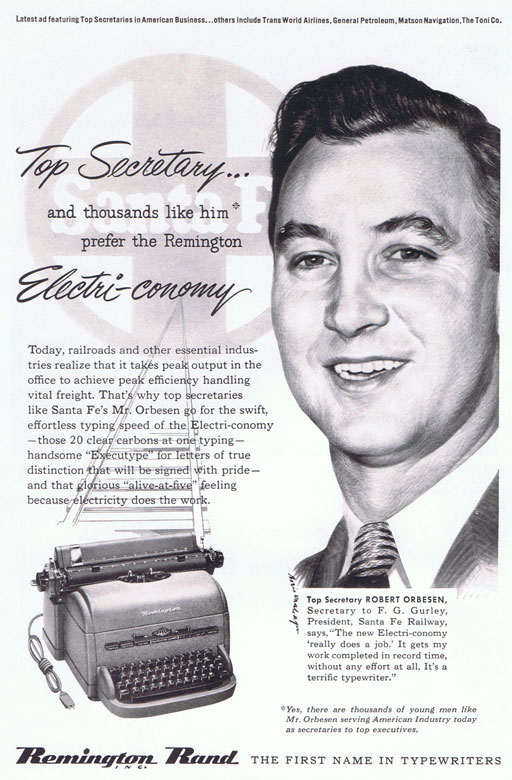 "A brand new customer used the phone today. Betty Sue called up the little girl around the corner."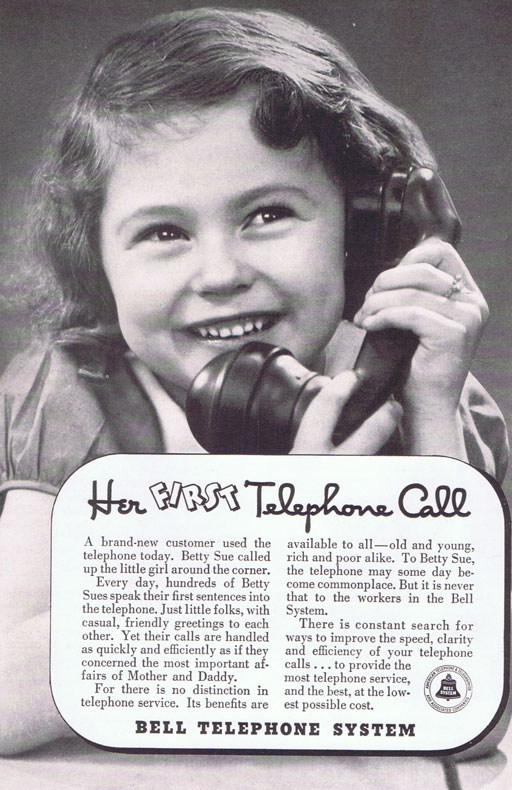 "Letters – written by hand – are so much more than a pattern of words. They transmit the memory of your voice…your smile…the clasp of your hand…all of your love."
And a typewriter ad:
"Why your family needs a Remington…"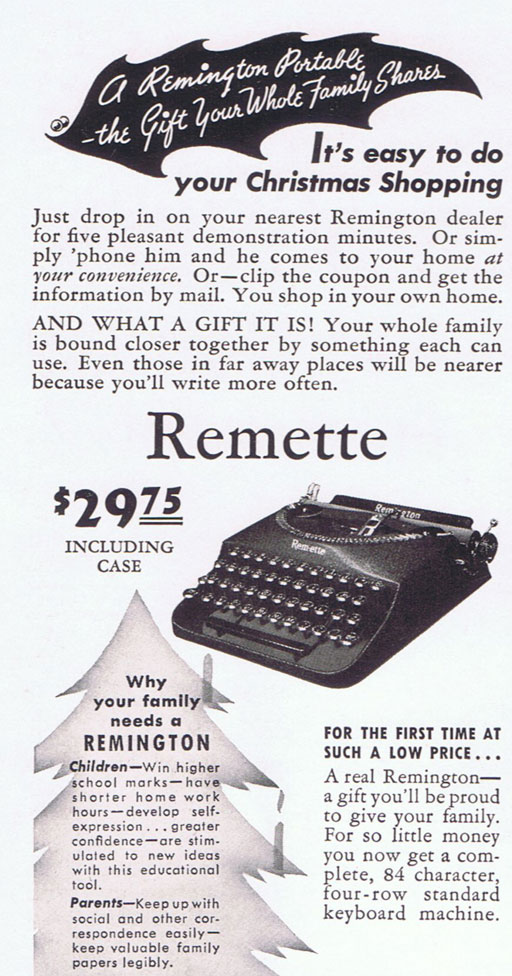 I'd love to know what you think.  Do you write letters?  What do you think of textbooks going digital?  Do you write thank you notes? Do you teach your children to write thank you notes?
Oh, and if you are interested in checking out a type in there is one in Santa Monica on March 8, 2014.
Where: L.A. Marler Studio, 3000 Airport Avenue, Studio B, Santa Monica, CA. www.lamarler.com
When: March 8th, 2014, 12-4 PM
The Artist: Louise (L.A.) Marler
The Event: A Type~In is an unplugged and interactive celebration of all things typewriter including: vintage typewriters for use, typewriter repair, creative writing, poetry, art, and prizes, as well as, typewriter art and merchandise for sale. Read more here about the event.