Last week I was invited to the Orange Conference by my church. I said yes, not quite knowing what I was even saying yes too.
As I rode in the bus with people to sessions that were off the main campus I constantly got the questions: Are you a youth pastor? What is your role in the church?  My answer was always: well…I'm not in leadership, but I do greet on Sundays!
And one man I sat with on the bus said to me: I'm going to take what you've said and turn it around for you. You are in leadership….because you are here.
We both shared the size of our churches…his was huge, thousands of people and mine was: well, I'm not sure but I think I hand out about 62 bulletins each Sunday. So maybe 100 people?
And then I shared with him what made me proud about my church:
The gossip around town is that our church loves people, but that it doesn't teach the Bible. 
I think that's the best compliment a church could ever receive…because one visit would show that our church does actually teach the Bible. And you'd know in the first 3 seconds that we love people.
This was one of the quotes that I shared recently on Instagram from the conference: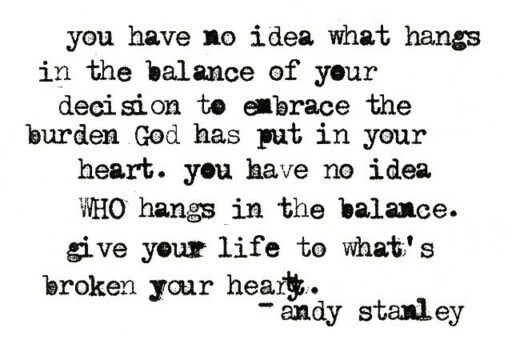 First of all way too much breaks my heart. But what breaks my heart about the church? When people feel unwelcome or lost. The unloved are the ones who hang in the balance.
And our church loves people.
I invited someone to church last year, mostly because he said that he didn't agree with the theology of our church. Then he said that he hadn't stepped foot inside the church since the "hymnals and pews were removed." So basically he'd never been to our church. (The invitation always still stands.)
Jud Wilhite said this:
No one unchurched cares if your church is missional or attractional.
Just have a heart for those who aren't there.
We were rescued to be rescuers.
Dang that's good stuff. Is attractional actually a type of church?
When it comes to theology personally I don't have to reconcile my religion with my conscience. Nothing is that black and white for me. I live in the questions and lead with love. My friend Debi said in a sermon recently: To get it right is to know that we probably have some of it wrong.  At the conference my pastor was wearing a t-shirt that read: Religion Kills. Yeah, it does…and sometimes just by turning someone away with our judgement and labels.
And I'm always asked: But don't we need to confront people about their sin? Well, my answer would be no. I'm pretty sure they know their own sins. And no one should ever be singled out. And I have too many questions about sin to ever confront anyone else but myself. I always liken it to being asked to lunch and the conversation starting out with: Ashley, we need to talk about the way you dress.  I might smile and chit chat but I'd secretly be thinking: WHAT-THE-HAM-SANDWICH.
You know who hangs in the balance? Dynamic pastors and their churches who are bringing together the unchurched. With love and encouragement. And without judgement. Youth pastors who are creating environments where kids enjoy coming to church, and making it a safe place for them to be themselves. It breaks my heart when I see people trying to discourage them. Our church pastor recently wrote two articles on love and forgiveness in our local paper. Letters streamed in to "correct" him. Some Christians can be real a-holes when they put their minds to it.
Our church's gutters are falling off, the thermostat inside has read "BROKEN" for as long as I've been there and we only were recently able to purchase new Orange curriculum because of a donation. But our church is known for loving people. Every person is welcomed in. Every kid is fed breakfast on Sunday mornings because they might not have it otherwise. The church has firewood cutting days in the winter to make sure people have heat (people still burn wood for heat here!) There are baby showers to make sure that expectant mothers have the supplies they need. Skateboarders aren't chased off from the parking lot. People flow through our doors that have never been to church before…because they feel the authenticity and they leave with hope. And they aren't invisible. Last October, at an event the church held downtown someone said "I don't go to church, but if I did, I'd go to yours."
My 90-year-old neighbor visited recently to invite me to her church. When I told her I had already found one she said: oh that's so wonderful you've found a place. I'm so happy for you. She was just wondering if I needed a community. When I tell people I go to The Grove I love seeing what their reaction is.  I mean, there's not always a reaction, but the most amusing responses have been:
The Grove doesn't really count as church. It's church-light. 
That's the church they took all the pews out of right?
I hope if there's gossip about me it's that I love people. 
And I'd also be okay with:
She doesn't really count as a Christian. 
That's the girl that has all the gay friends.
She's the one that hangs out with all the wrong people.
She has a past. 
She's a little bit of a lost soul, all over the place.
She writes blog posts in incomplete thoughts. 
Yep.
P.S. Sorry all the formatting on the blog is out of whack. Undergoing a little construction.