I have to see a thing a thousand times before I see it once. -Thomas Wolfe
I've been meaning to visit the Thomas Wolfe historical site for a while now. Yesterday Boo, my mother and I decided on a whim to make a stop. If you are ever in downtown Asheville it's worth the stop, even if you've never read anything he's written.
The historical site consists of a museum and his childhood home (which was a boarding house run by his mother):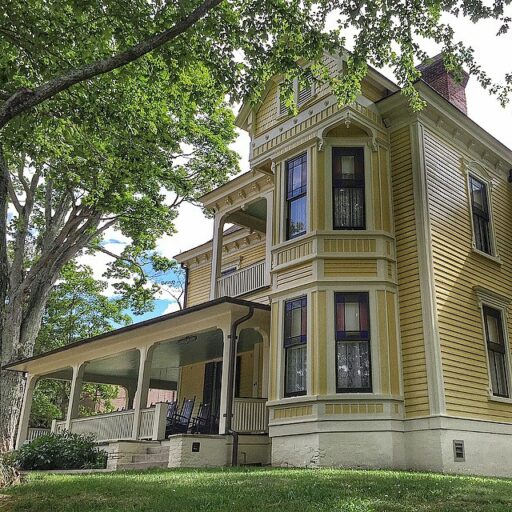 You know I love typewriters so here is Wolfe's (although he preferred writing longhand in ledger journals):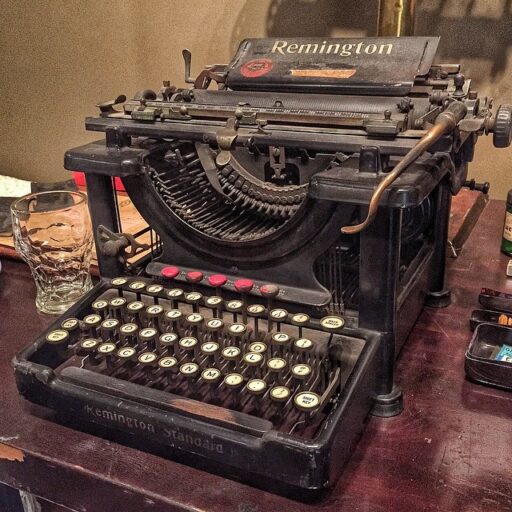 The house looks just as it did when he lived there as a child. He died at the young age of 37 and since he was already a well known author people would seek his home out and ask for a tour. His mother was a business woman, running a boarding house in a time when women really weren't encouraged to be enterprising at all. And so she had a room that she showed visitors that was supposed to have been Wolfe's childhood room. (it wasn't…since he slept wherever there happened to be room each night). The most ironic thing about the Memorial being the boardinghouse is that Wolfe wanted nothing more when he was young to leave his childhood home and now it's preserved forever.
Any literary fan would enjoy the fact that this room is the same room mentioned in Look Homeward, Angel:
"Eugene looked up with cold dry lips to the bleak front room upstairs, with its ugly Victorian bay-window."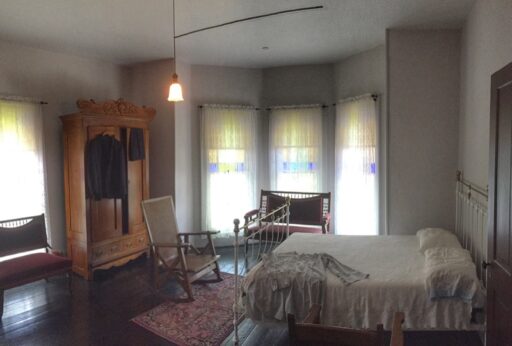 It's also the room where his brother Ben died of Spanish Influenza in 1918, recounted in the punched-in-the-gut-ripped-your-heart-out scene of fictional Ben Gant in the book. If this house isn't haunted it should be.
(A note about the Spanish Flu outbreak of 1918: Approximately 20-40 million people died from it, making it probably the most devastating epidemic in the history of the world.  That's what stands out the most in the old cemeteries I visit…the concentrations of deaths during 1918 and 1919, especially infants and elderly.)
A few things about Wolfe:
He was really tall. 6 foot 6.
He lived in a boarding house that his mother ran and slept in whatever bed wasn't taken each night.
His editor was Maxwell Perkins who also worked with F. Scott Fitzgerald and Ernest Hemingway.
Most of the characters in Look Homeward, Angel were based on real citizens of Asheville. Wolfe changed the names but the detail of the stories made it easy to figure out who they were resulting in a lot of anger from those he wrote about.
Before he died he submitted a manuscript consisting of one million words in the first draft. (for comparison a Harry Potter book has about 75,000 words)
He died at the age of 37 of tuberculosis of the brain.
Sometimes I venture up to the cemetery above our small town, it has a beautiful view from there…especially at sunset. The angel on top of one of the tombstones has a literary connection to Wolfe because it's thought to the be the angel statue from Thomas Wolfe's book Look Homeward, Angel: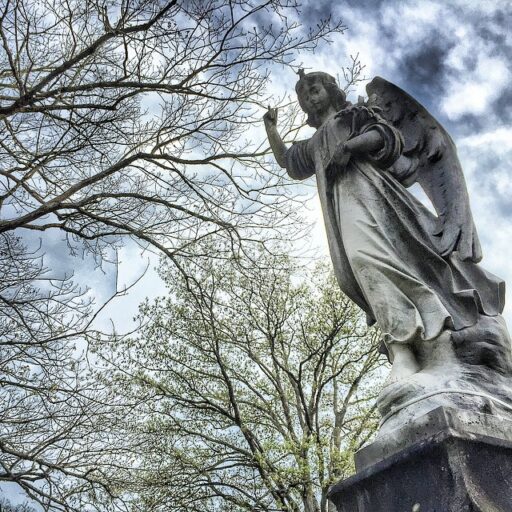 "While the author never said, many scholars believe that the statue described in Thomas Wolfe' s "Look Homeward Angel" is the gravestone of Fanny Everett Clancy in the Bryson City hillside cemetery. Others believe Wolfe's "angel" was a composite of two statues, the one in Bryson City and another in Hendersonville, NC. Both were imported from Carrara, Italy and sold at the Asheville tombstone shop owned by Thomas Wolfe's father in the early 1900s. The Hendersonville angel has the smile and the foot of the angel described in the novel, while the Bryson City angel holds the lily that Wolfe described."
(Source:  Great Smokies / Bryson City website) 
Thomas Wolfe books to read: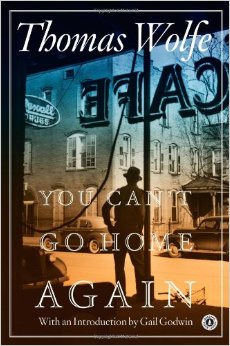 This was the last novel that Wolfe wrote before he died at age 37.  It was published in 1940, two years after he died. It's a story of a young writer who writes about his hometown which in turn angers his hometown. As an outcast he travels the world and eventually returns to America with a changed perspective of home.
"Whereon the pillars of this earth are founded, toward which the conscience of the world is tending—a wind is rising, and the rivers flow.'"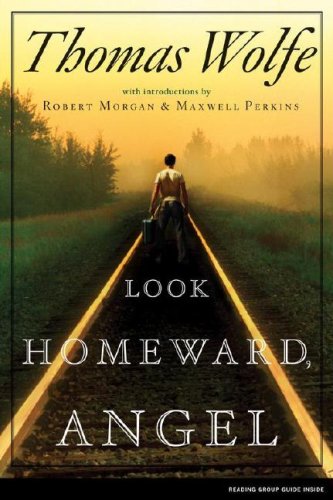 This was Wolfe's first book, published in 1929. It's largely based on his own life, so much so that in the intro he says: if the writer has used the clay of life to make his book, he has used what all men must, what none can keep from using.   
It's a story about a young man's wandering, burning desire to leave his small town in pursuit of a more intellectual life.  It's been a while since I read it and I'm just starting to reread it again and the most exciting part is revisiting the rich language once again thinking THIS is writing. THIS is a master at work. 
I read the Thomas Wolfe would write close to 10,000 words a day. Where did all those words come from? Where is the source of that fountain? Such rich, succulent writing from a wandering spirit.
Click the image below for more about Thomas Wolfe and for information about visiting the home site in Asheville: