Every backyard flock needs a chicken first aid kit. It's the first thing I put together when we decided to get chickens. Trips to the vet are expensive and I don't want any animal to suffer so I wanted to be as prepared as possible for anything that might come up.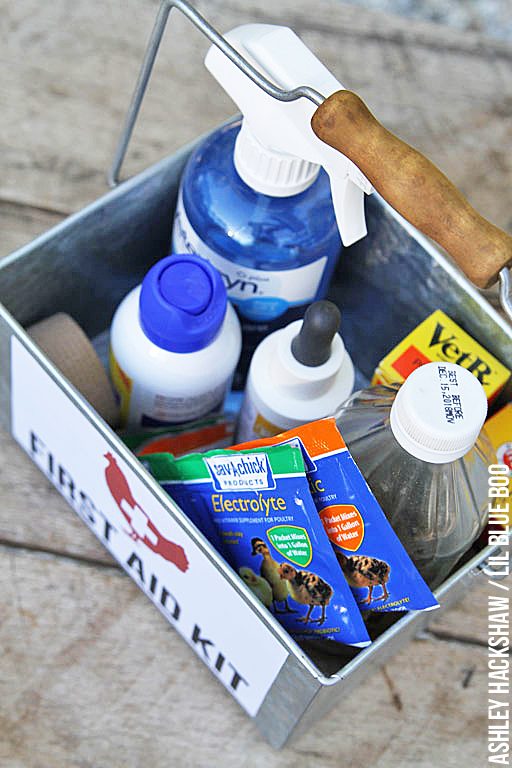 I don't plan projects like this ahead of time, but once I compiled all the parts my next thought was: wouldn't it be awesome if I had a chicken first aid kit label? Of course it would be awesome. So I made one, printed it out onto label paper and put it on the front of this galvanized caddy: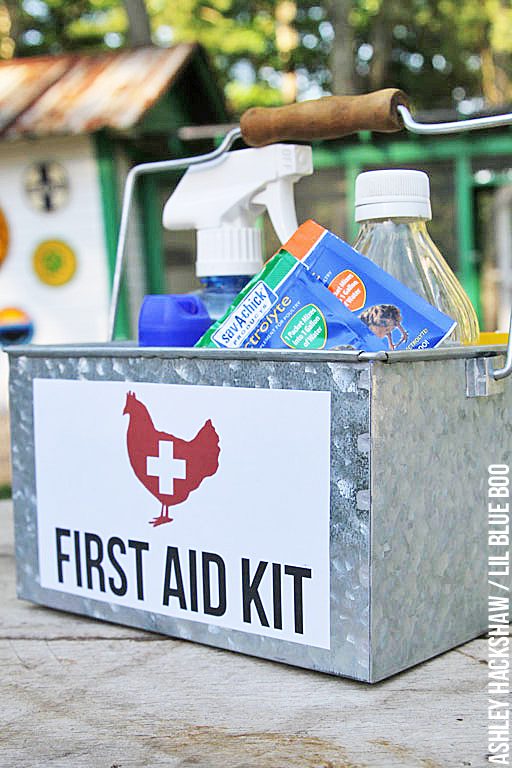 We've already used it several times. Who knew chickens could get into so much trouble? One day Fo snagged her claw on something and it started bleeding. The other chickens started pecking at her (they are like vampires when they smell or see blood!). We had to put her into animal hospital: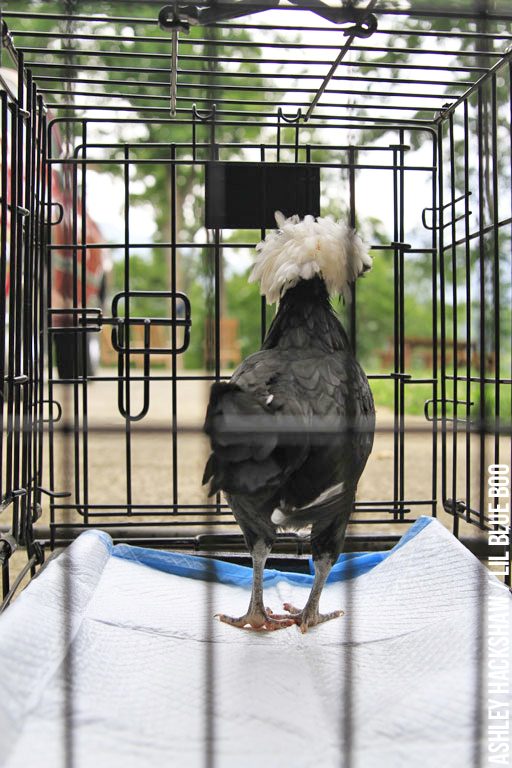 I brought out the first aid kit and we stopped the bleeding using Kwik Stop Styptic Powder and then wrapped her toe with a bandage to keep the other chickens from pecking at it.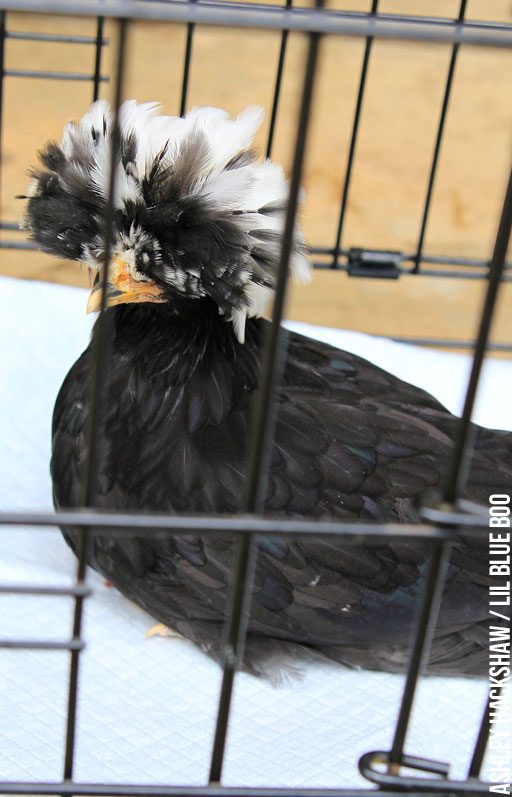 Oh, we also had to give her a bath because she'd tried to itch her head and covered her whole head in blood. Here is Nurse Boo helping her recuperate from the bath…the bath was probably the most traumatic part for her: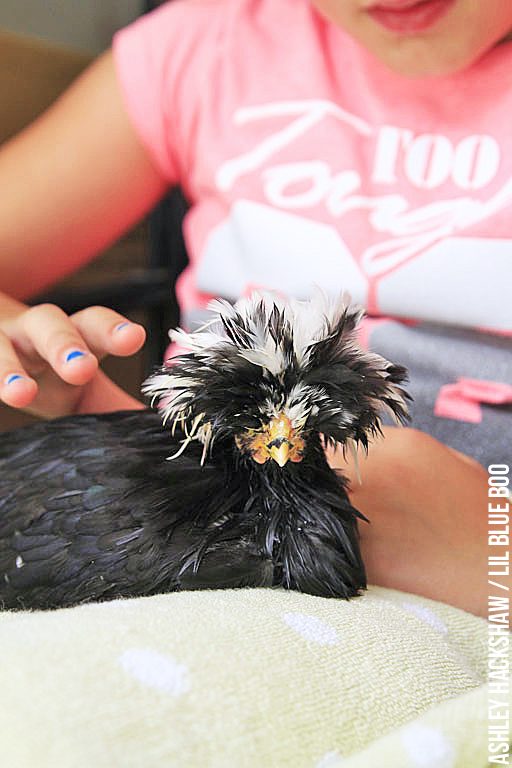 I'm sure the first thing Fo noticed was the First Aid Kit label: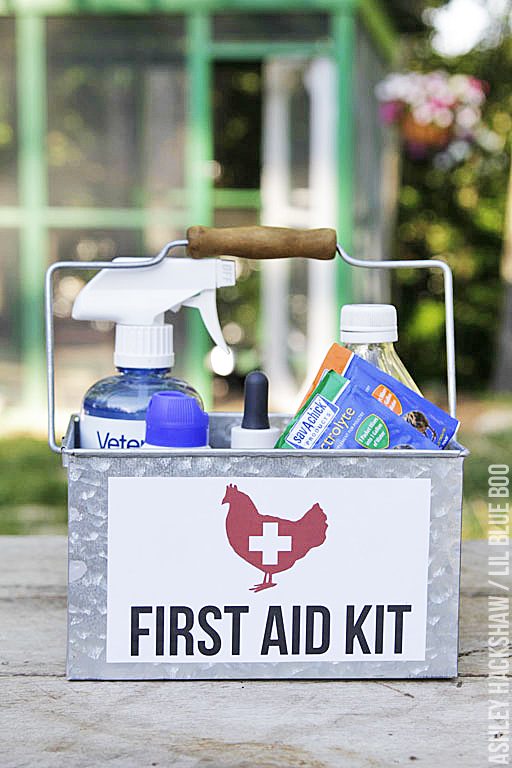 You can download the label by clicking the image below, just print it out onto label paper or glue/tape onto a bin. You can download ready to print PDF pages (with two labels each) by clicking here.
I started putting together our kit before the baby chicks even arrived…just to be prepared. I had a lot of help from our local farm supply and a chicken-savvy friend. When our little chick Whittle died I ramped it up a little more.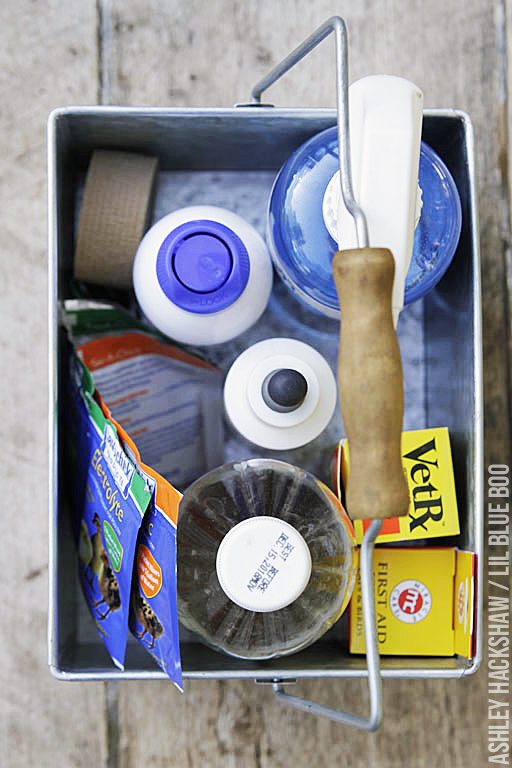 Chicken First Aid Kit Contents:
Below is a list of what I have in our basic kit. You can purchase as your local farm supply or there are links to purchase (And thank you! Every little bit helps to support the cost of keeping up this blog!):
Helps appetite, eases shipping strain & heat stress. Delivers high energy, vitamins, trace minerals, amino acids, (electrolytes and anti-oxidants) in minutes to restore the immune system. I just put a few drops in their water if needed. 
Supports respiratory function and relief from respiratory disease, crd, croup, scaly leg mites, and favus eye worm. It can be sprayed over the whole flock, mixed in drinking water or applied directly to a chicken. Awesome tip: Applying directly to underneath the wing will allow them to breathe the vapors in at night when they tuck their cute little head in to sleep. (Download a great resource here for how to use VetRx.)
The small packets are designed for small backyard flocks! The electrolyte supports hydration and bird health during periods of hot weather or other stress. 
Spray on wounds, cuts, lacerations, abrasions, sores and skin irritations. It's safe for use around the beak, nose, ears and eyes. And it's safe for all animals so it's great to have around for the dog too!
Stops bleeding from broken beaks, clipped nails, small cuts, wing clipping and other minor cuts or scratches. It also has pain relieving Benzocaine.
An antiseptic protective wound dressing. Kills ringworm and fungus infections. Also treats surface wounds, cuts, galls, chafes, abrasions, moist lesions, itchy fungus, eczema and sores. You know…the fun stuff. The blue color keeps other chickens from picking at the sores and cuts too!
This was great for wrapping Fo's toe in and kept the other chickens from pecking at it. We used the beige color so it would blend it. If I was wrapping a wing I'd probably use black. Chickens tend to peck at anything bright and out of the ordinary!
For trimming a broken nail, or nails that are just too long. Can also be used to trim a beak if necessary.
Other things you might want to include:
Tweezers
Disposable Gloves
Super Glue (for a broken beak)
For ongoing health support I use the following:
The probiotic reduces pathogens in the birds' environment and assists with digestive health.
I add a tiny teaspoon to the chickens' water supply to help keep the water from growing bacteria. It's also said to help prevent worms. I also change out their water as often as possible.
Typically used for horse stall, I sprinkle this around the coop to keep the moisture and ammonia down, which in turns helps respiratory health. It also reduces flies!
I'm sure I'll update this as I go, but for now I think it's been a good list for a basic kit!