I don't know if anything exhibits the raw joy of Christmas as much as this video. You would think that Boo had never received a gift before:
I love that she still enjoys her dolls so much. Her list for Christmas included the Native American doll Kaya and the sloth she opened above, and a bunch of doll accessories. She opened up all of her other gifts and I could see some disappointment in her face that Santa didn't bring the Kaya doll. Then she found a package behind the couch. When she cried we all cried:
We spent Christmas at my sister's house with my mother and my brother too. Her beautiful tree all ready for Christmas Eve: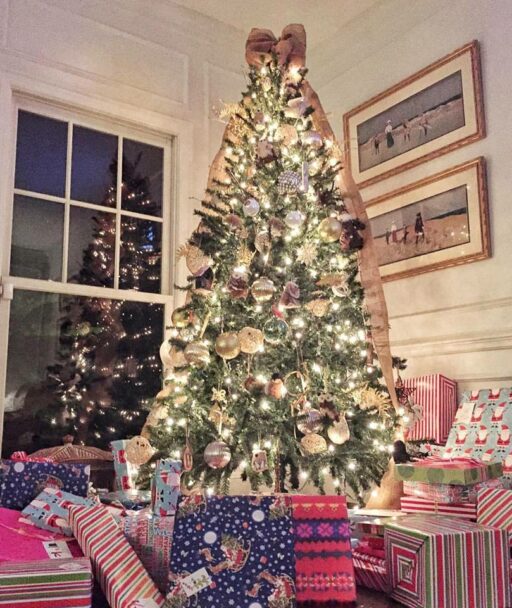 Beside Boo's grateful present opening my second favorite part of Christmas was my little niece Leighton meeting our new senior rescue Happy.
Leighton: I like this kitty cat.
Me: She kind of looks like a kitty cat doesn't she, but Happy is a dog.
Leighton: She's not a dog.
Me: She's not? Then what is she?
Leighton: She's a Happy.
And every time Leighton saw Happy she'd declare, "There's the Happy." I love that. Happy is like the Lorax, only a Happy.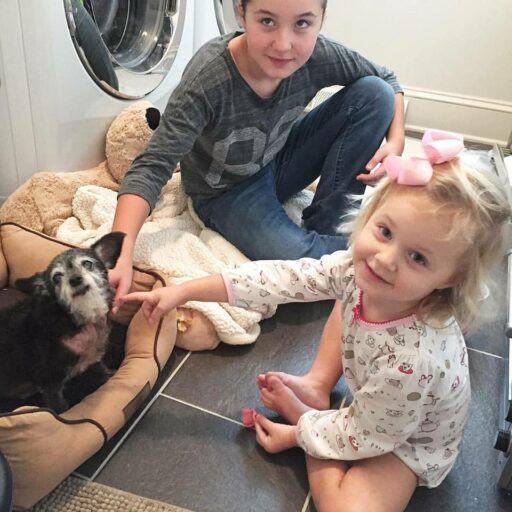 Happy trying to make a permanent memory of her favorite tiny human: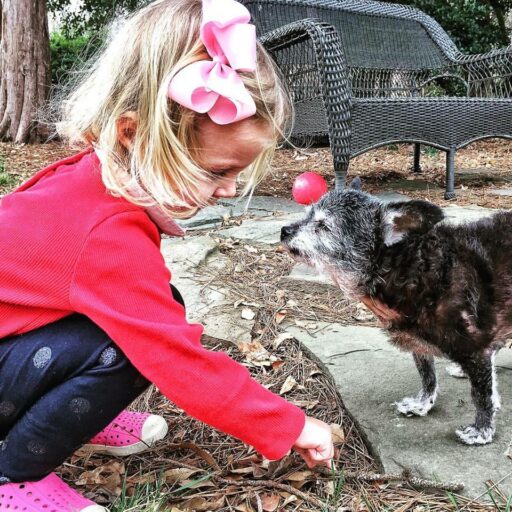 We all ate Christmas Eve dinner at Carmel, a place my dad loved, and a place in all my childhood memories. My brother wasn't feeling well and my sister-in-law had to work at the hospital all day but at least my two nephews were there: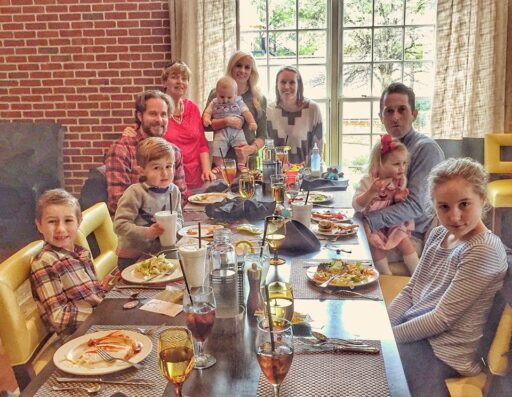 Boo watching the golfers come in after we ate:
Leighton and my nephew Carter inspecting one of the many Christmas trees: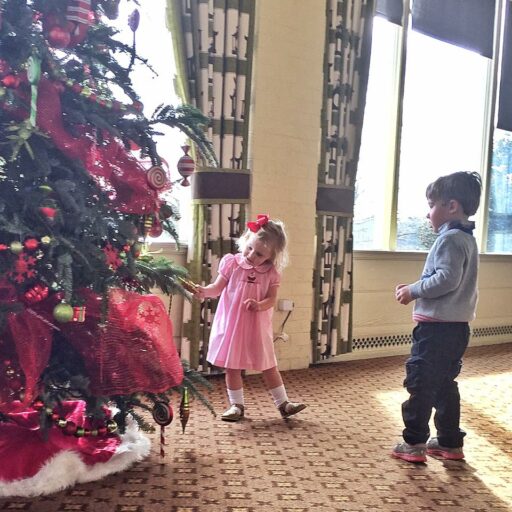 Christmas Eve candlelight service. This is probably my favorite Christmas photo…it reminds me of a Norman Rockwell painting. My little nephew Cameron would have been the perfect Norman Rockwell model: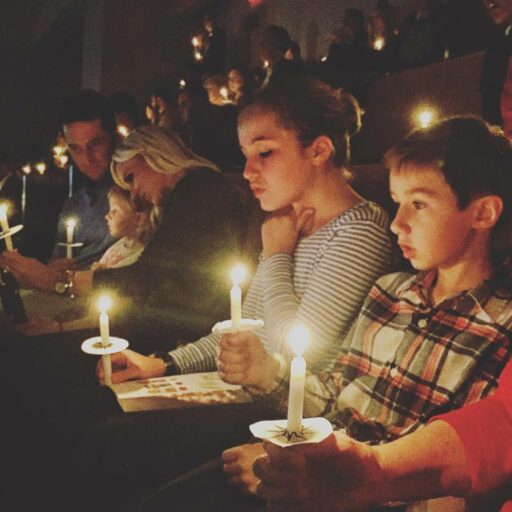 On Christmas morning we all opened up our gifts and my mother had a cake for Jesus, and my sister Perry. Jesus is always listed first: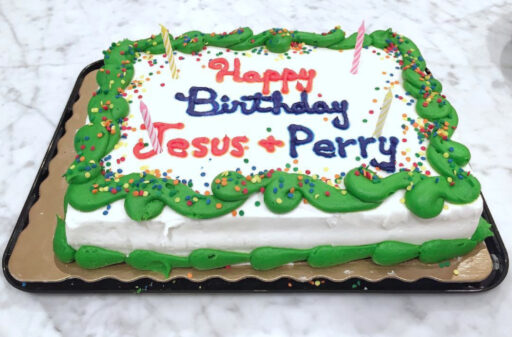 The only thing I asked for was a metal detector and Brett surprised me with one (the Garrett Ace 200) with the help of my brother Swen. I thought it would be fun to have one to comb the lake bed with. We spent the day digging up my sister's entire yard and when we found the metal end of an old garden hose we jumped for joy: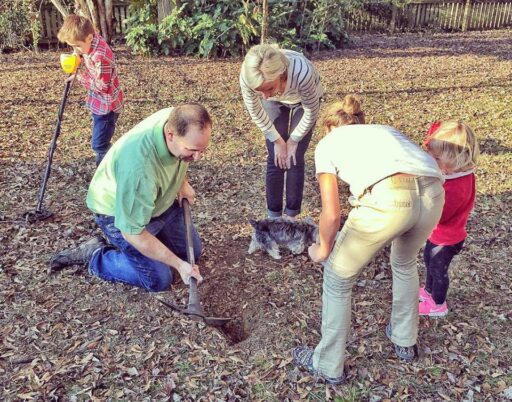 We finished up Christmas Day at my dad's grave. We know he's not there but we still wanted to visit: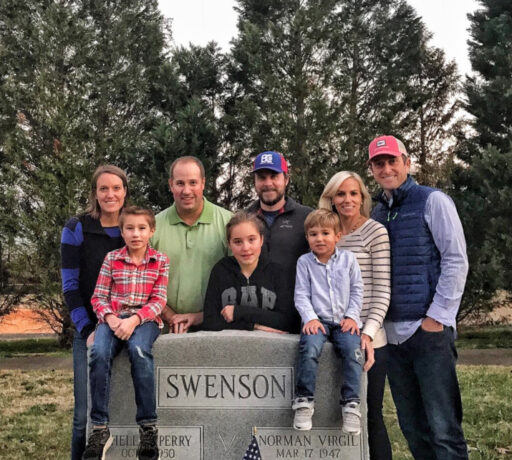 Hope everyone had a joyful holiday, Christmas and Hanukkah! Now I just need a few days to recuperate…like Happy: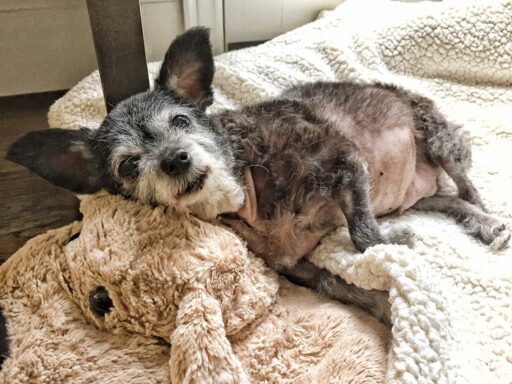 P.S. I started a Facebook page just for Happy the Happiest Dog photos….so I can post as many as I want!