Did I tell you that I got a new metal detector for Christmas? Whenever Brett asks me what I want for a gift I'm usually at a loss for words because I don't really ever want or need anything. Of course books and art supplies are always welcome gifts but usually I am already in great supply of those two. I told him two things: a pig and a metal detector. We really don't have a place to keep a pig at the moment (maybe one day?). All my treks on the dry lake bed and on the banks of the river made me start thinking about a metal detector…how fun it would be to have one.
Opening Christmas presents I was sure that I wasn't getting anything…I mean a good metal detector costs about $150 or more and Brett and I both are pretty thrifty. Just as a joke every tiny gift I opened I would shake before hand and say, "I bet this is my metal detector!" I opened one gift and it was a pig! A stuffed pig. Brett kept saying he was sorry he didn't get me anything except a stuffed pig. And then we were done. Later in the day my brother came over and handed me a large box. And guess what it was….
Turns out Brett had conspired to get the metal detector sent to my brother's house so it would be a complete surprise. It worked because I was totally surprised!
On Christmas day my sister and I dug up her backyard looking for things. When we finally got a loud beep my brother dug down into the earth and pulled out something metal. You would have thought we'd discovered a lost galleon of treasure at our reaction. It turned out to be the end of an old hose…but we still considered it treasure because we'd found it under the earth!
I've only used the metal detector once since then…it turns out I'm only a fair weather metal detectorist. It's been so cold and rainy that I haven't had a chance to really get out there and use it. But the day that I did use it I found a few things.
Here's what I've found so far: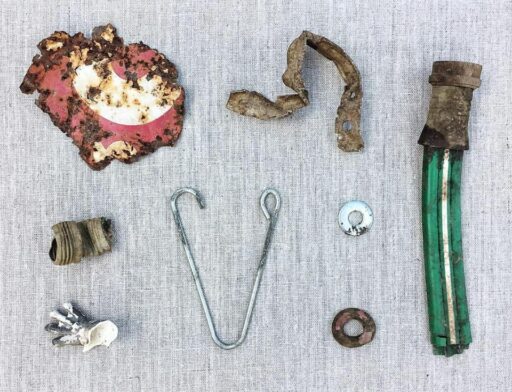 Nothing of material value but I think it's all awesome. I'll just keep saving it all and maybe I can make something interesting out it one day. I always joke to my friends that one day I'm going to open up a small oddity museum for all of my random found objects. I might just do that one day.
These are things that I found on the lake bed just walking around…so imagine what might lie under the surface: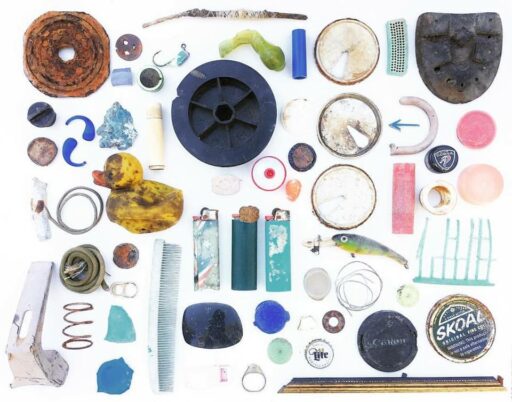 I keep all the cool glass finds separate: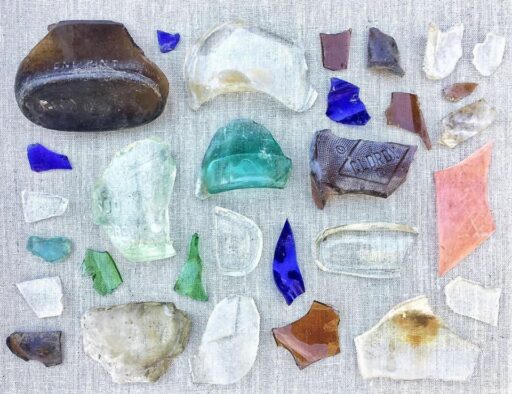 This was another found object collage from the end of 2016: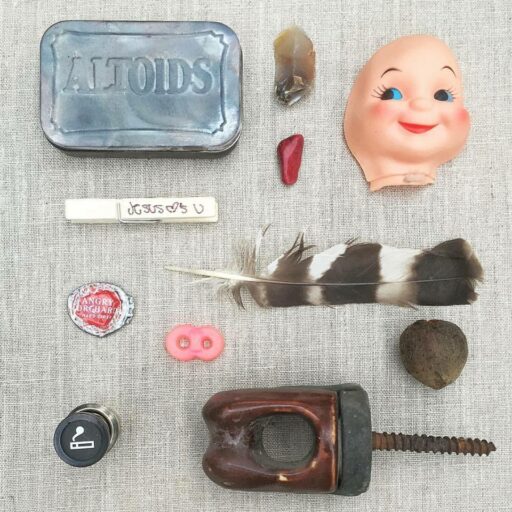 The "Jesus Loves U" pin was clipped to my handbag one day when I wasn't looking. I don't know if that's creepy or neat. The little doll face was given to me by someone else who found it. Still technically found. I love the randomness of it all.
So one day maybe I'll be a little eccentric old lady piddling around her cases of eccentric oddities. So, would any of you ever come visit my oddity museum?