I've discovered I'm more of a fair weather detectorist. I haven't wanted to go out much with my new metal detector in the cold but thankfully it's warmed up recently. I ventured out to one of my favorite places this time of year…the Fontana Lake bed. It's almost dry this time a year because the water has been let out of the dam, just the river runs through the very bottom channel of the lake. An old road and a few bridges become visible: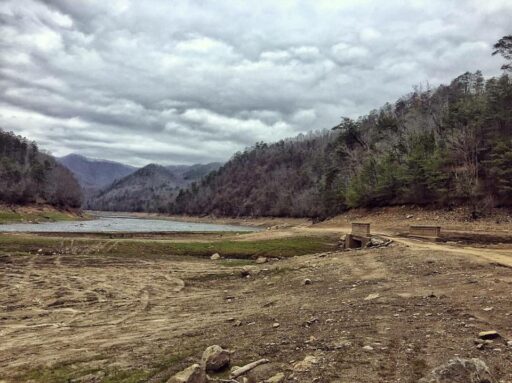 I like how quiet it is down there and I usually only run into one or two fisherman. They all like to ask if I've found anything good…like rings or coins. I usually get an odd look when I show them something I find extra exciting like a vintage gerber baby food cap or a marble. I found both of those things on the morning I went last week: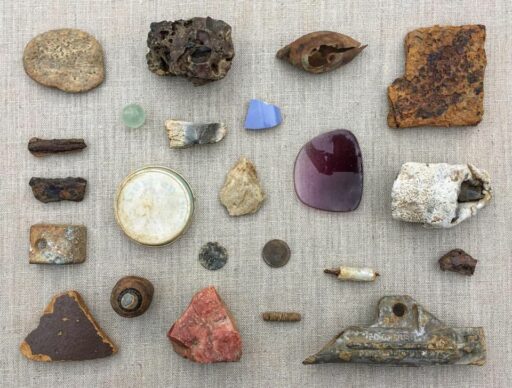 I also found pottery, old pennies, an arrowhead, coal from the old railroad among other things. I could stay out there for hours and time gets away from me. My phone went off with only thirty minutes until school pickup and I realized I still had to walk a mile back and make it to school. In the middle of nowhere I found a huge metal pipe in the ground….just a few inches under. My first thought, because I've watched the Detectorists series, was that it was probably a bomb. Whatever it was I quickly abandoned it. I also found this perfect stone heart: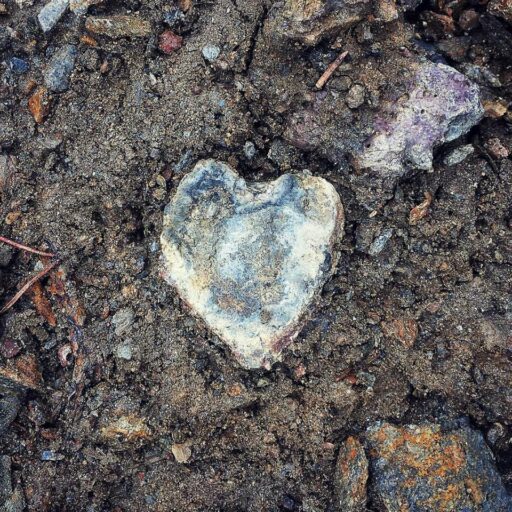 For every neat little object I come across on the lake bed there are at least a dozen beer cans I've dug up first. I do plan to survey the new farmhouse soon. I started to the other day but I get kind of lazy and don't even try to dig if my metal detector says the object is more than 6″ below the surface. I only carry a small garden shovel with me and 2 to 4 inches is my method right now. Then I can go back later to the same places and look for deeper stuff when if I ever become more serious.
Someone recently asked why I scavenge and keep little trinkets and trash. I think I like to find things that most people would never even notice or care about and find a way to put a story to them:
Like the slag left behind from the railroad bed that used to run along the lake…most people think it's just rock. I don't know how many people even know that the railroad used to run along the lake. I learned from a fisherman who said he was a rock hound and I asked him to identify a bunch of rocks I'd found. I think slag rocks look just like a meteorites…and I'm always hoping one will be. The fisherman said he found a meteorite years ago so there's enough hope for while.
Or like the marble. Simply finding a tiny glass marble on a 17-mile-long lake bed is pretty amazing I think. I was digging up a beer can and there it was about four inches under the dirt.
I could go on and on about every object I found. So did I find anything good? Yes. A lot….but most people probably wouldn't be impressed. I'm not really looking for treasure….just odd objects. Maybe I'm more of a trash collector in a way. Here's what I found last fall while on a walk when the water level had just been reduced: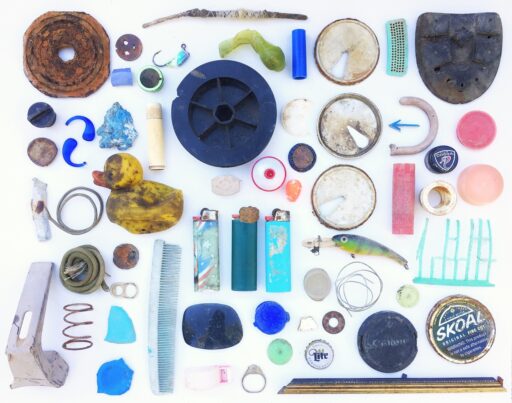 If you click the photo it will open up a new window with a larger version. Have you ever seen such an odd collection of things found on a lakebed? I think that's what fascinates me the most. Rubber ducky + camera lens + piece of picture frame + boot heel + so many other random objects just sends my imagination into overdrive. And then I think of all the billions or trillions of objects under lake beds and fields and wonder how so many things get lost and discarded. If I could have any superpower it would be to instantly see the path an object has taken over it's life…I get goosebumps just thinking about it.
More found object collections can be found here.