Someone asked this past week where I get my inspiration from when painting. The answer would be from everywhere. But I'll try to explain a little.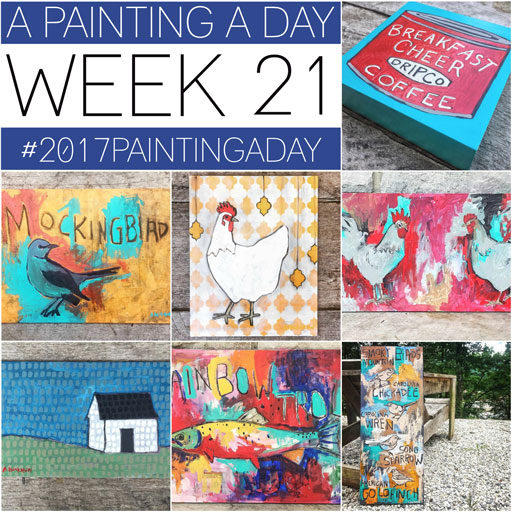 The inspiration for this chicken came from lunch in a cafe. Sienna and I were on the way back from Tractor Supply one day and we stopped for lunch at the Blue Rooster in Waynesville, NC. Not only does the Blue Rooster have great food, but the entire restaurant is filled with chicken art. Above our booth was a rooster painted in front of a lavender geometric design that reminded me of wallpaper and a few days later I painted this: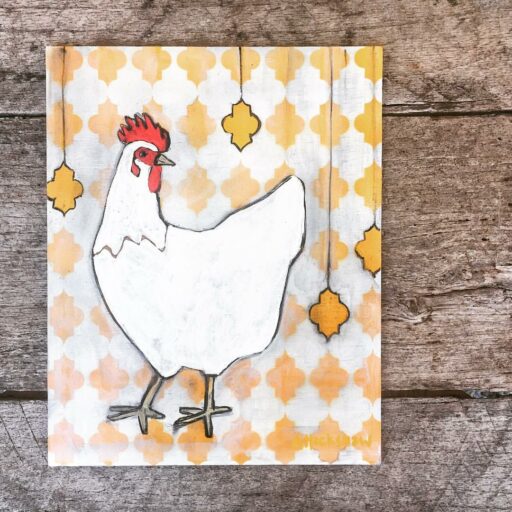 Sitting at my window drinking coffee I watched the birds at the bird feeder one morning and thought "I should paint ALL the birds that eat from this feeder into one painting." I could only fit four though: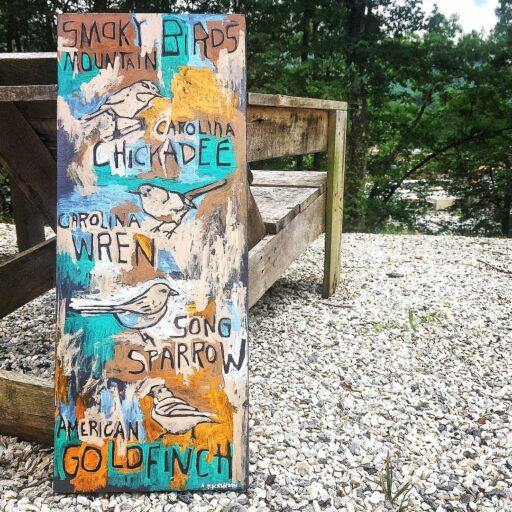 Sitting at my blank canvas I randomly thought I wonder when the idea of using the mockingbird came to Harper Lee for her book. I decided to paint a mockingbird that morning:
I went fly fishing one day and this was a result: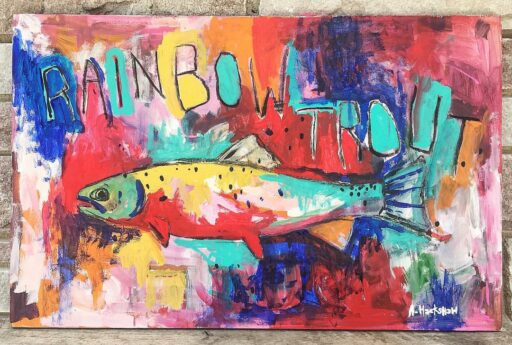 I like how the rainbow trout turned out so I started sketching another animal…the animal that comes most natural to me to paint: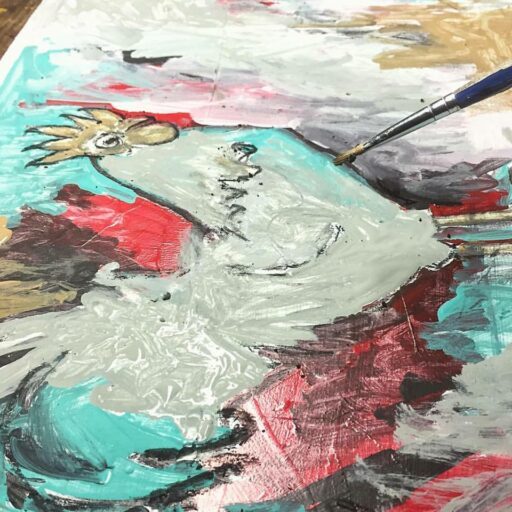 I finished it up the next day: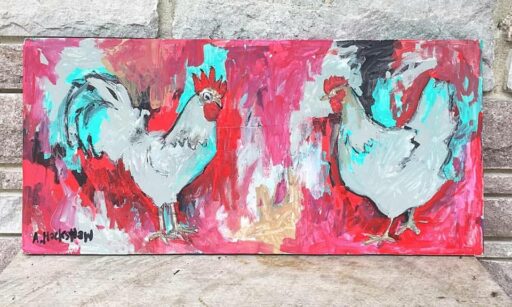 I recently watched the show Shetland on Netflix. It takes place on the Shetland Islands, part of Scotland, northeast of Great Britain. I was sucked in by the wide open spaces and the simplicity of the houses. I'm pretty sure that's where this came from: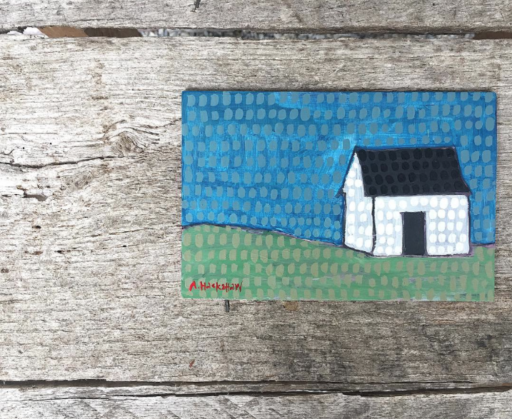 I've been collecting old tins for my Knothole boxes and this was one that I came across: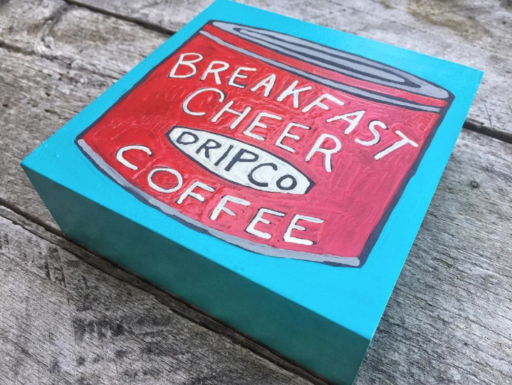 I painted this the same day (even though it's not a daily painting)…a vintage Jello box: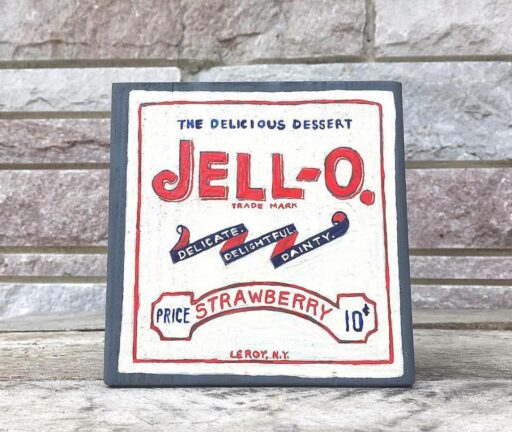 Week 22's daily paintings: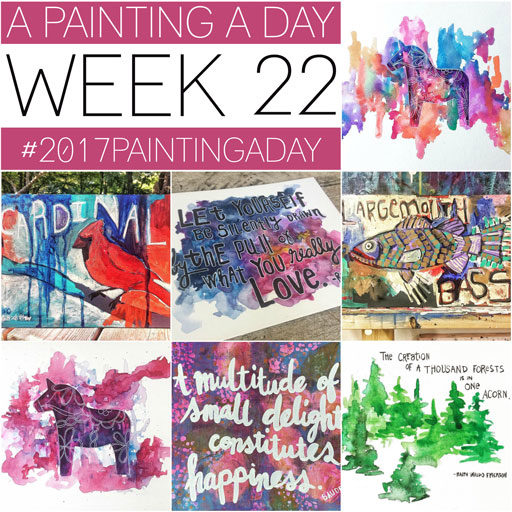 I had painted a floral painting that I wasn't quite happy with so I made it into a background for a quote. I added a few layers of paint, sanded it down, added a few more, and then finally added a "happiness" quote: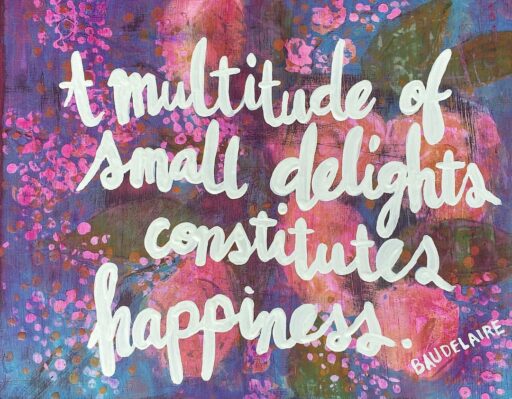 A Swedish dala horse sits on a shelf in one of my bookcases. When in doubt…paint a dala horse: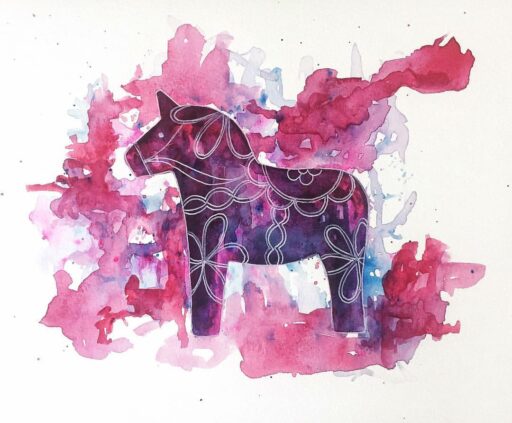 When in doubt paint another dala horse: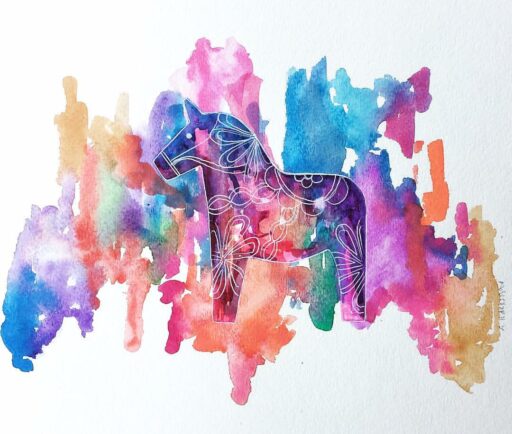 I saw the Emerson quote first and then thought simple watercolor trees would go great with it: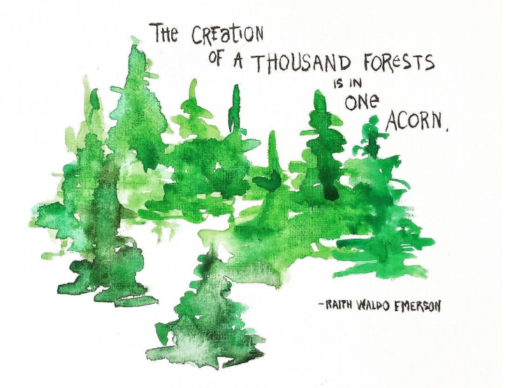 Sometimes I just get out the watercolors and start pooling them into designs. Then I'll find a quote that really speaks to me and I'll use black sumi ink to paint it on top:
This might have been the day that Basquiat painting sold for $110 million dollars. I thought maybe if I start painting in the style of Basquiat I could sell more paintings and adopt more animals.
My aunt gave me a little bell that used to hang in her garden. Every day a cardinal comes and rings it right outside the window where I work. I don't even have to see the cardinal to know it's there. Yes cardinal I will paint you today: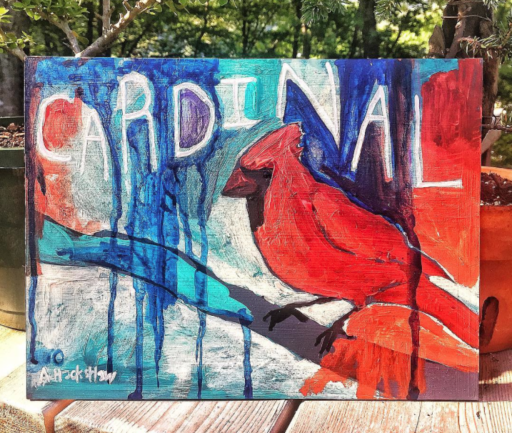 Oh, and I'm still working on my quilted deer these days too….if it would stop raining and cool off enough. I'm a fair weather outdoor painter: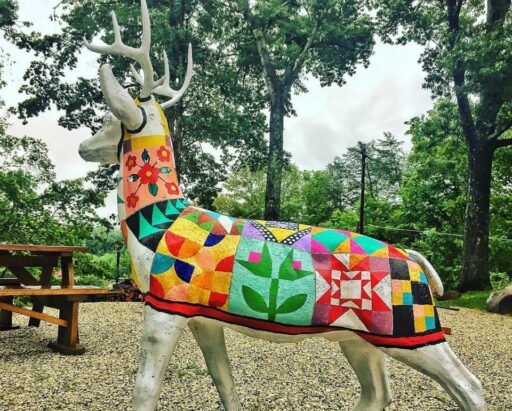 I do list some of my artwork for sale. You can find it on Etsy here.
All my daily paintings can be found indexed here!