A short history of creating an art studio:
Back in 2015 I shared this photo with the caption: One day this will be an art studio. Can you see it?
This was our creepy underground basement room that leaks and has gazillions of spiders. First, we fixed the leaks from the outside (it was a grading issue) and I blocked all the potential entry for bugs: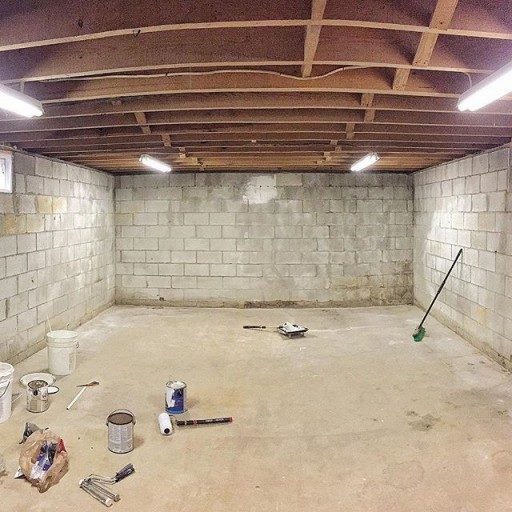 Painting the Walls White
I knew for the basement to be an inviting place I needed a blank slate so I caulked all the cracks and we painted the walls white with a stain blocking paint: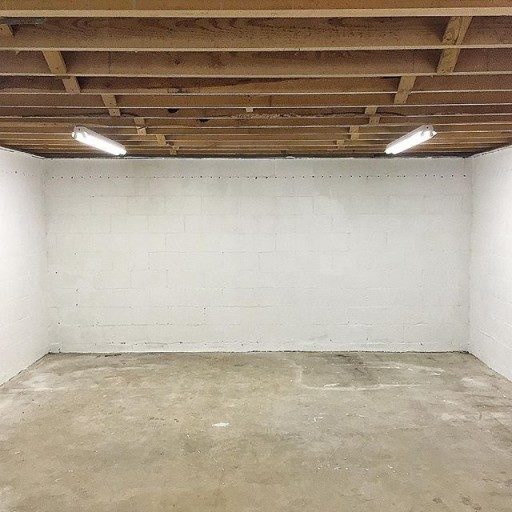 Adding a Wall Easel
I used to have a large standing easel and all I remember is how much room it seemed to take up. What I really wanted was an easel system on the back wall of the studio that could hold several canvases at once and could also be easily adjusted. The solution we came up with was a simple wall easel made from five 2×4's and a small dowel. One horizontal 2×4 was bolted to the floor the rest of the 2x4s would lean vertically against wall. We used a drill press to add the holes to the vertical pieces so that pieces of dowel can be moved up and down making it completely adjustable:
I added a few other work tables and shelves and here's what it looked like at the beginning of 2016: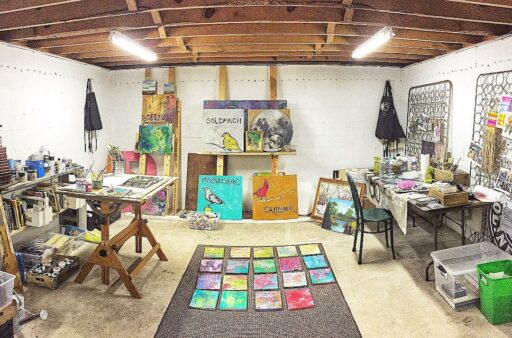 At some point I hung up these deconstructed vintage mattress springs as bulletin boards: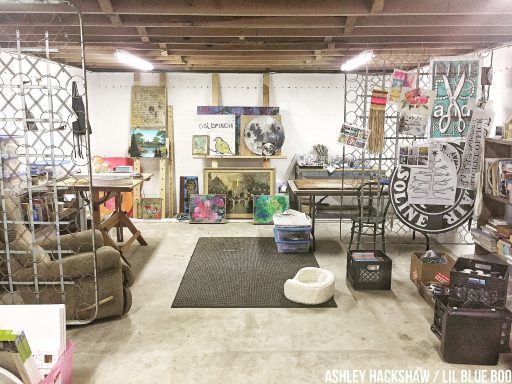 A year later I still wasn't doing much art in this room because it had become more of a storage room for my project supplies: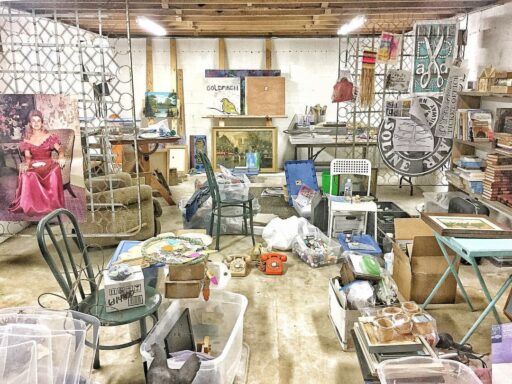 Storage Solutions
The solution to all the bins and boxes was to build a shelving rack in the other side of the studio. The rack just consist of six 2x4s and the bins slid right in: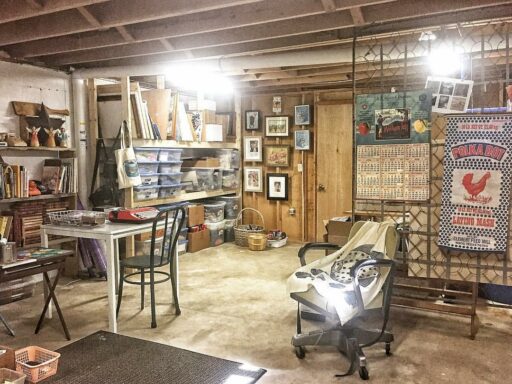 I added a few other shelving racks near the easel too and all the sudden the studio was a little clearer: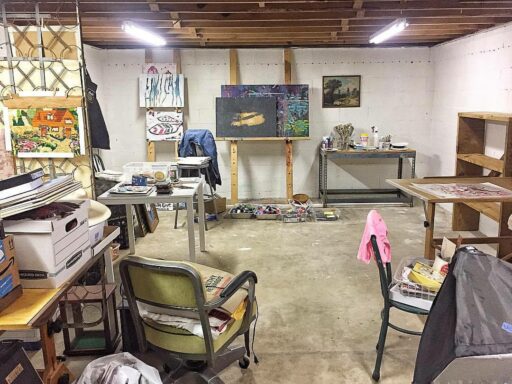 It still didn't feel right though. I couldn't decide if I was just being a brat or if there was something off. I finally figured it out…it still felt like the basement storage room because of the gritty cement floor. My first way to fix that was to paint the floor white.
It didn't take that long to paint. I should have done this a long time ago. Here's a short time-lapse:
Painting the floor suddenly made the room seem bigger, brighter and cheerier! It changed everything.
An Oversized Worktable
When I was in California I used to have two huge worktables and that was something I definitely missed but I wasn't sure if the room was big enough for one. Brett had the idea to place a large piece of 4'x8′ styrofoam on the floor so I could test out the size before we actually built a worktable. I walked around it for a few days and decided it would be great: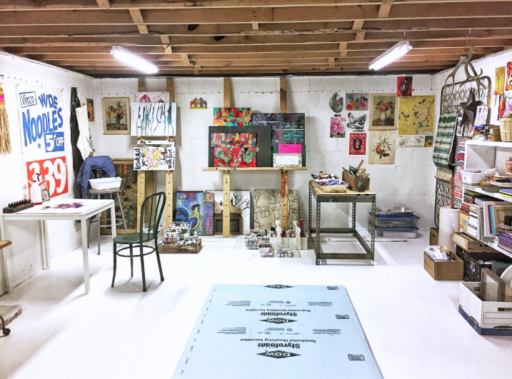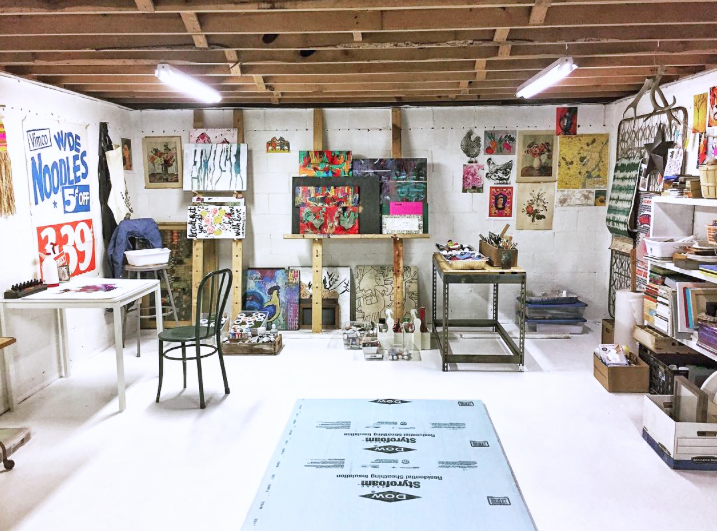 Brett had some scrap wood laying around and so all we had to purchase was the finish-grade plywood for the top of the table. The best idea was the storage shelf: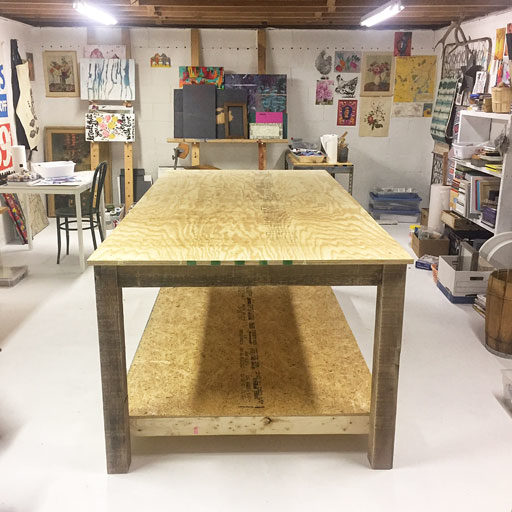 I painted the top and the shelf below with the same paint I used for the floor: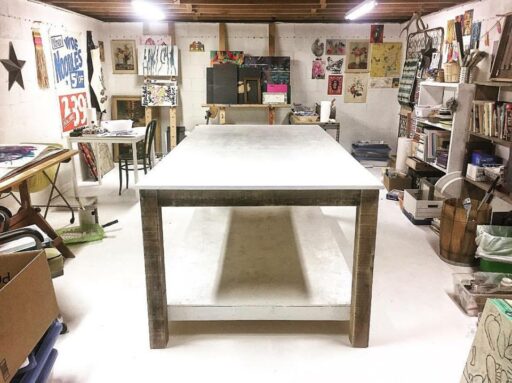 Getting use out of the storage shelf: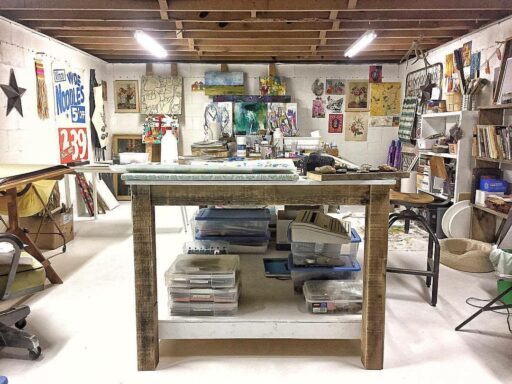 The studio is always changing and will always be changing. I painted the door one day with art quotes just to spruce up this side of the room: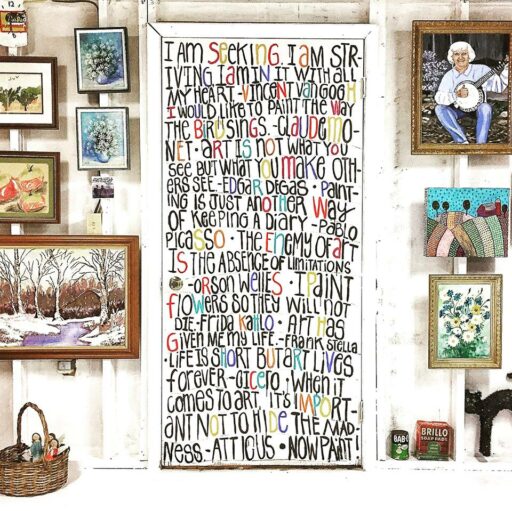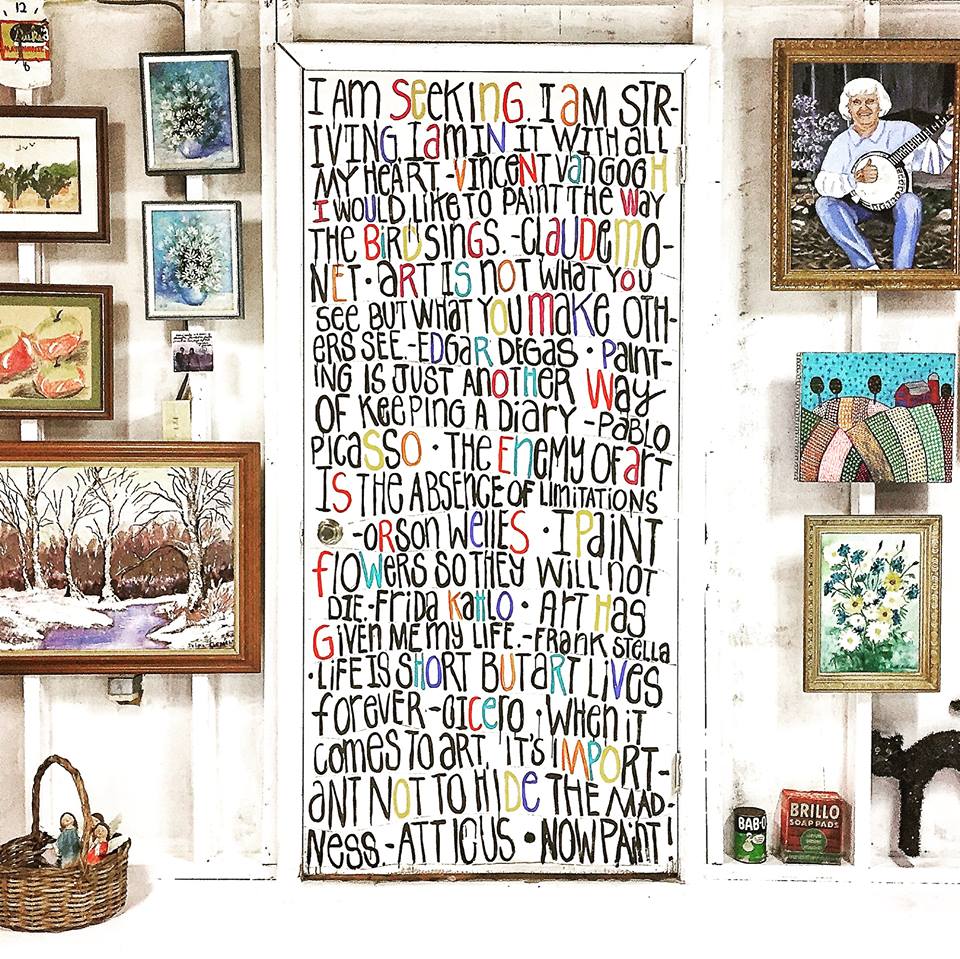 And I will forever be trying to perfect my organization: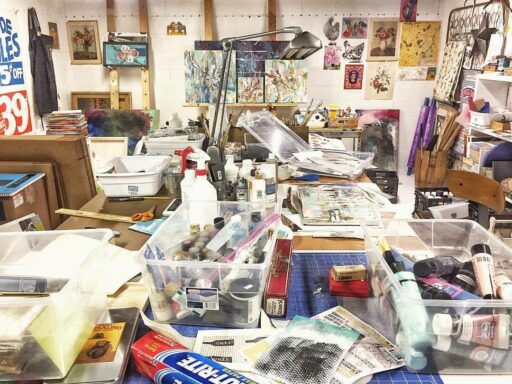 Especially for my paint: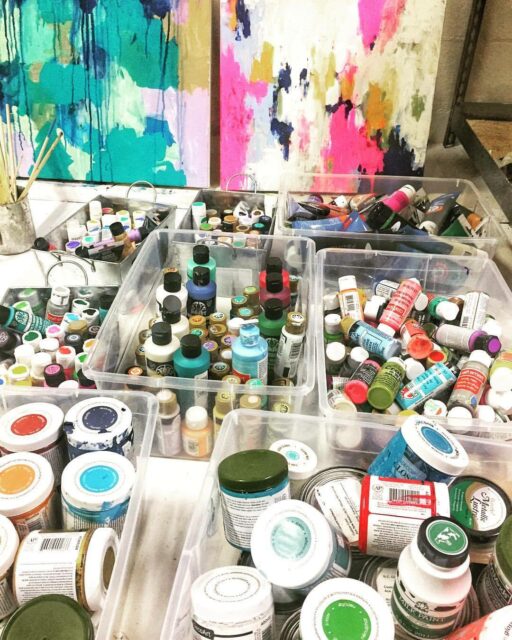 The most important thing for me as an artist is to be able to create and not have to clean everything up….I can just walk away from the mess and leave works in various stages of completion: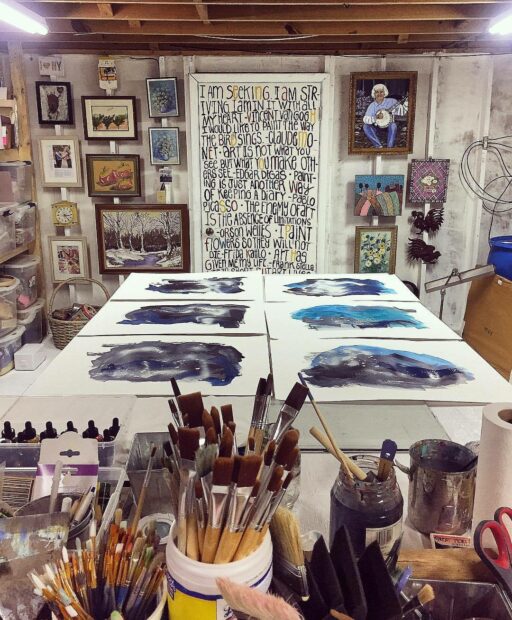 It's definitely a space I love to be in now as you can see from all the artwork in various stages: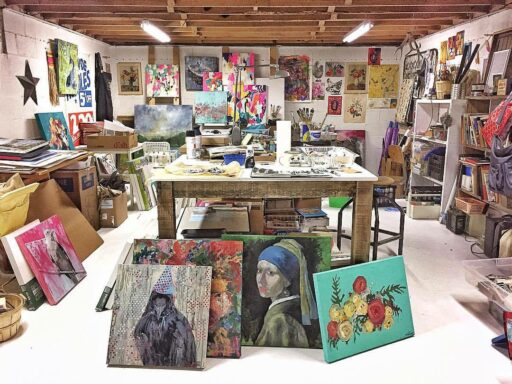 Art Studio Upgrades
It's funny that the two major things that I consider upgrades are a 1950s heater and a TV. The basement stays around 60 degrees all year round except for when outside temperatures drop to the teens for a few days and my ancient old heater keeps me warm: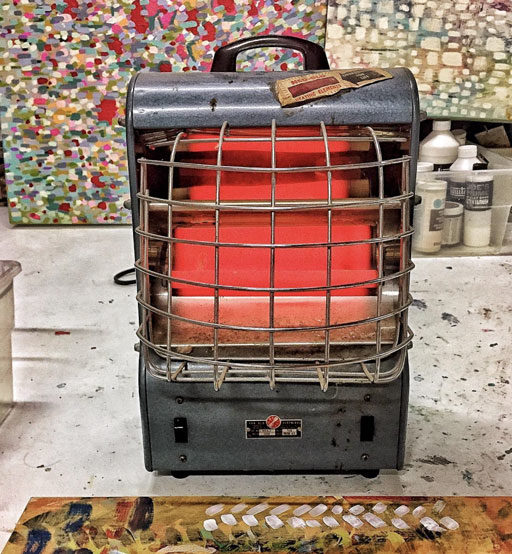 For Christmas I asked for TV and I got it! Sienna seems to spend more time with me in the studio now that I have Netflix: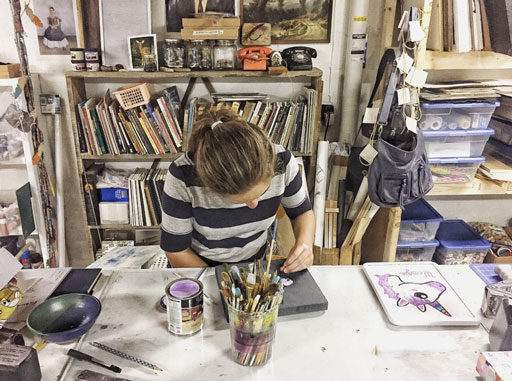 Here are some studio scenes from the past few months….it's fun to see how the art changes and what is in process: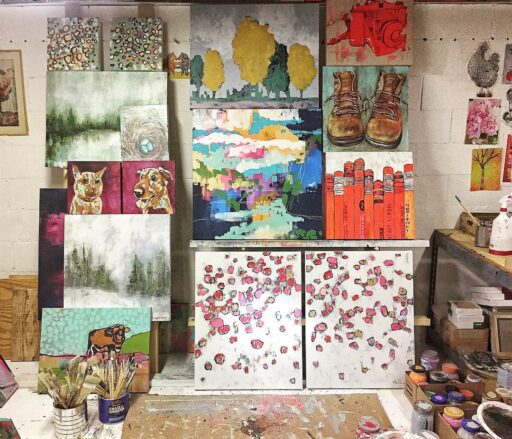 Things rotate in and out: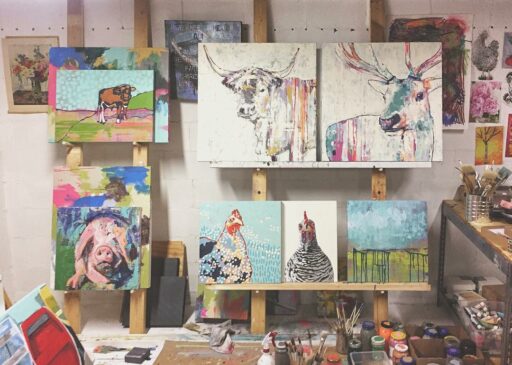 An eclectic mix: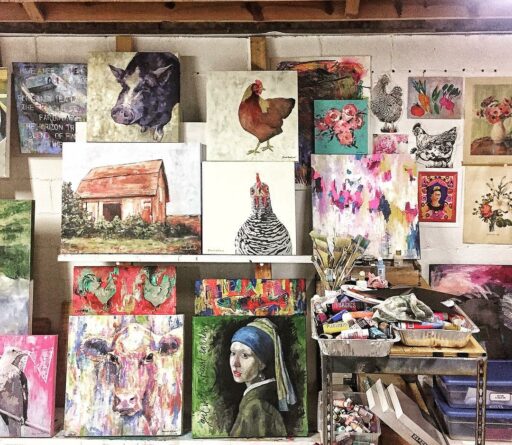 A floral streak: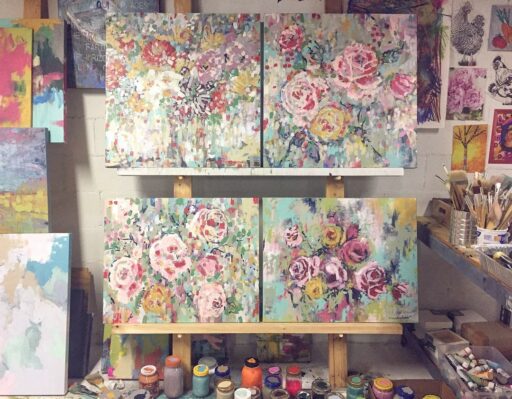 Inspired landscapes: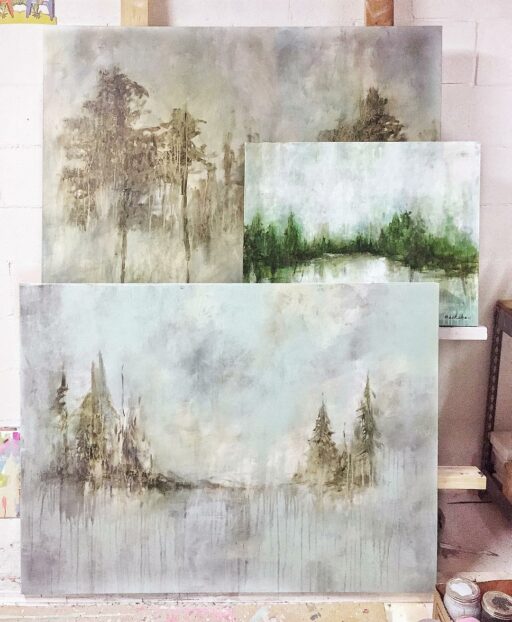 I'd love to know what is your favorite thing about your creative space. If you could change anything what would it be? Feel free to share a link too to your own studio if you have pics!