Travel Embroidery Art – New England Inspired Stitch Work
I know I've been gone a while but it's for a good reason! We recently went on an extended road trip to New England. We covered 0ver 2,400 miles in our little Prius and made it all the way from North Carolina to Maine. I'll share all our stops in another post but I wanted to show you how I kept busy in the car for such a long trip…embroidery:
I packed a small ziplock bag with a rainbow of thread colors, a few needles, a small pair of scissors and one hoop. I used a disappearing ink marking pen to sketch things out starting with the waves, then the ship, and finally the underwater sea life. Here's the finished hoop:
I finished most of it on the road but the last thing I added when I got home was the ship "rigging" because I had to use some thinner thread: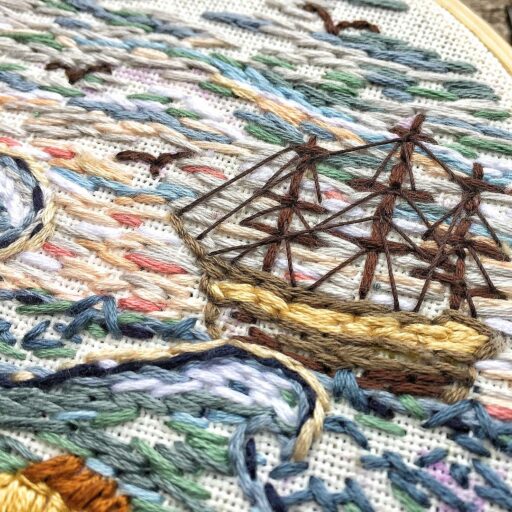 Closer detail of some of the sea life: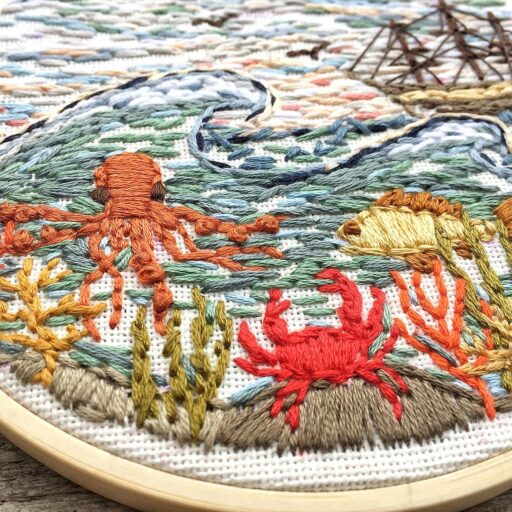 I used a few French knots for the octopus to bring out her tentacles: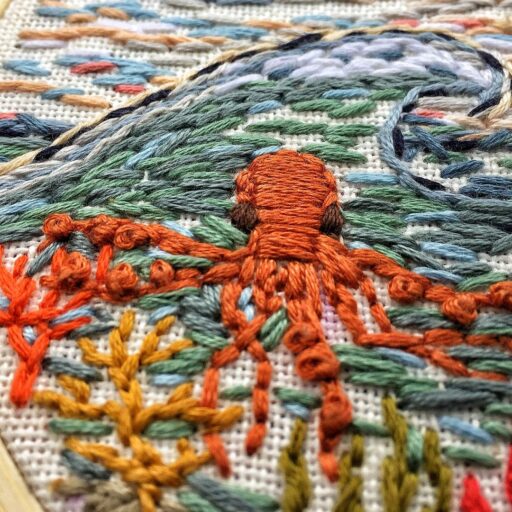 Someone shared a link on my Facebook page to a poem written by Corrie Ten Boom with the words:
My life is but a weaving
Between my God and me.
I cannot choose the colors
He weaveth steadily.
Oft' times He weaveth sorrow;
And I in foolish pride
Forget He sees the upper
And I the underside.
I almost love the underside of my embroidery pieces more than the finished side. I'm not very efficient with thread and often zig and zag across the back as my mind thinks through the composition: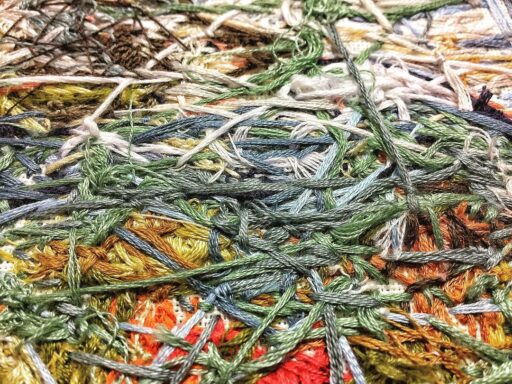 While I worked in the car on my embroidery, Sienna used the same thread to make friendship bracelets. She ties the end to her water bottle to work. Brett is always driving…he prefers to have control of the car. We also love to listen to audio books! This trip we listened to the entire book Home by Bill Bryson. We learned so much about how our currently way of living came to be. It's really amazing how our idea of comfort has really only been around for 150 years. We skipped over the chapter about bedrooms because Sienna was in the car and there were some not suitable parts for young children…it's not explicit…but just mature content. It's definitely a must read though…and mentioned a lot of places that were on our trip: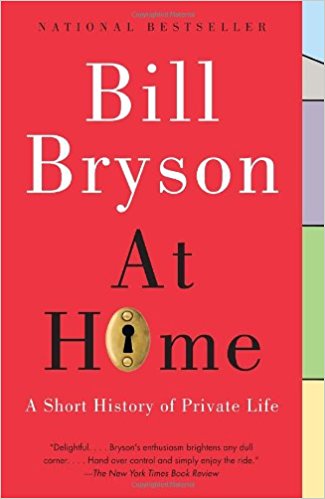 Home: A Short History of Private Life by Bill Bryson
"The beloved Bill Bryson gives us a fascinating history of the modern home, taking us on a room-by-room tour through his own house and using each room to explore the vast history of the domestic artifacts we take for granted. As he takes us through the history of our modern comforts, Bryson demonstrates that whatever happens in the world eventually ends up in our home, in the paint, the pipes, the pillows, and every item of furniture. Bryson has one of the liveliest, most inquisitive minds on the planet, and his sheer prose fluency makes At Home one of the most entertaining books ever written about private life."

Now that Sienna is older I want Sienna to pay attention as we travel. I watched an Annie Leibovitz documentary once where she talked about how her love of photography came from the frame of a car window as her family drove in their car on trips. Every since then I try to limit the screen time somewhat and we've switched to audio books. What do you like to do in the car to pass the time on long trips? How do you keep the kids entertained?