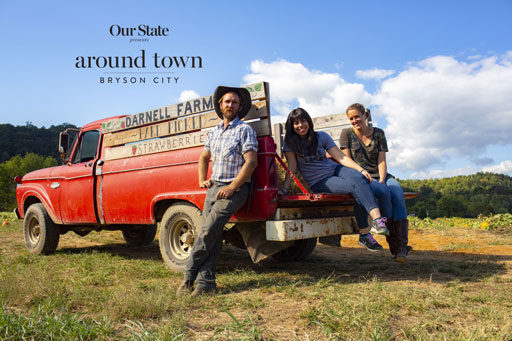 A few months ago I got on the phone with James Mieczkowski, a producer with Our State, to help him out with a scouting trip to Bryson City for the series Around Town. We talked for a long time on the phone about all the places I love in the area and I gave him a list of locals that would serve as great potential tour guides for the filming.
A few weeks later James and his cameraman Jeremiah had a chance to visit Bryson City. We met for dinner (at a food truck woot!) and they asked about a good place to film the sunset, and there are a bunch of places, but the day was already getting late, so I immediately texted my friend Tammy to see if we could film from her porch way up high. As we drove up the Road to Nowhere to chase the setting sun, and as I was telling James and Jeremiah about small town life, traffic came to a standstill and suddenly we were stuck on the road behind our local high school's homecoming court and the marching band. We laughed so hard as we inched along behind the tuxedos and tubas and watched the minutes on the clock tick away as the group marched slowly into the Maroon Devil Stadium. I told them I'd planned it all just for them.
We made it just in time to Tammy's house and she, her husband Dave and two little boys welcomed us onto their porch that looks east over the Smoky Mountains with peaks all the way into Tennessee. The sunset was perfection for filming: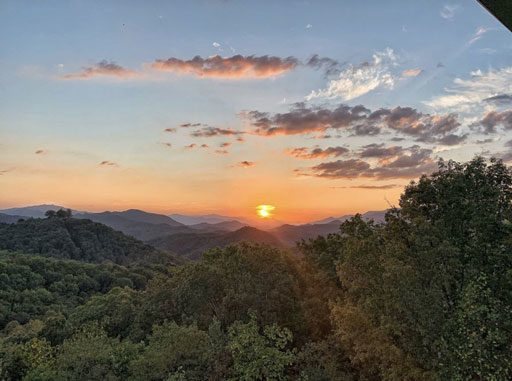 As James and Jeremiah dropped me off at my car later, I asked if they'd decided on a tour guide yet for the show and James said, "Well, we were hoping YOU would do it." I laughed…and almost threw up in my mouth a little. I hadn't put myself on the list….it was the farthest thing from my mind. I'm always a little hesitant with things like this because I don't want any of the focus to be on our businesses or my cancer story…just Bryson City and the Smoky Mountains…but I told James I would think about it and let him know in a few days.
Guess what my answer was: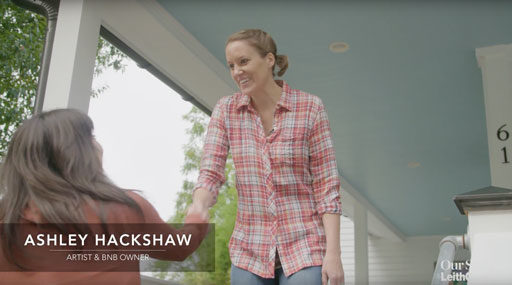 The day came for filming and I was so nervous. I can tour guide all day long but when a camera turns on for some reason it becomes harder…but it got easier as the day went on. Maybe it just takes practice but my friend Nate Darnell was a natural. He needs his own TV show. Anyway, I would love for you to watch the short film! It takes you through our Airbnb house 61 Park and then the train and to Darnell Farms and then out to one of my favorite secret little places:
So anyway, I'm really glad I said yes. I was scared and I decided I should just go for it….because I do have a lot of stuff to say and share about our small town. I love story telling and taking people off the main road….and what I loved so much about James, EB and the crew is how willing they were to go that way. And I love how the video turned out! They really captured what I love about this place. We literally filmed from 7:30 in the morning until sunset. The crew and the host EB were so much fun. I was really sad for them to leave. And then they asked me to come over for pizza and I was like "okay my new best friends!" And then I came home and slept for 10 hours. Phew.
Oh Tammy and Dave's sunset view is at 0:24!
Also here are a few behind the scenes photos:
On the Great Smoky Mountain Railroad: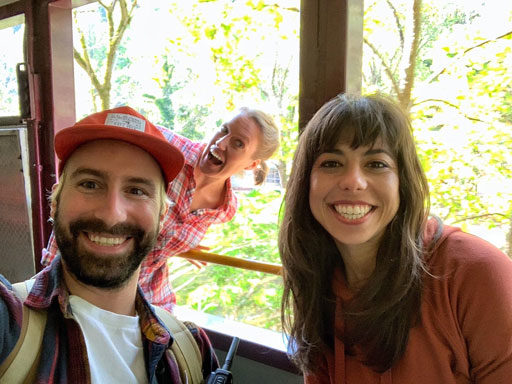 On the front of the train (they NEVER let anyone climb aboard the train engine so just this would have made my entire day):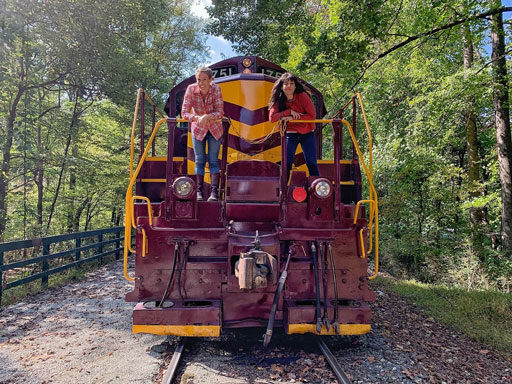 Skipping rocks in the Nantahala River: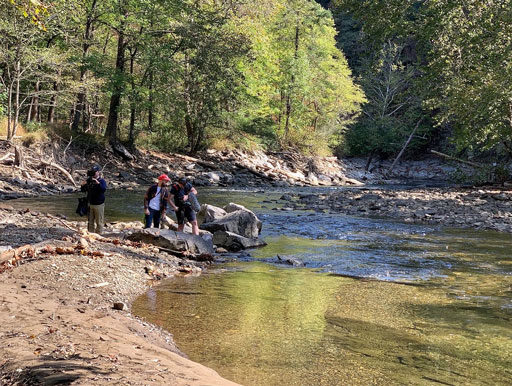 Nate Darnell getting his mic on: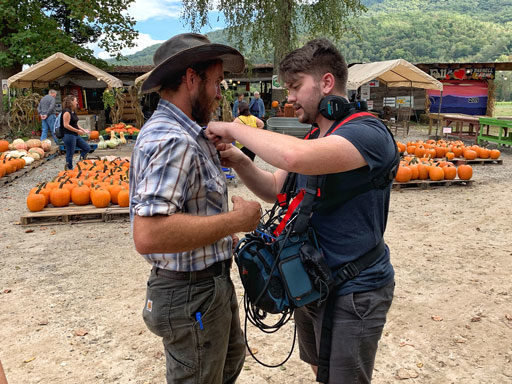 Post filming at Darnell Farms: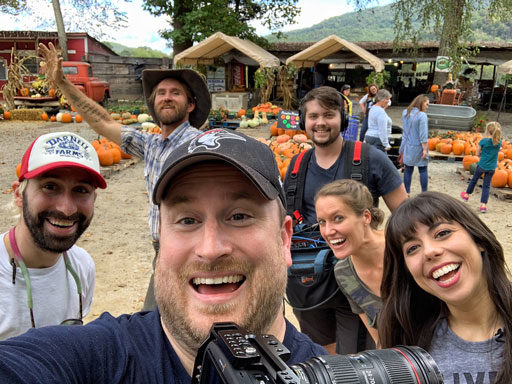 Filming in the pumpkin patch: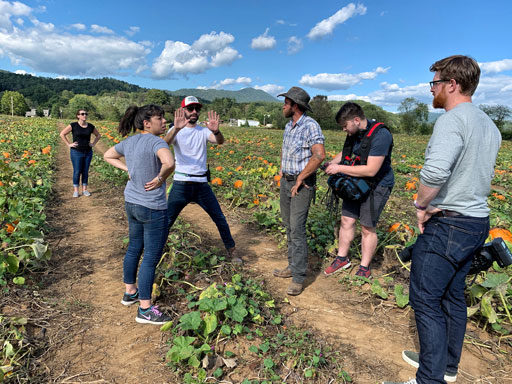 Me filming the crew in the pumpkin patch:
Filming in the corn maze: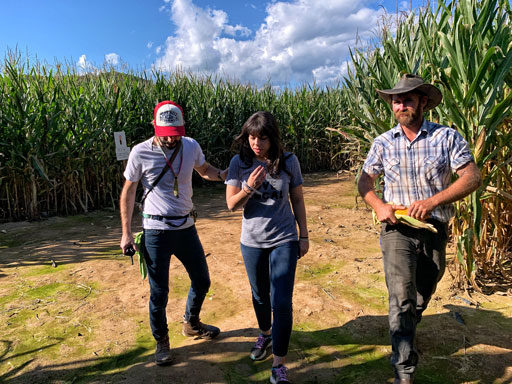 Sitting on the back of old Bessie: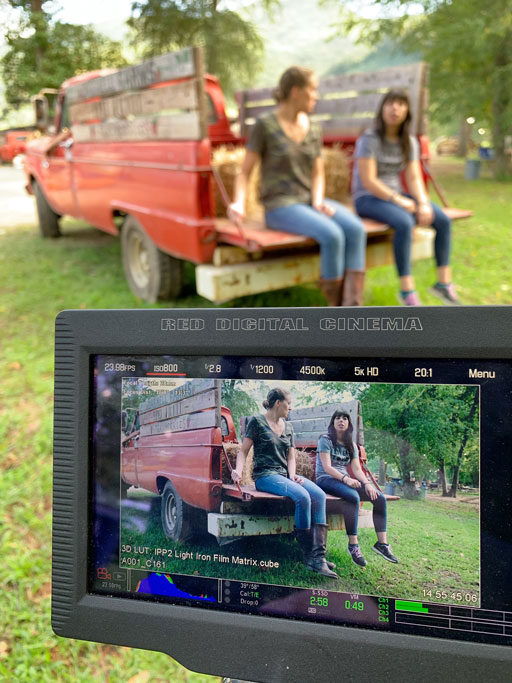 Me, Nate and EB: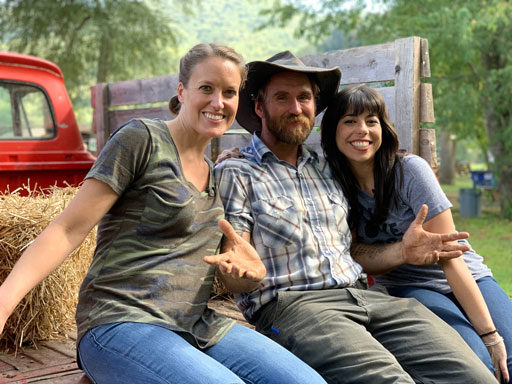 Taking a break in the pumpkin patch: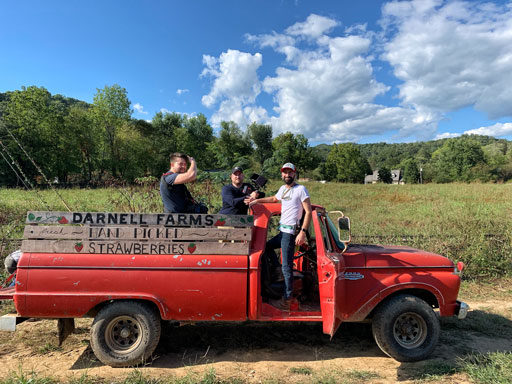 It really was a day I'll never forget…and so many things just fell into place. The video is also posted here on Our State with a travel guide to some of the places we went.
Also, maybe you remember the time Our State came to town and wrote an article about the new generation? Here it is if you want to check it out. Our State has always done such a great job of really capturing something genuine.
And I'm thinking about starting my own YouTube series now. Just kidding.