I found where the river meets the lake yesterday. Well, actually a friend took Brett and I there. But still, where the river meets the lake. The mouth. The basin. The convergence. All of the roaring and tumbling ends almost instantly.  It's like it just runs out of steam.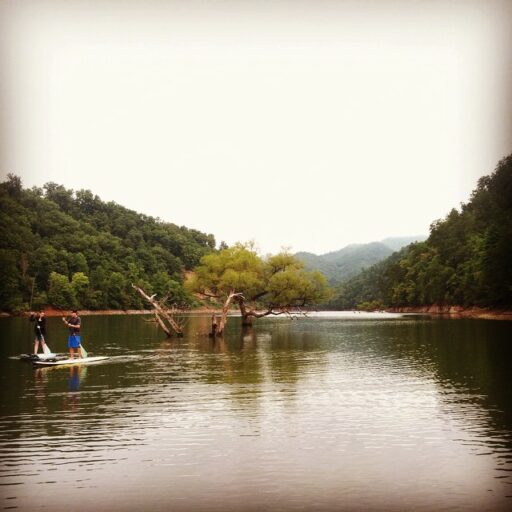 Our friend Ben from Bryson City Outdoors took us out, dropped off the boards, and gave us a quick paddle boarding lesson before we set out on the lake. I did not take my phone with me…this was taken with a Go Pro (a waterproof one):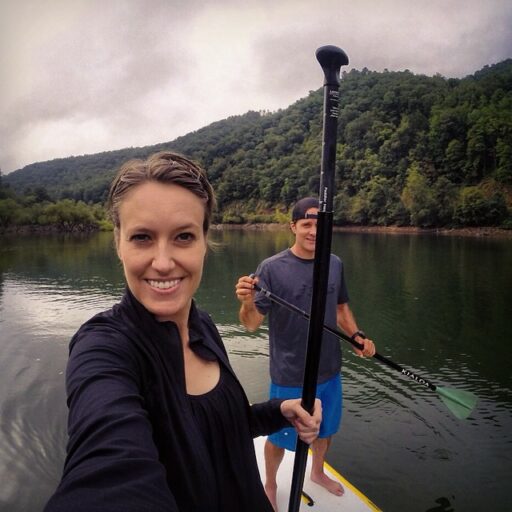 As we paddled we stumbled upon old Hwy 28.  The water is low enough right now that you can see the top of the bridge. Brett paddled through it….I stayed back. Reminds me of What lies Beneath…or the end of the world….what it would be like if we all just disappeared one day. These mountains do tend to emit the feeling of ancient-ness.  (You can read about what's underneath the lake here).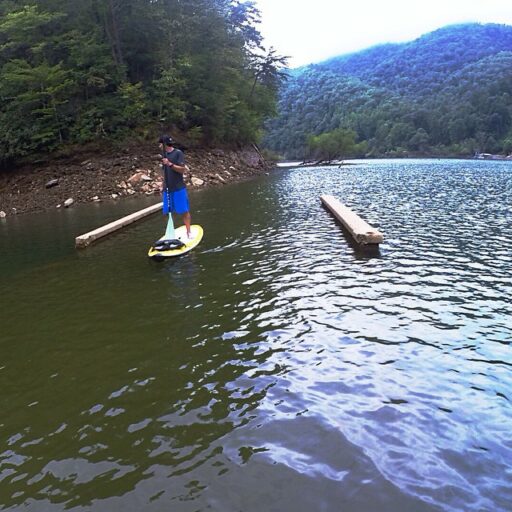 As we paddled back towards the boat ramp, from a distance, we saw another truck pull up.  Two men backed a truck and boat down the ramp.  They took off to the other side of the lake creating huge wake.  I waved to them and they hesitantly waved back.  And then we realized why:
Brett: They took my shoes.
Me: What? I'm paddling over to them to ask for them back.
He wouldn't let me.
Me: He has a Jesus fish on the back of his truck. Maybe he actually has a conscience…
I decided to leave a note on the man's truck instead.  I didn't accuse him directly, just said if he found a pair of shoes could he please leave them at our church.  God Bless. Hubby is unemployed.  Hope you found some fish. Etc. I signed it something like: from someone who refuses to lose faith in the kindness of humanity.   It just didn't seem worth more trouble than that.
Me: Desperate people do desperate things.
Brett: I'm over it….he probably needed the shoes more than I did.
Me: You are barefoot. 
And the truth is that we had just had such a wonderful time on the lake, not even stolen shoes could have put a damper on it.
I'm sorry fisher-man.  This is where the river meets the lake. And we came here on purpose.  It's the lowest spot.  You can't take us any lower. 
When I placed the note under his windshield wiper, I realized that I'd written the note on the back of one of Boo's Sunday school drawings: a large heart with the words "God is Love" written in dainty little letters.  I chuckled at the not-so-subtle message I was leaving him. Who knows….maybe the shoes will turn up. Maybe not.  The most awesome thing in the world is that no one can steal my peace and joy from me. And I take all these little snapshots to remind me of that going forward because life has those peaks and valleys.
Late last night, after sending out my Dear Friend letter, I finished watching The Diving Bell and the Butterfly.  I had watched it over a period of two consecutive nights.  A beautiful film and so well done I felt myself in Jean-Do's claustrophobic diving bell throughout every scene.  My eye began to hurt as I watched him blink out the letters to his manuscript and I vowed I would never forget it for the rest of eternity (or at least for the next day).  A powerful film that I recommend highly. Subtitle alert.  But Jean-Dominique Bauby's situation was an extreme one, but so many able-bodied people are caught under that Plath-like bell jar.  I know sometimes it may sound like I'm trying to sell life to you….because I am.  Buy into life. Life. Love. God is love. Love your life. Be kind. Do stuff. Let your soul breathe it all in…deeply. And it's all your story. Her-story. His-story. History. And history:
 
It is the centuries of systematic explorations of the riddle of death, with a view to overcoming death. That's why people discover mathematical infinity and electromagnetic waves, that's why they write symphonies. Now, you can't advance in this direction without a certain faith. You can't make such discoveries without spiritual equipment. And the basic elements of this equipment are in the Gospels. What are they? To begin with, love of one's neighbor, which is the supreme form of vital energy. Once it fills the heart of man it has to overflow and spend itself. And then the two basic ideals of modern man—without them he is unthinkable—the idea of free personality and the idea of life as sacrifice.
– Boris Pasternak, Doctor Zhivago
Oh, and I forgot to tell you: this summer I found the beginning of a river.  When we hiked Mt. LeConte: This is where the river begins. It's being born. The mist begins to condense onto the vegetation and then it begins to drip and then a trickle turns into a stream. As it's filtered through moss and rock it gets funneled into tiny waterfalls across the trail…which eventually compound into the larger streams below. I imagine that all the veins eventually begin to find each other until they have enough water to form a creek, and the creeks eventually merge into rivers. The water always hurries along, finding it's way to the lowest point. A very humble trait of water.
Disclaimer: Sometimes I use affiliate links. All products were picked by me, purchased by me, used by me and loved by me. They help to cover the server expenses of my website.  I am grateful for each and every click. Thank you!