I'm working on a fairy forest mural for a client family right now that includes a very large butterfly chalkboard. It is going to be an awesome mural on five walls for the girls' room so stay tuned for photos!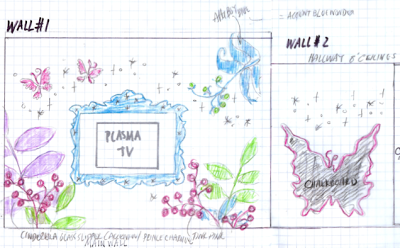 I want both sides of the chalkboard to be completely symmetrical so I made a large template that I will use for both sides of the butterfly shape. I placed it against our
growth chart
in the below photo so you can see that it is close to 5 feet tall!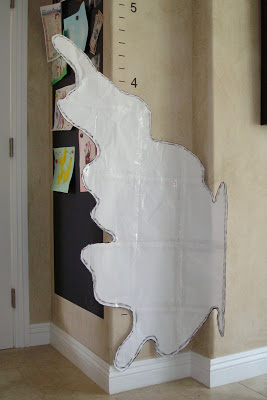 To make the large stencil/template:
1. First draw the shape you want and scan it into your computer.
2. Upload the shape to the Homokaasu program that you may have read about in my post
How to Rasterize a Photo
. With this program you can size the drawing to as large as you want and it will print off on letter sized paper in your printer.
3. Piece the shape together and tape all the seams with packing tape to reinforce it.
4. Outline the shape with marker and cut out.
Easy!