Walking downtown this evening through the train tracks: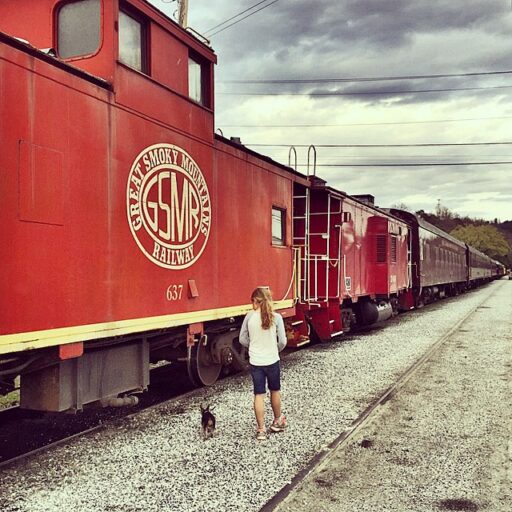 I don't set an alarm clock in the morning because the train starts blowing it's horn each day around 8:45am. Train signals. It's a much nicer sound than waking up to a blaring beep. I've been noticing the trend in the horn, there's a pattern to it. Obviously there's a train horn language I'll need to learn now that we live so close. I think I'm figuring it out without looking it up:
three short blasts = backing up
That's all I've got right now. The horn blows so often that I actually have to focus on paying attention to it, otherwise I really don't hear it.  Because of the winding roads around here some people have to cross over the tracks a few times to get home, that means more than once…and there isn't always a little gate doohickey to come down. You actually have to PAY attention, especially in the summer when it comes in and out of town twice a day.
Boo has a new pair of overalls…she could fit right in behind the scenes of the railroad. The hardware store ordered me a pair too. I haven't had a pair since I moved out to California. I might just wear overalls all the time…when I'm not wearing flannel shirts of course. I've come to the conclusion that you really only need 2 good pairs of jeans, a few t-shirts, a few flannels, and a pair of overalls to get along just fine. Oh and maybe one or two nice shirts to wear to a wedding. (that's for you Harper, I'm not going to wear my overalls to your wedding.)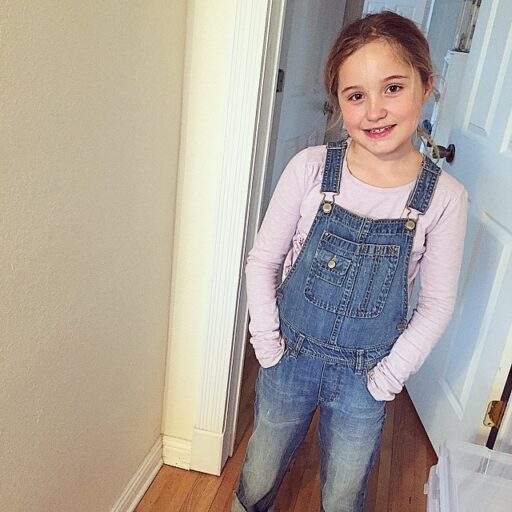 Boo and I went to the thrift store to see if she could find anything for Easter. Instead we found this old phone. Who wants to wear an Easter dress anyways…I never did. I told her she could wear her bunny t-shirt instead. I'm not wearing a dress…I'll probably wear a t-shirt too since I'll be handing out drinks at the big Easter event afterwards (that EVERYONE is invited to btw, The Grove on Franklin Grove Church Rd).  Oh, this phone has one of the old plugs…I wonder if I could get it converted. Funny, around here phone numbers are still only 7 digits. No one ever gives the area code. I'm not used to that yet, and when I ask what the area code is I get strange looks.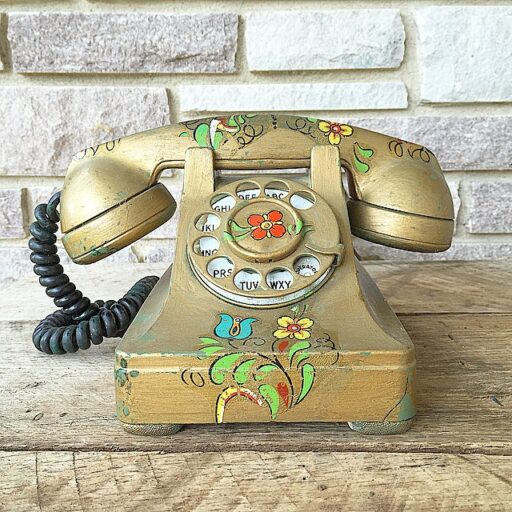 Boo had her first piano lesson last week. We can walk there…her teacher lives above the old drugstore where his antique shop is. He collects old clocks and they all chime at different times which I think is fantastic. I can't even make this amazing stuff up.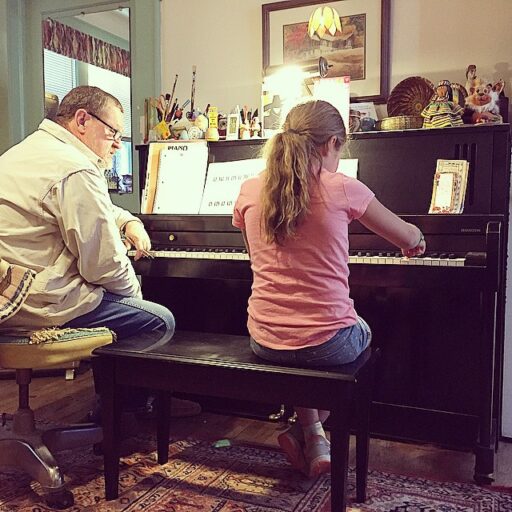 An old friend from high school asked if I wanted to do an art swap. I paint a few of my 3″ paintings for him and he'll paint something in return. I didn't expect this huge painting to arrive in 4.5′ x 3.5′ box!  How awesome is this painting of the depot by my friend Alex: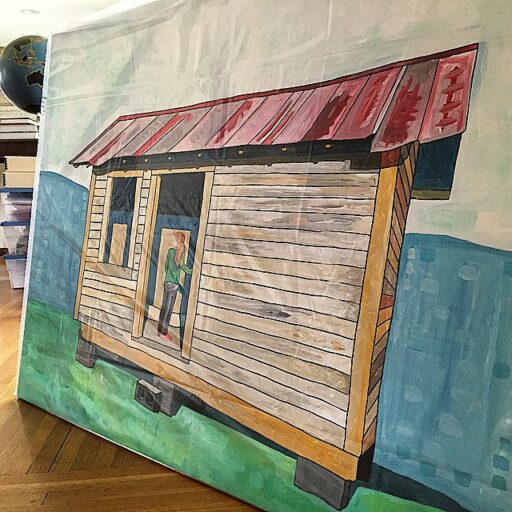 I might send my tiny paintings back in the same box he sent the painting in. Just to be funny.
Bryson City Outdoors opened this week! It's only been open a few days but it's been a great success so far with lots of visitors. Our friend Sarah made a huge detour on her way back home to DC to come and take some store photos. They came out with a new "Elk" t-shirt today too. If you missed what all that's about read about the big renovation project here.  Here's a photo of the building at night before opening day: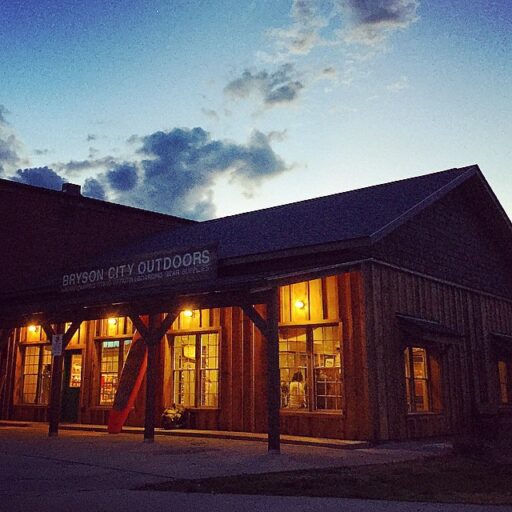 If you make it to Bryson City this summer make sure to stop by and say hi to my hubby Brett! Boo will probably be running around too…and I try and stop by at least once a day, usually towards the end of the day.
Oh, and it's National Poetry Month. I wrote about that in my weekly letter today. (if you missed it you can find it in the archives)
Have a great weekend!