I love sewing on cardstock because of the sound the needle makes when punching through the paper! Weird, I know. Working on a bunch of cards for Mother's Day today…. I've got a lot of mothers,  and grandmothers, and godmothers to cover in our family (if any of my family is reading this….come back after Mother's Day!)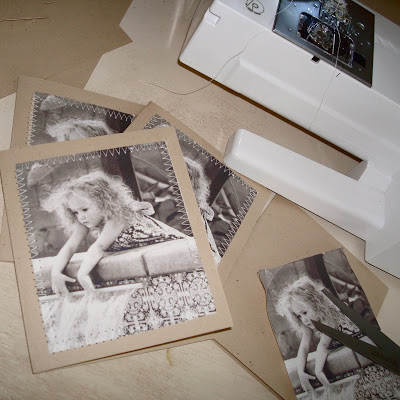 I printed out a photo of Sienna on cotton fabric and I've been stitching these to the blank cards I assembled.  If you don't own a bone folder, you need one! It makes the crease so perfect. Sienna will color the inside and I'll "pretend" sign her name with a few of the letters backwards. Maybe I'll stitch some paper flowers to the front or ribbon…..
Note: You can buy cotton fabric sheets at your craft or sewing store that can be used in your inkjet printer. The sheets I used are by
Jacquard
. They have a paper backing that peels off once after printing.
I didn't stop with the Mother's Day cards. I had the below fabric photos of Sienna left over from Valentines Day and made gift tags for a birthday party this Sunday.  They turned out cute….especially with the whole "natural" gift wrapping look. Birthday gift wrap can be so tacky and expensive….I love making it simple. These tags would be great for party favor bags too!