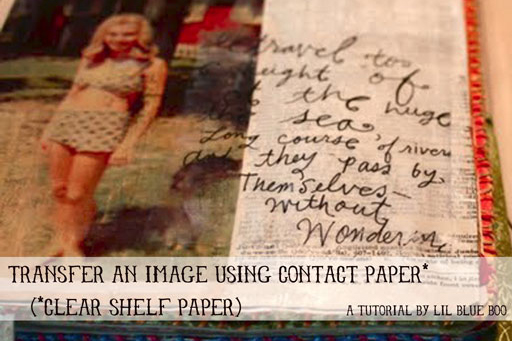 You can make journal pages much more interesting by layering multiple images and text. There are many ways to transfer an image onto a page….so I'll be doing several posts with different techniques. Below I'll show you how to use clear Con-Tact paper (the stuff used for drawer liners and textbook covers). Many people use packing tape for this same technique, but I think it is too limiting because it's size.
My photocopy is a quote written by Sabrina Ward Harrison in one of her books. I love her handwriting!
Cut out your Con-Tact paper to cover the portion of the photocopy that you want to transfer.
Peel the backing off the Con-Tact paper…..
……and place on your photocopy.
Use your fingernail or another object (I'm using a bone folder in the photo) to burnish the top of the Con-Tact paper to make sure it adheres well.
Cut off the excess paper surround the image.
…and gently begin rubbing the wet paper off of the Con-Tact paper.
The photocopied image will be left behind.
Then I placed the transferred image on the page……
….and brushed the excess matte medium over the top and made sure to push out any air bubbles.
Finished! An easy and foolproof way to make those pages more interesting.
(My mother is going to LOVE that I have this photo of her in a swimsuit when she was younger on my blog…..but she was Miss Teenage Maryland, I think she should show it off!)
Other image transfer tutorials to check out: