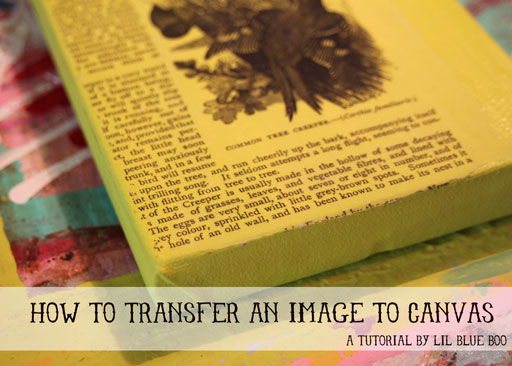 You can get so creative with Golden's mediums. For this tutorial I use Golden's Regular Gel Medium to transfer a photocopied image onto a canvas. (This is the 2nd tutorial of the "transfer" series. You can view the first one here.)
Materials:
Golden Gel Medium – Regular (Gloss or Matte)
Canvas or wood
Photocopy (mirror image)

Apply a generous coat of gel medium to the canvas (I painted the canvas a lime green).

Place your photocopy face down on the gel and smooth gently to adhere well and remove all air bubble. (I like to use a brayer as shown below)

Allow the gel to dry completely for about an hour. Then dampen the back of the photocopy with water……

……and use your fingers to rub all the paper off.

The image will be left behind! Now you can seal it, paint over it….endless possibilities!

I photocopy lots of these images like the one above from this old book my father brought as a present from England when I was younger. When I was little I was like "great, a dusty old book" but now it is one of my most favorite possessions.

When closed, the side of the book pages look like below. But OPEN it JUST right…..

……and the pages reveal a hand-painted fox-hunting scene. It must have taken the artist forever to paint such a small detailed painting on the angled pages!