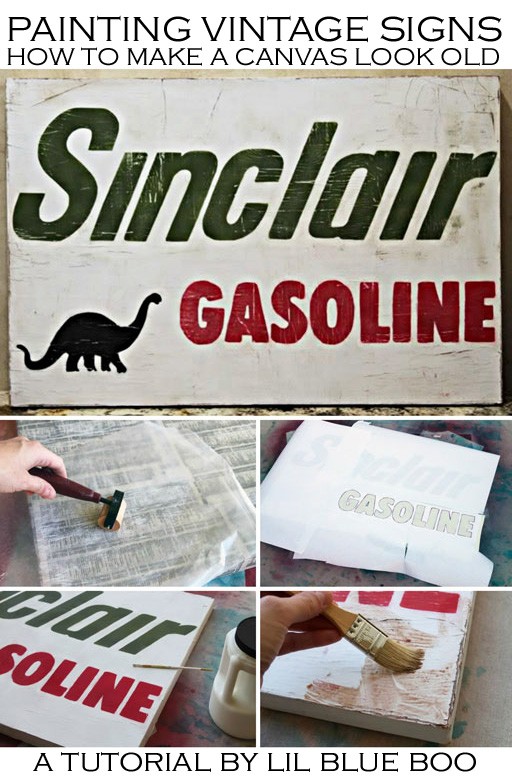 We've got a big blank wall in our hallway that needed some new art work…..so I made this vintage looking sign for Mr. LBB's birthday. His great grandfather used to own a Sinclair gas station so I thought it would be a sentimental piece as well! This tutorial uses a ready made canvas which makes the final product lightweight and much easier to hang than a heavy wood or metal sign.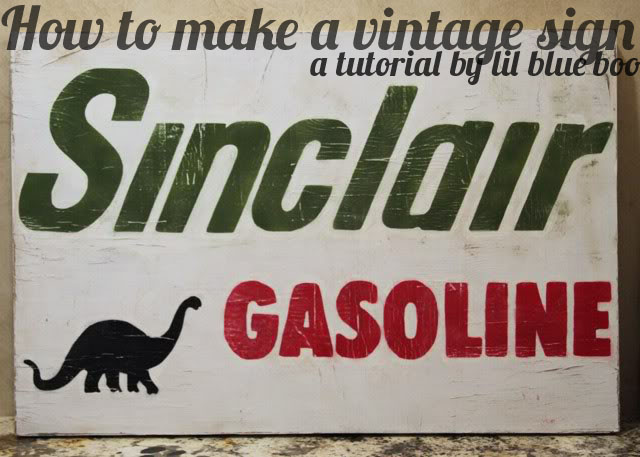 I discovered the distressing technique I use in this tutorial on accident through page layering in my art journals…it's an easy, fool proof way to simulate aged, peeling paint:
Note: I use this technique in these following tutorials too: Distressed Folk Art Painting and How to Fake A Landscape Painting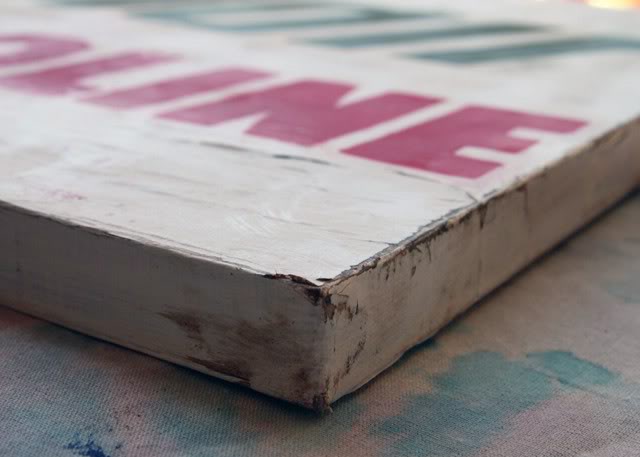 First I started with a blank 24″ x 36″ canvas (actually this was an old one that I was testing some finishes on….but same difference):

Step 1: Preparing the canvas
I used matte medium to decoupage thin sheets of newsprint (I like to recycle old phone book pages) to my canvas.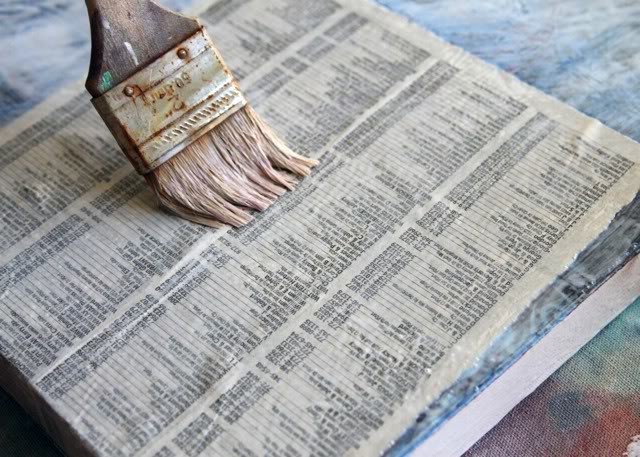 I covered the entire canvas in overlapping pieces until the top and sides were covered.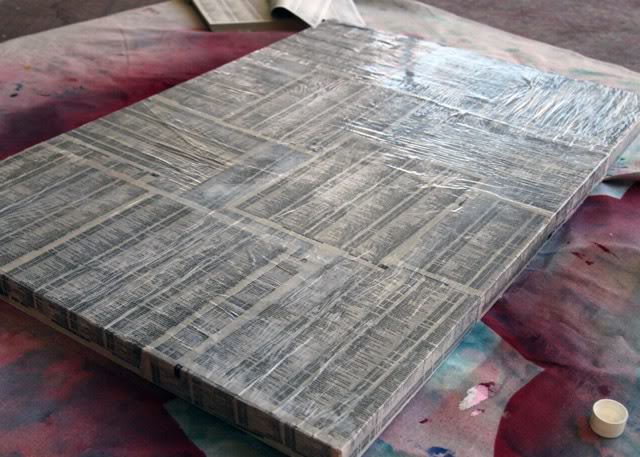 Before all the layers dried, I used a brayer to flatten any very large air bubbles. I used wax paper in between the brayer and the canvas to keep it clean.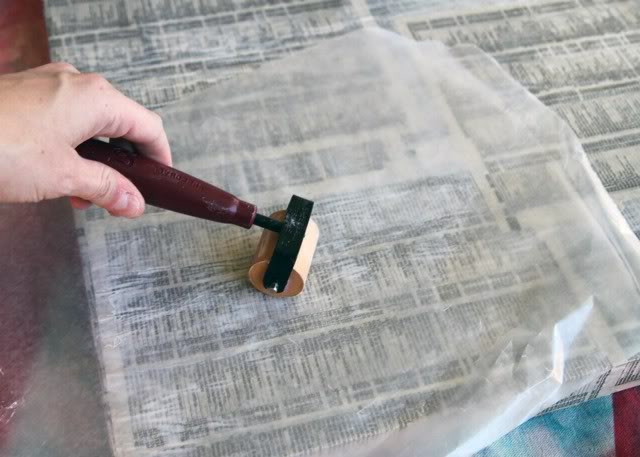 Step 2: Creating a Stencil
I printed out my graphic/text on regular sized paper. Then I took it to Fed Ex/Kinkos and used the large copier to enlarge it to the exact width I needed (cost about $4).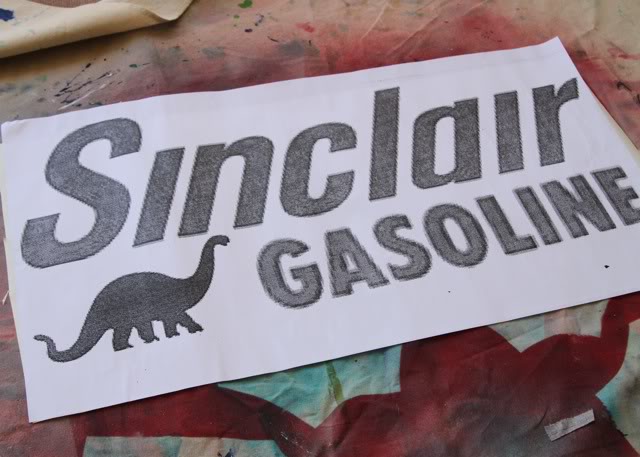 I rolled out a large piece of contact shelving paper and I used spray adhesive……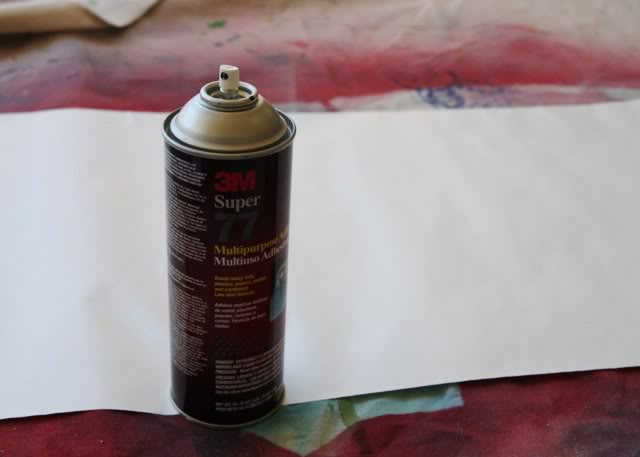 …….to attach the photo copy to the top of the contact paper. (Note: Do NOT apply to the paper side of the contact paper, you will be peeling this off later.)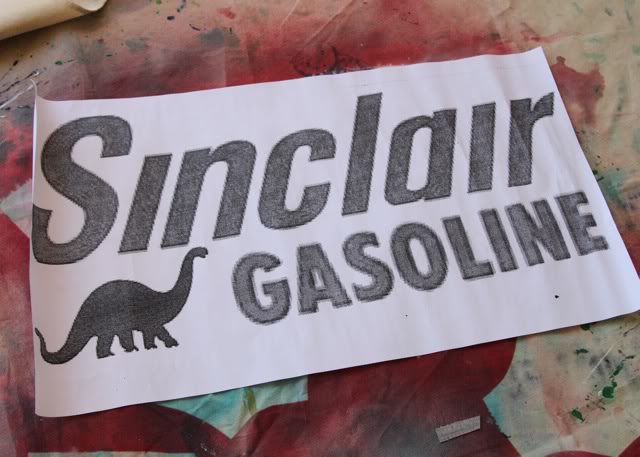 Step 3: Painting
Once the paper layers were completely dry, I used white gesso to cover the canvas and make it an opaque white. This prepares the surfaces for paint. Then I covered the entire surface with white spray paint as my background color. Once the paint is dry wipe the surface clean to remove any residue that may interfere with your adhesive stencil.

Next I used small detail scissors to cut out the letters from the contact paper stencil. Then I peeled of the back of the contact paper and placed it on my prepared canvas. I used paper to mask off everything except for the word "Sinclair":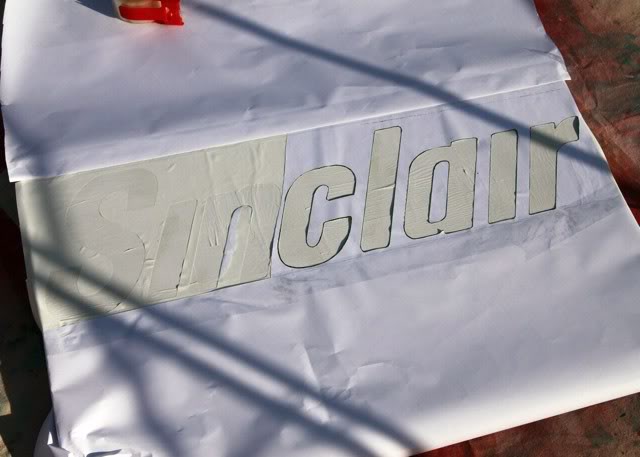 I used green spray paint to fill in the letters: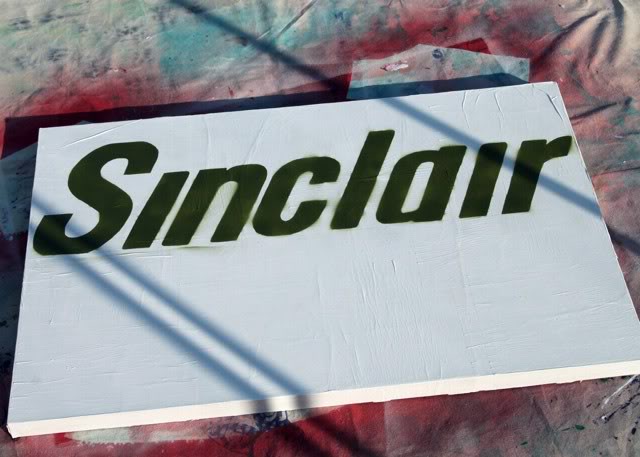 Once the "Sinclair" was dry, I masked off the rest of the sign except for the words "gasoline" which I then spray painted red: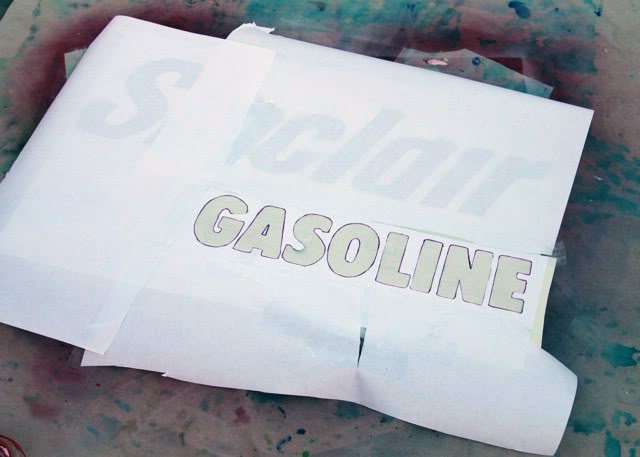 I repeated the same process for the black dinosaur: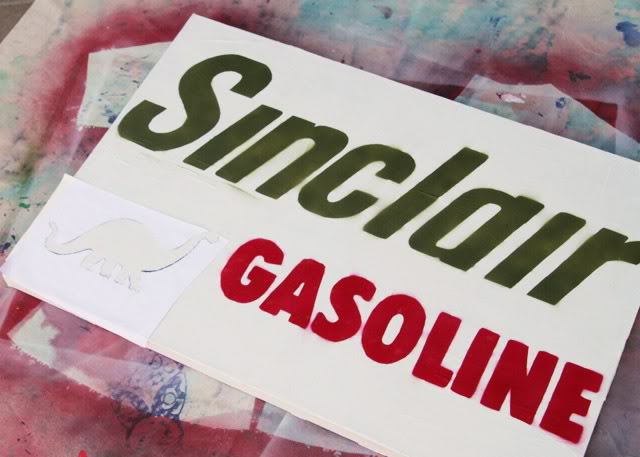 The sign immediately post-spray paint: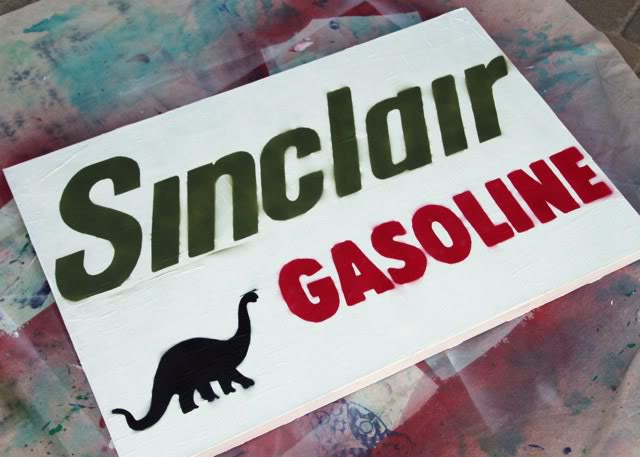 Stenciling in this way isn't a perfect process so I had to touch up some of the letters….but it actually adds to the "aging" of the sign. I used white gesso for the touch up.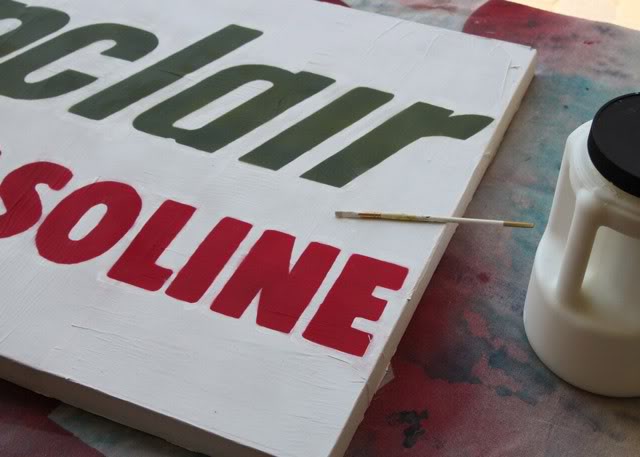 Step 4: Distressing
After the entire sign was dry, I took my detail sander (I use a Black and Decker Mouse) and sanded down the entire sign. The paper starts to sand off in raised areas which gives the painting a random distressed look.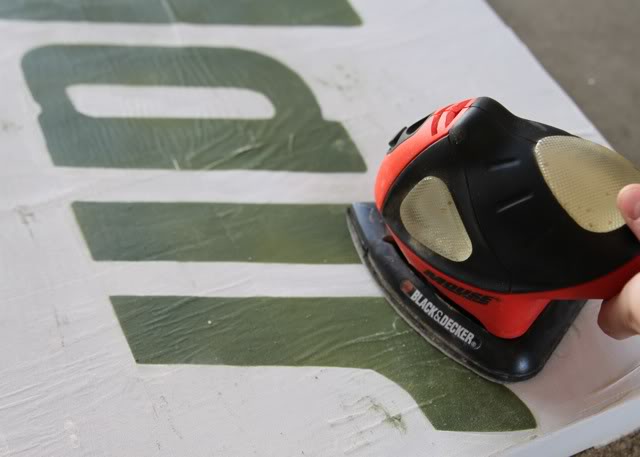 I sanded down the corners a little extra where extra aging would have taken place.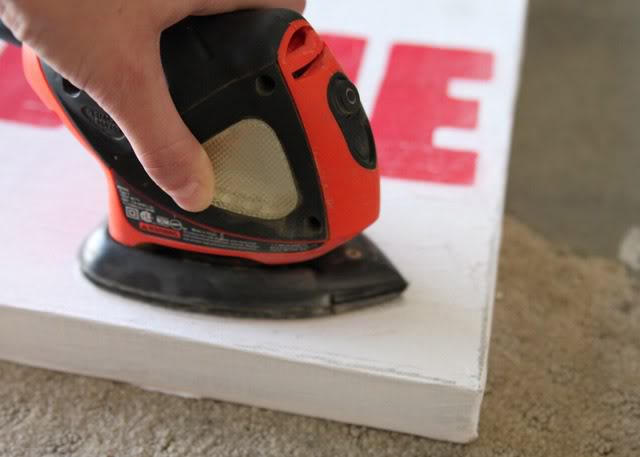 I wiped down the entire canvas to remove excess dust from sanding.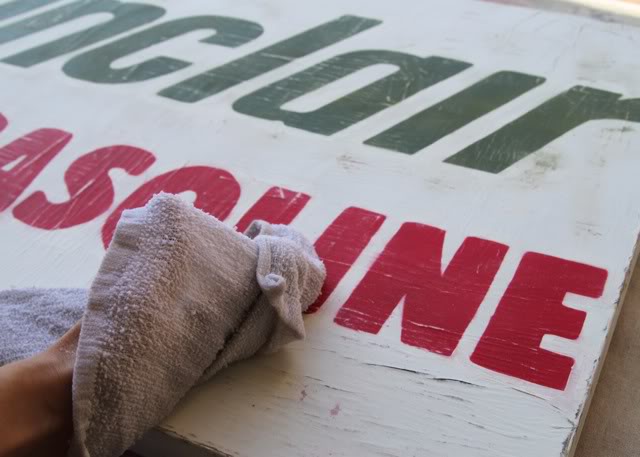 Step 5: Additional Aging
I took dark brown paint and watered it down a little to make a thin glaze (I use Golden Fluid Acrylics because they thin well and are a nice glaze layer, but any paint will work).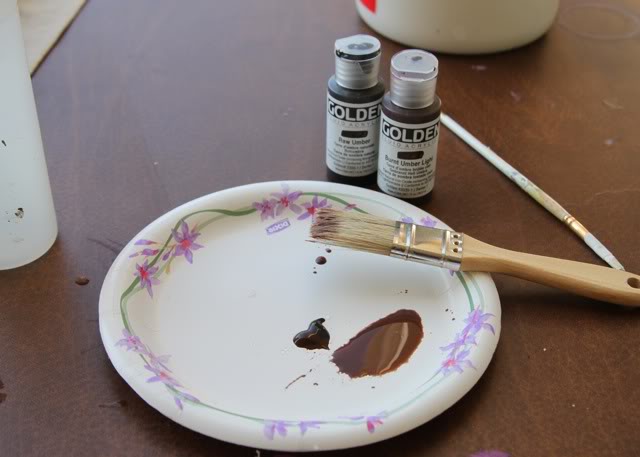 Spread the brown glaze layer making sure to get it into the places where the paper is showing through. The paper layer will soak this glaze up and turn a brownish color.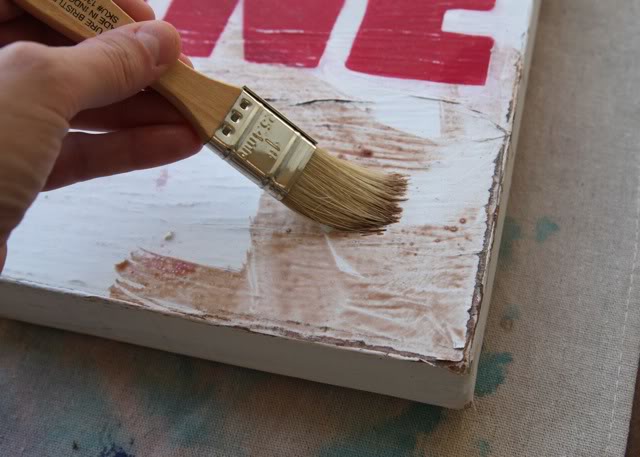 Take a cloth or paper towel and wipe off the excess paint as you go.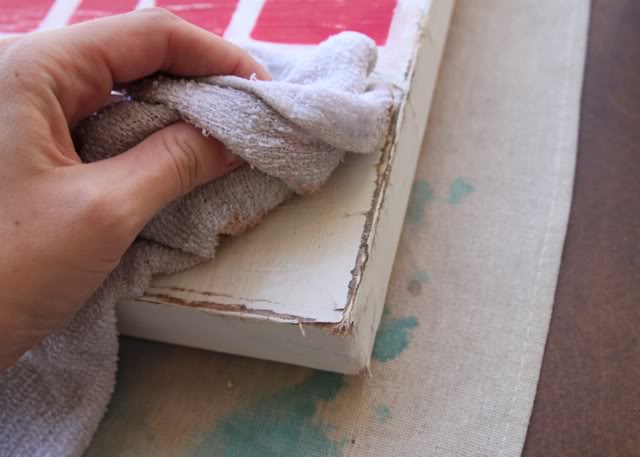 It helps to have a good assistant: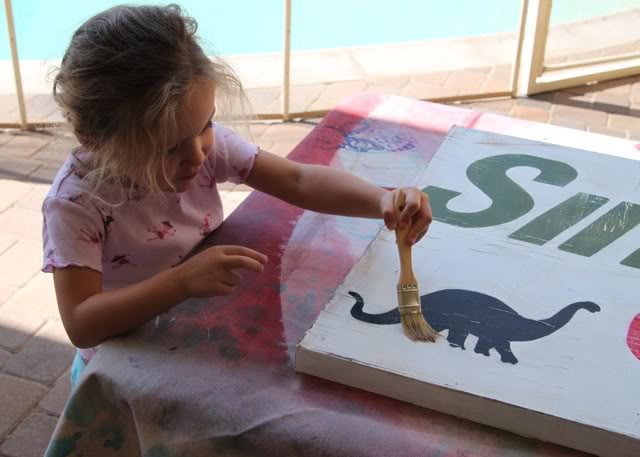 A finished vintage sign! You can apply a varnish once all the layers are completely dry to protect the painting.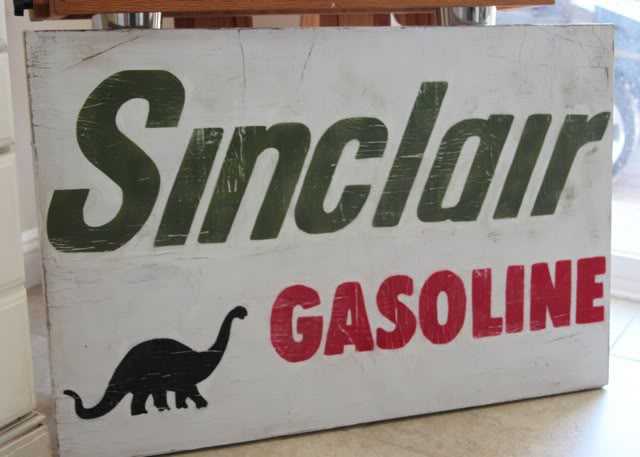 Now I just have to hang it!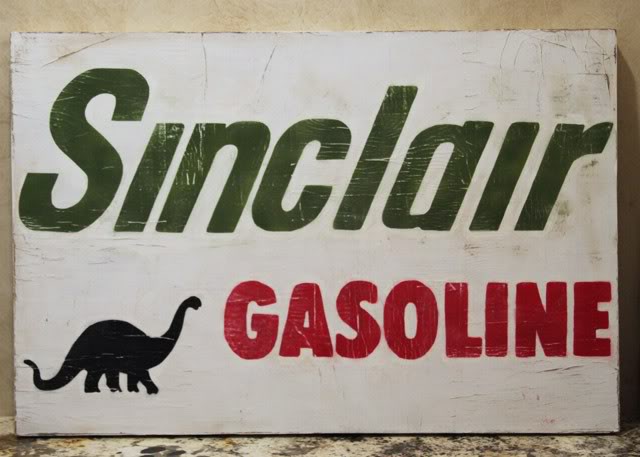 Visit the following tutorial too! Click the image for the post: