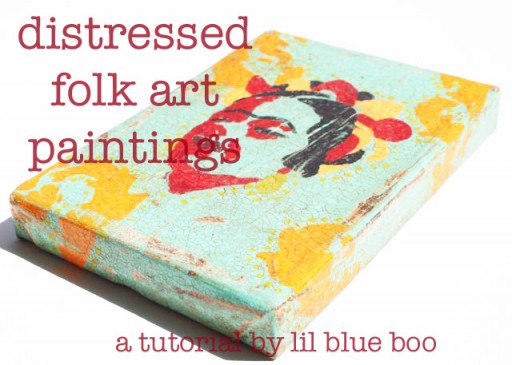 This tutorial was featured on U-Create last week. I had the hardest time narrowing down what type of tutorial I wanted to put together for my "guest appearance" but I had recently gauged interest on my blog by posting a painting I had done using the same process as I outline below and thought this would be the perfect opportunity!
How To Make a Distressed Folk Art Painting*
*If you've ever been scared to paint before, here is your chance….anyone can do this. Acrylic paint is VERY forgiving. If you mess up, just paint over it!
I love Mexican Folk Art and I was inspired by this Frida-themed fabric for my painting: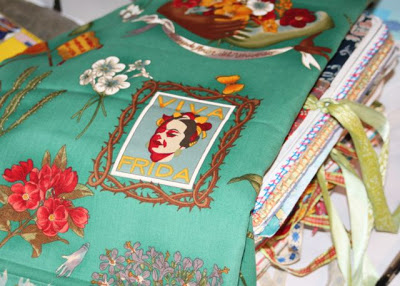 I'm a little obsessed with Frida Kahlo. (I was lucky enough to see most of her works in person at the Tate in London a few years ago. They had to kick me out at closing! Did you know Madonna owns Frida's famous "
My Birth
" painting? I wonder where she hangs that?) Frida and her intellectual circle brought Mexican folk art to the forefront in the early 1900's. Frida surrounded herself with paper-mache figures, traditional weavings, brightly colored embroidery, ribbons etc.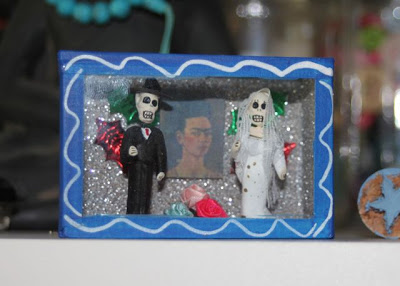 I've worked bright colors and paper mache into my own painting process to reflect the Mexican folk art theme. You can use the following steps to make your own.
Newsprint or phone book pages
White
gesso
or white acrylic paint

Acrylic paint in several colors

Crackle finish kit (any brand)
Sandpaper or an electric sander
I let this layer dry completely.
I painted my entire canvas a base color of "Patina."
Let your painting dry for a while to ensure your layers are completely dry. This may take several hours.
I sanded the edges as well paying attention to where an old painting would get the most wear.
Here is what my painting looked like at this stage:
Spread the brown glaze layer making sure to get it into the places where the paper is showing through. The paper layer will soak this glaze up and turn a brownish color. Take a cloth or paper towel and wipe off the excess paint. If it dries too fast just wet your canvas a little and try to wipe it off again. Let this layer dry.
…..but basically you are going to cover your canvas with a thin layer of the "step 1" bottle, let it dry until it is clear and then repeat with the "step 2" bottle. As it dries, tiny hairline "crackle" will begin to form.
Here is another painting I did of Our Lady of Guadalupe: