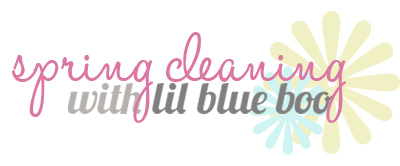 I'm starting my spring cleaning early! I'm going to be doing a short series on spring cleaning as I go so you can follow along if you like! Don't feel like you have to do everything I do……I tend to go overboard. But even taking an hour here and there to accomplish one task on the list will help you get organized! Feel free to share any tips or products you love in the comments….I'm always open to suggestions!
Today I tackled the clutter in the master bathroom. Here are a few before photos of some drawers and cabinets: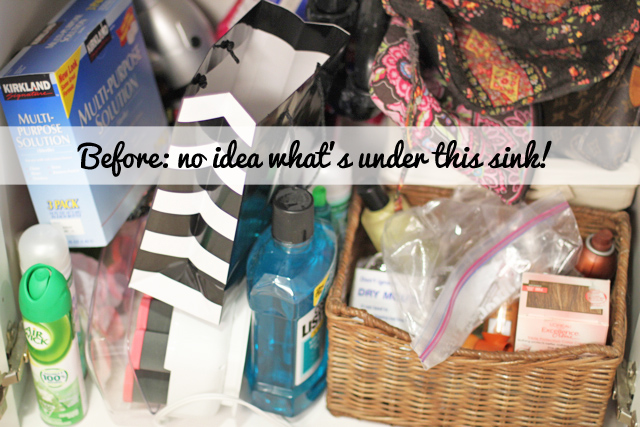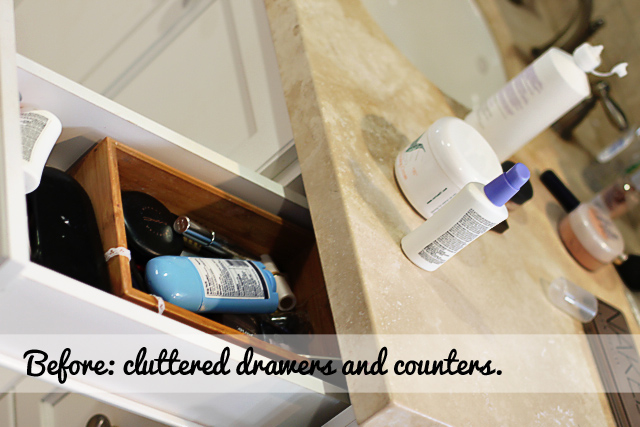 Here's the plan…
1. Discard all expired medications and products. I think the easiest way to do this is to take EVERYTHING out of the cabinets and shelves and start sorting into piles.  If items and products are unopened and you don't think you'll use them (i.e. shampoos or soap products) donate them to your local shelter! I also like to wipe down bottles and remove sticky caps…..overkill but it makes me feel lighter.

Note: Make sure to discard medications properly. More than 100 different pharmaceuticals have been detected in lakes, rivers, reservoirs and streams throughout the world. Periodically, there is a National Take Back Day that you can take expired medicine and drugs to. You can also check the Dispose My Meds website for local retailers that accept old medication.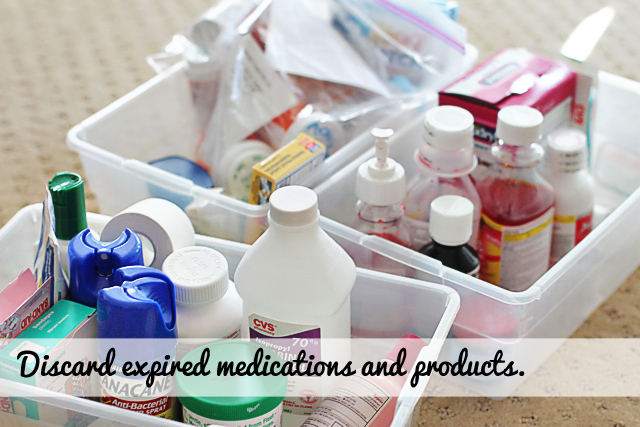 2. Clean out all the storage containers. I know these aren't the prettiest containers in the world….but I like clear containers in the bathroom closets so I can find things easily. Plastic gets a yucky film on it over time so I use hot, soapy water to clean off the containers before putting things back in their place.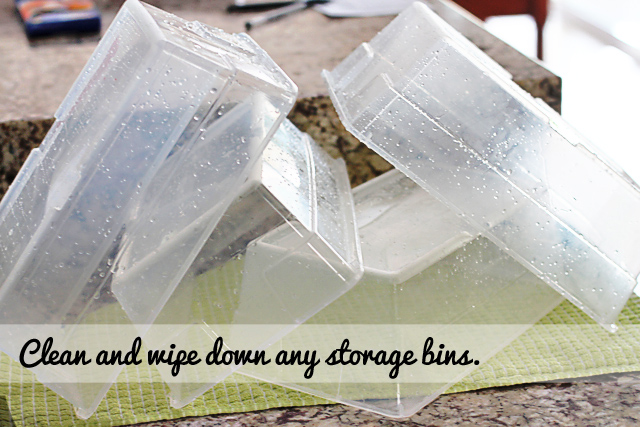 3. Label bins to keep medications separate. I just typed out the labels in a word document and printed it off onto sticker paper that I purchased from the office supply store. This makes things easier to find when we need them….and helps Mr. LBB to put things back where I want them haha. Again, not the prettiest labels…..but no one really ever sees our bathroom cabinets! (If you want pretty DIY chalkboard labels check out how to make your own here.)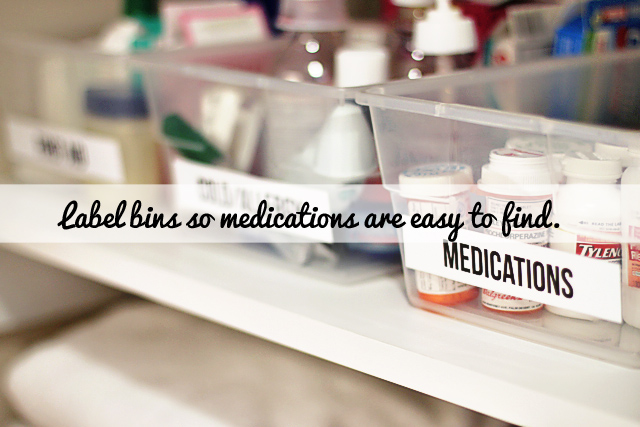 4. Make labels for other products too. It keeps things separated and helps me to recognize when I need to stock up! The best part? Labels scream "put me back in the right place or else!"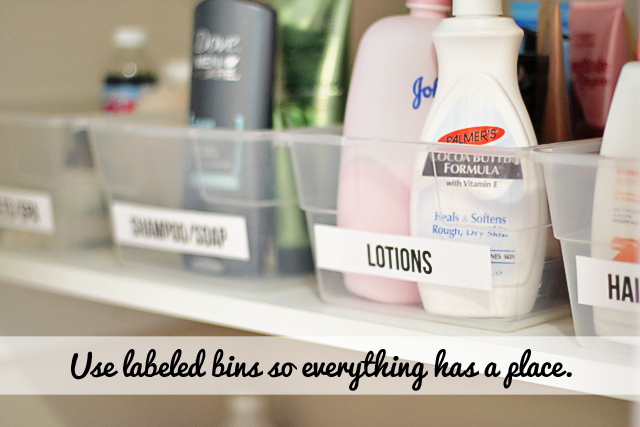 5. Organize every drawer…..by emptying EVERY item out. My favorite way to organize drawers is to take each drawer out one at a time and place it on a towel in front of the TV…..then it's not so boring and I can take my time. Boo loves to help me do this too. Make sure to wipe out each drawer before replacing all the items!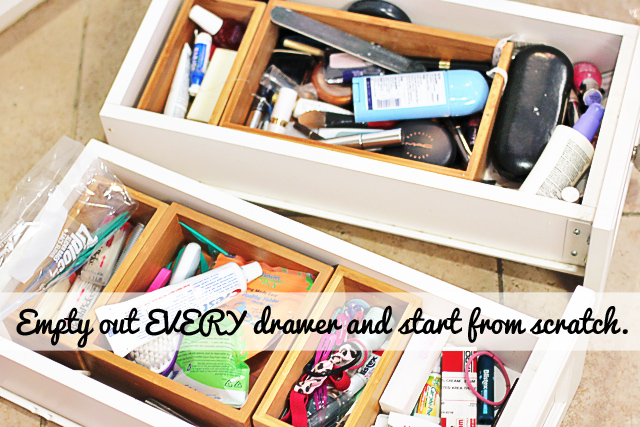 6. Before you replace drawers and items onto shelves, wipe shelves and cabinets out with hot soap water. Wipe down the fronts of the drawers and cabinets while you are at it with a damp cloth.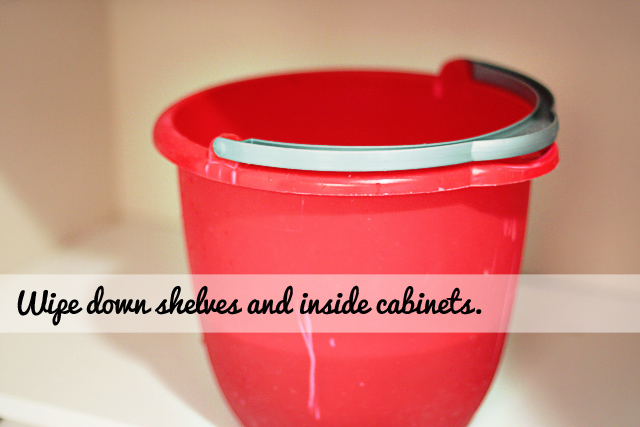 7. Sort and clean brushes and hair tools. I found at least 2 curling irons that didn't even work….I have no idea why I was still keeping them around! Remove all hair from your brushes. You can clean your brushes with a bit of shampoo and warm water…..use a comb or scrub brush to really get into the hard bristles. Wipe down your curling irons and flat irons to remove hair product. Remove lint from your hair dryer to keep it working longer!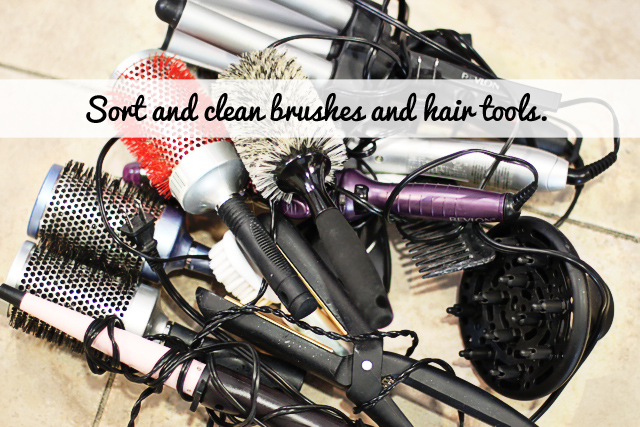 8. Clean your makeup brushes! Hopefully you do this more often than once a year…….who wants to use icky makeup brushes full of bacteria?! Use a mild soap to carefully lather up each brush and run cool water through them until the water runs clean. Carefully reshape the brushes and lay them on a towel to dry.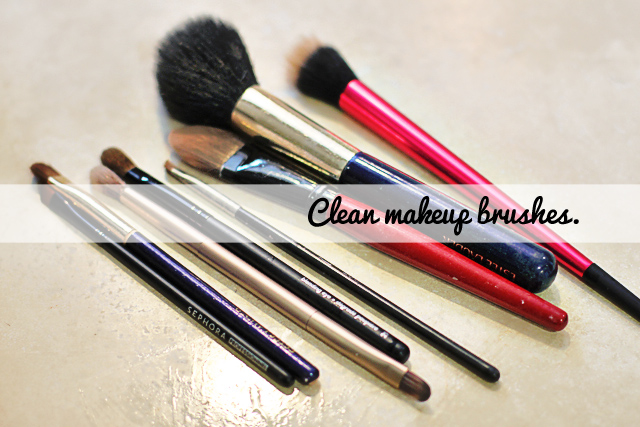 9. While sorting through every drawer and cabinet…..get rid of everything you don't use. This doesn't mean you have to throw it all away. Maybe you have a ton of nail polish that you'll never use….and it's still good….give it to a friend or your teenage daughter!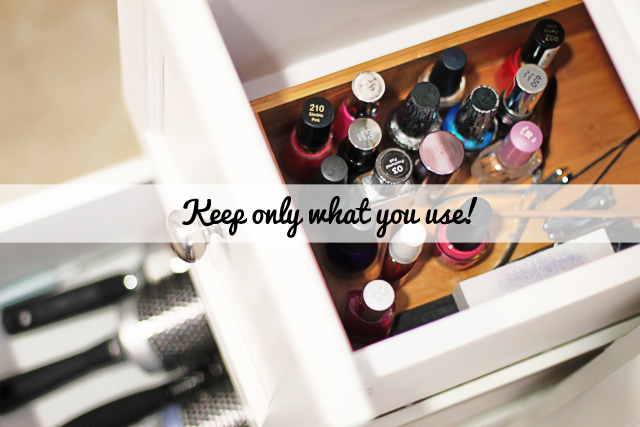 10. While you are at it…..clean all those travel organizers that have gotten icky! Handwashing them in mild detergent and hanging them to dry does the trick.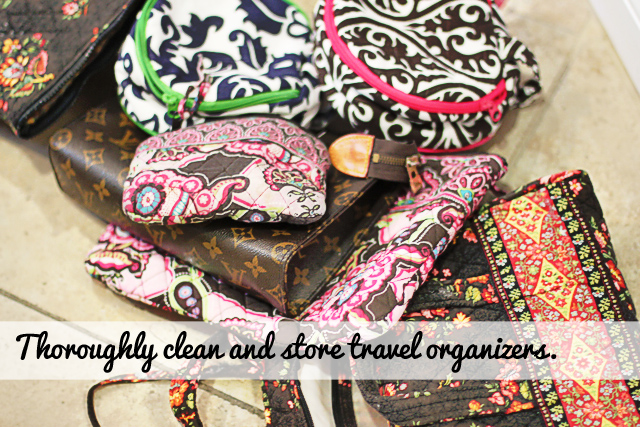 11. Sort out old towels and restock supplies. Now's the time to buy a few more new towels. Sort out all the old icky ones. I keep old towels in the laundry room for cleaning and other projects. Once they get really ratty, I donate them to our local animal shelter of give them to my veterinarian to use. I love restocking supplies too…..it's always a great feeling to have a huge supply of toilet paper ready.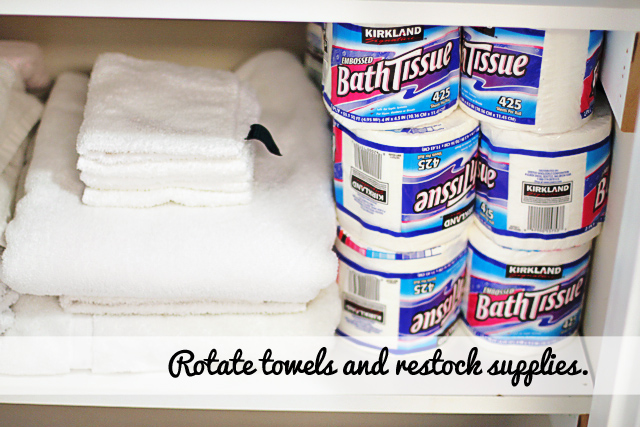 Oops….forgot this one….I LOVE ziplock bags:
12. Use ziplock bags to store small-like items. I use ziplocks for unopened makeup, samples, contacts, travel sizes and hair accessories! Keeps on top of the clutter.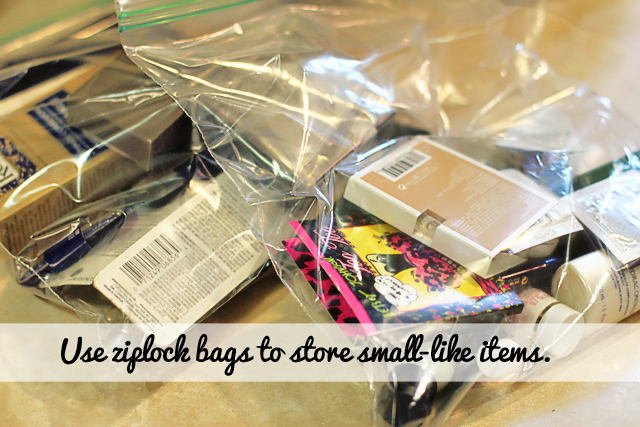 After a few hours of work…..my drawers and clean and organized. I picked up the pretty bamboo organizers from Marshall's: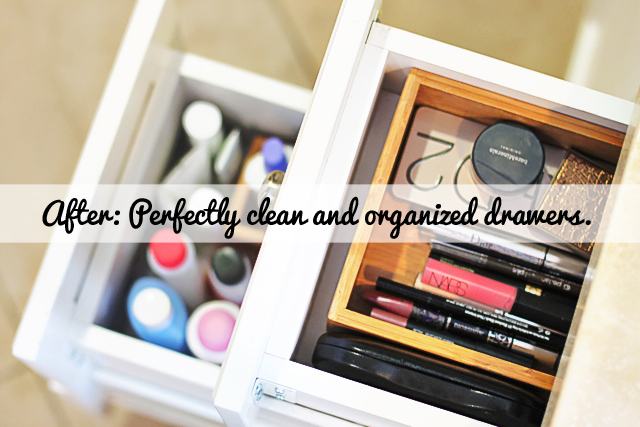 Filled only with the products I actually use or will eventually use: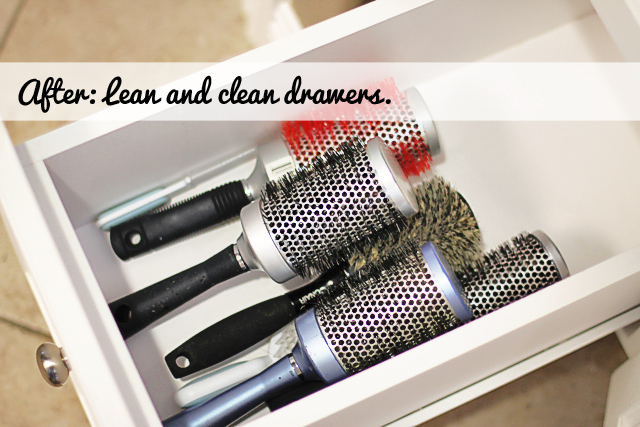 I can find things under my sink now!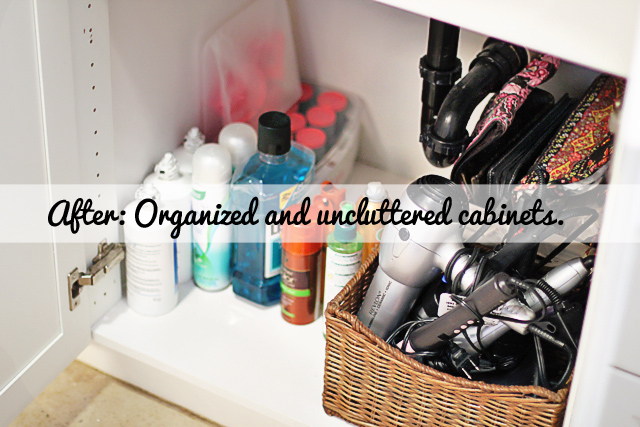 It's such a great feeling of accomplishment! Stay tuned for more soon!
Make sure to check out my whole "Getting Organized" series too (click the image below to view all posts):