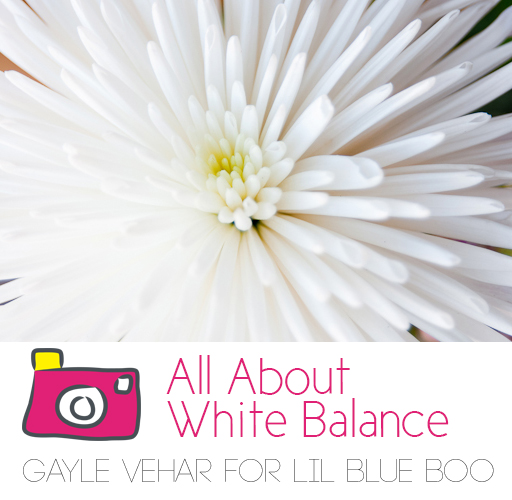 White balance is probably one of the last camera settings that most people think to change. That is, until they look at the photo they took of their gorgeous child outside in the shade and it looks very blue. Or they notice that the photo that they took in their living room looks orange. White balance can make your photos look gorgeous or yucky.

What is White Balance?
There is some science involved with white balance, but for the sake of simpleness let's just say that all light has a different color to it. You may have noticed this if you have ever looked at a fluorescent light bulb and a regular light bulb next to each other. White balance is your camera's way of compensating for the color of light so that whites look white and grays look gray!
White Balance Presets
Here is a quick rundown of the white balance presets in your camera with both pictures and words!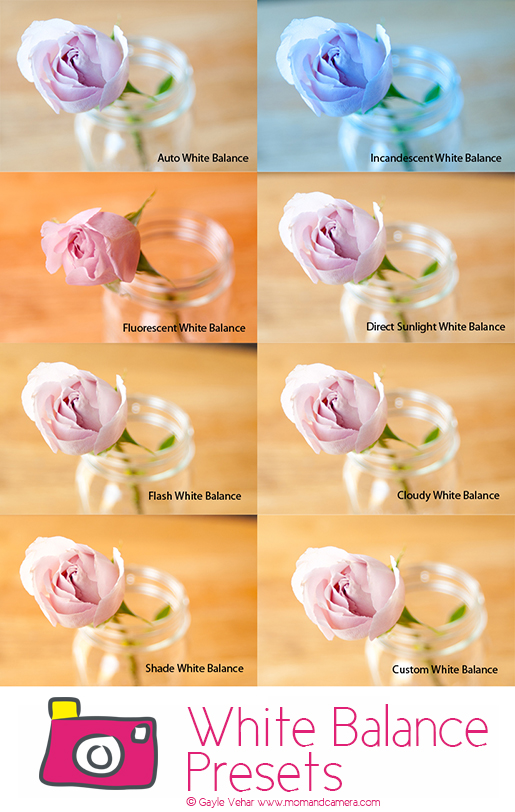 Auto: Your camera will adjust the white balance settings for you based on the what it "sees" in the photo. Generally, auto isn't perfect, but is pretty close.
Sunlight: This setting will compensate for the orange cast (adds slight blue) that can be really overpowering on a bright sunny day.
Cloudy: This setting will correct (adds orange) for the slight bluish tone that is found on a cloudy day.
Shade: This setting will correct (adds more orange than cloudy setting) for the bluish tones that are found in the shade.
Tungsten (also Incandescent): This setting will correct (adds blue) for the orange tones created by incandescent light bulbs.
Fluorescent: This type of light generally gives a blue tone to your pictures (although light colors can vary with fluorescent.) This setting corrects for blue tones by adding orange.
Flash: This setting will correct for the slight blue color of an on-flash with a little bit of orange.
Custom: This setting will help you set a custom white balance using a gray card. Your camera manual will give you more detailed instructions on how to do this.
Experiment with your camera's white balance presets and try to get the right white balance in your photos!