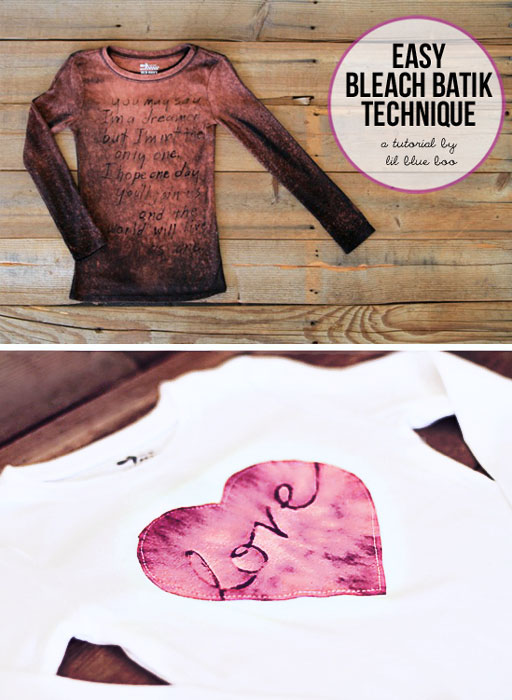 Ever wanted to try batik? Batik is a method of dyeing fabrics typically using a wax-resist to create patterns and designs.  Here's an easy way to get the same effect but without the hot wax. I've seen people use washable glue for easy batik, but the cold wax resulted in a much better effect for me: it dries quickly, provides a waterproof resist, and also washes out really easily.  Instead of adding color using dye, in this tutorial I remove color by using bleach.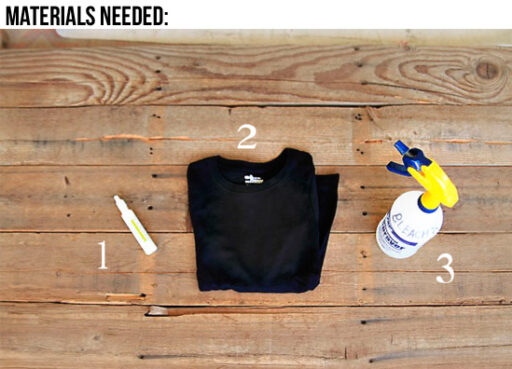 I used a Candle Decopaint Pen. It's a cold liquid wax that applies in a similar method to puffy paint.  It's meant to decorate candles but it's perfect for this kind of project.
(Source: I bought my Candle DecoPaint Pen here at Dharma Trading)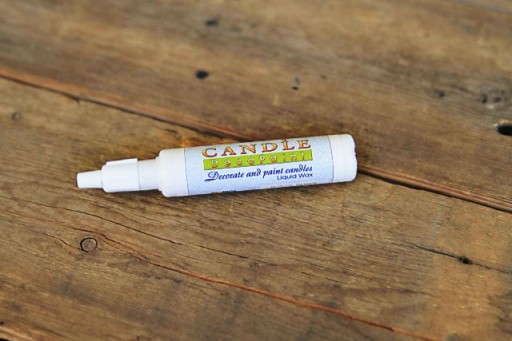 To create my design, I used some regular school chalk to lightly draw a template.  You can add any design you want but I wanted to use some song lyrics.  Then I used my liquid wax pen to carefully write out my letters. I let the letters dry for an hour.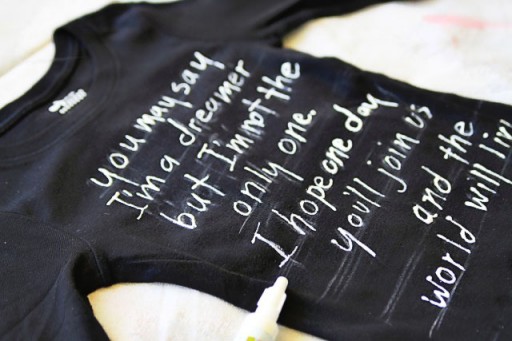 Then, I took a spray bottle filled with a mixture of 3 parts chlorine bleach to 1 part water.  Starting at the top, I misted my shirt with bleach and worked my way down to the bottom.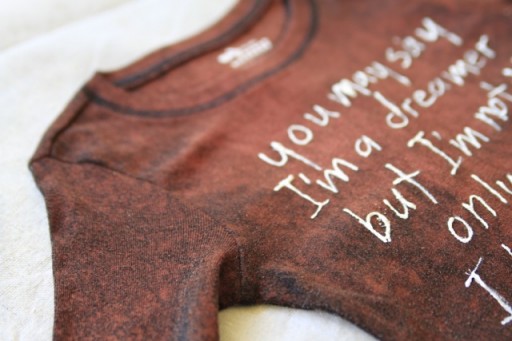 I sprayed more at the top to achieve this multiple tone effect. Once the spray was absorbed I carefully turned the top over to spray the other side so that the back would match the front.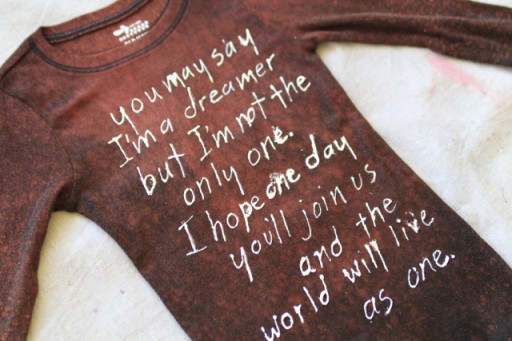 Once I saw the shirt begin to change colors sufficiently, I began to rinse out the bleach in the sink with warm water. (I recommend using gloves….I'm not being a good example here!) The wax lettering will begin to come off.  I used a small kitchen scrub brush to help get any stubborn wax off.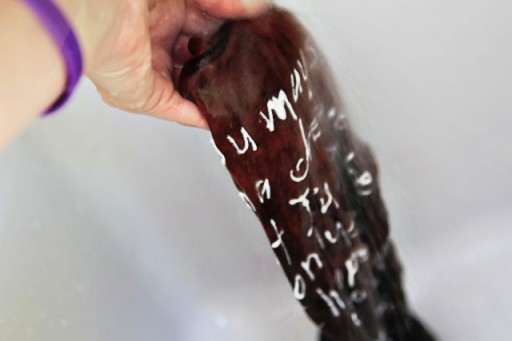 After all the wax was removed, I put the shirt in the washing machine with a small amount of detergent for a quick cycle.  Here's the final result!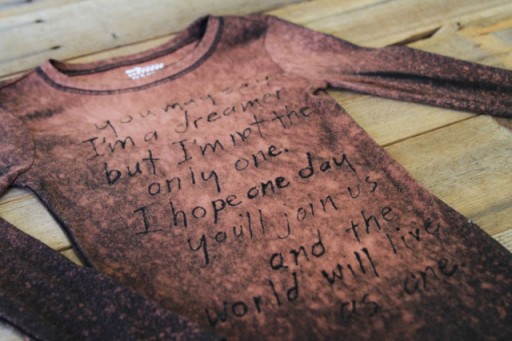 You can also use this effect on just pieces of fabric. I used a small piece of purple knit to make an applique.  I started by just drawing out the word "love":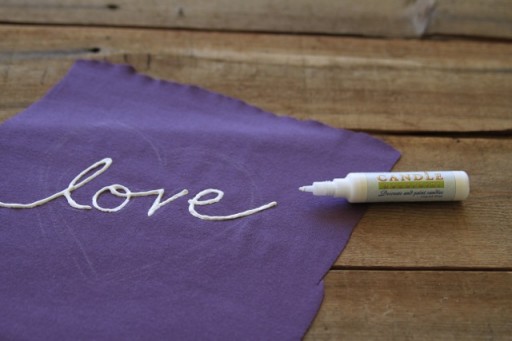 Using a spray bottle, I sprayed a small amount across the wax: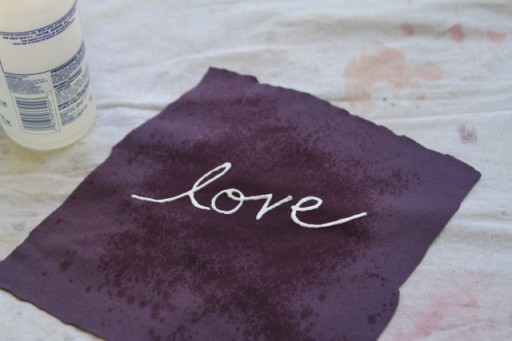 Here's as the bleach removes color from the fabric: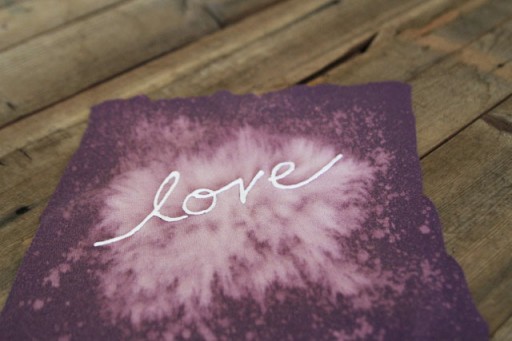 After the wax was removed and the fabric washed, I added fusible web to the back and cut it into a heart shape. I ironed it onto a shirt as a patch and sewed around the edges to make sure it would stay attached: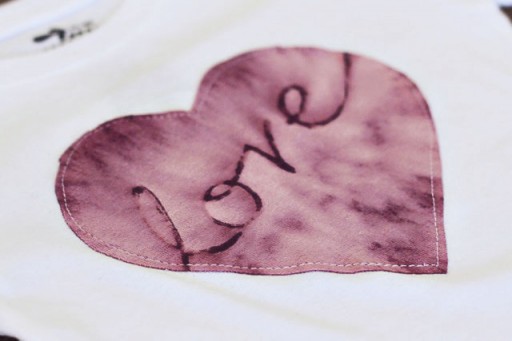 I love this one!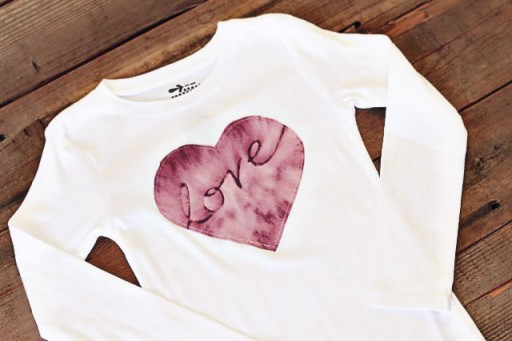 These song lyrics are from John Lennon's Imagine. You can draw a picture, add a pattern, write out a quote or scripture etc. What would you add to yours?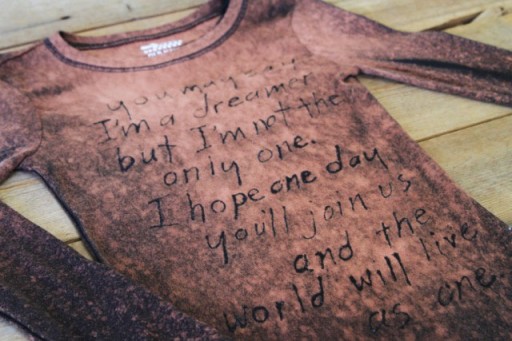 Stay tuned for 2 more variations on this project in the next 2 days!