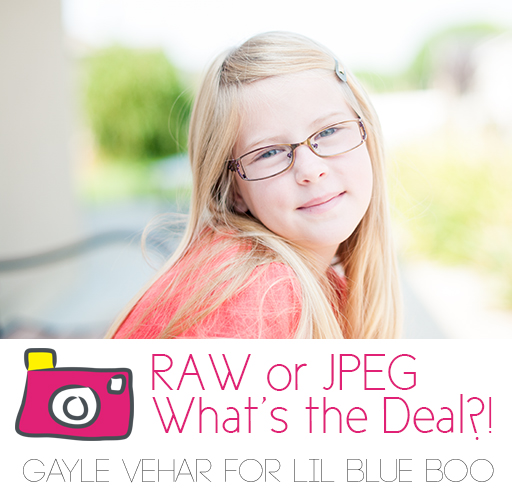 If you have a digital camera, chances are good that you have heard these two terms—or maybe even read about them in your camera manual.  Most point and shoot camera's now have the option to use the RAW file format.
Today, I am not planning to try to persuade you one way or the other, just give you an overview of them both and the reasons why you should or shouldn't use them.
JPEG
JPEG is likely what your camera is set on right now if you haven't ever thought about or changed this setting.  JPEGs are a universal file format.  This means that this is a file type that most everyone can view or print.
All JPEG files are compressed in camera.  They are compressed various amounts depending on the setting that you choose.  Large (or Fine in Nikon terms) JPEGs are compressed less than Small (Basic) JPEGs.  Because the files are more compressed they take up less room on your hard drive and more shots can fit on a memory card.
JPEGs have processing applied in camera according to your camera manufacturer's specifications.  It is ready to be printed or shared on the web just the way it is.
JPEG files can be edited.  However, JPEGs degrade quickly with editing.  Adobe Lightroom and Adobe Camera RAW (part of Photoshop) are a bit of an exception to this.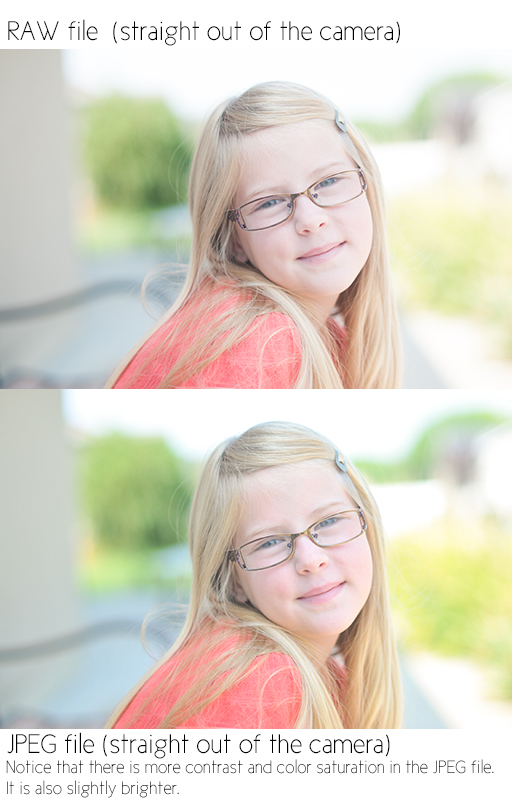 RAW
RAW is probably not the setting that your camera will come on from the factory.  RAW files are the largest file your camera can produce.  They have the most information saved in them because they haven't been compressed or processed by your camera at all.
These files are dull looking when they come out of the camera, but contain a lot of dynamic range that is a treasure when you are developing your photos with your favorite software.
These files are proprietary to your camera manufacturer.  This means that they are NOT a standard format that can be viewed by everyone straight out of the camera.  You'll need special software to view them on your computer (usually provided by your camera manufacturer or by most good/professional editing software.)
You'll also need to convert them to a JPEG file before sending them off to be printed.
RAW files contain the most information your camera can store in a file.  Because RAW files contain so much more information than JPEG files, they can tolerate much more editing/developing than a standard JPEG.  All the information that they contain also allows them to be much more forgiving when you are editing a photo that is underexposed or overexposed.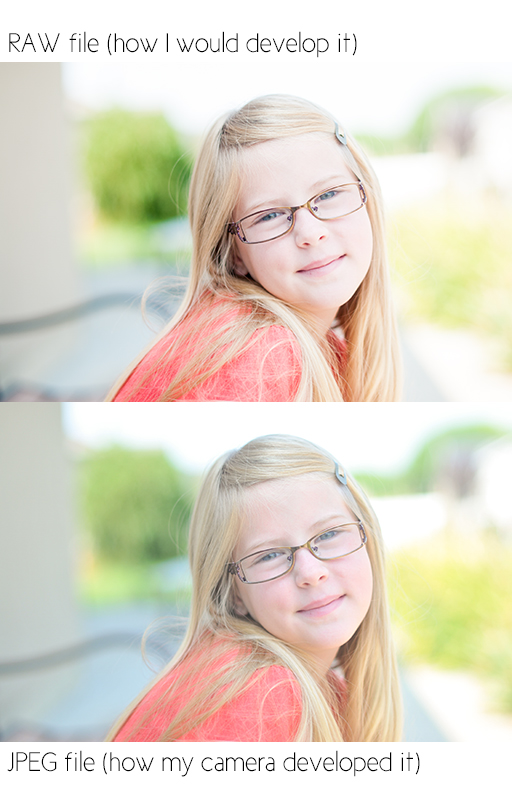 When to Use Each One
Use JPEG if you have no desire to develop your photos and just want to be able to share them straight out of the camera or with only simple editing.  MAKE SURE you have your camera set to record the largest JPEG file it can.  If you use only the smallest JPEG your photos will only be suitable for sharing online or for very small prints.  You never know when you are going to capture that "favorite" photo so give yourself as many options to begin with as possible (and memory cards are cheap!!)
Use RAW if you want to be in control of the developing of your photos and are willing to go to a bit of extra work to get the results you want.  I started shooting RAW when I was just learning digital and have LOVED it.  It gave me a lot of options in the beginning when I was taking lots of bad exposures.  RAW files also forced me to learn how to develop my photos the way I wanted.
Which are you shooting and why?