Remember when….you first learned what 5,318,008 spelled on the calculator? That was awesome. And it was just as awesome teaching my daughter this morning.
"Boobies"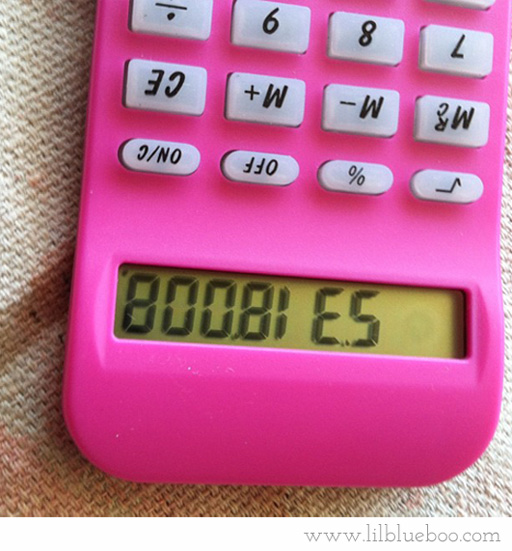 Opposite of awesome: when a boy in 3rd grade showed me: 55,378,008 …….inferring that I was "boobless." At the time, it seemed like the end of the world.
A few more I remember:
35,007 = loose
58,008,918 = bigboobs
90,435,380 = obesehog
0.1134 = hello
I wasn't that creative with the calculator….what others are there?
P.S. Does anyone remember in Short Circuit 2 when Ben is locked in a freezer and he uses a calculator to hack into the phone line? He uses dial tones to play oldies music as secret codes to get rescued? That was awesome too.
P.P.S. Now that I think about it…..that scene was kind of a ripoff of the E.T. Speak and Spell "space" phone.
P.P.P.S. Can anyone tell me why the movie E.T. is never on TV? Never. seen. it. once. on. TV.  I even Googled it and couldn't find the answer.…which means it's probably a conspiracy and this post will be flagged by the government.
P.P.P.P.S. To my sister Perry…..I know it's you posting comments under the code name "Ricky Bobby"…..
Update 1: Apparently E.T. is on TV….all the time.  I can't be that clueless……I'm always watching TV…..so now to find out who is scrambling my signal so I don't get it…..
Update 2: Sometimes we need a little help for a change of perspective….because we'd never see it for ourselves.   Thanks Anke! Love this one:
"Bless Boo"