We've almost made it through the first week! If you haven't started yet….join in! The daily prompts are just to give you some inspiration….you can work in your journal whenever you have time or feel inspired….maybe that's once a week or maybe it's 3 times a day. It's up to you. I've received a ton of questions on how long this journal project will last…..for now it's open ended. I'll try to keep the prompts coming daily (and they are getting their own dedicated archive page soon so you won't have to search for them). You might just have to forgive me here or there if life gets in the way of a day…..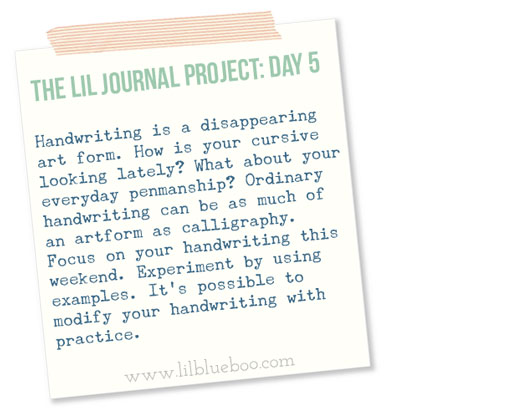 I'm mixing it up a little today….let's work on handwriting over the weekend! I love to try and alter my handwriting from page to page in my journal. I've even seen my handwriting change over time because of it. It challenges me to add in a little creativity….and adds interest from page to page. Print out the PDF or just save the image below to your computer, phone or iPad for on-the-go "font" inspiration. When you are writing in your journal today and over the weekend try out some new lettering……
(click here to download a PDF version of the writing below for printing)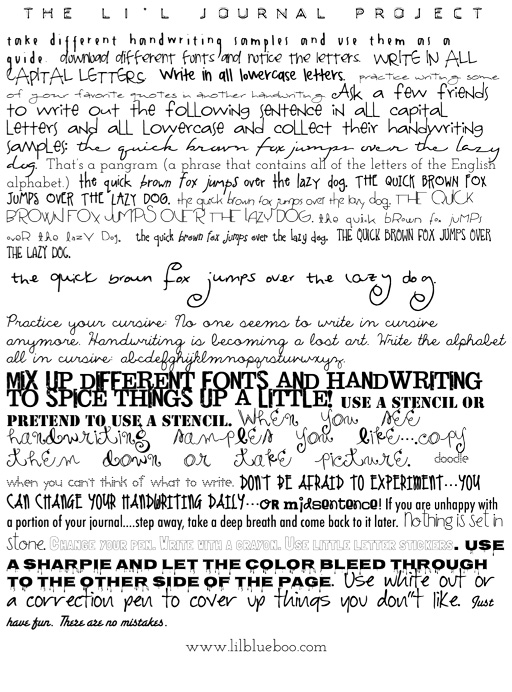 Not sure what to write about? A few ideas:

:: Write out a list of what you did today.
:: Watch a favorite movie and add some quotes into your journal.
:: Doodle.
:: Revisit some old pages.

Share your pages, quotes and inspiration below through the link up below!
Just a few things before you submit your link:
:: Link up pages you have made, inspiration, quotes and artwork.
:: No commercial links.
:: Make sure to link back to the Lil Journal Project somewhere in your post. The Lil Journal Project buttons can be dragged onto your desktop or click here to download different options: