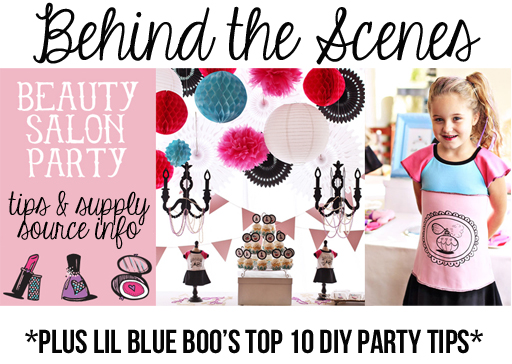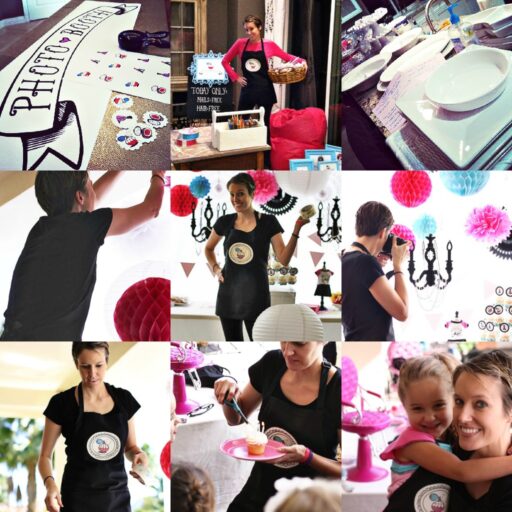 Here's the behind the scenes from Boo's party and some of my tips for preparing a similar party….or any party for that matter!  You can see the full original Party Post with all the pretty photos here.

The decor was actually pretty simple.
I like to set up one main food and treat table that is the backdrop of the party…..hanging different types of poms.  I bought the pink tissue poms this year but the rest of the poms are from past parties. The lanterns are great because they are large and fold flat easily. I just recycle them all and repaint them if necessary. Spray paint is a great way to get all decor to match perfectly!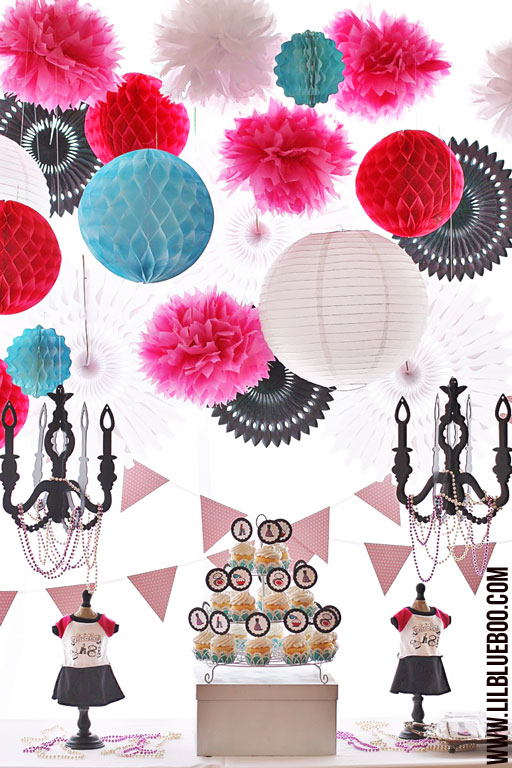 I have a sun problem on our patio for early parties….so last year I bought 2 bolts of 108″ muslin to cover the entire patio and block out the sun!  We hang it from the roof (a few gallon jugs filled with water are great to keep it in place if you have a flat patio…..other wise a few nails can keep it up)….it folds up easily for storage too. The best part is that I can pin bunting and other party decor to it…..and you can create a great backdrop for photos.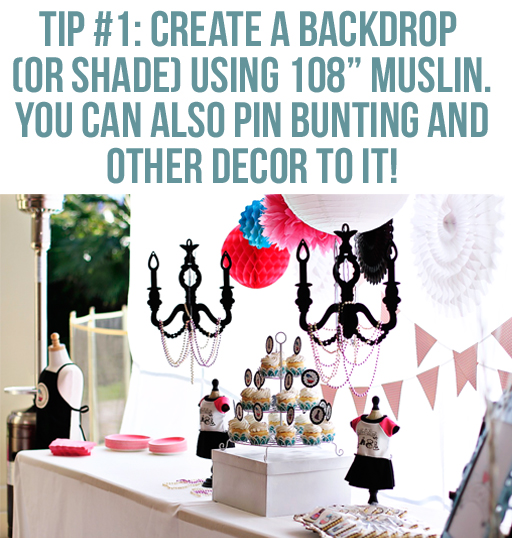 I always buy generic type items that can be reused year after year. I also look for items that can be packed away easily in a large bin. I just re-spraypaint items to match the new theme.  I have large white bowls and platters that can be used with any theme. I use large paper mache nesting boxes and hat boxes to add height to the tables (just re-spraypaint them!)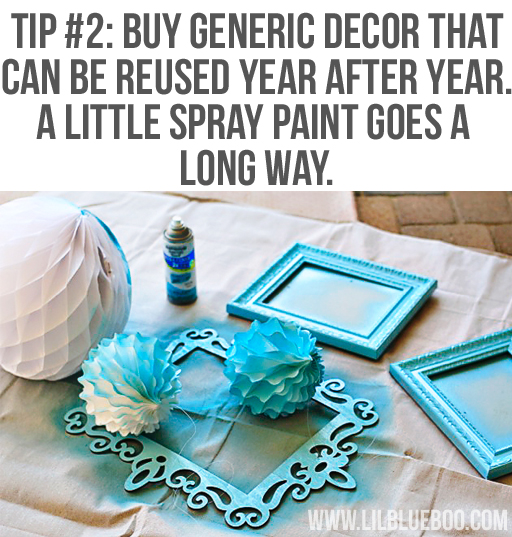 If I were to show you any party from the past few years everything would look familiar….here were my table frames last year: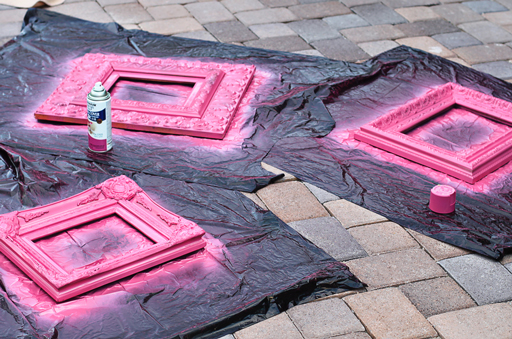 I really wanted a few cardboard chandeliers for Boo's party…..but I wasn't spending a lot of money for one.  I picked up three at Michaels (using 40% and 50% off coupons) and spray painted them black.  I added bling to them by attaching a few strands of party beads together.  The party beads with the safety catch on them are perfect.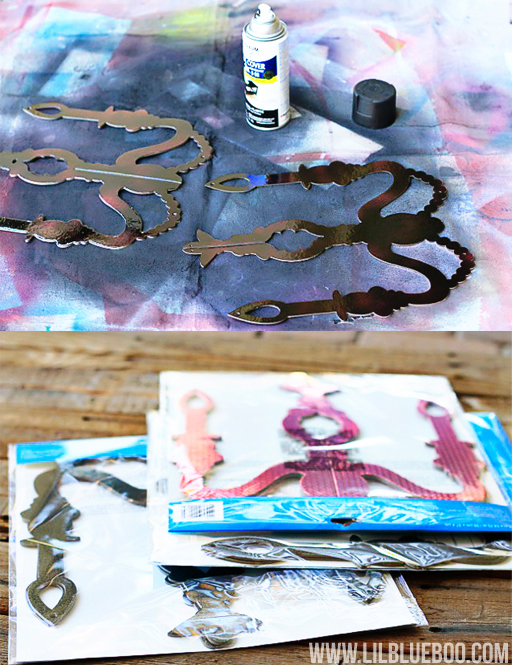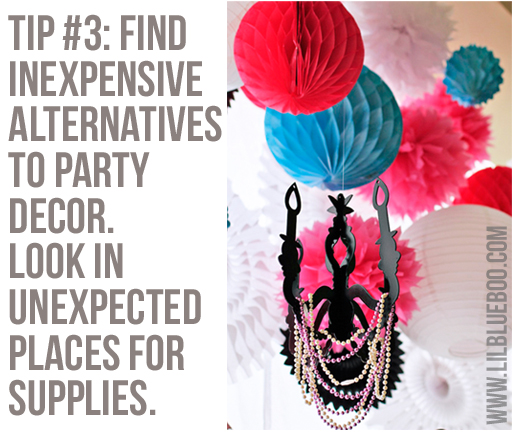 Other things that I don't spend a lot of money on: cupcakes (I buy plain ones from the store and add cupcake toppers), plates and napkins (I buy value packs from Target), and serving platters (I've had the same oversized white ceramic ones for years).
I always try to use items that I already have around the house to help with my party decor. For example, the doll salon table is our coffee table covered with a large table cloth.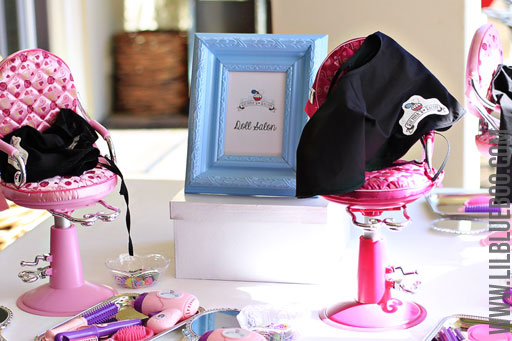 I moved a carpet outside so the kids could sit easily on the ground.  The pink beanbags are probably one of the best things I've ever bought….$15 from Wal-Mart.  Three beeanbags served as extra seating…..and a place for rest: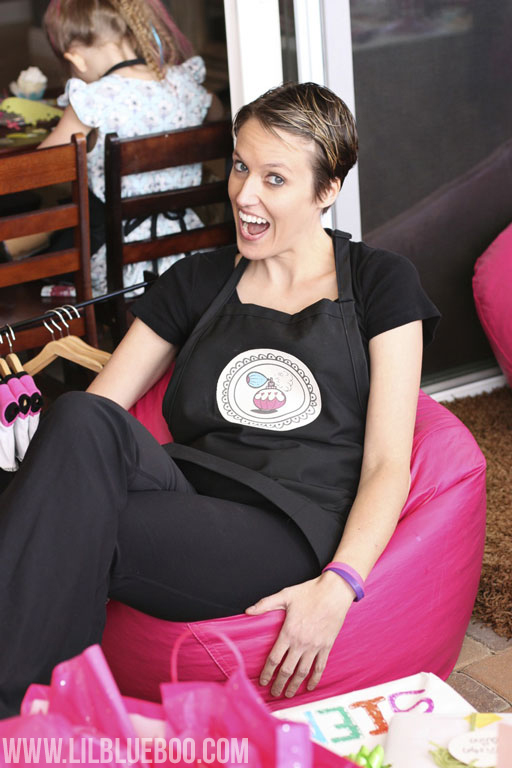 I pulled 2 oversized gold mirrors from our guest bedroom.  The chalkboard easel is Boo's. I spraypainted it with black chalkboard paint last year. I use it every year for the party sign….just adding the party theme to the top. I purchased the scroll frame this year from Michaels and spray painted it to match. With a little patience, and a great Chalk Ink marker, I was able to do the font on the board reading: Today Only: Nails Free Hair Free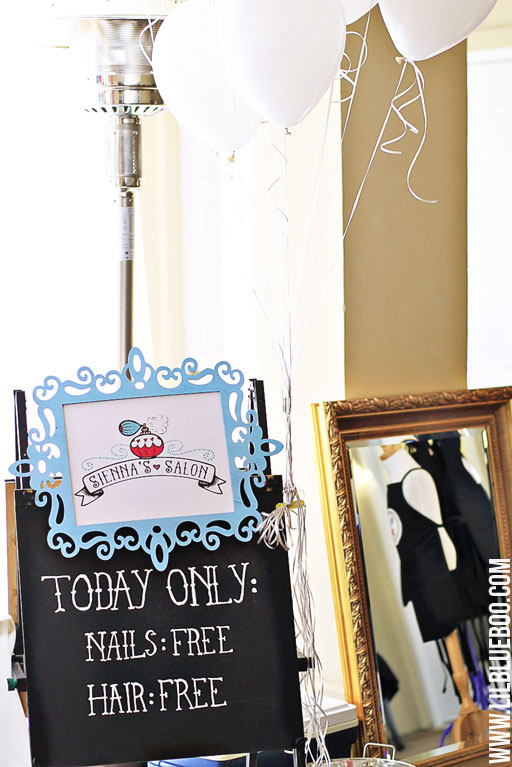 I used mannequins from my studio for decor and a coat rack I borrowed from Lisa. Some large armchairs created a lounge area. I made the little doll clothing rack….tutorial to come soon.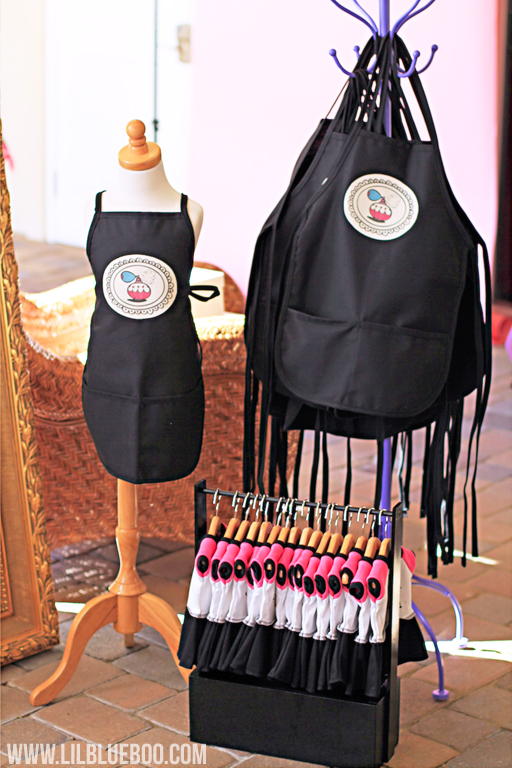 Table cloths can pull an entire party together. I use all white table cloths and a heavy weight so you can't see what's under them.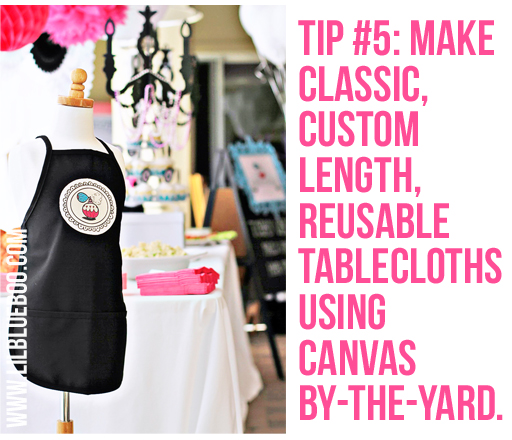 I make all my table cloths using canvas by the yard for the following reasons:
1.  It's a better price for the quality and they are reusable.
2. They are thick enough so that they aren't see through.
3. They look nice and make all the decor and tables cohesive.
4. I can cut them to custom lengths.
I order the canvas in a big roll (it's gets cheaper over 10 yards) and then reuse them for every party. I use cheap dollar store thin plastic table cloths over the canvas if a table is going to get a lot of abuse (or maybe red icing?)
Supply Sources for the Decor:

90″ or 108″ wide Muslin: Joann's (use a coupon on a full bolt!)
Canvas by the Yard: Dharma Trading
Cardboard Chandeliers: Michaels Craft Store
Spray Paint: Home Depot (I prefer Home Depot's spraypaint nozzles)
Doll Sized Mannequins: Home Goods
Chalkboard Easel: Melissa and Doug
Chalk Ink Wet Wipe Markers: Amazon
Pink Party Beads (with safety clasp): Birthday Express
Pearl Party Beads(with safety clasp): Birthday Express
Large White Paper Lanterns: Amazon
Pink Polka Dot Bunting: Amazon
Large Scroll Frame: Michaels Craft Store
Paper Mache Boxes: Michaels Craft Store
Hot Pink Beanbag Chairs: Wal-Mart
Cupcake Stand: Borrowed

Coat Rack: Home Goods


Even though I have a great printer, I always like to take most of my party printables to Staples.  If they print something and it doesn't look crisp and bright…..they'll print it again!  Plus….ink is expensive and I like the quality of color laser printers for my signs cupcake toppers etc.  I just take my full page adhesive labels and cardstock with me and make a list which file needs to be printed on which paper.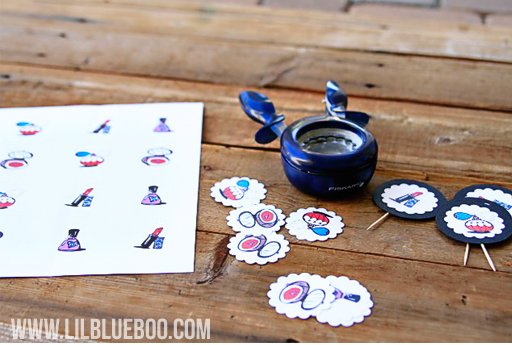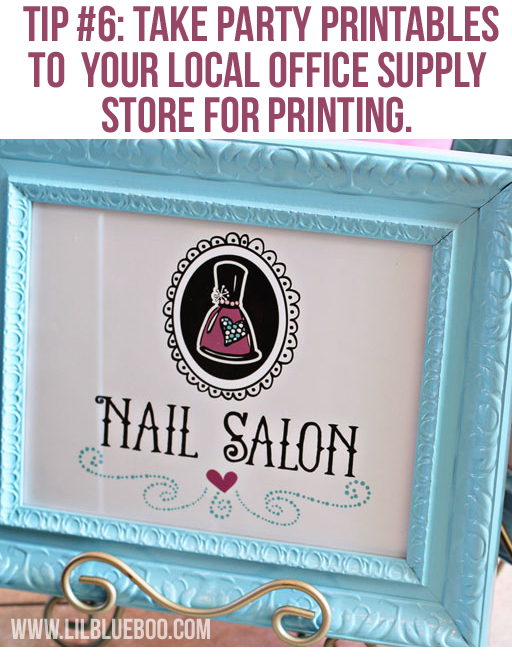 I had Staples print this 42″ x 11″ Photo Booth sign on a vinyl banner for me so that I can use it over and over again: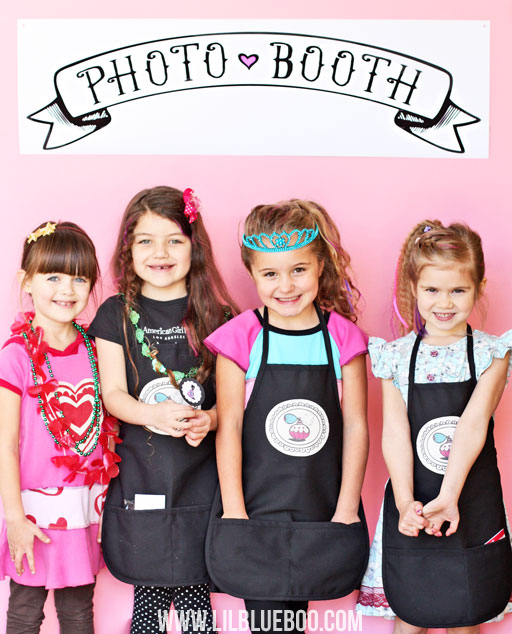 Party Toppers Printable: Beauty Salon Party Printable by Stephanie Corfee
Scallop Punch: Amazon
Photo Booth Graphic: Beauty Salon Party Printable by Stephanie Corfee or separately here.
For Boo's Doll Salon, I scoped out the Dollar Tree and 99 cent store. Between both of those I found the most amazing items!  I found $1 toy salon tool packs and $1 silver trays and mirrors.  Those were all a super score. I customized the plastic toys with stickers by printing out party graphics onto full sheet adhesive labels.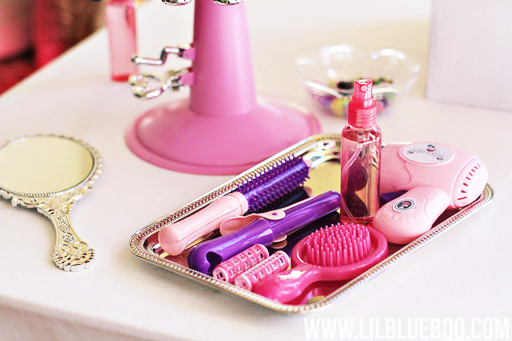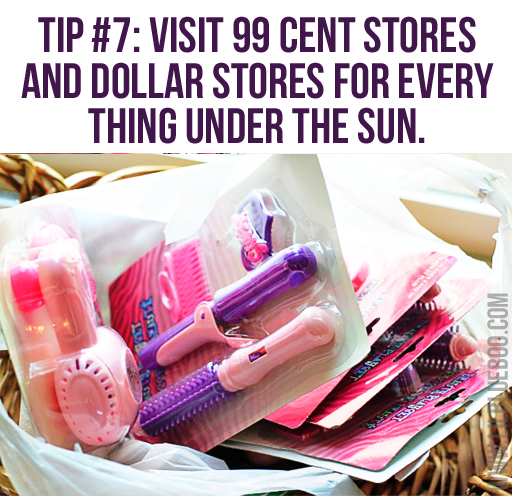 There were three doll stations and each one had a chair and cape!  I made all the capes. (click here for how to make a doll sized cape)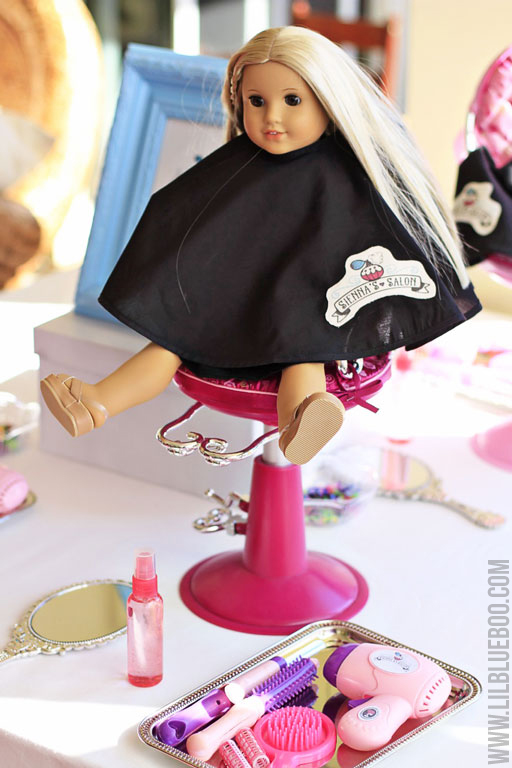 Supply Sources for the Doll Salon:

Play Salon Tools: The Dollar Tree
Silver Platters: The Dollar Tree
Silver Hand Mirrors: The Dollar Tree
Small Pink Spray Bottles: Wal-Mart
Small Plastic "China" Accessory Bowls: The Dollar Tree
Tiny Hair Bands and Clips: The 99 Cent Store
Graphics for Custom Labels: Beauty Salon Party Printable by Stephanie Corfee
Full Sheet Adhesive Labels: World Label
Doll Sized Salon Chairs: Amazon and Borrowed!
Graphics for Doll Salon Sign: Beauty Salon Party Printable by Stephanie Corfee
Doll Sized Salon Cape: DIY (click for tutorial)

My friend Tara brought all of her hair styling supplies for the hair salon.I borrowed an amazing crimper from my friend Kay. I purchased a bunch of colorful clip-in hair extensions and bought (and tested) temporary hair color streaks.  The crimping and the hair color were the big hits!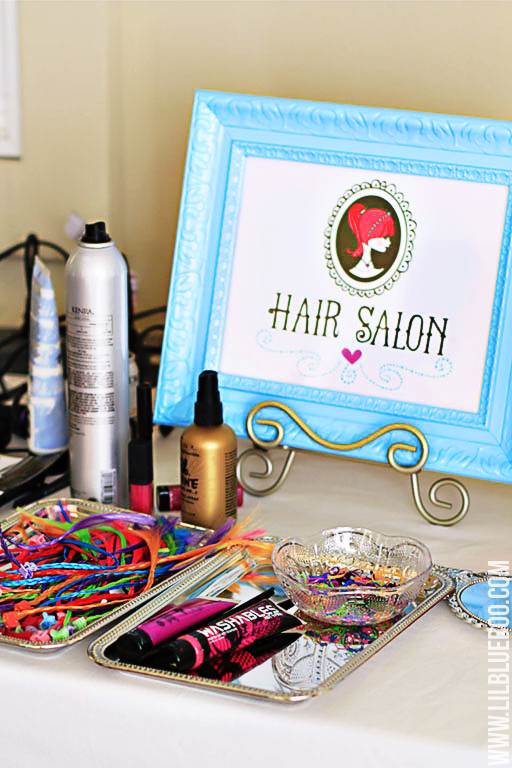 Supply Sources for the Hair and Nail Stations:
Nylon Hair Extensions: Amazon
Splat Washables (Hair Color): Amazon
Nail and Hair Signs: Beauty Salon Party Printable by Stephanie Corfee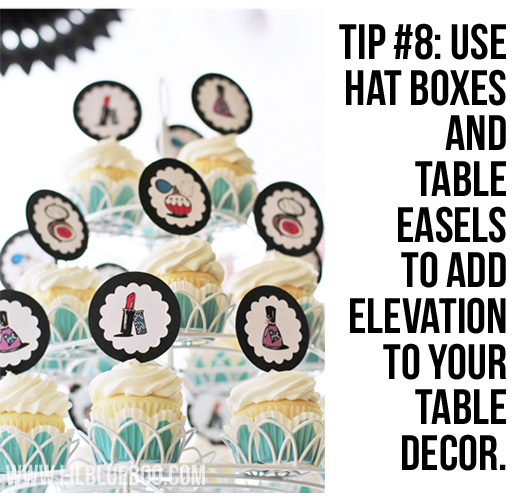 For Boo's favors we made several different things.
1. Favor Bags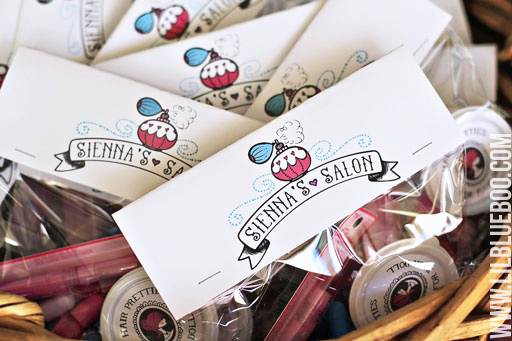 I bought little mini nail polishes (they come in a pack of 24) and lip gloss.  I bought a ton of tiny hair accessories and split them up equally into the tiny white containers.  I created the little labels in Photoshop/Elements, printed them onto adhesive paper, and punched them out using a 2″ scrapbook punch.  I used clear bags and stapled the paper favor topper on the top.

2. Stylist Aprons
We made a "stylist" apron for every guest including adult sizes for the "workers" like me!  It was fun for everyone to be in uniform.  I was really picky about the quality of apron so I looked almost everywhere.  I wanted an apron that had a bunch of pockets and was washable.  I ended up buying them at Aprons by the Case (I called them and they shipped them out the same day!) and I was really happy with the quality…..plus they are made in the USA.
To make the aprons I printed out the perfume graphic onto t-shirt inkjet transfer paper (through a regular inkjet printer) and ironed it onto a light colored fabric.  The fabric was attached to the aprons using iron-on Fusible web. Each applique was then stitched into place around the edges but that's only necessary if you want to wash the apron.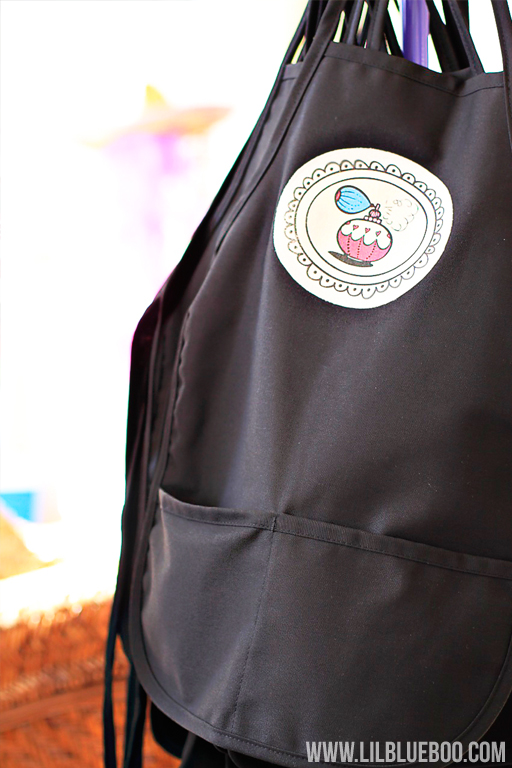 3. 18″ Doll Dresses
This was going to be a craft: color your own dress….but we decided they were too cute to let everyone color on them!  We decided to just leave them as "dress up" favors.  The cute little wood doll hangers were part of the favor too.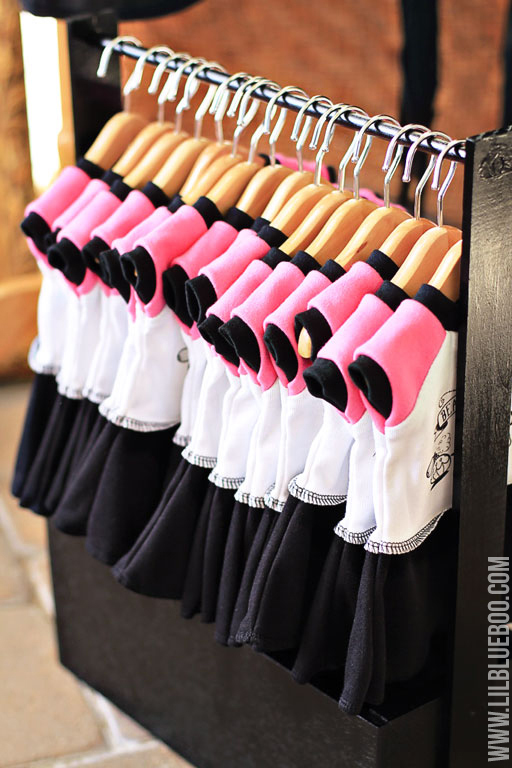 We made them using the Li'l Sally Doll Dress pattern and made the iron-on using the Beauty Salon graphics: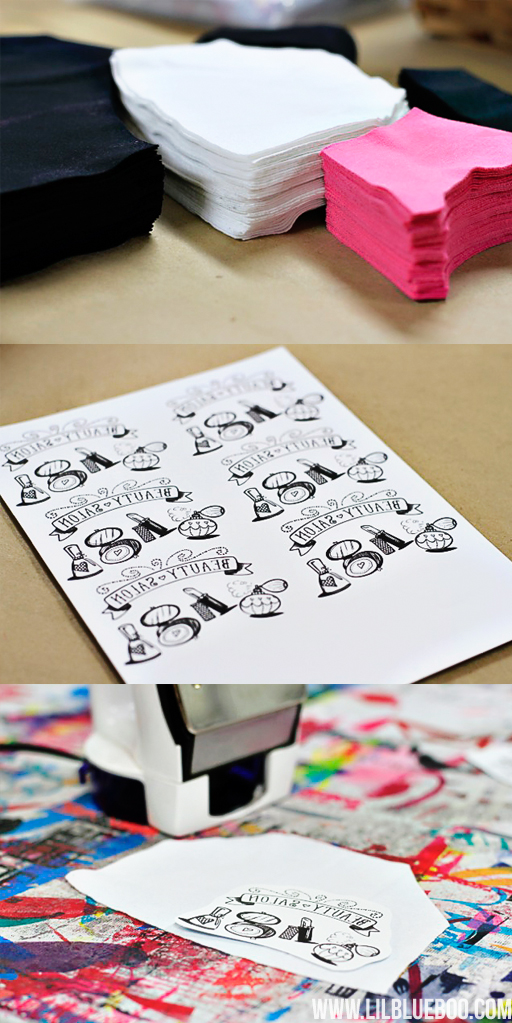 Supply Sources for the Favors:

Favor Topper: Beauty Salon Party Printable by Stephanie Corfee
Bags: Ziploc Sandwich Bags or Cellophane Favor Bags
Small Hair Accessory Containers: The Dollar Tree
Mini Nail Polishes: Amazon (comes 24 in box)
Lip Gloss: The 99 Cent Store
Tiny Hair Bands and Clips: The 99 Cent Store
Kid Sized Aprons with Pockets: Aprons by the Case Style A610
Adult Sized Aprons with Pockets: Aprons by the Case Style A200
Perfume Graphic: Beauty Salon Party Printable by Stephanie Corfee
Iron-on Super Soft T-Shirt Transfer Paper: Dharma Trading
Iron-on Fusible Web: Thermoweb on Amazon
Dress Pattern: The Li'l Sally Dress Pattern
Beauty Salon Graphics: Beauty Salon Party Printable by Stephanie Corfee
Iron-on Super Soft T-Shirt Transfer Paper: Dharma Trading
Wood Doll Hangers: Only Hangers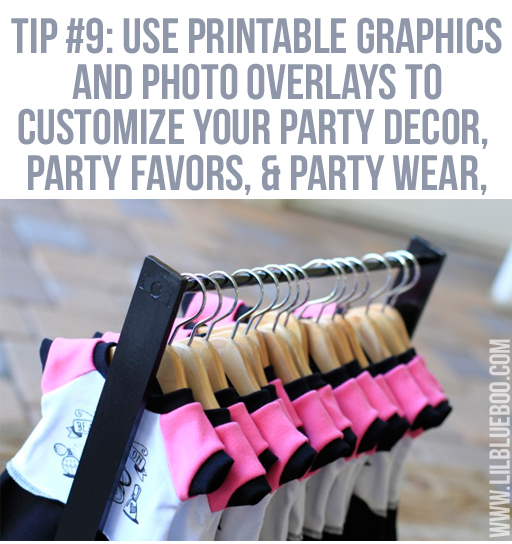 And of course a matching dress for Boo and her dolls!  I made sure it matched the party decor perfectly! I used the crates in the photo to hold glasses, hats and other items for the photo booth.

Supply Sources:
Birthday Dress: Lil Blue Boo
Doll Dress: Lil Blue Boo
Dolls: American Girl
Crates: Michaels Craft Store (click here to tutorial on staining/stenciling crates)
My biggest tip is to ask for help and return the favor! I couldn't have done any of this party without help.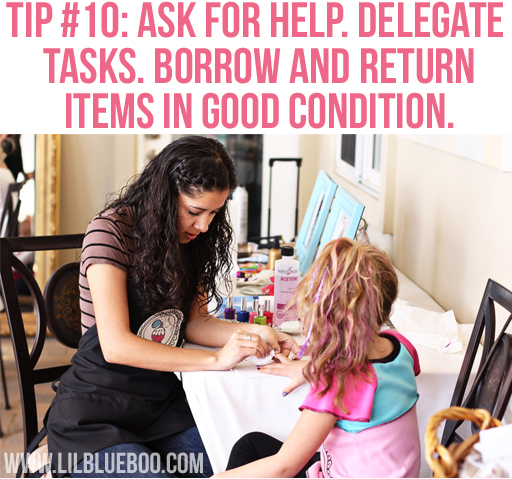 A few additional tips:
1. Ask a friend to take photos so you can enjoy the party!
2. Borrow items but return the promptly and in good condition! I borrow all my tables from my awesome neighbors. Lisa lent me her photo props.  I borrowed a crimping iron from a friend.
3. Delegate certain tasks to friends and family and return the favor! Lisa came to set up early with me.  Mr. LBB was in charge of picking up cupcakes. Lisa from Ooh La La Bakery dropped off the cookies for me.
4. Prepare and make lists for your helpers….they can't read your mind! My mother-in-law Gale and sister-in-law Jenn did all the food…..and it turned out amazing. All I did was grocery shop, put out all the platters, and made very detailed lists about how things were to be cut and prepared. The last thing a helper wants to do is have to ask a gazillion questions.
Here's an instagram photo from the night before: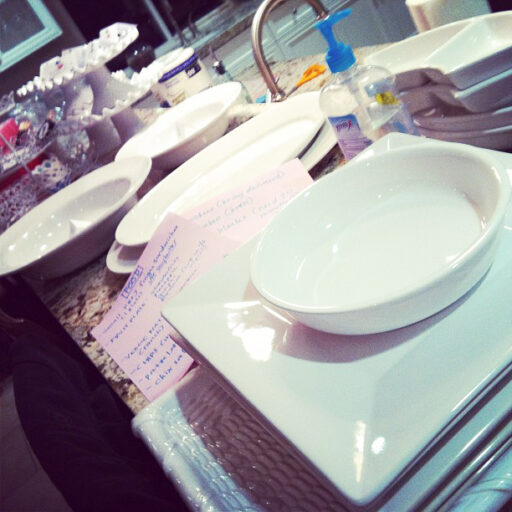 Have any great party tips you'd like to share? I'd love to hear them in the comments and I know other readers would too! Thanks for visiting!
To see more of the Beauty Salon Party click the image below!