I can't believe Boo is six years old!!!  First off, I want to put a disclaimer on this post to admit that this party is just a little over the top.  I'm not really a party planner…..I don't entertain a lot…..so Boo's yearly birthday party is something I really love putting energy into.  Boo knows that while the party is centered around her…..it's also about bringing our friends together, entertaining them and sending them home with some fun handmade swag.  She also knows that I reserve the right at any time to decide not to throw a party, serve $5 pizza and stick a candle in it!  I love coming up with cute ideas and sharing them with you…..and there are many ways to make a wonderful fun party with only a few elements from this post!
Boo wanted an American Girl themed party (shocker) so we talked about doing something interactive with lots of activities that her friends of all ages would enjoy and came up with the Beauty Salon theme….complete with American Girl-sized doll salon.  I always borrow, recycle and improvise for parties and all of that will come in the "behind the scenes" post to follow this one. I will say one thing about this party…..the doll salon was a TOTAL hit. I was actually surprised…..but the girls had so much fun putting capes on their dolls and primping and fixing their hair.  It was totally adorable and definitely something I'll put together more often for playdates!
So here we go! I had a vision of what I wanted in my head for the graphics and Stephanie Corfee brought it all to life with her graphic design!  It turned out so amazingly cute that I convinced her to offer it to everyone as a printable in the shop complete with extra graphics to make it fully "do-it-yourself" customizable.
Just a note: we called it a "DOLL" salon party…..and invited Boo's friends to bring any favorite doll for the salon…..because not everyone has an American Girl (Boo's only had one for 2 months).  A few friends brought extra American Girl dolls too for those girls that didn't have one.

Oh my….the day before the party the wind in the desert was over 30 miles an hour! I couldn't set anything up until the morning of the party!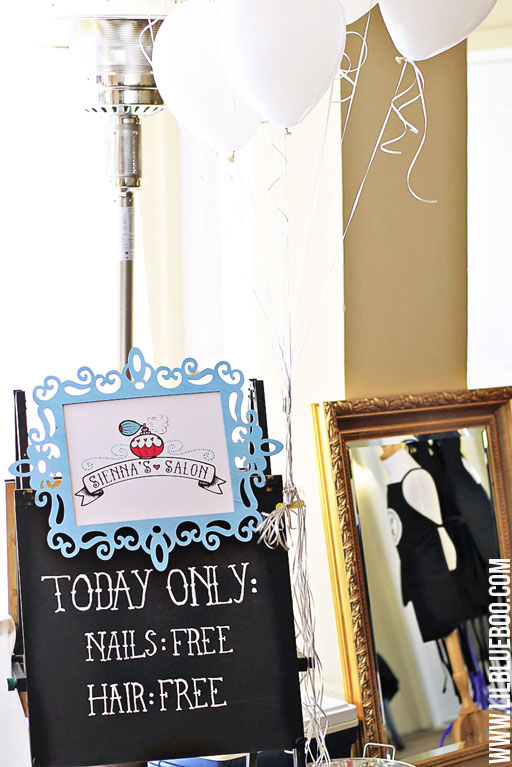 Lisa had the vision for the pom backdrop.  I'll include all the supply info in a follow up post.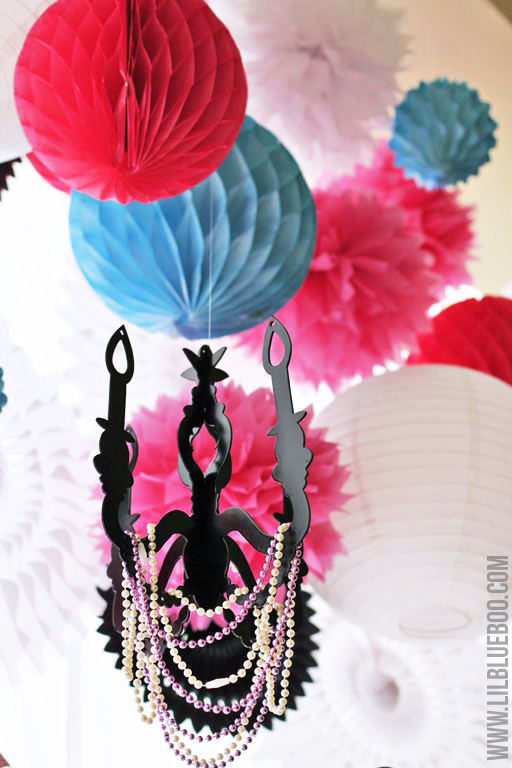 We made the little doll dresses using Stephanie's graphics as iron-ons for decor and favors. The gorgeous cookies were made using the graphics by Lisa at Ooh La La Baking Company. I almost died when I saw them!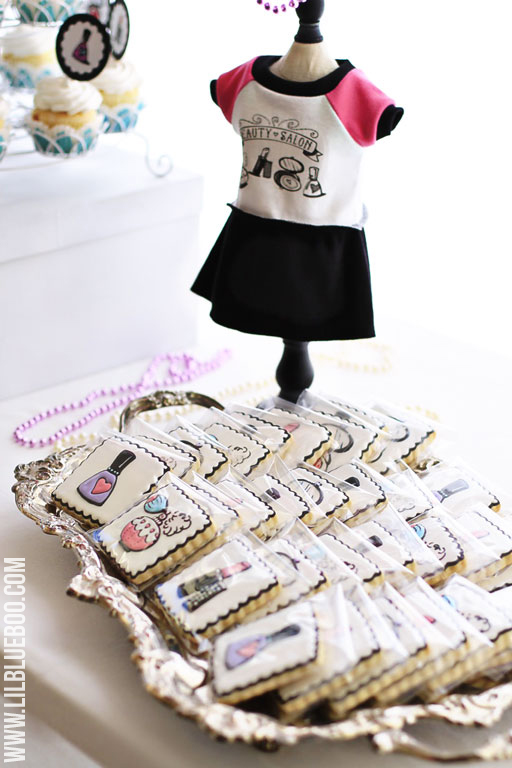 Oh…..Boo. You melt my heart.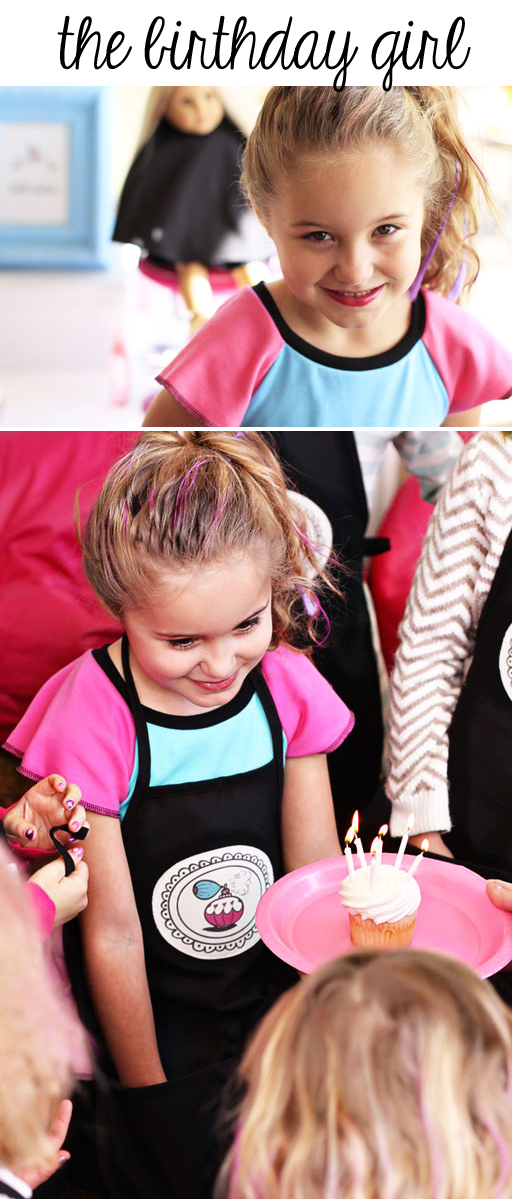 Of course we had to do a coordinating party dress with matching doll dresses……and I've made them available in the shop too.

I asked my friend Tara to come and run the hair salon. The most popular option was the crimped hair and the colorful hair extensions:

Miss Tara came early to do her 80's hair do: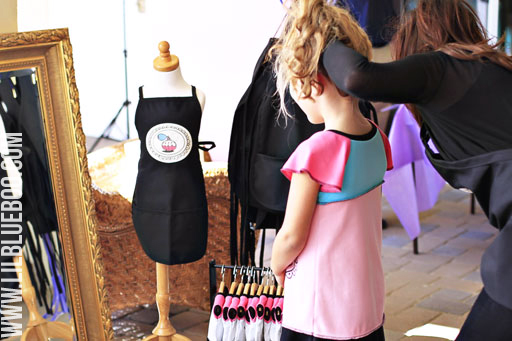 Crimping and adding streaks of color….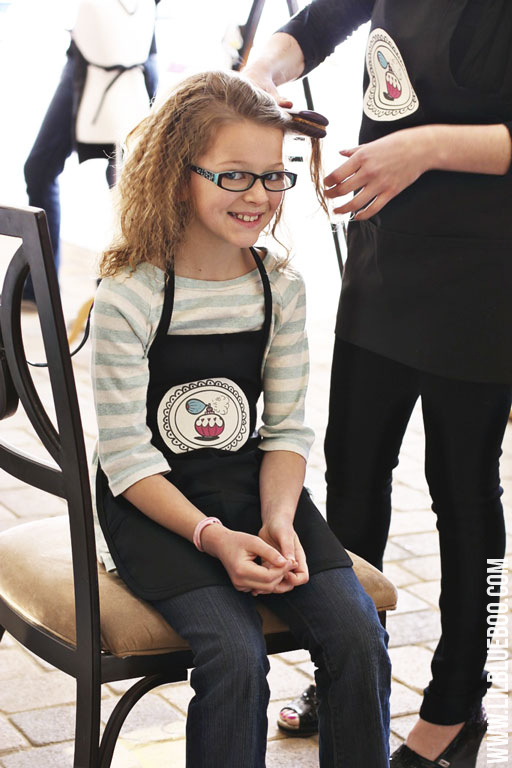 We had a photo booth where the girls could show off their finished dos!  The photo booth graphic is included in the Beauty Salon printable package but there is a separate listing for just the photo booth printable!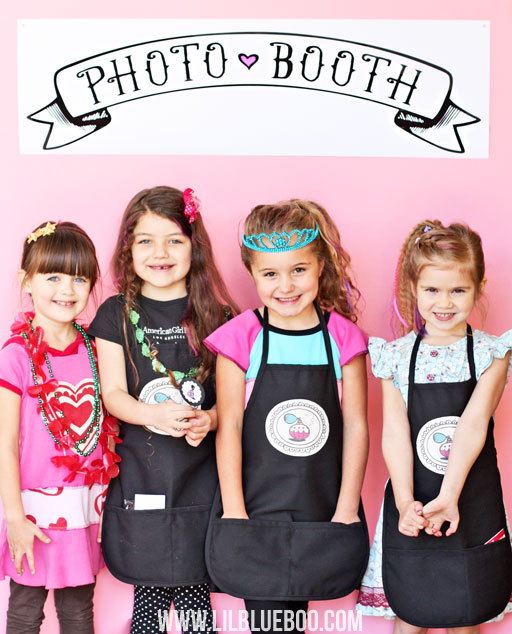 So cute!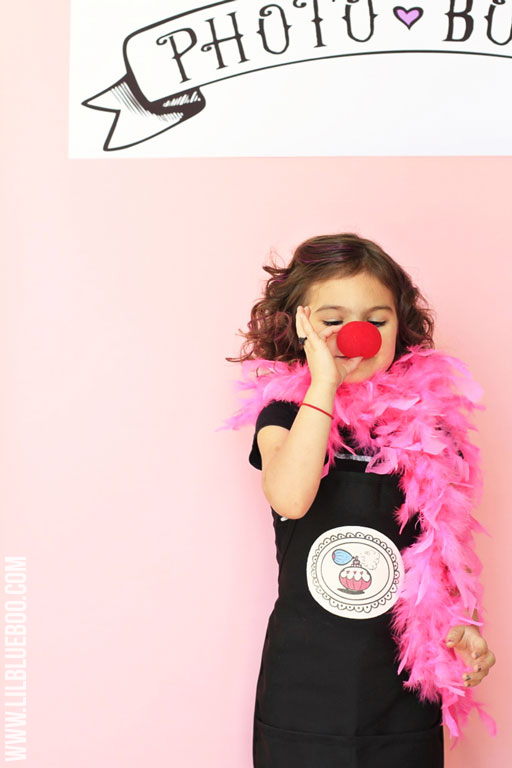 I asked another friend (and teacher at Boo's school) Miss Estefania to come and to the girls nails:

And we set up an elaborate doll salon…complete with doll-sized salon chairs and doll-sized capes (tutorial here):

Every station had tools, mirrors and water bottle….as well as hair accessories!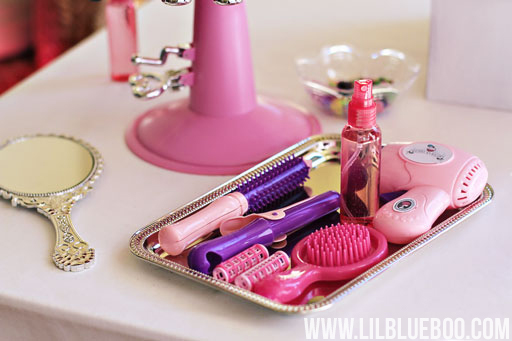 Boo and Lisa's daughter Elle had a blast with the salon as we were setting up: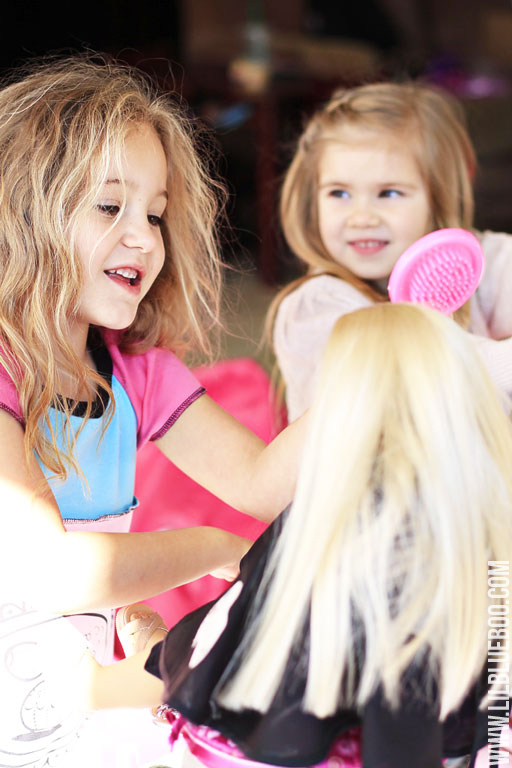 We made coordinating "stylist aprons" for each girl by adding a Stephanie's perfume graphic to the front:

Of course there was lots of good food and treats!

My favorite part of party planning are the favors!  What fabulous items can we send the girls home with?! We made treat bags with nail polish, lip gloss and "doll" hair accessories.  We made matching "beauty salon" dresses for each doll. Each girl got a stylist apron too. And of course the adorable themed cookies by Ooh La La Baking Co!
Mr. LBB was a great sport…..my brother-in-law came to keep him company among all the glam.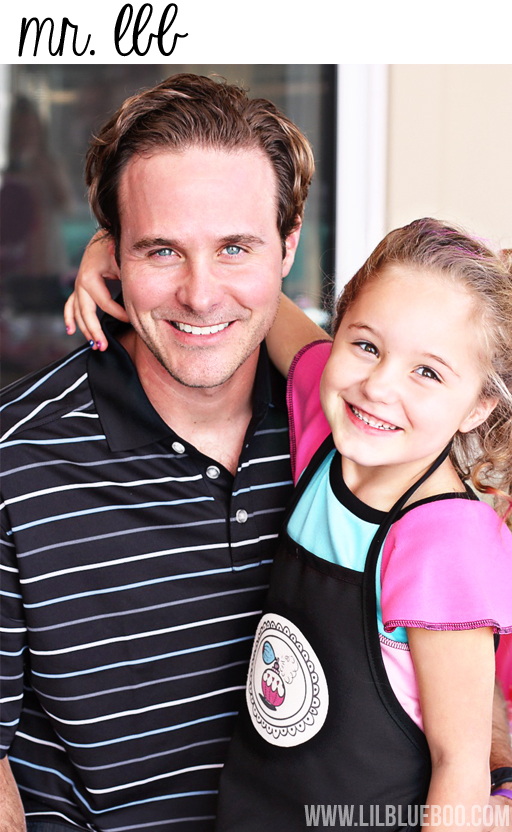 Of course all the "workers" had their uniforms to wear too!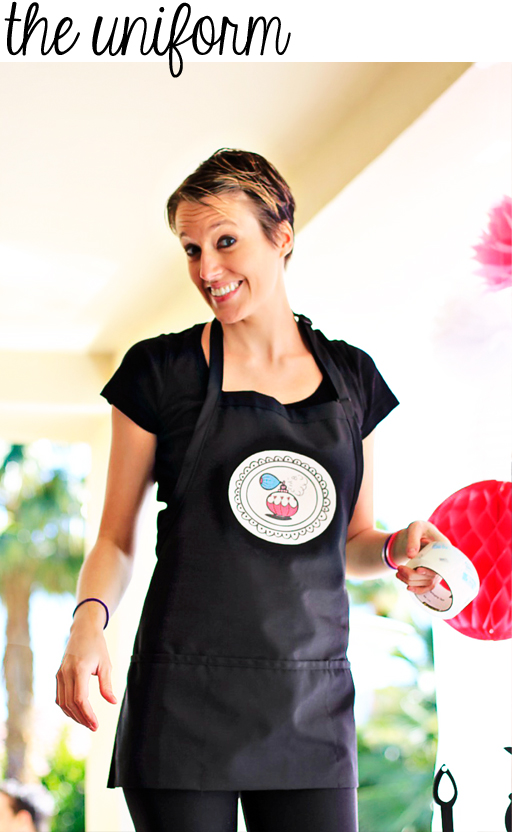 Boo just loved hanging out with all of her friends!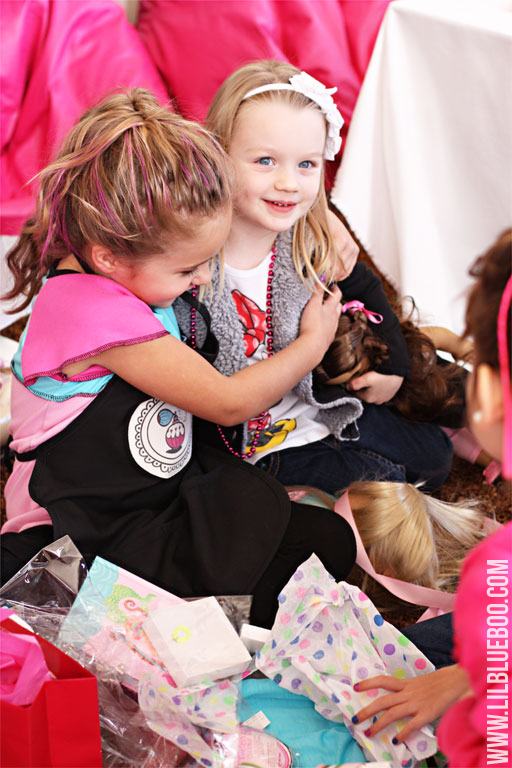 All the graphics and printables are available in the shop now. A huge THANKS to my talented friend Stephanie!  26 files included in this package so you can customize it to the max: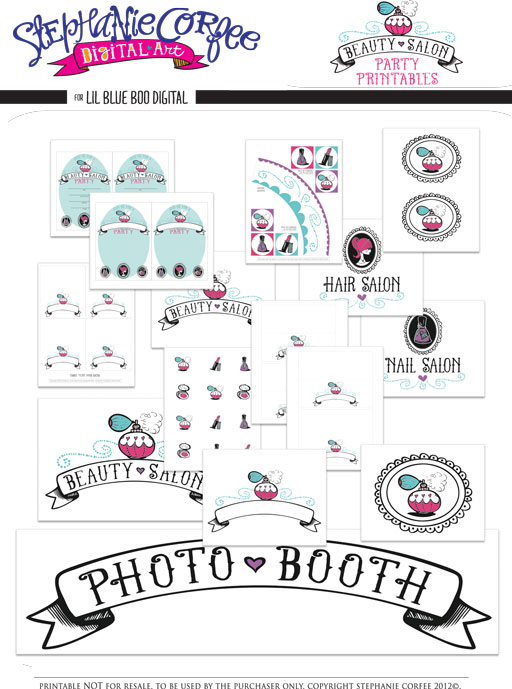 And the perfume dress and matching 18″ doll dress are available too! Customize the dress with a "birthday number"!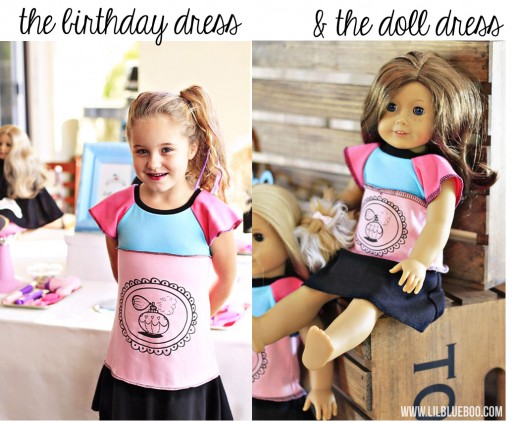 Click to visit the behind the scenes post!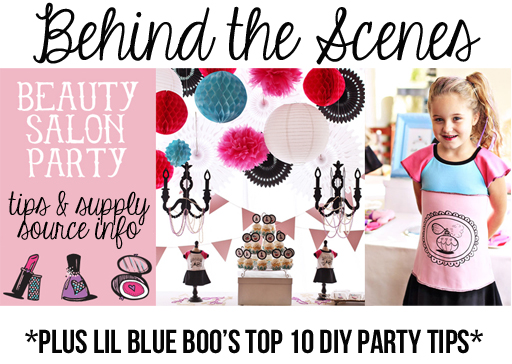 Visit our party printables 101 page for tips on how to maximize your party packages from Lil Blue Boo!


The perfect follow up to such an over the top party?  Random acts of kindness to keep her grounded: