Last night after I hit publish on that post about the typewriter I started thinking about when I was younger.  And I thought: if I could take Boo anywhere this summer where would it be?  And I remembered a sweet country inn in Bryson City, NC…..in the mountains of NC almost to the Tennessee border.
We went to the Hemlock Inn for a few years when I was a little girl….and you can see how little I was by the photos…..but I remember it almost like it was yesterday.  I looked it up today….holding my breath for possible disappointment….and it's still there.  I. am. ecstatic.
I called my Aunt Sharon tonight to tell her I'd found the website. I knew she'd have some stories for me.
Sharon: You know all the pewter that your grandparents served dinner on?
Me: Yes
Sharon: That was started at the Hemlock Inn.  That's how they served the family style meals. That's where all the pewter dinner sets came from.
Me: I remember the country ham. They still serve it! It's in a photo on their website.…on the same platter and with the same pitcher grandmother had!
I even called the Inn tonight to make sure they were still serving that way.  The woman who answered the phone at the Inn said they still were. So. Awesome. (I could hear the dinner chatter in the background!)
We first went there as a family because it was about halfway in between Charlotte, NC (where we lived) and Nashville, TN (where my aunt and uncle lived). And ended up going a few more years….until my grandmother Marge passed away.  My Aunt said tonight that her last memory of her mother healthy and happy was at the Hemlock Inn. I'm sure it was the same for my grandfather. Maybe that's why we stopped going….it would have been too sad for him. For me it's a connection to them though….and one that I want Boo to know.
I remember the meals were family style and they would make us little box lunches if we were exploring locally or going on a hike. Mr. Shell (the owner) even said the blessing before dinner at night while all the guests stood behind our chairs. There was a little candy store….where you placed your money in a white plastic bin with a hole cut in the top.  It was the honor system. One night we were there a bear tried to break in and get to the candy. I remember laying on my bed the following night looking at the window worried I'd see that bear pass by!
A few of my favorite memories include playing shuffleboard and a wooden Skittles game.   Also, the owner Mrs. Shell would make me a treasure map around the hotel premises and I'd go hunting for it. It was an amazing map.
Shuffleboard with my Uncle Steve, Aunt Sharon, and my Dad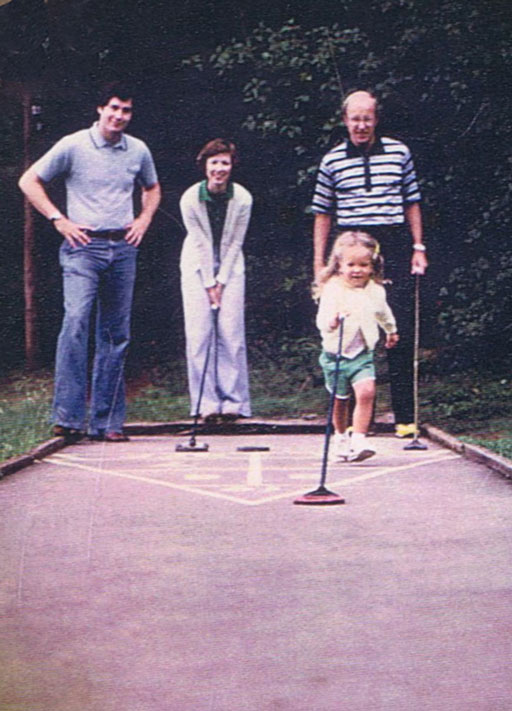 The whole family:
Dad, me, Mom, Uncle Steve
"Paw-Paw", Aunt Sharon, Grandma Marge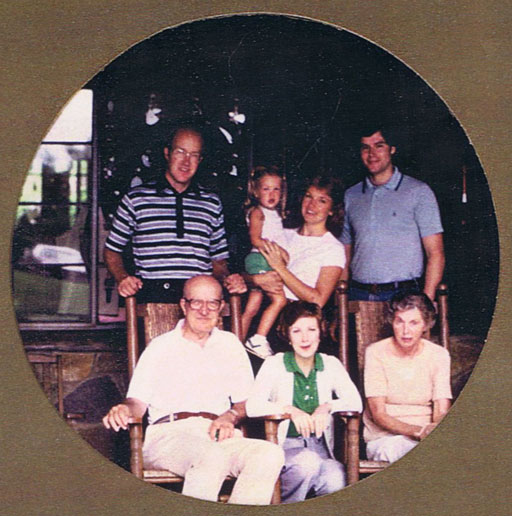 So many recipes from when I was younger came from the Hemlock. My Aunt Sharon sent me my grandmother's copy of the Hemlock's recipe book when Mr. LBB and I were married: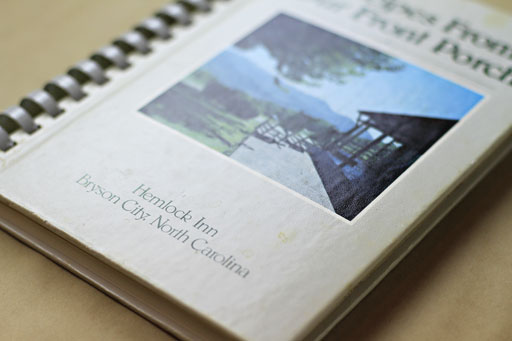 It's even has an inscription from the Shells: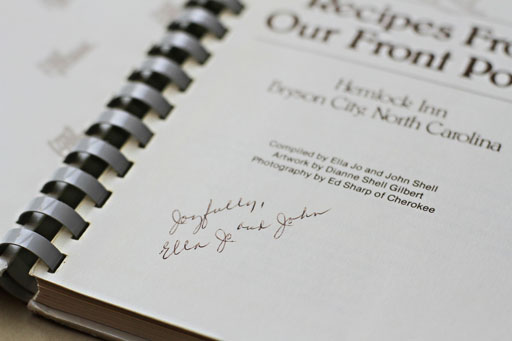 The sovereign nation of Cherokee is nearby….and you can learn the history of the Cherokee Indians:
c. 1980 Me with Chief Henry and Princess Patty

Update: I got a note from Princess Patty's niece saying she is still in the area and works at the Cherokee Indian Hospital.  
Here I am a few years later with my brother…..ringing the dinner bell for all the guests: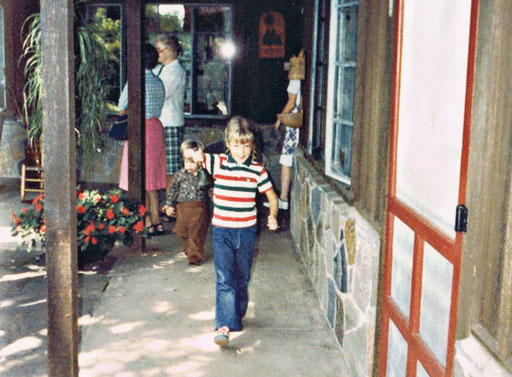 My grandfather and I at the Hemlock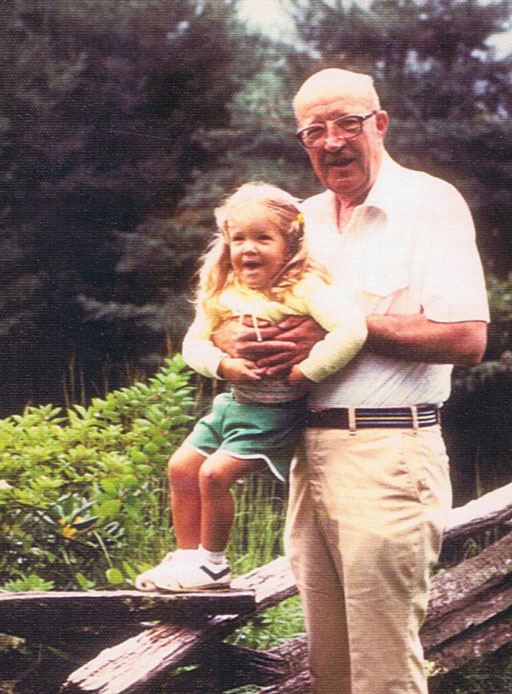 It's a great setting for photos!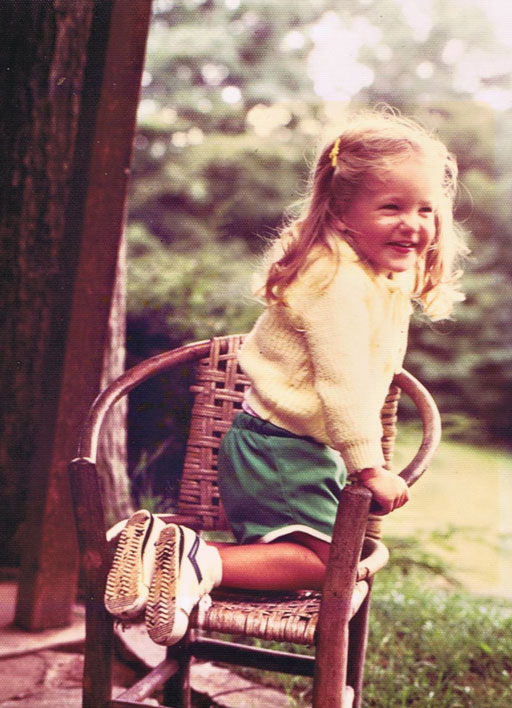 Tonight as I read more into the Inn's website and I came across these words:
For many years now, we have be discussing the future of Hemlock Inn debating how much change we need to make to be attractive to the newer younger traveler. It is a compelling discussion, because there are things that do need to change, but we never want to mess with the underlying character of the inn. This includes a quiet peaceful setting, simple pleasures such as hot coffee around a fireplace and homecooked family meals preceded by a blessing. We believe in family vacations, couple get aways, and a wholesome place where everyone feels comfortable and at ease. We want to embrace many of the values Andy Griffith evoked in mythical Mayberry. We still think that many folks are looking for such a place…maybe even you.
Dear Hemlock, you read my mind….I'm looking for that place!
It's funny about timing because I spent all last night thinking about how great the good ole days were.  How sweet things were when I was younger. How I want that for Boo. How I wish we could just disconnect more often. Places like the Hemlock Inn are places that we should want to thrive….small town, family run, home cooked meals….I just don't know that people remember how special places like this are.
The Inn is still running the way I remember it. There are no TVs, phones or Internet at the Hemlock. Large, home-cooked breakfasts and dinners are served family style at large tables with lazy susans (I remember those lazy susans!) And I love that everyone stands around the tables until the blessing is said….and all the guests sit at the same time.
Even the box lunches are exactly as my Aunt Sharon described on the phone to me this evening…every detail:
The lunch includes a pimento cheese sandwich (or peanut butter and jelly), two ham biscuits, hard boiled egg, apple, and two homemade cookies, plus napkin and salt.
Anyway, I know that I was meant to stumble upon the this memory tonight. Maybe some of you will call and make a reservation and see it for yourself.  Take your families. Disconnect.  Hold hands at the family table and count your blessing.
P.S. If you do go….make sure to make a day trip to the Biltmore House as well. It's one of my favorite places in the whole world. If you've never heard of it you've definitely seen it in a movie. Take the behind-the-scenes tour too….it's like Downtown Abbey on steroids!