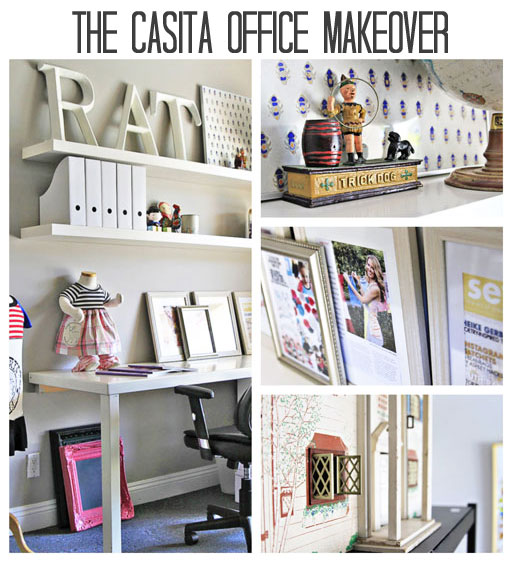 I'd never heard of a "casita" before I moved to California. It's a little detached guest room off the house.  Nice because if you don't use it you can leave the air conditioning off and save money!  We turned ours into a sewing studio a few years ago but then we outgrew it and now it's the official Lil Blue Boo office.
Here's the before: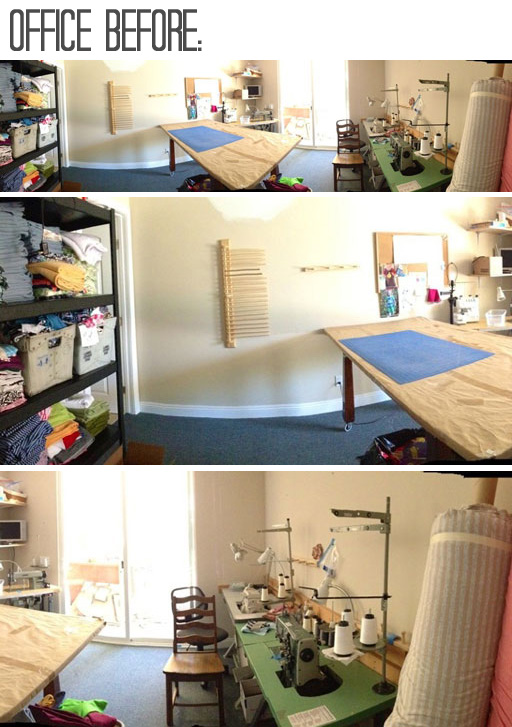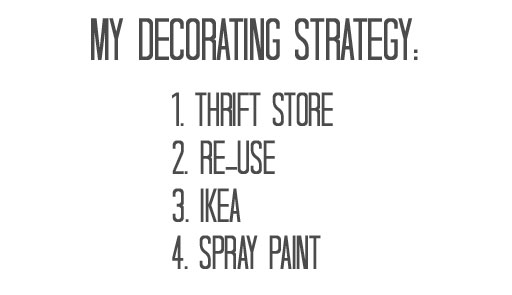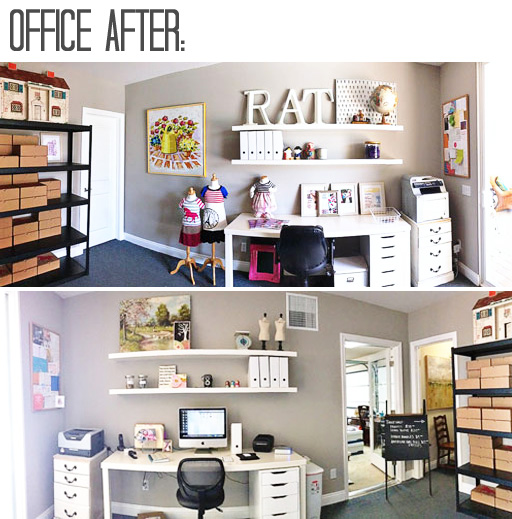 I love how the neutral palette turned out.  I am still trying to figure out what kind of chairs I want to use….but they have to be comfortable!  This is my side of the office. It doesn't get used a lot right now because I have my "dining room" office too: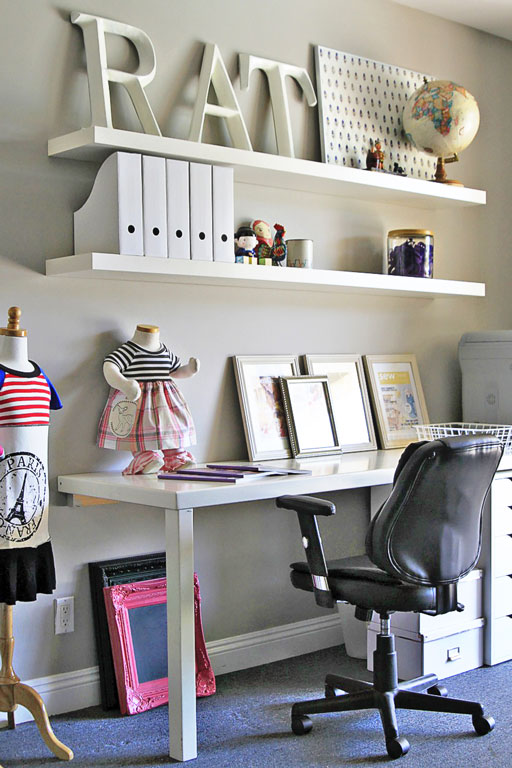 The shelves and cardboard magazine holders were from Ikea: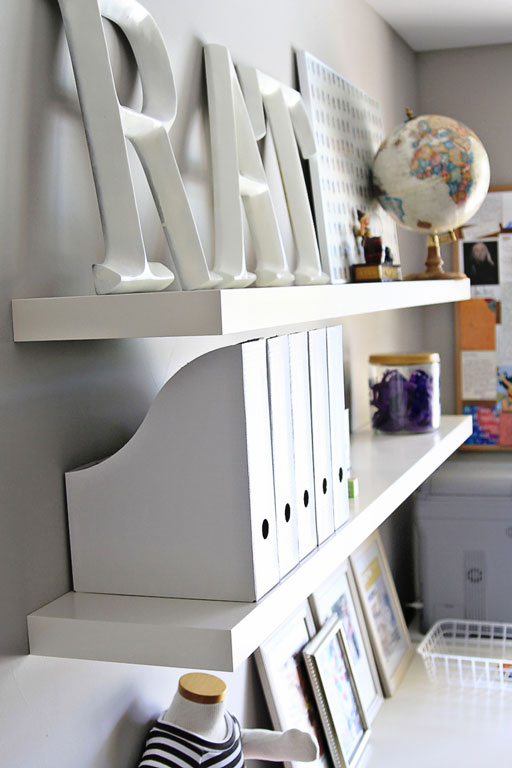 This is Lisa's side of the office: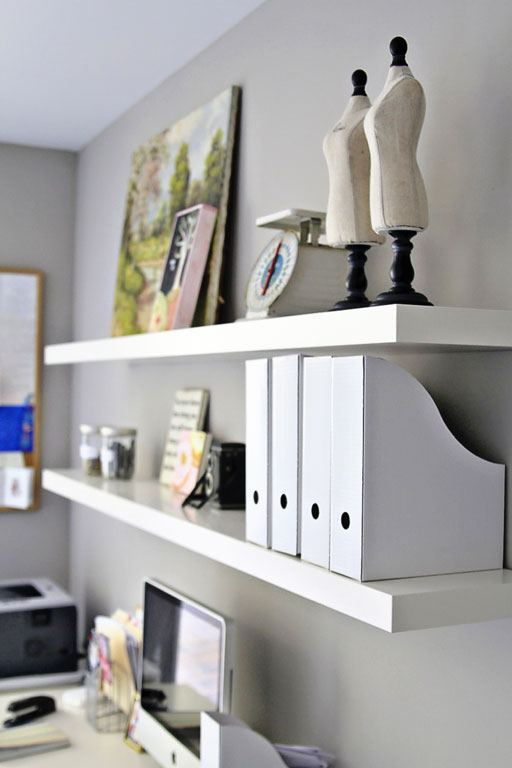 I've had these letters for about 10 years….to spell the word "ART"…but I never put them up because it just seemed cheesy…..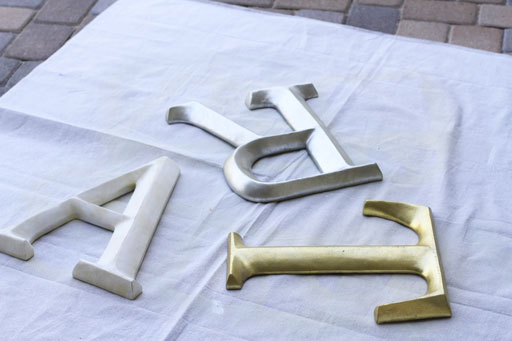 …..Mr. LBB spray painted them for me and we spelled "RAT" instead: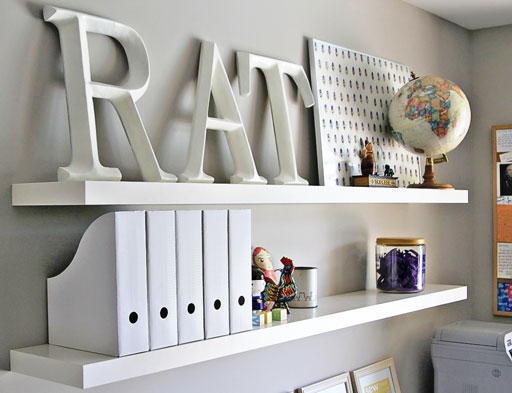 To make the desks, we cut a thrift store table in half.  Added a 2×4 to the wall to attach each desk to, and drilled holes through the top for computer cords:
To keep the desks organized I added the Ikea cord organization underneath. I also purchased the drawer sets. I love the "cut to size" drawer inserts too: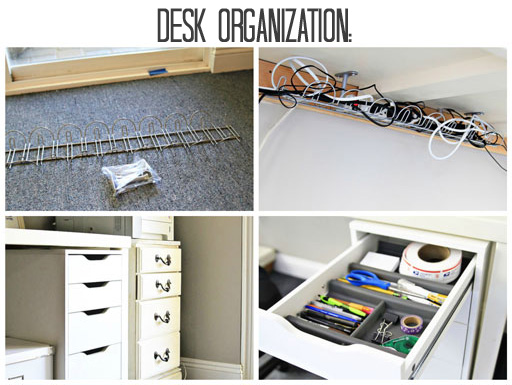 To make the printer stations we cut apart an old thrift store desk and used the drawer portions from either side….adding a melamine top: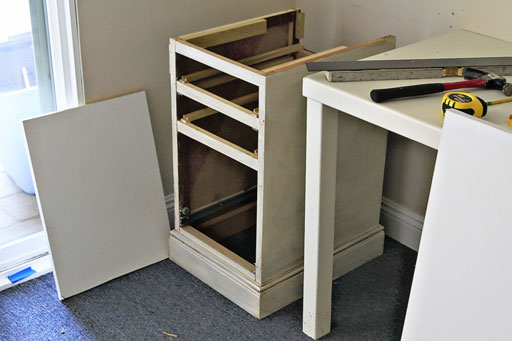 The printers sit across from each other and there is tons of storage below each one for paper and office supplies: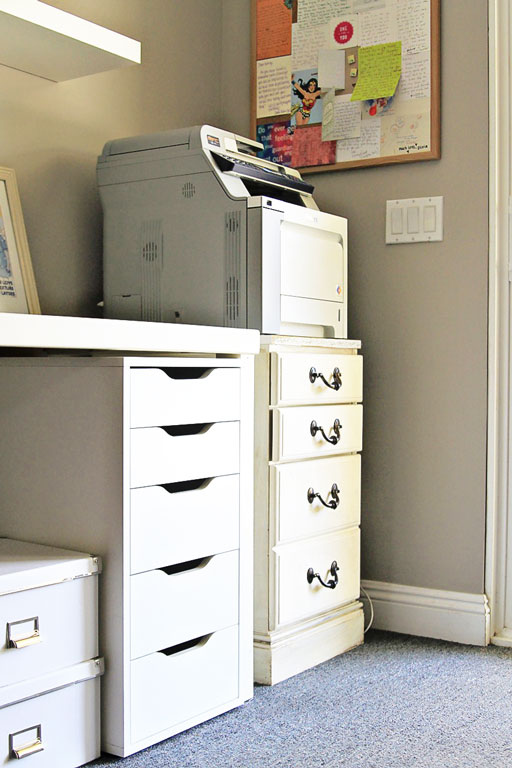 I added things I had around the house to decorate the shelves.
About this painting….I found it at a yard sale.  Someone bought it but said she only wanted the frame. She ripped the painting out of the frame and left the oil painting behind. I asked if I could have the painting (because it's an amazing painting) and they said yes. I offered $25 but they just gave it to me.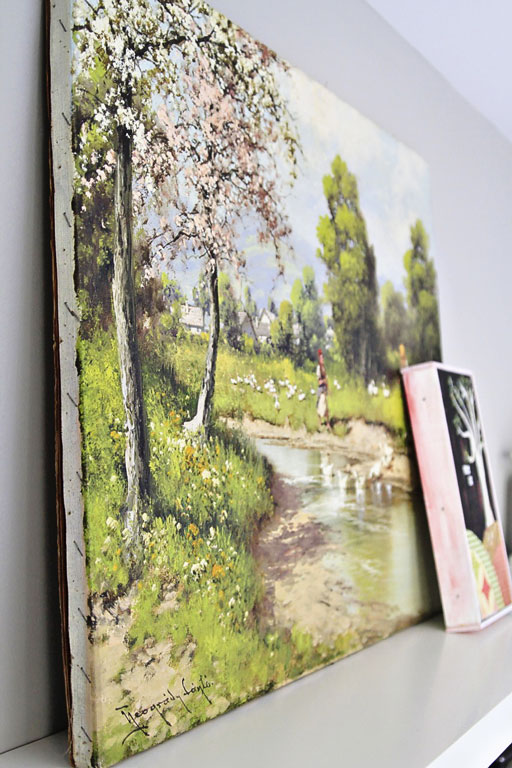 Some framed magazine articles.  Remember when I had long hair?! Strange.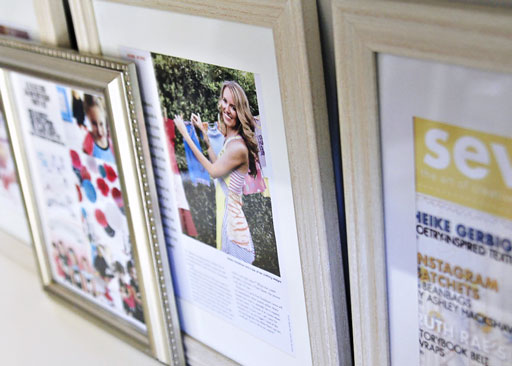 Now I know why I hoard knick knacks. My dad had those little dolls in his bag when he passed away. I think he was bringing them back for Boo.  The "JOY" blocks are from my sister-in-law Christy.  The Swedish rooster was my grandfather's. I made the matryoshka doll.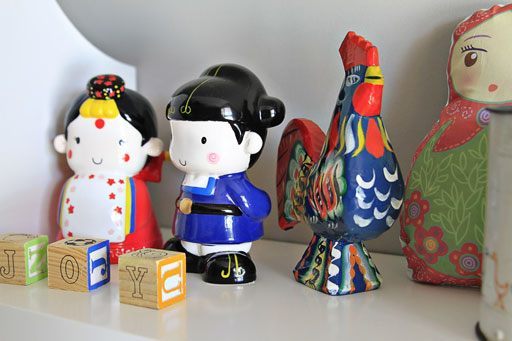 Some matryoshka dolls from my friend Olivia: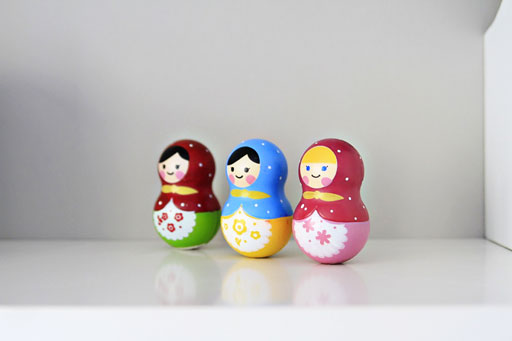 Mr. LBB has this great collection of metal banks from when he was a kid.  This was one I recently unpacked. The globe was a thrift store find.  I framed some handprinted paper in a large Ikea poster frame for the background: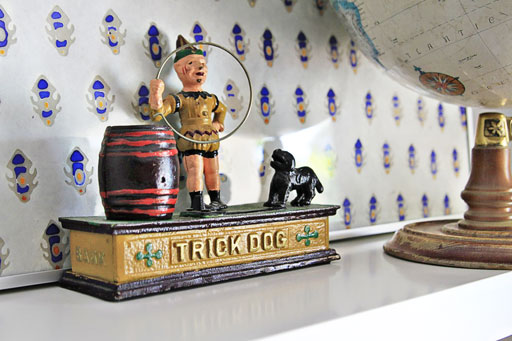 Another thrift store find….a vintage dollhouse.  It's a project waiting in the wings for Boo and I….but for now it makes nice office decor!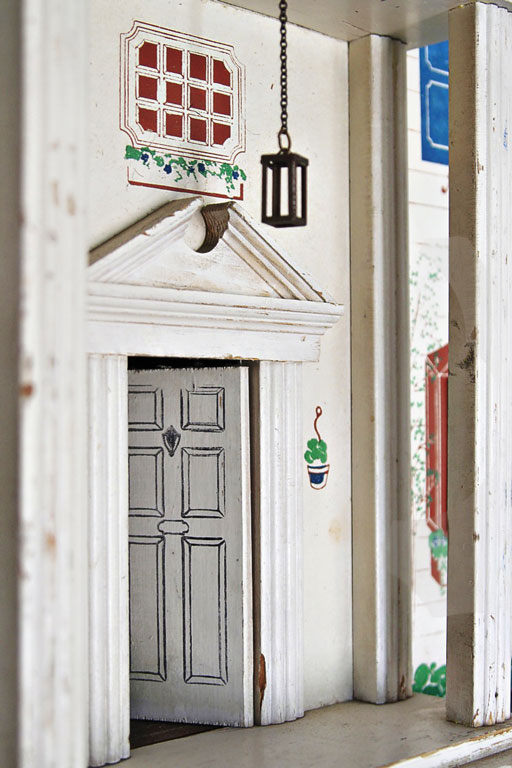 Little metal shutters…be still my heart: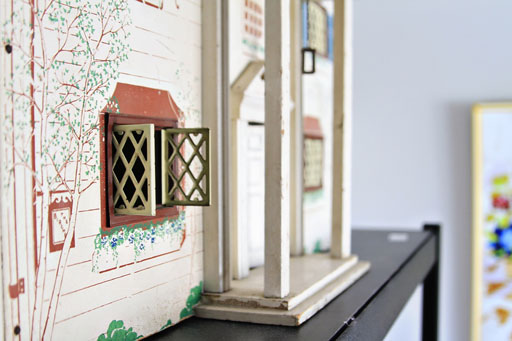 A few painting gifts from friends. A vintage camera.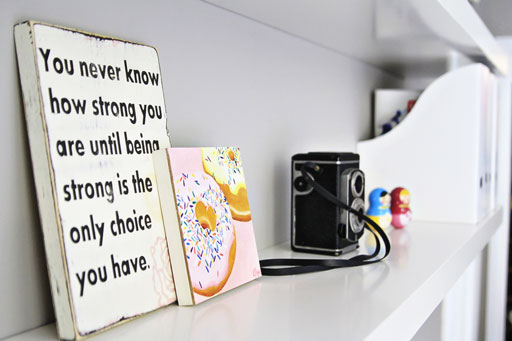 Choose Joy bracelets: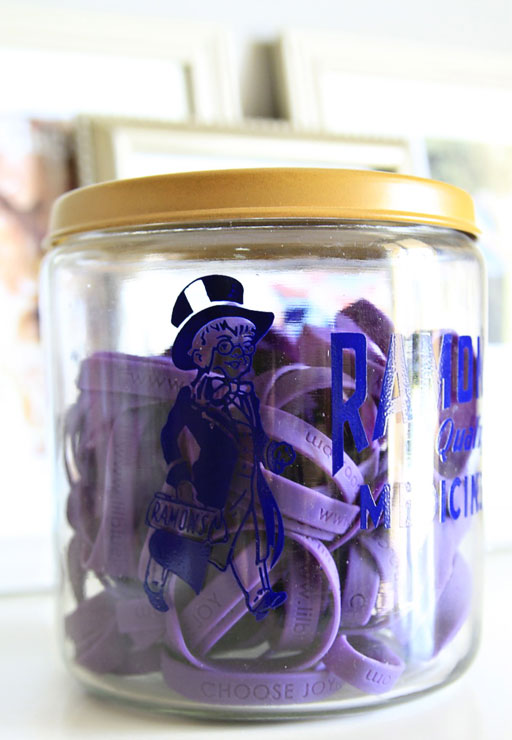 A thrift store painting: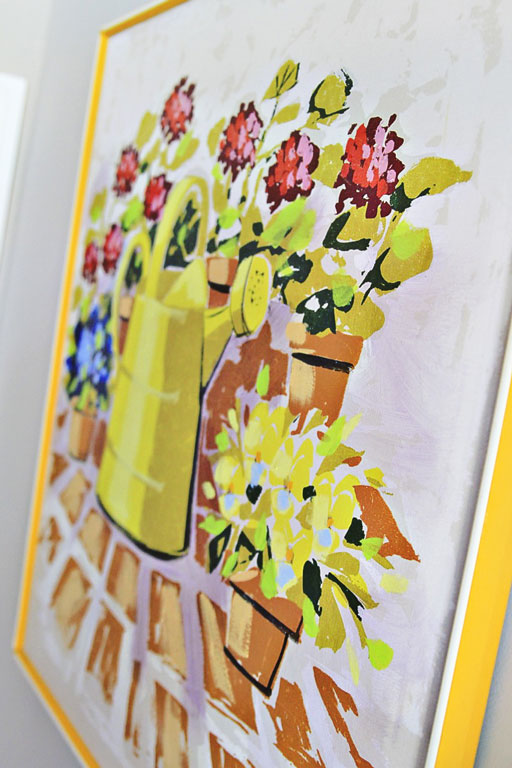 I love these. I filled two bulletin boards with inspiring notes from all of you!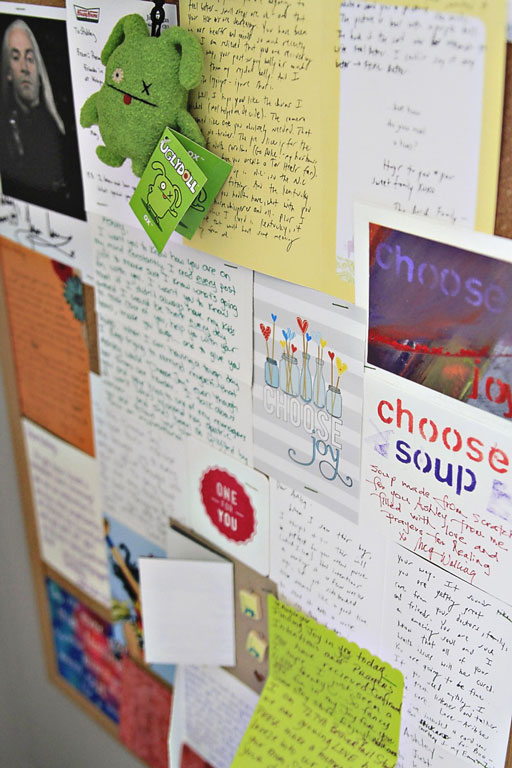 I treasure every single one.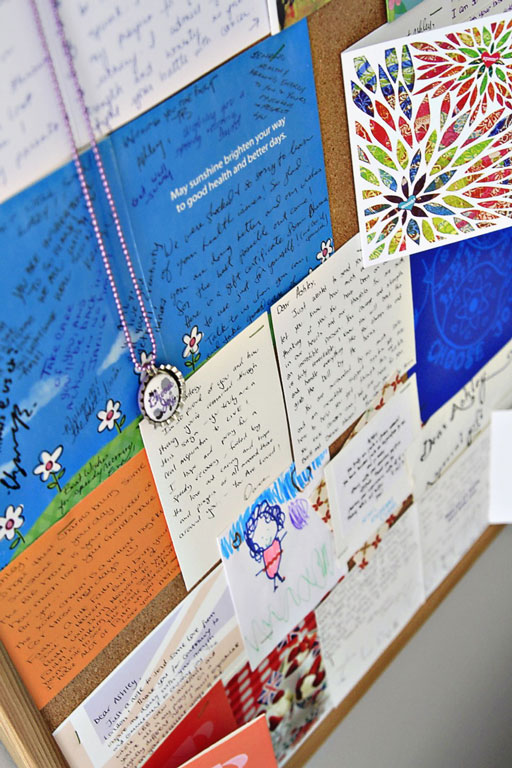 Dresses that have been packaged for shipping. We hand print every dress, every box: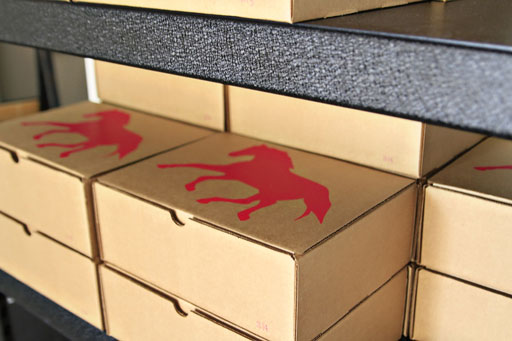 A closet in the casita hold some inventory and one million spools of serger thread. I painted that landscape oil in my parent's garage one college summer: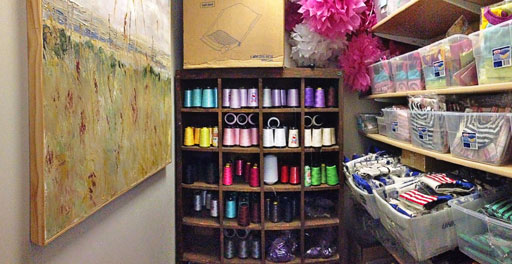 Behind the scenes. Not the greatest angle: