He was a who, not a what, just like me.
Last night I was at the grocery store and an elderly man dropped a box of orange juice.  As I reached down to help him, he commented how clumsy he was these days.  I could tell he was a veteran.  I have a special place in my heart for veterans.  I told him I was clumsy all the time.  I commented that all the orange juices looked the same and I had to make sure I wasn't getting one with pulp because Boo doesn't like pulp, and he said something about not having pulp is not getting the bang for your buck.  I smiled at him and he told me that my smile belonged in the Smithsonian and I told him he made my day. He was slow as he made his way around the store.  I was slower.   In the frozen aisle I told him I was finally going to pull ahead of him.  At the produce area he said we needed to stop running into each other like this. He caught up to me again in the dairy section.  We both stood in front of the dairy staring at all the selections.  Shoppers swarmed all around us in a hurry.  I told him it was all too confusing and I didn't know what half the stuff was.  He said he was a no frills kind of guy.  I told him I was a no frills kind of girl.  He said he knew I was.  As I said goodbye he said it was so nice meeting you and I told him it was extra nice meeting him.  I noticed his eyes were especially sparkly.  I wondered how many times he's been passed by in a hurry as if invisible.  This holiday season my focus is on being slow and present, and maybe if I'm just slow enough I'll run into the war veteran again.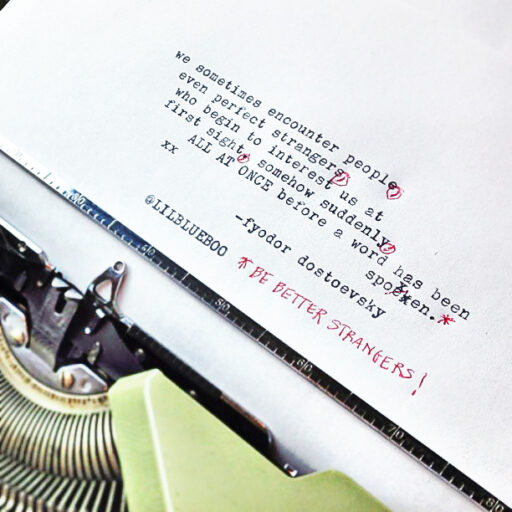 The quote above is from the book Life is a Verb by Patti Digh.  I love this:
You never know when you might be the highlight in a trip, a needed word, a special kindness.  You never know when you might find the friend you've needed, or the learning that changes everything for you […] this was a real person with a name and a history and stories that make him laugh and cry. He was a who, not a what, just like me. –Patti Digh, Life is a Verb
Mr. Veteran was the highlight of my grocery trip.
I like people with no frills.
Cut straight to the real and raw.
He was a who, not a what, just like me.
P.S. I think I should start buying orange juice with pulp.