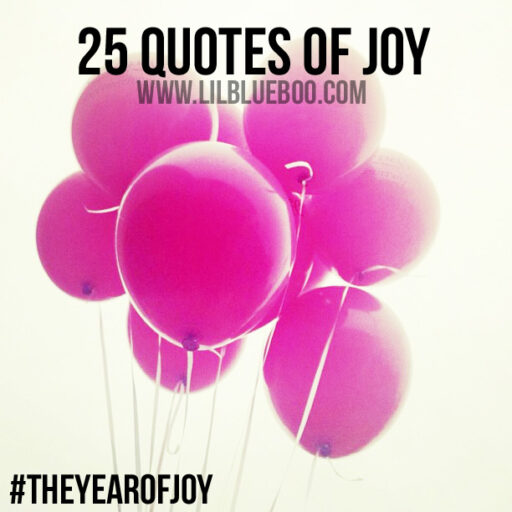 When you rise in the morning, give thanks for the light, for your life, for your strength. Give thanks for your food and for the joy of living. If you see no reason to give thanks, the fault lies in yourself. -Tecumseh
Joy is the settled assurance that God is in control of all the details of my life; the quiet confidence that ultimately everything will be alright, and the determined choice to praise God in all things. -Kay Warren
Joy lies in the fight, in the attempt, in the suffering involved, not in the victory itself. -Mahatma Gandhi
Since you get more joy out of giving joy to others, you should put a good deal of thought into the happiness that you are able to give. -Eleanor Roosevelt
Joy does not simply happen to us. We have to choose joy and keep choosing it every day. -Henri Nouwen
Joy can be real only if people look upon their life as a service, and have a definite object in life outside themselves and their personal happiness. -Tolstoy
Genuine happiness consists in those spiritual qualities of love, compassion, patience, tolerance and forgiveness and so on. For it is these which provide both for our happiness and others' happiness. -The Dalai Lama
Often people attempt to live their lives backwards; they try to have more things, or more money, in order to do more of what they want, so they will be happier. The way it actually works is the reverse. You must first be who you really are, then do what you need to do, in order to have what you want. -Margaret Young
Joy is not the absence of suffering. It is the presence of God. -Robert Schuller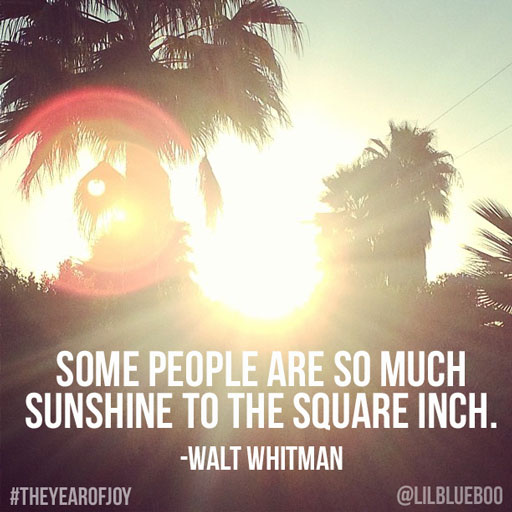 One joy shatters a hundred griefs. -Chinese Proverb
The gloom of the world is but a shadow; behind it, yet within our reach, is joy. -Fra Giovanni Giocondo
This is the true joy in life…being used for a purpose recognized by yourself as a mighty one… being a force of Nature instead of a feverish selfish little clod of ailments and grievances complaining that the world will not devote itself to making you happy. -George Bernard Shaw
The joy is in the journey. In the doing. In following one's inspiration. In being one with one's process. A man whistling under a tree does not feel less because he is not performing before an audience. -Abigail Brown
Joy is what happens when we allow ourselves to recognize how good things are. Joy is not necessarily what happens when things unfold according to our plans. -Marianne Williamson
There are souls in this world which have the gift of finding joy everywhere and of leaving it behind them when they go. -Frederick Wm. Faber
Today I choose life. Every morning when I wake up I can choose joy, happiness, negativity, pain… To feel the freedom that comes from being able to continue to make mistakes and choices – today I choose to feel life, not to deny my humanity but embrace it. -Kevyn Aucoin
Your success and happiness lies in you. Resolve to keep happy, and your joy and you shall form an invincible host against difficulties. -Helen Keller
Who is the happiest of men? He who values the merits of others, and in their pleasure takes joy, even as though t'were his own. -Johann Wolfgang von Goethe
I define joy as a sustained sense of well-being and internal peace…a connection to what matters. -Oprah Winfrey
Joy is a net of love by which you can catch souls. -Mother Teresa
Participate joyfully in the sorrows of the world. We cannot cure the world of sorrows, but we can choose to live in joy. -Joseph Campbell
I thank you God for most this amazing day: for the leaping greenly spirits of trees and a blue true dream of sky; and for everything which is infinite which is yes. -E.E. Cummings
All paths are the same: they lead nowhere. However, a path without a heart is never enjoyable. On the other hand, a path with heart is easy—it does not make a warrior work at liking it; it makes for a joyful journey; as long as a man follows it, he is one with it. -Carlos Castaneda
Those who bring sunshine to the lives of others cannot keep it from themselves. -James Barrie
Love is a force more formidable than any other. It is invisible – it cannot be seen or measured, yet it is powerful enough to transform you in a moment, and offer you more joy than any material possession could. -Barbara de Angelis
The Year of Joy Recap:
Day 1: The Year of Joy: You are deserving of joy. Many times we confuse joy with happiness. They are two separate things. Happiness comes from circumstances, but joy is an attitude that defies circumstances.
Day 2: A Bigger Target: Focus changes everything. Our goal in life should be to be much, not to have much.
Day 3: Make Room for Joy: Quit Something Every Thursday: So how do we become deep people? Don't let time fillers dilute your life, intrude and thin out your joy.
Day 4: Availability is the Greatest Ability: I so often think I'm available, but really my mind is wandering around in the margins of life.
Day 5: People Gifting Cadillacs: So many lessons to learn in letting go. As well as giving and gifting. Some are so grateful to find a great treasure at any cost.
Day 6: Nothing is More Real than Nothing: These are the times that I just ask for grace and accept that I may have over-committed…just a little.
Day 7: Making my World Smaller: I am finding joy in becoming increasingly unattached to things.
Day 8: A Bonus Check: It might not seem like it, but you too are making small strides. We all are.  Look for your bonus checks, and share the wealth with others.