Do Not Forget to Look Up – a new story in the Chicken Chronicles!
Yesterday Foshizzle was squawking so loud. It was obvious that she was trying to tell me something. She followed me for a while. Then she stood on top of a large boulder so she'd be taller. Then she followed me some more. Squawking the whole time just like this:

At some point I figured out that she was looking for somewhere to lay her egg! When I saw her try and crawl under our wide chicken Sunny, as if Sunny were some kind of shelter, I realized that earlier in the morning I'd moved the piece of wood she sometimes crawls behind to lay her egg. I picked her up and carried her into the coop and set her in one of the nesting boxes. As soon as I set her down I could see her sigh with relief! Within seconds she started making a little nest in the fresh shavings and then daintily picking up shavings in front of her to tidy up. She was so content after that. Doesn't she look so cute in the box?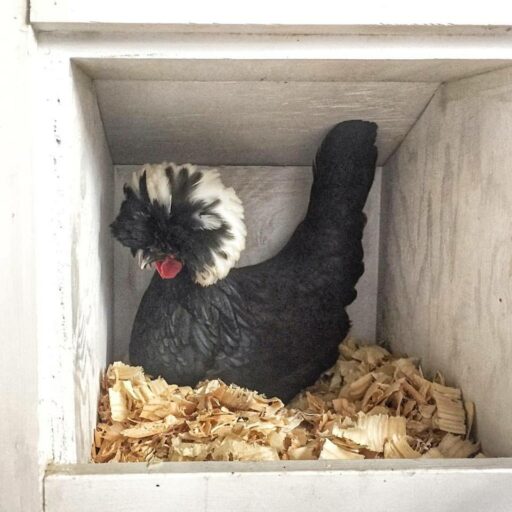 I don't think she ever knew those nesting boxes were there since they are above her limited sight line. She probably has been wondering over the past few months where all the other chickens lay their eggs! In the past I've found her eggs under the Radio Flyer wagon, in the corner of the run, under a broken statue, in the corner of the garage…she's never really complained until today. Maybe she was distressed because it's so cold, and she was worried about her egg getting cold too. What a sweetie pie she is. Sometimes I have to pay extra attention to the other chickens just so they don't ever suspect that Fo is my favorite. I shouldn't play favorites, but that huge beautiful feather plume and her quirky personality is just irresistible.
I just wanted to show you the difference between Fo and Ditto. They are both White Crested Polish hens but their plumes are completely different! Fo's is enormous, and grows down way in front her eyes. Ditto's grows in a completely different pattern and doesn't impair her vision at all.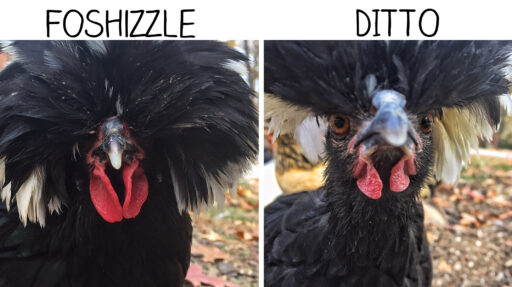 And then there's Plump who has recently lost almost every feather on her head! Don't worry, it's perfectly normal. She's molting, which is just the natural process of losing feathers so they are replaced with brand spanking new ones before it gets too cold. What I can 't get over is how tiny she actually is under all that plumage! She looks like she's wearing a fancy Elizabethan ruffled collar now.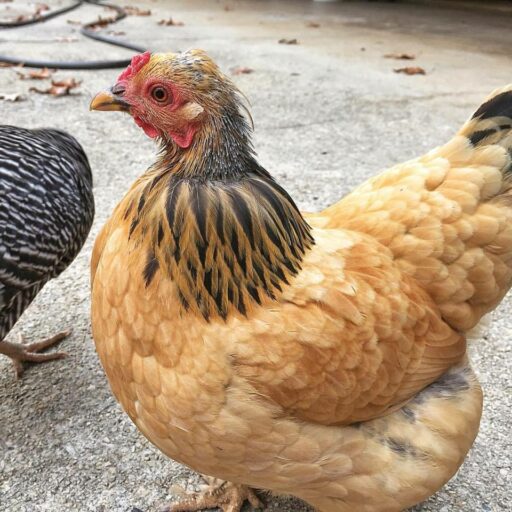 You can find more tales from the Chicken Chronicles here!
I've been collecting the beautiful feathers as all the hens lose them, and miniaturizing them so that they fit into these little glass jars. A few feathers in each one. They are available in my Etsy shop if you are interested!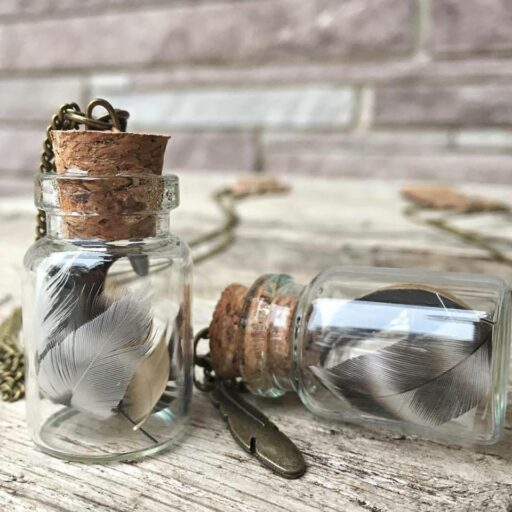 Also, I found this yesterday and it made me laugh. It's totally something I would do. I'm not a vegan, but I'm always preparing interesting meals for the chickens to enjoy.
How to make a chicken salad:
Step 1: Prepare a salad.
Step 2: Give to a chicken.