Sienna turned ten years old this week. The past few weeks I've been asking her what she wanted for her birthday and she would never give me an answer. She's been reading a lot about Harriet Tubman recently (she's delivering her lines in the school production coming up), so I painted her this little painting and quote: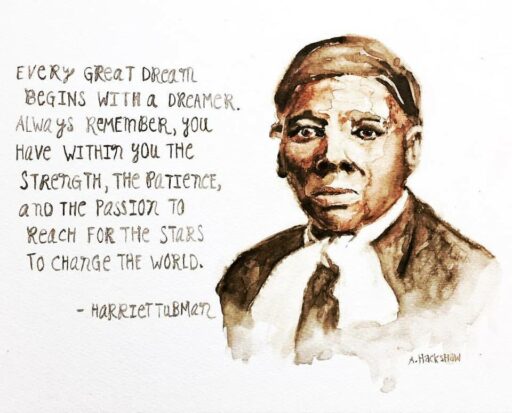 I also got her this book:
DK Biography of Harriet Tubman

"Loaded with archival photographs and amazing facts, the DK Biography series introduces young readers to some of history's most interesting and influential characters.

DK Biography: Harriet Tubman tells the story of the famous abolitionist, from her childhood as a slave on a Maryland plantation, to her dramatic escape, to her tireless work as an organizer of the Underground Railroad."
We love all the DK series books because of the historical photos and artifacts that they always mix in. I grew up on them. I still remember every single page of Seashells.
I was mesmerized by the artwork and beautiful words right away when I picked up this book in the bookstore in the Black History Month section:
Freedom Over Me: Eleven Slaves, Their Lives and Dreams Brought to Life by Ashley Bryan

"In his gentle yet deeply powerful way, Ashley Bryan goes to the heart of how a slave is given a monetary value by the slave owner, tempering this with the one thing that CAN'T be bought or sold—dreams. Inspired by the actual will of a plantation owner that lists the worth of each and every one of his "workers", Bryan has created collages around that document, and others like it. Through fierce paintings and expansive poetry he imagines and interprets each person's life on the plantation, as well as the life their owner knew nothing about—their dreams and pride in knowing that they were worth far more than an Overseer or Madam ever would guess. Visually epic, and never before done, this stunning picture book is unlike anything you've seen."
The author used original slave auction and plantation estate documents to help illustrate the stories: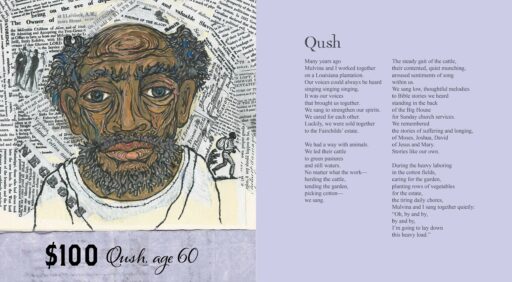 I grew up in a household of books and that's what I want for Sienna. We are one book away from being a full, functioning county library. Here's what else I picked up for her read: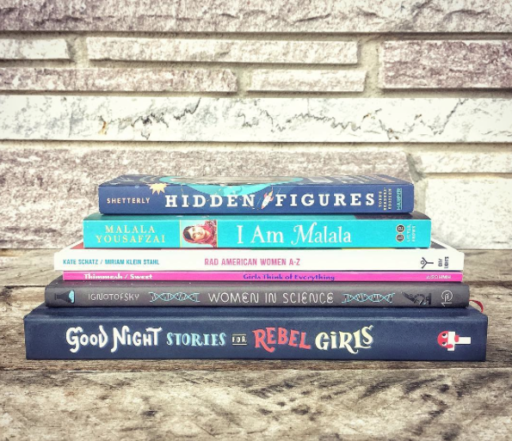 This is one of the most beautiful books I've ever come across…and one I hope she'll keep forever:
Good Night Stories for Rebel Girls: 100 Tales of Extraordinary Women

"A children's book packed with 100 bedtime stories about the life of 100 extraordinary women from the past and the present, illustrated by 60 female artists from all over the world. Each woman's story is written in the style of a fairy tale. Each story has a full page, full color portrait that captures the spirit of the portrayed hero. Good Night Stories for Rebel Girls is also the most crowd funded original book in history."
I think I've had more fun reading this book than she has. The pages are just beautiful: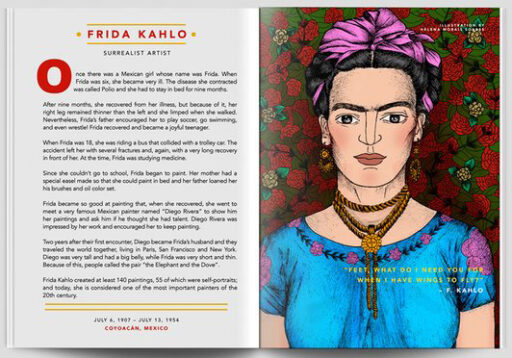 This Women in Science book is a work of art as well:
Women in Science: 50 Fearless Pioneers Who Changed the World by Rachel Ignotofsky

"Women in Science highlights the contributions of fifty notable women to the fields of science, technology, engineering, and mathematics from the ancient to the modern world. Full of striking, singular art, this fascinating collection also contains infographics about relevant topics such as lab equipment, rates of women currently working in STEM fields, and an illustrated scientific glossary. The trailblazing women profiled include well-known figures like primatologist Jane Goodall, as well as lesser-known pioneers such as Katherine Johnson, the African-American physicist and mathematician who calculated the trajectory of the 1969 Apollo 11 mission to the moon."
Here is an example of some of the amazing illustrations: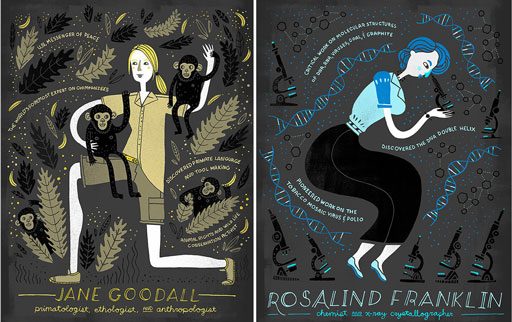 I love the collage art in this Girls Think of Everything book as a way to illustrate these women and their ingenious inventions. I secretly want to be an inventor…I just don't want to do all the work that comes along with it…but I do like coming up with new ideas:
Girls Think of Everything: Stories of Ingenious Inventions by Women by Catherine Thimmesh

"In kitchens and living rooms, in garages and labs and basements, even in converted chicken coops, women and girls have invented ingenious innovations that have made our lives simpler and better. Their creations are some of the most enduring (the windshield wiper) and best loved (the chocolate chip cookie). What inspired these women, and just how did they turn their ideas into realities?"
What I want more than anything for Boo to know as she gets older is that she can be an agent of change which is why I picked this book:
Rad American Women A-Z by Katie Schatz

"Like all A-Z books, this one illustrates the alphabet—but instead of "A is for Apple", A is for Angela—as in Angela Davis, the iconic political activist. B is for Billie Jean King, who shattered the glass ceiling of sports; C is for Carol Burnett, who defied assumptions about women in comedy; D is for Dolores Huerta, who organized farmworkers; and E is for Ella Baker, who mentored Dr. Martin Luther King and helped shape the Civil Rights Movement.

And the list of great women continues, spanning several centuries, multiple professions, and 26 diverse individuals. There are artists and abolitionists, scientists and suffragettes, rock stars and rabble-rousers, and agents of change of all kinds."
I picked up these two books as well because of the young readers' edition:
I am Malala: How One Girl Stood Up for Education and Changed the World

"Malala Yousafzai was only ten years old when the Taliban took control of her region. They said music was a crime. They said women weren't allowed to go to the market. They said girls couldn't go to school. Raised in a once-peaceful area of Pakistan transformed by terrorism, Malala was taught to stand up for what she believes. So she fought for her right to be educated. And on October 9, 2012, she nearly lost her life for the cause: She was shot point-blank while riding the bus on her way home from school. No one expected her to survive.

Malala's powerful story will open your eyes to another world and will make you believe in hope, truth, miracles and the possibility that one person — one young person — can inspire change in her community and beyond."
And this one too because I'd love for her to read the story before we go and see the movie:
Hidden Figures (Young Readers' Edition) by Margot Lee Shetterly

"Before John Glenn orbited the earth, or Neil Armstrong walked on the moon, a group of dedicated female mathematicians known as "human computers" used pencils, slide rules, and adding machines to calculate the numbers that would launch rockets, and astronauts, into space. This book brings to life the stories of Dorothy Vaughan, Mary Jackson, Katherine Johnson, and Christine Darden, four African-American women who lived through the civil rights era, the Space Race, the Cold War, and the movement for gender equality, and whose work forever changed the face of NASA and the country."
Yeah, I know I have a book problem: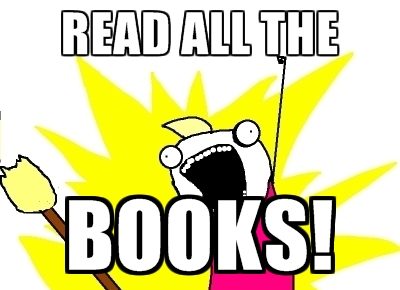 My friend and I were talking about Audible recently and she told me she had cut back because she was missing life. and I said, "But….books are my life." I've never been very good at moderation…of anything.
You can find more books I love here.