I've kept up the daily paintings but it's been hard to keep up with posting them so I'll just do it by month now. 365 paintings definitely seems a lot easier than 52 posts, and who wants to read 52 posts anyway. Here's everything I painted in June (except for 4 paintings that I already posted about here)…this is too much math.
Day 155: Ink on watercolor. I love this quote by Marcus Aurelius…the last of the five good emperors…whatever that means.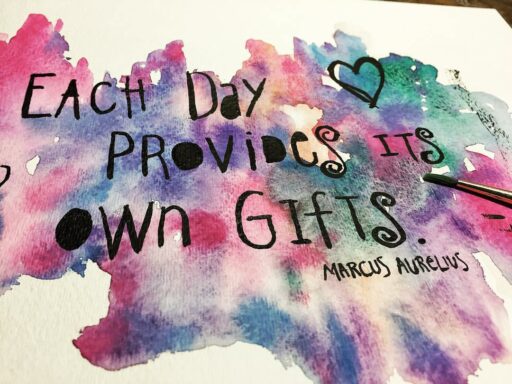 Day 156: When in doubt just paint a rooster…or three. This was acrylic on reclaimed wood. It's currently at Gallery 1 in downtown Sylva, NC if you live in that area!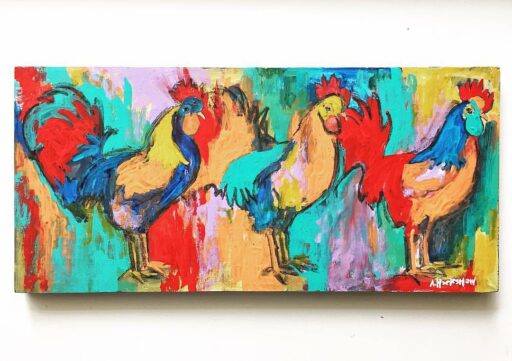 Day 157: A Bluegill fish on reclaimed wood. I used acrylic, charcoal and a few glazes for this one.
Day 158: I painted, stained and sealed these custom paddles for my friend Beau.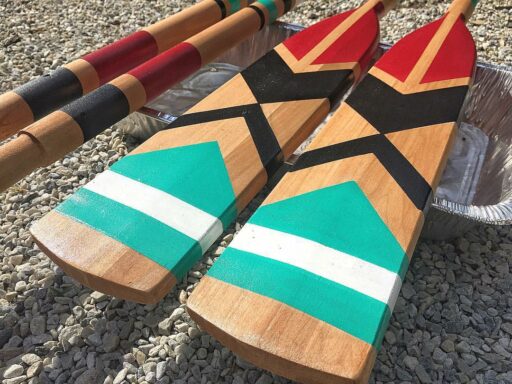 Here they are hanging in his new rental cabin Buffalo Trace:
Day 160: I painted this at the last minute before going to bed…the cover of an art journal. I might add to it later…it's not very exciting.
Day 161: One of our bedroom walls has been empty for way too long. I took some oversized white paper and used sumi ink to write a quote from The Great Gatsby on it. The frames are inexpensive poster frames.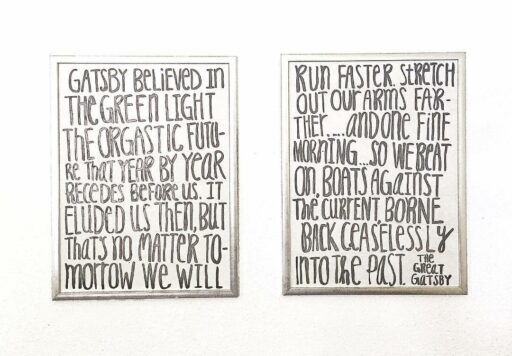 Day 162: Acrylic on reclaimed wood.
The Mountains Are Calling and I Must Go.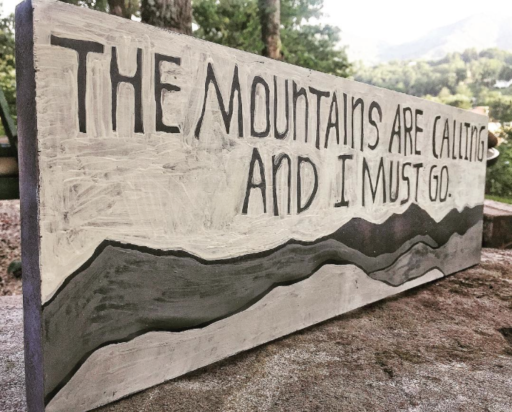 Day 163: I started painting an oversized Moon Pie logo on a round table top.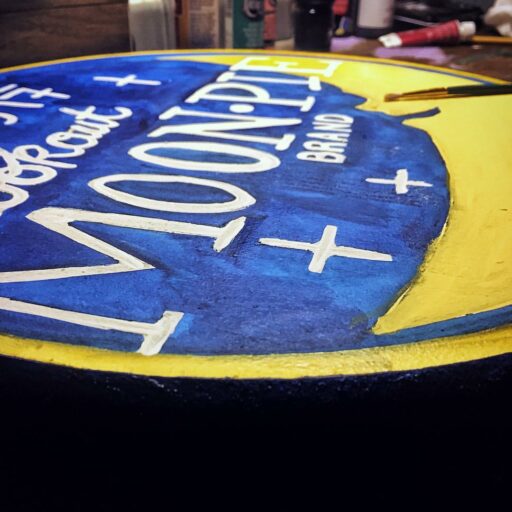 Day 164: A rainbow trout. I cropped this one accidentally and so it looks like a TROU instead….but the real piece has a T on it.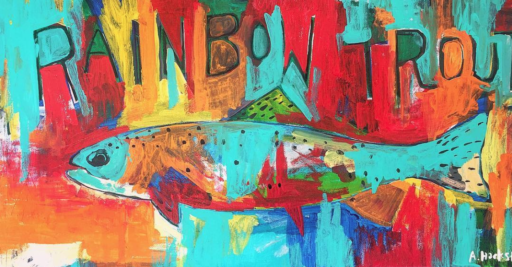 Day 165: An elephant on flat canvas. This RLS quote is from a book I have that is full of joy quotes. This elephant just looked joyful.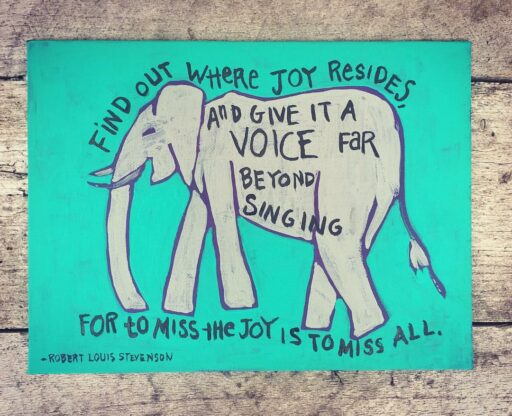 Day 166: Visiting my mother in Linville so I painted a quick sketch of the view from her porch using my travel watercolors: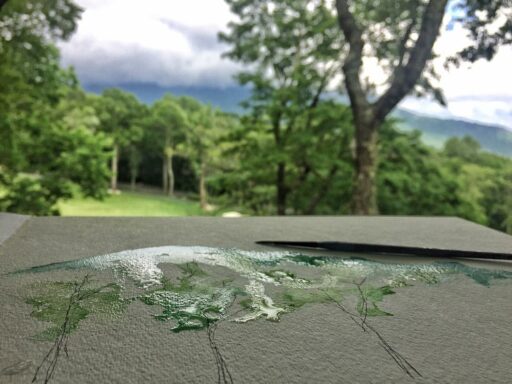 Day 167: Acrylic on reclaimed plywood.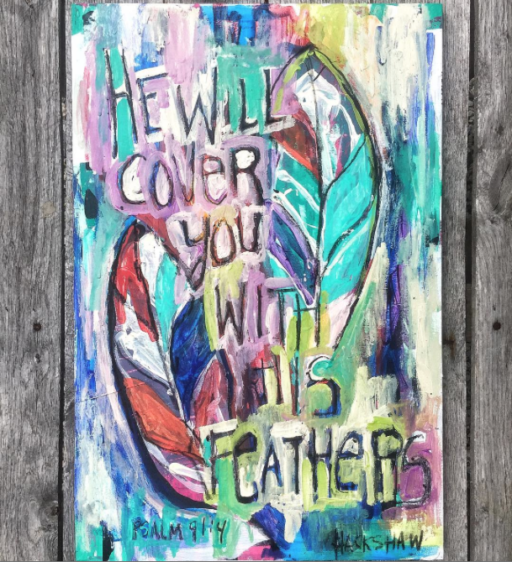 Day 168: A rooster painted on wood. Acrylic and charcoal. This painting is also at Gallery 1 Sylva!
Day 169: I call this one "Crammed in the Ark"…just kidding…but the animals do look a little cramped.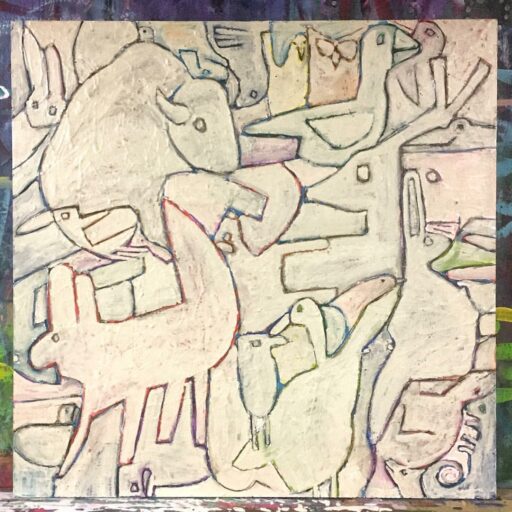 Day 170: A bird on a small block of wood. I added the metal "Choose Happiness" tag on the front.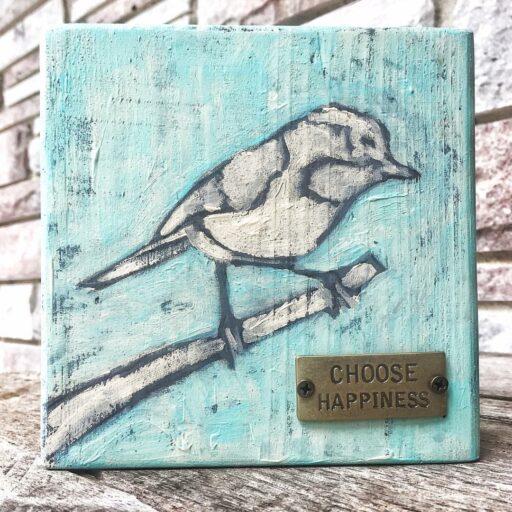 Day 171: A painting on reclaimed tin, attached to reclaimed chestnut wood.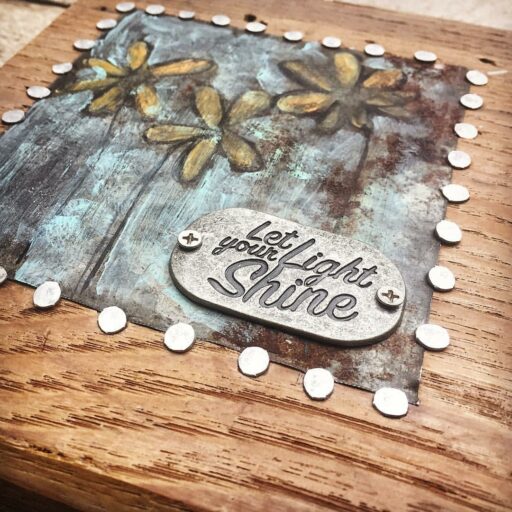 Day 172: I call this painting "People and Brontosaurus Wearing Glasses." I just paint what's in my head…but doesn't mean I can explain it.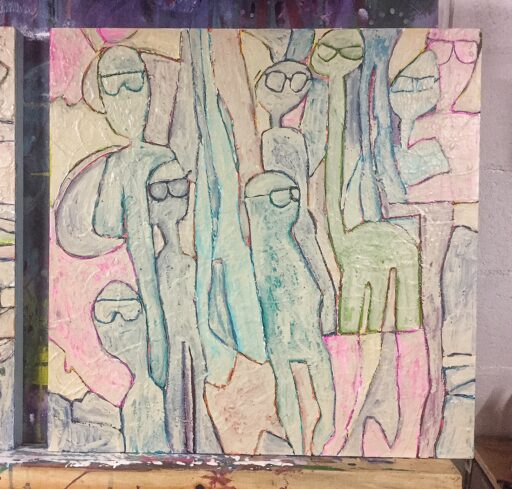 Day 173: I really loved painting this one. A can of sardines on wood. I added the tin border in the spirit of the metal sardines are usually in.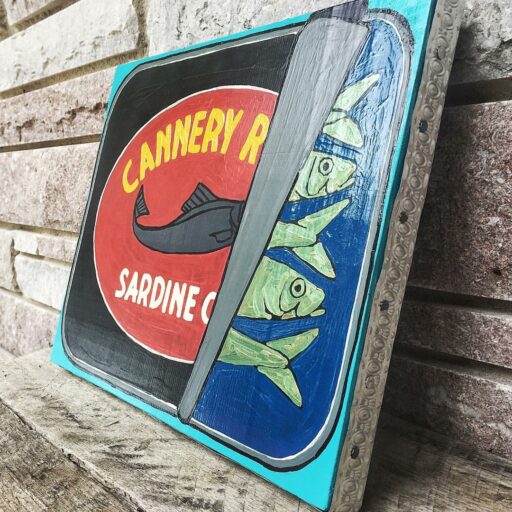 Day 174: A fly fishing fly. Acrylic on wood.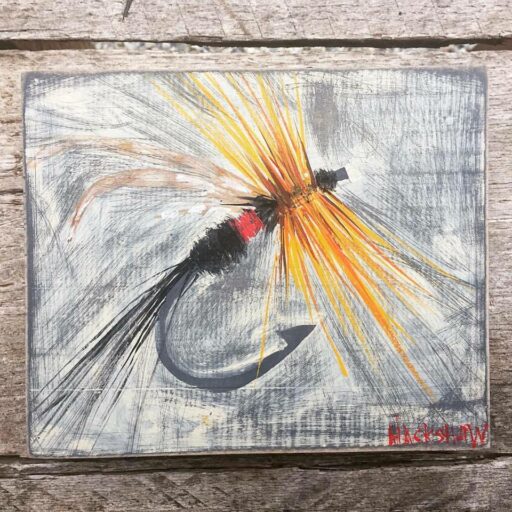 Day 175: Acrylic folk art style painting on framed cradled wood.
"She is clothed in strength and dignity and she laughs without fear of the future. Proverbs 31:25"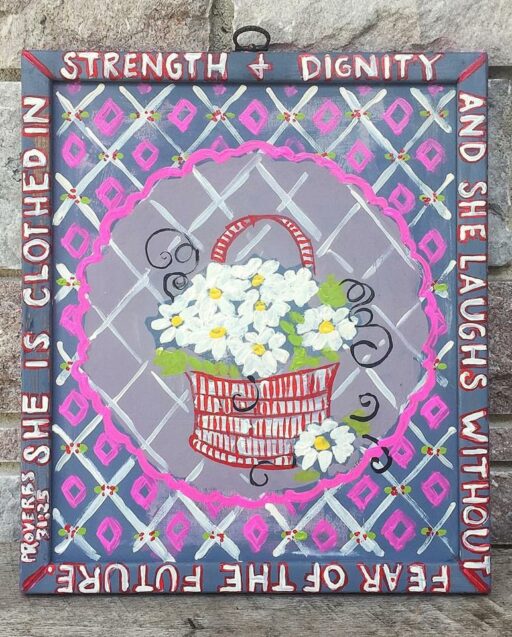 Day 176: A quick painting in my art journal.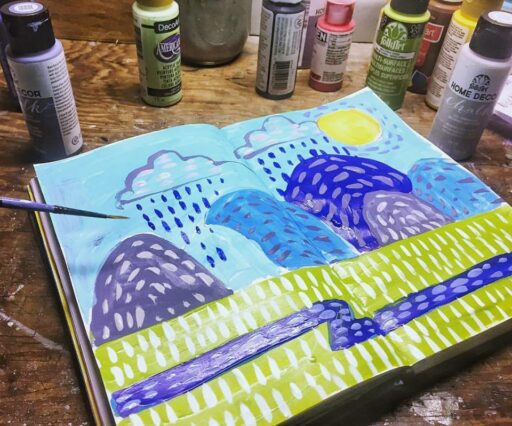 Day 177: A quick sketch of the Bryson City courthouse.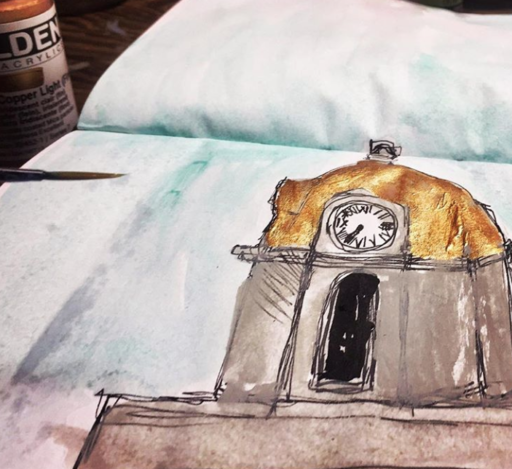 Day 178: I found this drawer front at the thrift store and someone had started carving the hand into it. I got out my Dremel and finished it. Then I painted it white and added the quotes.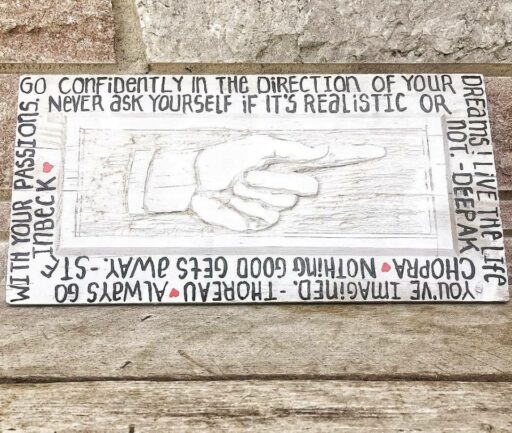 Day 179: Spiced Ham = SPAM.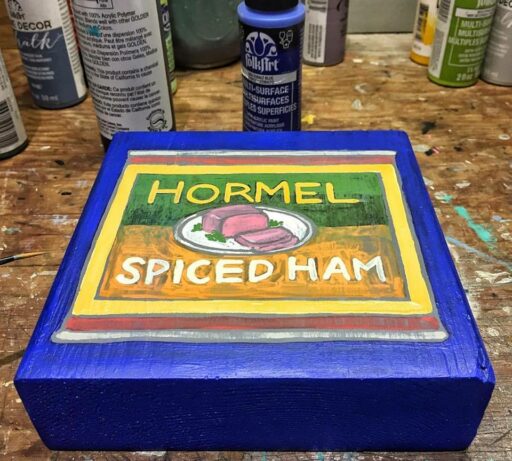 Day 180: Enamel and acrylic on wood.
Day 181: Our friends came to visit and I collaborated with my little friend Eleanor on a painting in my art journal.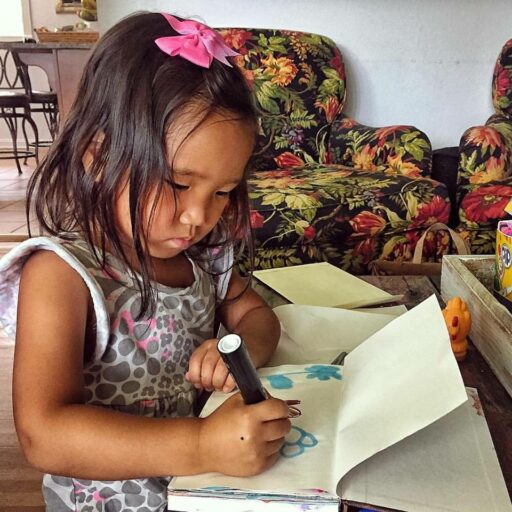 Here's how it turned out: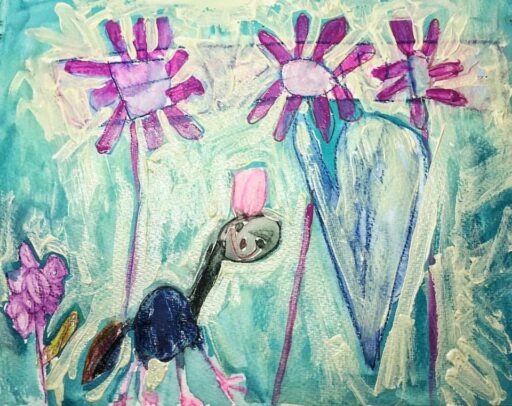 Phew. That's everything that counted as daily paintings! I did paint a few more things but I can't remember what they were.
I did list some of my artwork for sale. You can find it on Etsy here.
All my daily paintings can be found indexed here.