I like to walk alone on country paths, rice plants and wild grasses on both sides, put each for down on the earth in mindfulness, knowing that I walk on the wondrous earth. In such moments existence is a miraculous and mysterious reality. People usually consider walking on water or in thin air a miracle. But I think the real miracle is not to walk either on water or in thin air, but to walk on earth. Every day we are engaged in a miracle which we don't even recognize: a blue sky, white clouds, green leaves, the black curious eyes of a child – our own two eyes. All is a miracle. Thich Nhat Hanh, The Miracle of Mindfulness
I love filling my pockets with things I find on a walk or while working around the yard. Little treasures. Looking closely at the little snail shells you can see the layers where each snail has added to his shell as he grew. And the cicada wing looks like it might have just fallen off of a garden fairy. A piece of pottery that with the letters RTH AM…North American?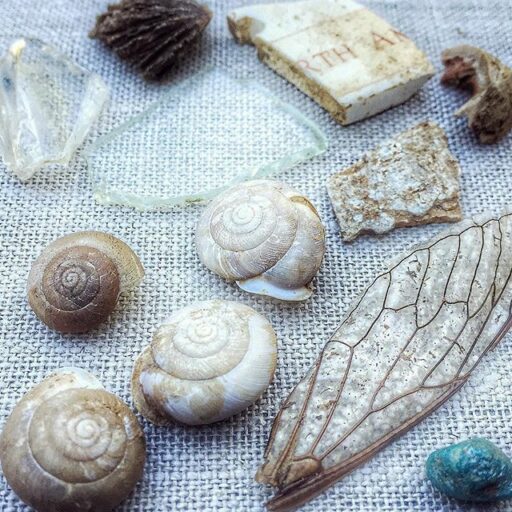 And all of these teeny, tiny flat rocks were a reddish clay color until I soaked them in water and their varying colors were revealed: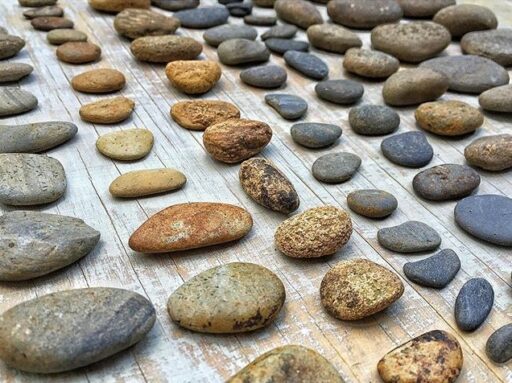 I love the fall when things begin to fall from the trees. If I stay in the same place long enough I become a target. I can hear the squirrels scurrying above me and suddenly a nut will drop with a thud to the ground. And if I look closely I  I can see the tiny gnaw marks used to detach it from the branch. They leave their littered shells all around: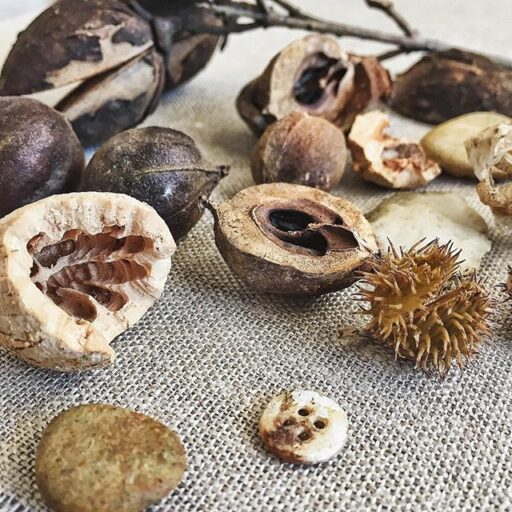 Tiny pine cones, a dime, a petal from a silk flower and other odds and ends: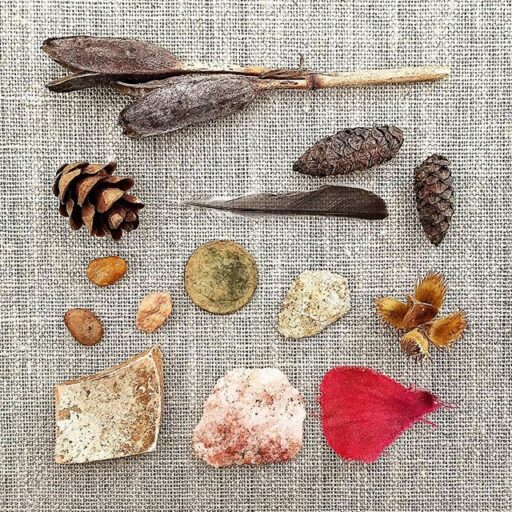 Learning to see becomes a meditation.  There are endless treasures from the earth. Years ago I would have swept these things into oblivion with a broom or rake, dismissing their significance. Now I pick them up and I am giddy arranging them like someone might arrange a collection of figurines or precious coins. And it's almost impossible to describe or understand the enjoyment that I get out of it.
I think Annie Dillard's chapter "Seeing" in Pilgrim at Tinker Creek is one of the most beautiful pieces I've ever read. I come back to it over and over:
There are lots of things to see, unwrapped gifts and free surprises. The world is fairly studded and strewn with pennies cast broadside from a generous hand.