People always ask how I became interested in sewing, crafting and painting. I think it goes back to my grandmothers. They were both amazingly talented women who loved to make things. My father's mother, Marjorie Heilig Swenson, was a skilled seamstress (she learned from her mother) and was passionate about creating beautiful delicate crafts.
Below is a set of bingo cards that she made for my father's 4th birthday party in 1951. (I can't believe they were kept all these years!)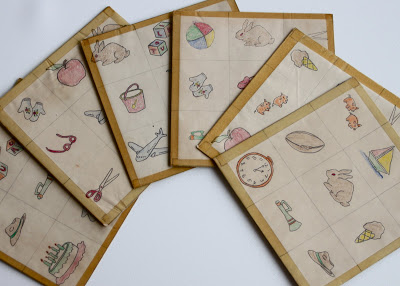 My grandparents (my father's side) at a nightclub in the 1940's: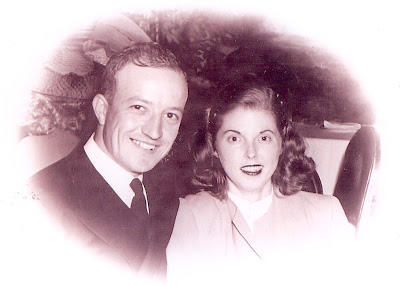 When my grandfather passed away, I found this statue in the trash pile as the house was being cleaned out. I had this overwhelming feeling to save it.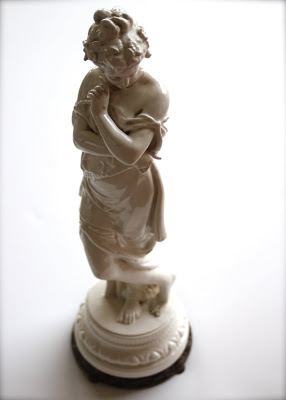 A few months later I received the photo below from my Aunt Sharon in the mail showing the statue on a table in between my grandparents. It was taken in 1967 on the night of Sharon's prom. It turns out that the statue was made by my grandmother.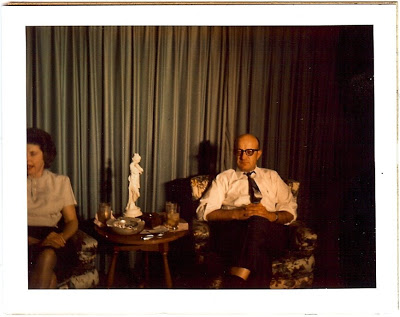 I think there is a great story in everyone's experience, so I wanted to share a few things about my grandmother's life that few people would know. I think there is so much beauty in a life story….no matter how happy or painful it might have been.
Losing a Mother
When my grandmother Marge was young, her mother Mabel would spend most of her time in bed with horrible headaches. There was no treatment at the time, and after her headaches, her eyes would be black and bruised and her hair would fall out in large quantities. There were many hospital stays where my great-grandmother Mabel most likely had electroshock therapy. One morning after Christmas, Mabel was supposed to go to the hospital for recurring headaches and she made the statement "I will never go to the hospital again." My great-grandmother Mabel decided to take her life that day using gas from the kitchen oven.
Multiple Sclerosis
My grandmother went to a 2-year secretarial school but she was never able to pass the typing test. The administration actually had people outside the door making sure that she was doing her own work in other subjects. They did not understand how she could do so well on the other work but consistently fail the typing test.
The first real indication that something was very wrong was when my aunt Sharon was born. My grandparents lived on the third floor of an apartment building and one day, while Marge was walking up the stairs she dropped the baby…..her hands had just stopped working for a moment. Years later, my grandmother would start walking almost like her knees touched. She was diagnosed with MS.
My grandmother's MS progressed until she would have to walk from one piece of furniture to the next and even to hold onto doorways. When my father was in high school and my aunt was in her first year of college, Marge got a horrible kidney infection and was in the hospital for a month. At times, her temperature was too high to measure and they would pack her in ice. She was given a catheter and would end up using one for the rest of her life, along with a walker. She would wear a little bag on her leg under pants and shorts that would have to be periodically emptied. No one would ever know. Trips were difficult because my grandfather would not let her use public restr ooms for fear that she would get an infection. My grandparents traveled the world anyways…..working through it together.
A Devoted Husband
Let me just start by telling you how wonderful my grandfather was. He passed away in 2003 and I miss him terribly. He was a wonderful, caring and devoted man. My grandfather was President of a large insurance company in Charlotte, NC but he also cared for my grandmother. If you can imagine….this stoic business man had to go into the local department stores (back when the sales people actually knew you) to purchase my grandmother's undergarments since she was unable to. Once a doctor asked my grandmother how long she had been wearing the wrong size undergarments and she told him that she just did not have the heart to tell my grandfather that he bought the wrong sizes for her. I cry every time I think about that.
Rheumatoid Arthritis
I remember being entranced by my grandmother's worktable. There were drawers and drawers of little trinkets and hinges. Marge would take large ostrich eggs and turn them into delicate "faberge" like the one she made below: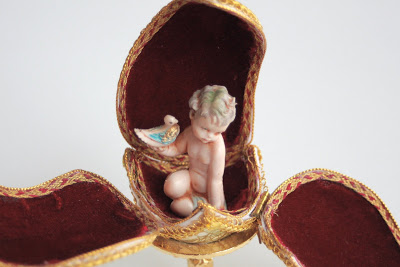 I never remember her working on her eggs….and being so young I didn't understand why it looked like time had frozen at her work area with half finished projects. I would later learn that in 1971 Marge had been diagnosed with Rheumatoid Arthritis. It was perhaps the most difficult thing for her…..her hands slowly became curled and misshapen and she could no longer create the beautiful delicate crafts she so loved to make.
My grandmother passed away in 1987 after a fall.
So why have I shared all of this? I have this extremely powerful creative energy that makes me wish I didn't have to sleep or eat, because sleeping and eating just get in the way. I lay awake at night thinking about my next project. I have an urgency to create. I can't explain it except that I think my grandmother Marge is somewhere watching me and seeing that I am finishing what she couldn't. She was a wonderfully talented woman who was always positive and cheerful despite the circumstances handed to her. When my hands begin to ache while I am sewing or painting, I stop, smile and enjoy the moment because I know she's there with me…..