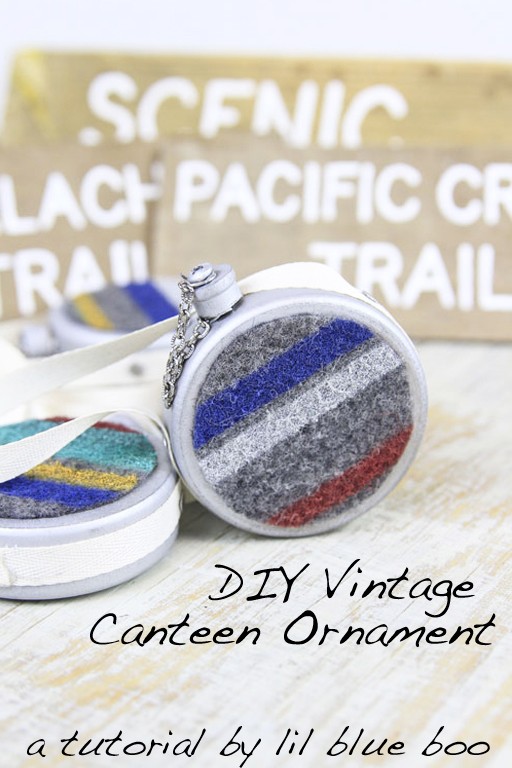 This is a continuation of the big 2015 Dream Tree Reveal for Michaels Stores and my theme for this year: Vintage Camping and Hiking: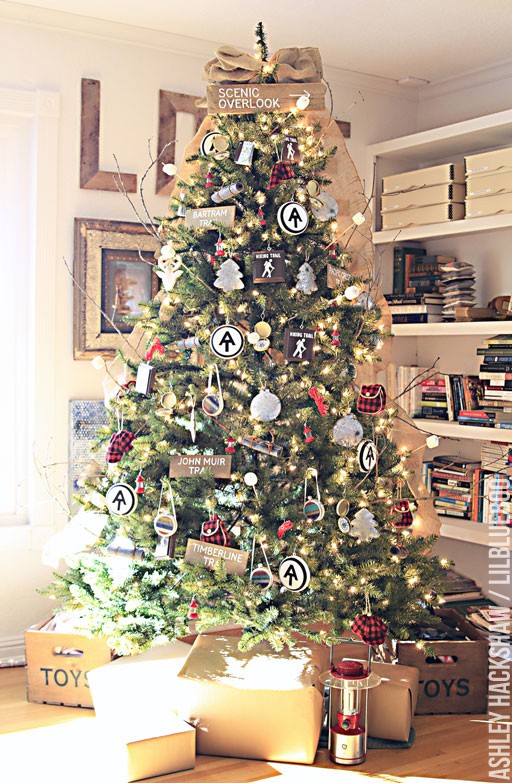 I love the old vintage wool covered canteens and I had to find a way to make them as a DIY Ornament: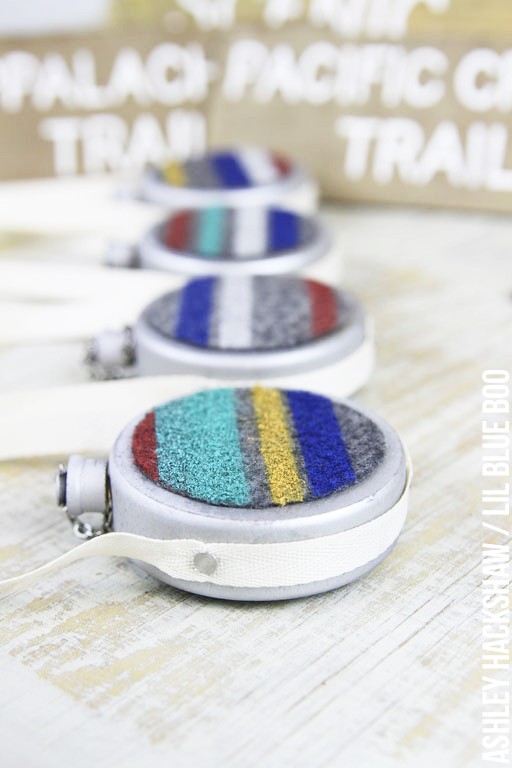 I started out with little 3″ wood toy wheels like the ones below and small wood spools: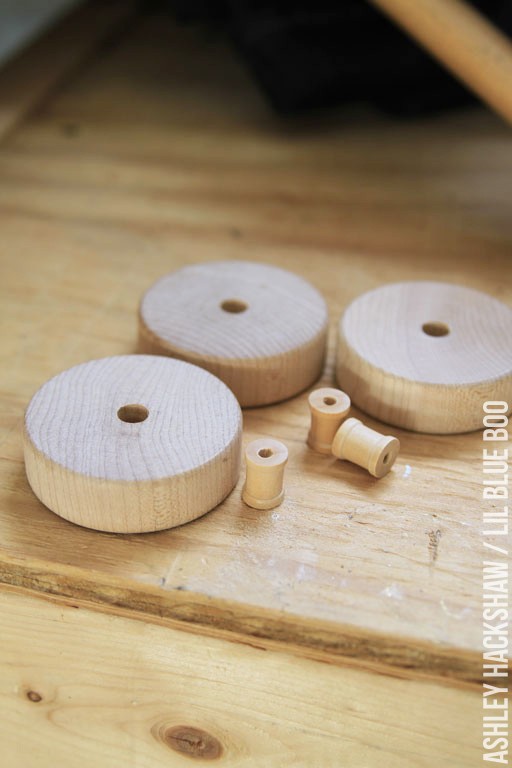 Step 1: To make the little canteen spout I used a clamp to hold a wood spool in place while I cut it in half: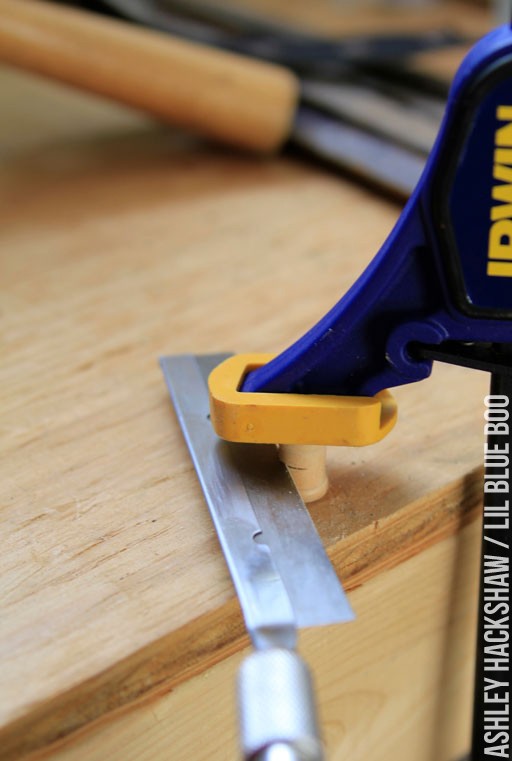 I used a small wood toy saw and it worked great: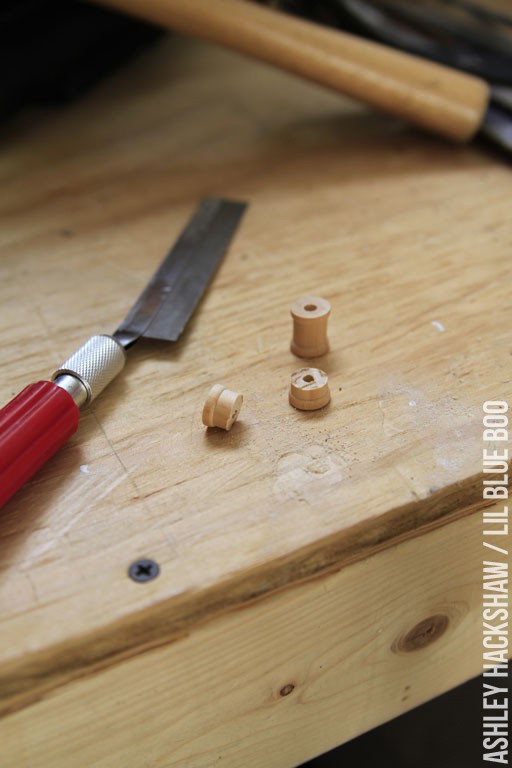 The halved spool: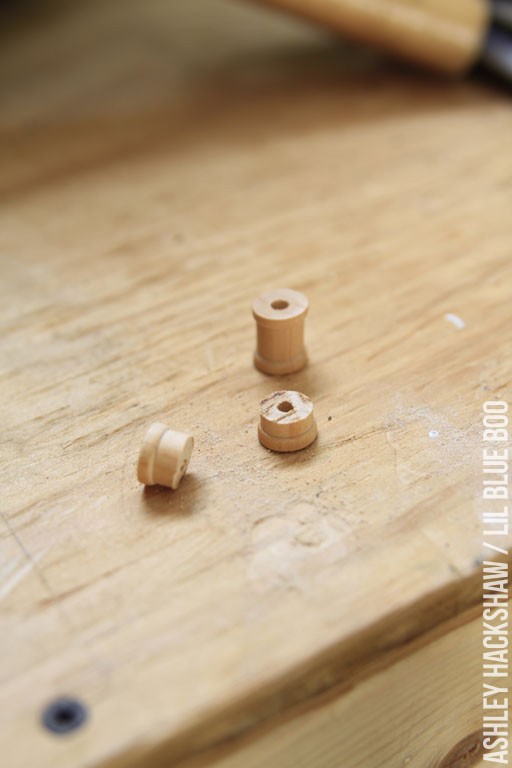 Step 2: I screwed the halved spool to the edge of the wood toy wheel: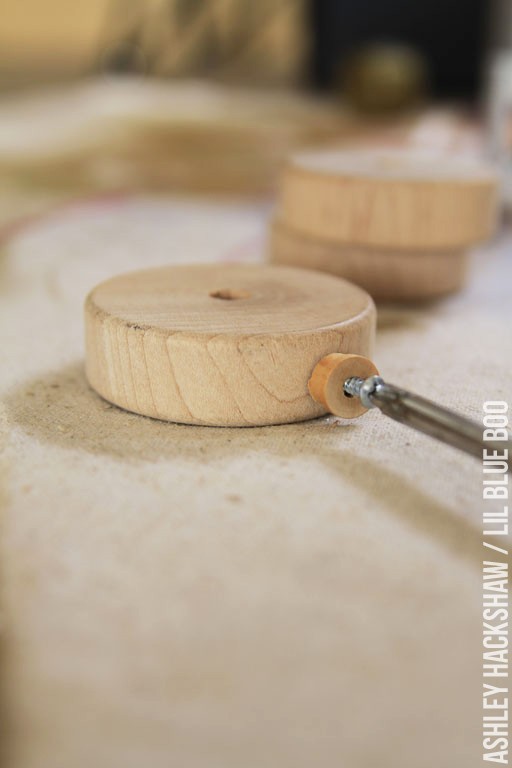 Step 3: I painted the pieces with Krylon metallic silver spray paint to resemble a metal canteen: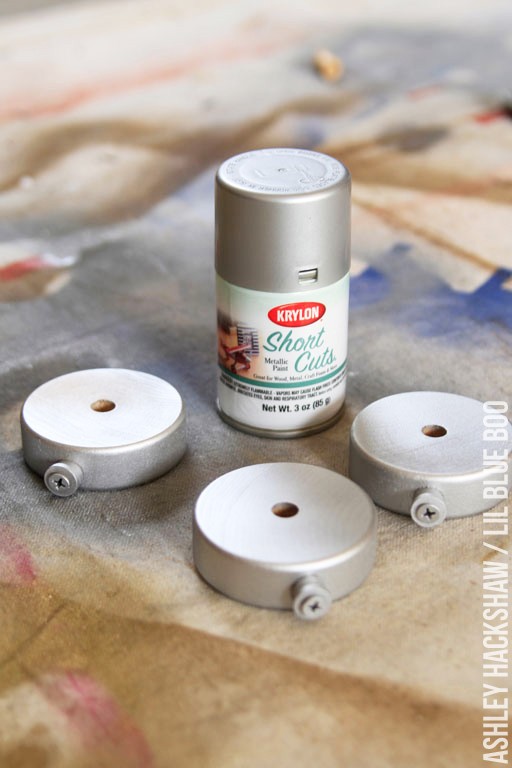 Step 4: To make the striped wool I used regular gray crafting felt and lined it with blue tape. Then I spray painted one color. When the paint dried I removed the existing tape and re-lined the felt with blue tape to for the next color: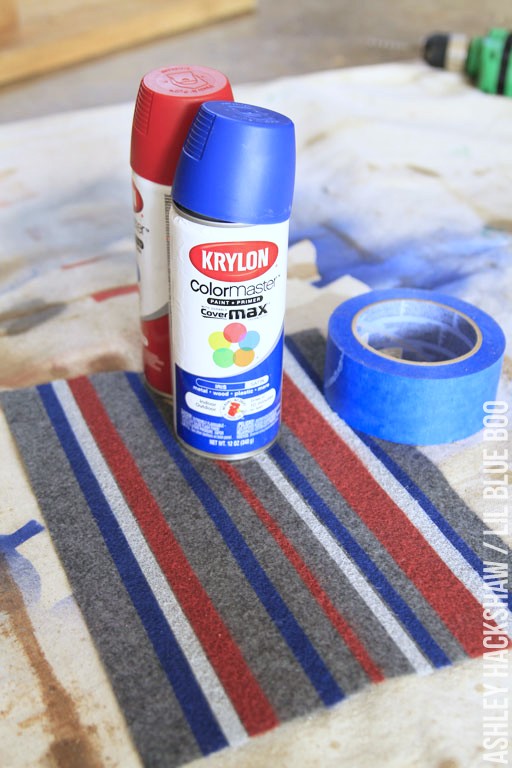 Step 5: Once the paint was dry I used the lid of the spray paint as a circular template and cut out two circles for each side of the canteen: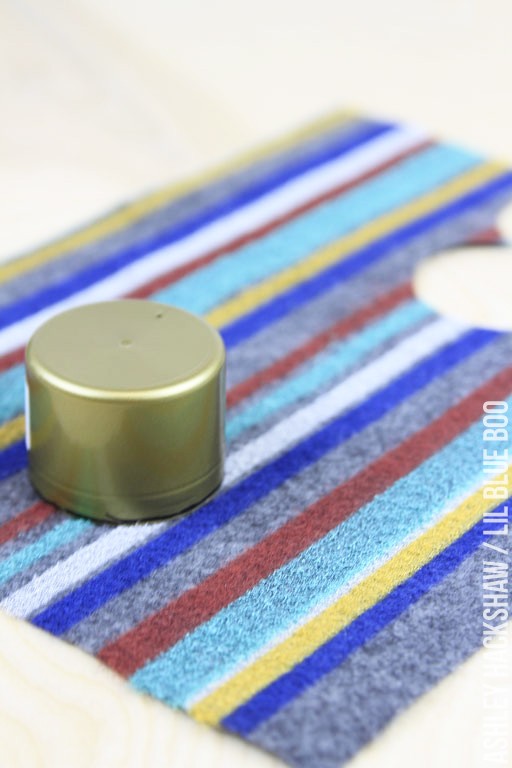 Step 6: I applied a thin layer of E600o industrial glue to the back of one of the pieces of felt and glued it to the wheel. When the first side was dry I repeated this step for the other side.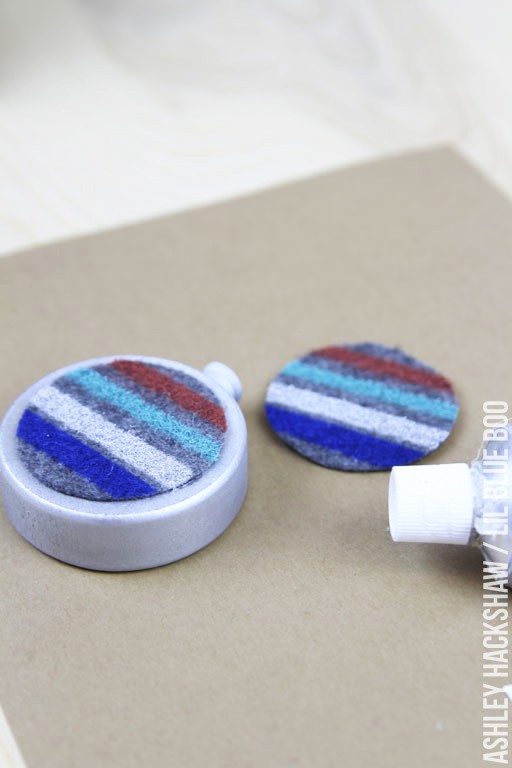 Step 7: I made a little loop of wire to hold a small length of chain in place for the canteen lid right under the screw. The other side of the chain can be attached underneath the bottom of the lid or somewhere on the side if you prefer. The chain is just a length of chain from the jewelry department at Michaels: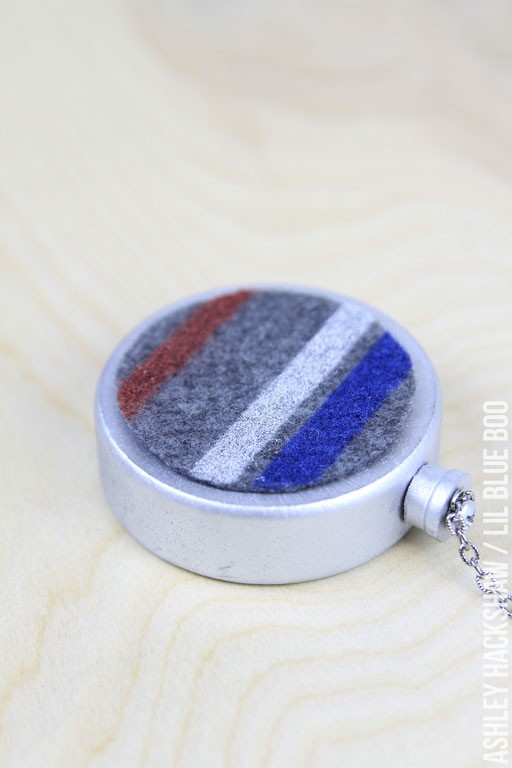 Step 8: For the strap I used a plain ribbon and small upholstery tacks. The tacks can be found at any hardware store or you can also use small metal brads:
I drilled a small hole in the bottom of the wheel so it would be able to insert the tack. I looped the ribbon so both raw ends ended underneath the canteen, added glue underneath, and inserted the tack:
I also drilled holes on each side of the canteen for the side tacks, apple glue underneath and inserted the tack through the ribbon to hold it in place:
The finished vintage wool canteen below!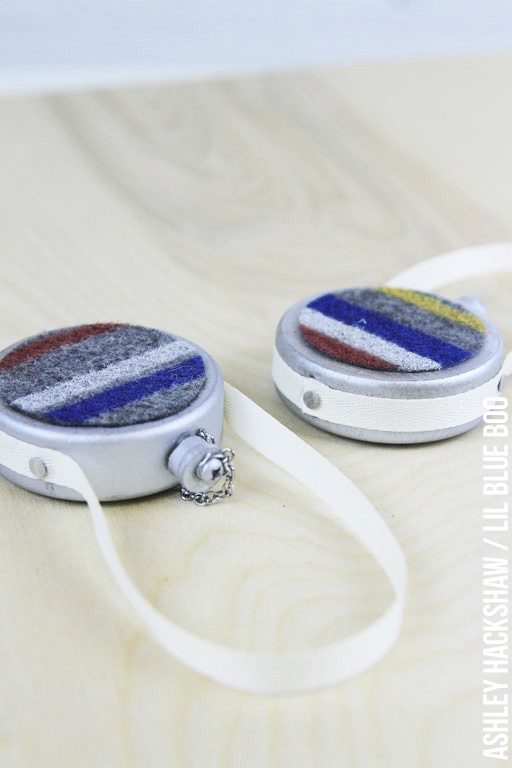 It looks just like the real deal: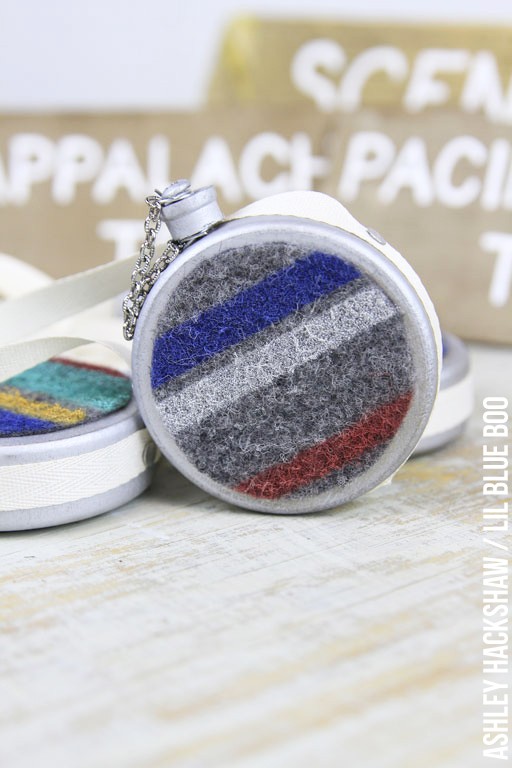 Great for ornaments and gifts for the hiking and camping enthusiast. Also great for American Girl camping gear:
Boo wants one for Christmas for her American Girls, along with the tiny lanterns and bedrolls.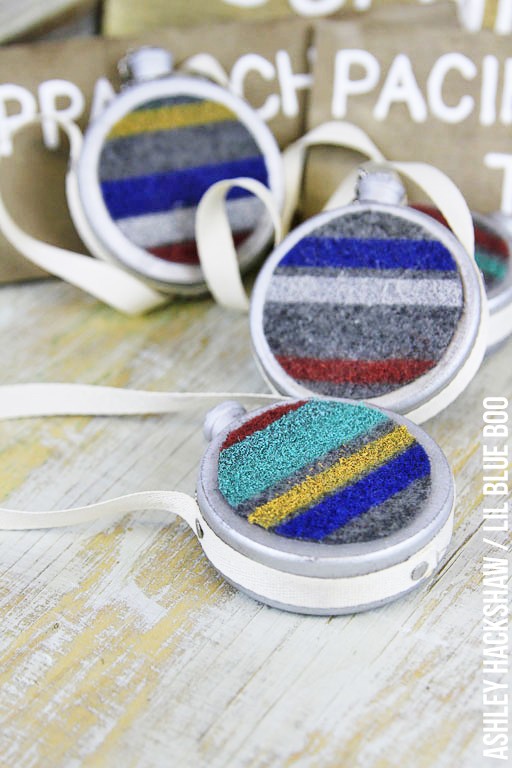 On the tree: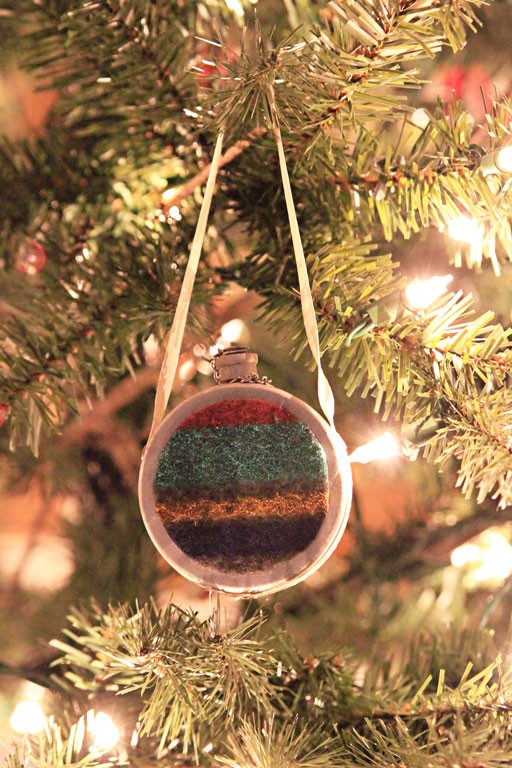 More tutorials to come soon on the rest of the ornaments!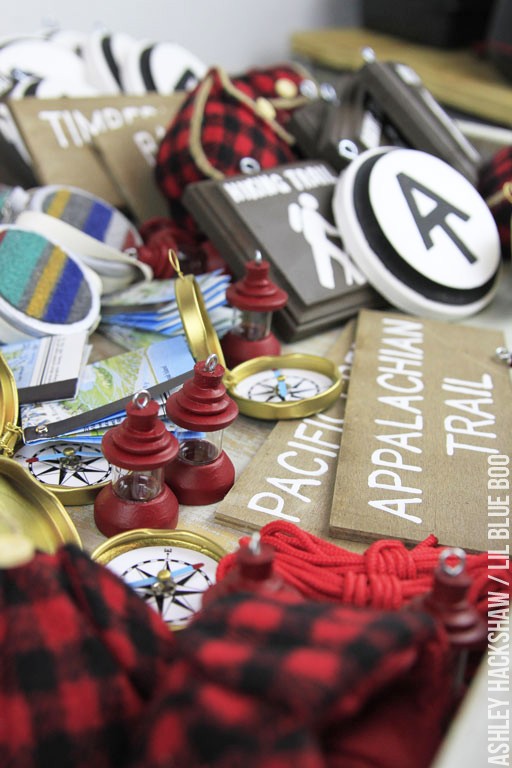 You can view all my Christmas related decor posts here! Thanks for reading!