This project is so easy it is ridiculous. I am addicted to old stuff: vintage postage stamps, cigar labels, vintage ledger paper, you name it…. I love finding ways to use items from my "pack rat" collection. I made these two 12″ x 12″ canvases using 2 old postage stamps, my local kinko's and some Modge Podge!
All you need for this project is:
A few old stamp or cigar labels
Paint brush
A large printer or your local FedEx Kinkos
1 or a few canvases
Wax paper and brayer (optional)
Directions:
1. Take a stamp/s to FedEx Kinko's and blow up about 400% using their large printer. It is easiest if you tape the stamp to a small piece of paper. Your little 1″ stamp will become HUGE. Another option is to scan the stamps or cigar labels into your computer and print them off 11″ x 17″ or in small sections.
2. Use Modge Podge or matte medium to adhere the entire sheet to your canvas. Another option is to cut the paper up into large squares and randomly glue them on to cover the canvas. You will end up with less air bubbles.  You can place wax paper on top while it is still wet and use a brayer to try to smooth out any bubbles. The canvas below is made up of several strips and squares of the enlarged stamp. I LOVE how the postmark looks when it is enlarged! You can wrap your paper around the sides as well to give the art a more finished look.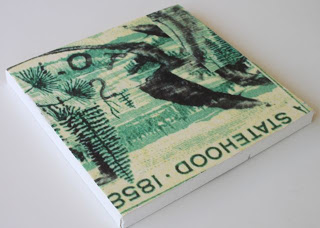 3. Let dry and attach hanging bracket or wire to the back for hanging.
I don't have any more wall space for art so I have these 2 pieces leaning on a shelf in my art studio.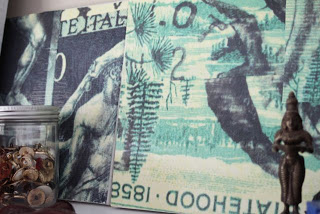 If you don't have a stamp collection, try the following places:
An elderly neighbor
Ebay (search for "vintage stamp lot")