I love art that looks old, a little rare, antique…….like maybe it was acquired from an estate sale or maybe even an auction at Sotheby's. But I don't like to spend large amounts of money on art…..so I have to improvise. Here is a quick and easy painting tutorial….I promise anyone can do it as long as you can follow some directions.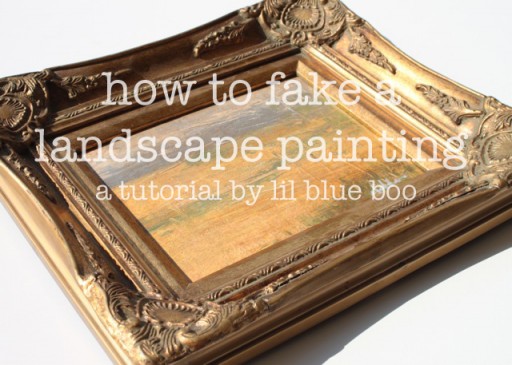 Here is the color palette I used. I also used some white gesso and a small crackle finish kit.
Use the point of the palette knife to draw in some texture….as if you were drawing in some plants. It will look like you are just making a mess but it will work out…..
Every once in a while move your palette knife to a new section without cleaning it off so that you get some colors mixed in where you think they "shouldn't" be.
Work in some dark green and some dark blue where your tree lines are…….
…….don't focus on one area too much….work in a random fashion using a "dabbing" motion.
Here is what my painting looked like at this stage:
Work some white and lighter blue into some areas of the upper sky.
Step 6: Work a little white and yellow into the lower landscape….using different dabbing motions.
Don't forget to sign your painting! This isn't my signature I use for my portraits and nursery art….it is my "fake masterpiece" signature I "made up" today.
Just make sure to pick a frame worthy of your painting….. and one that makes it look even older!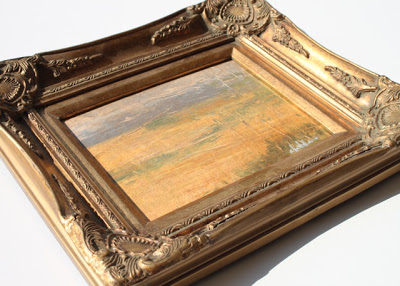 Don't miss a post! Make sure to join the Lil Blue Boo Facebook page!