Charm bracelets often tell a story and represent different events and interests in a person's life. I've come across a few vintage charm bracelets in antique or jewelry stores that I just couldn't pass up. It just hurts my heart a little bit when I see "orphan" charm bracelets or even "orphan" photos (see my 2003 artist statement). Who did this bracelet belong to? Was someone looking for it somewhere?
The bracelet shown below was put together by someone I never met, each charm was picked out for a reason I'll never know (a trip, a hobby, an event?), and for some reason they had to part with it (money, death, a relative who didn't value it as much?). I love this bracelet because it spans many decades. It has very vintage charms on it from the 1940's and 30's, lots of detailed moveable charms, and more modern ones including buildings and mementos.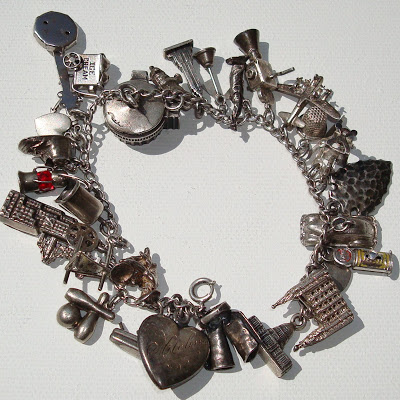 Here are some closeups of some of my favorite charms on this bracelet:

Sewing machine, manual movie camera, spinning wheel
A great little lantern with red glas
s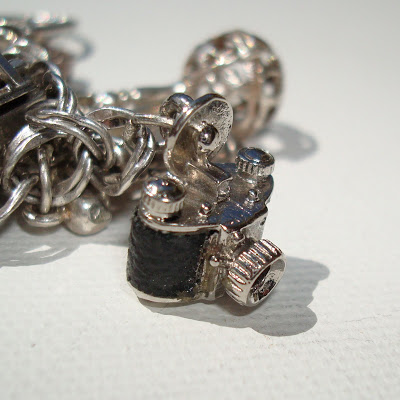 Amazing little camera with leather around the outside (keep in mind this is the size of a fingernail!)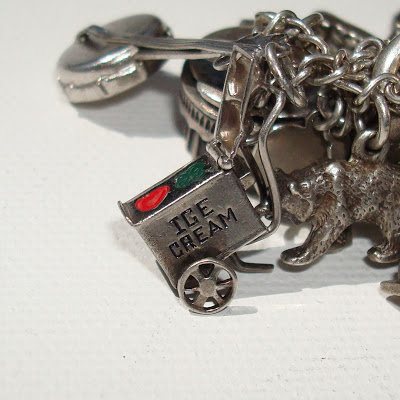 How cute is the ice cream cart? It opens to show 2 colors of ice cream (although I've never seen dark green and dark red ice cream before!)
Piano man that moves back and forth along the keys, typewriter with a roller that moves back and forth on a spring, rotary phone with moving dial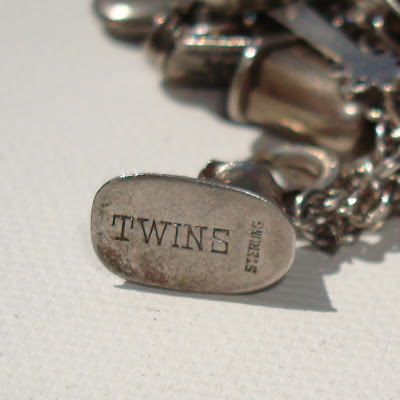 Was the previous bracelet owner a twin or have twins?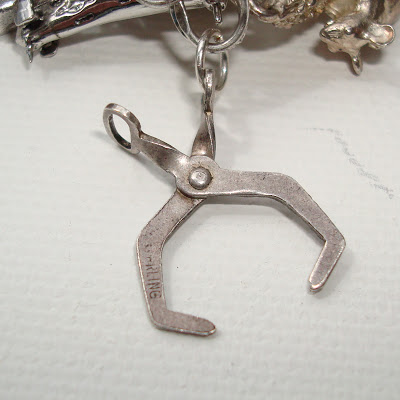 Can you guess what the above charm is?
Leave me a comment with your guess!
If you are the first to guess correctly I'll put 10 extra entries in for you for the drawing.
Extra entry for all followers….just leave a comment letting me know!
Enter before this Monday, May 25th at midnight (eastern time). I'll announce the randomly generated winner on Tuesday. US and Canada shipping only.
The winner gets the cute little charms shown below!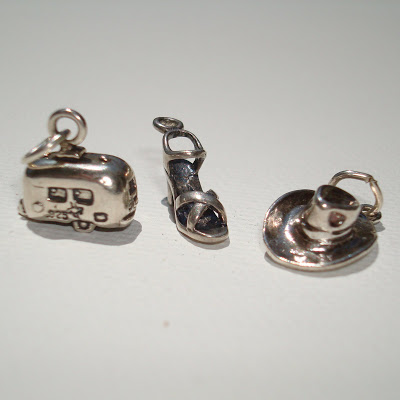 airstream trailer, high heeled shoe, cowboy hat