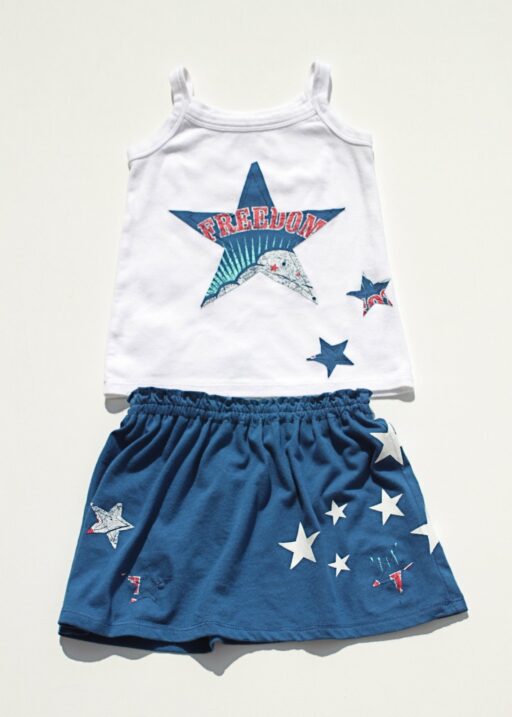 Here is the t-shirt that I started with. I picked it up at Target in the pajama section recently when I couldn't find anything for Sienna to wear for the 4th of July. I used the medium size.
I made some stars on the computer and laid them out in different sizes. Then I traced them onto freezer paper.
After cutting out the stars in the freezer paper, I ironed the stencil onto the bottom portion of the shirt (soon to be skirt).
I painted three coats of white fabric paint onto the stencils. Make sure to put a layer of freezer paper in between your skirt layers so the paint doesn't bleed through! My paint dried much faster when I put the skirt outside to dry between layers.
The finished paint stars!
I don't have photos of the next steps because they are in my other tutorial linked above, but I cut out different size stars from the design portion of the t-shirt and then used applique to attach them to the skirt. Finally, I created the waist band.
Here is a close-up of the finished skirt. The applique stars and the painted stars make a great combination!
Here is the back of the skirt. I did one large applique star and the painted stars peek around from the front.
I made another large applique star for the front of this white tank top and then 4 other little stars for the front and the back of the tank. I cut out my large star so the word FREEDOM was at the top.
Sienna in her patriotic outfit! We're ready for the 4th of July now!