In 2 weeks we head back to North Carolina for my little sister's wedding! I've got a lot to get done before then! Sienna and I finished the ring pillow last night. My sister sent me a ton of photos of what she wanted and a box of fabric to match her dress….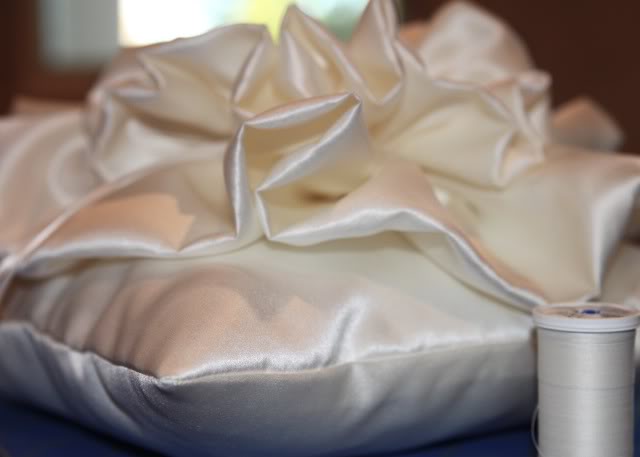 Here is how I made it:
I cut two 11″ x 11″ squares.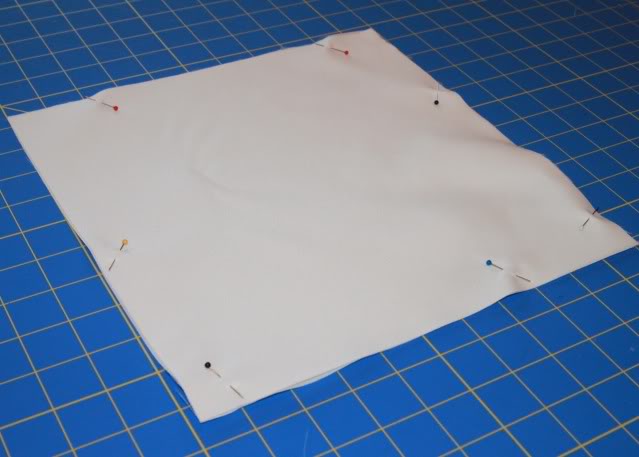 I sewed all the way around the squares using a 3/8″ seam and leaving a 4 inch gap to turn it inside out (large enough for my hand to fit in as well).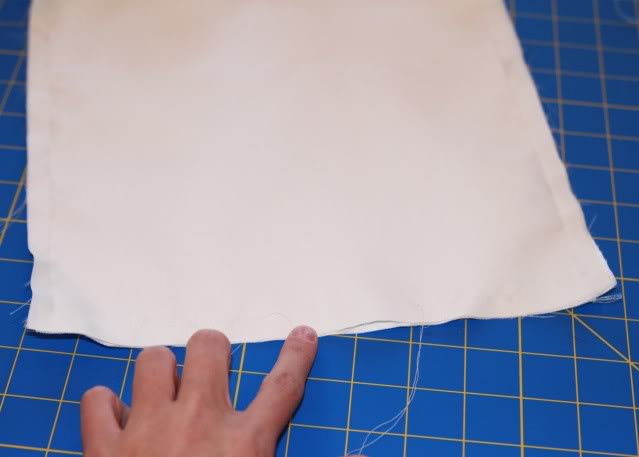 Then I cut two long strips measuring 6″ x 48″ and 10″ x 48″ and folded each in half right sides together. I sewed the long end closed using a 3/8″ seam.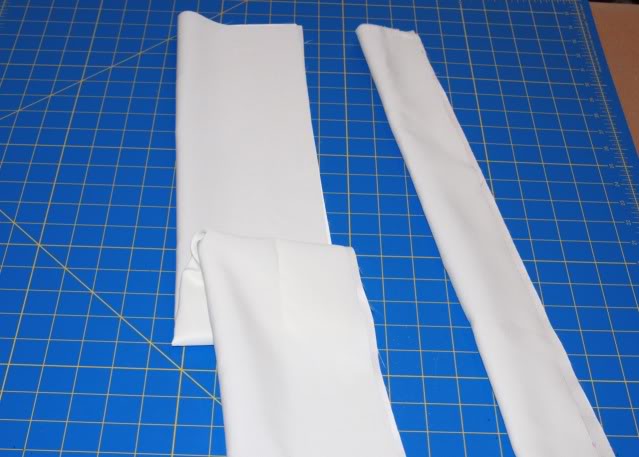 I took the larger of the strips and turned it right sides out (I did not iron because I didn't want any creases) and tucked one end into the other…..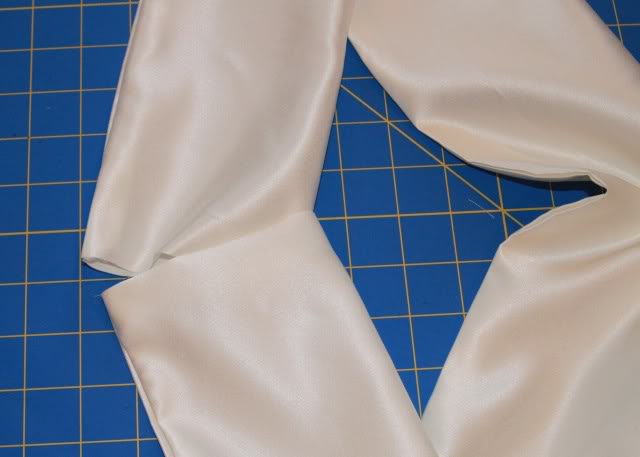 ……and sewed the two ends together using a blind stitch.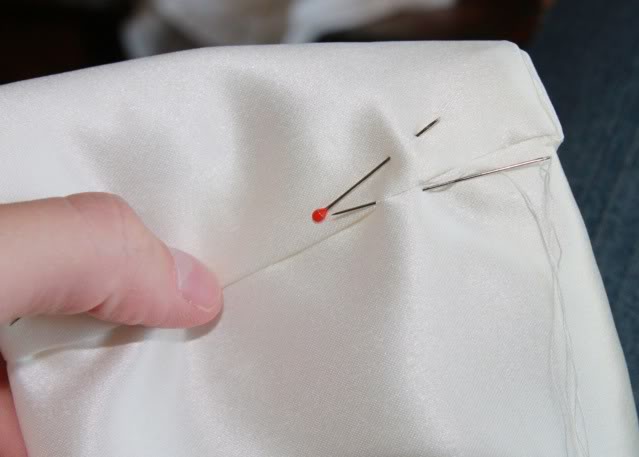 With a needle and thread, I sewed a gathering stitch all the way around the fabric "tube"…..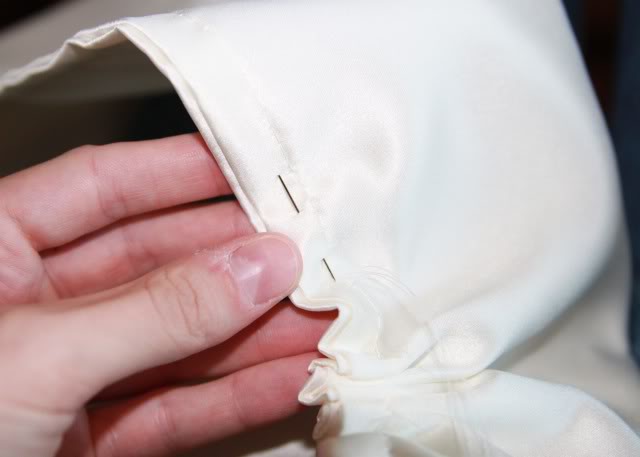 ….until it looked like a large ruffled flower: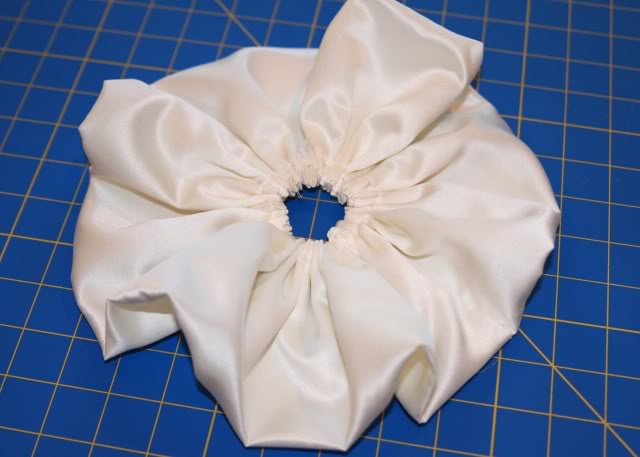 I took the square pillow and turned it right side out…..

…and marked the center using my disappearing ink pen.

I pinned the large ruffle flower to the center of the pillow attached it by hand-stitching it to the pillow in between the pleats.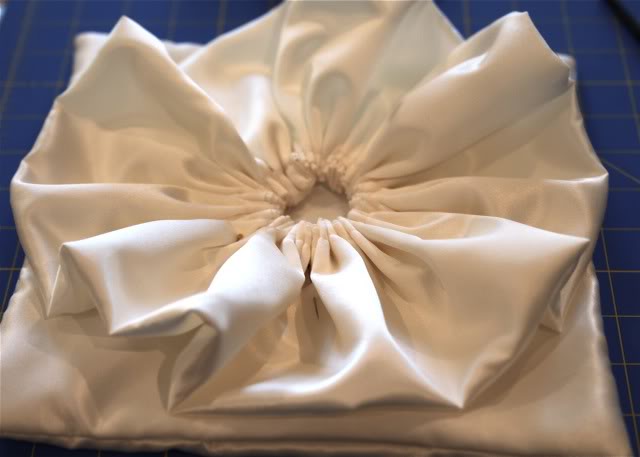 I repeated the entire process using the smaller fabric sleeve.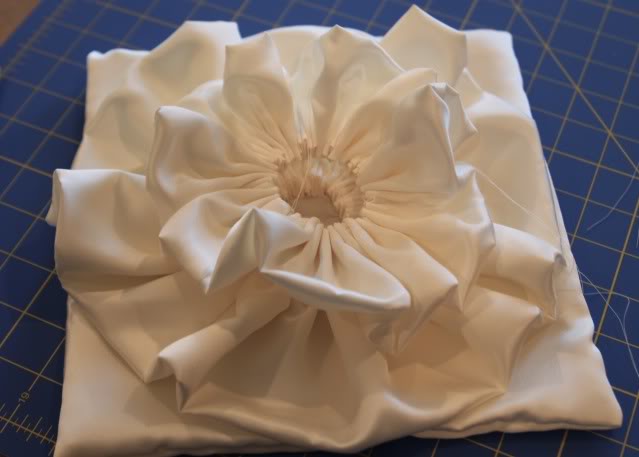 I "smushed" the small ruffled flower into the pleats of the large ruffled flower and hand stitched them together.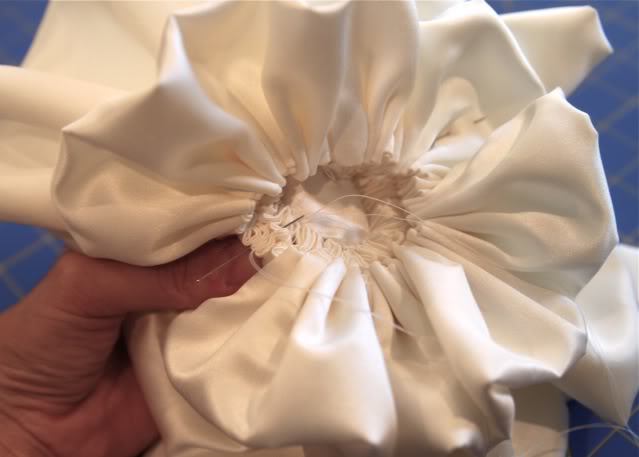 I cut a 4″ circle from the fabric….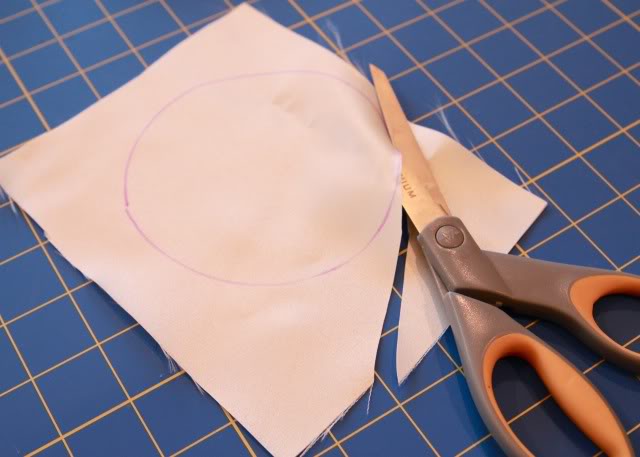 …..and stitched around the folded edges….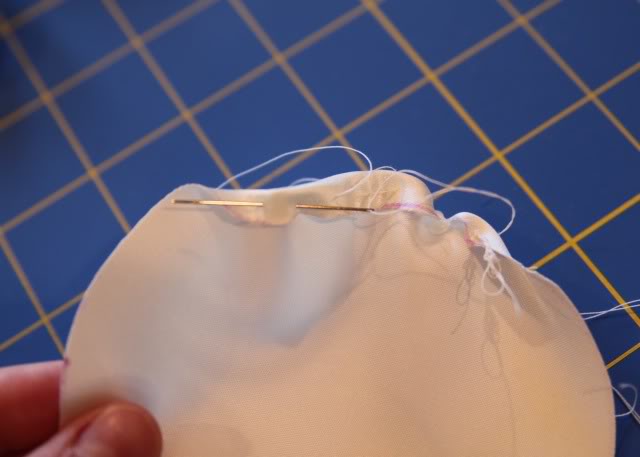 ….to form a small yo-yo.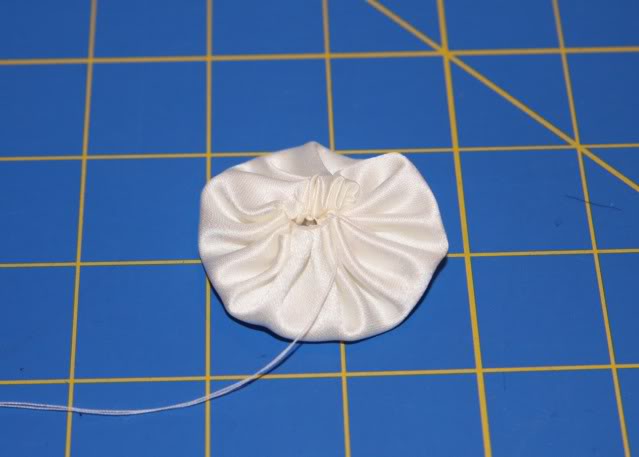 I placed the yo-yo face down into the center of the ruffled flowers and used a blind stitch to attach.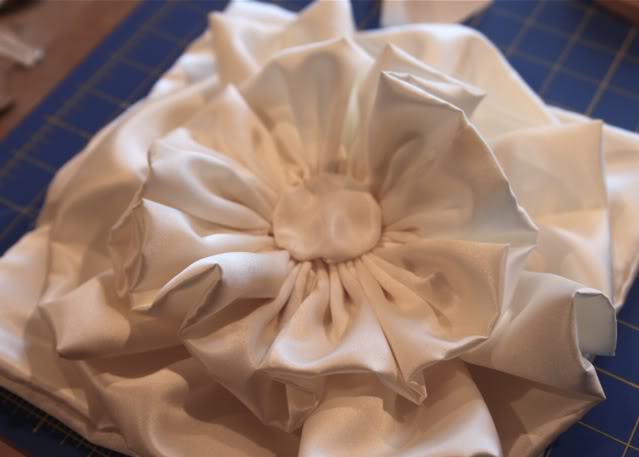 I took the shadow box I made of my grandfather's military things from our photo wall……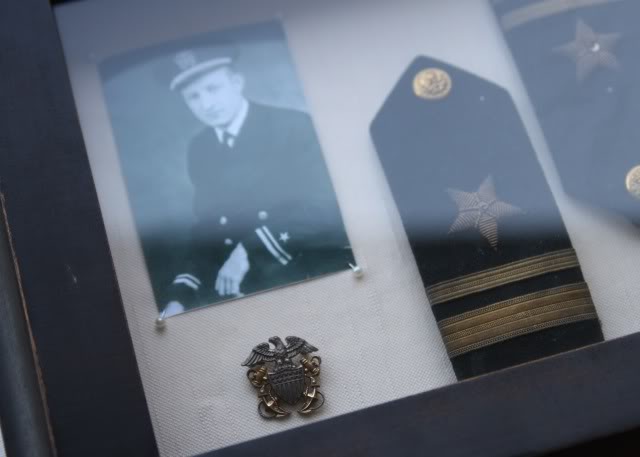 ….and used his United States Navy pin for the center. He passed away in 2003 suddenly and I always thought he would live to see all his grandchildren get married.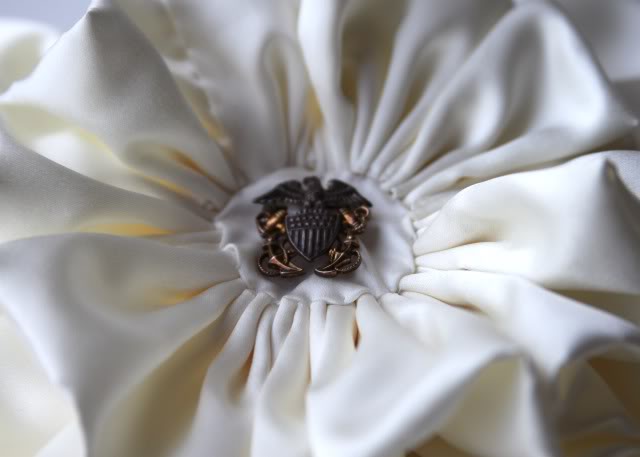 My sister wanted some bling, so I added some rhinestone buttons.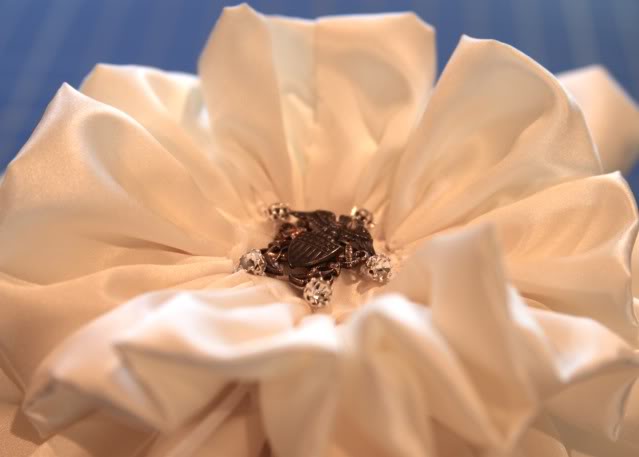 Here is my little helper before bed handing me buttons as I sew….we look so disheveled, oh wait, we always look disheveled!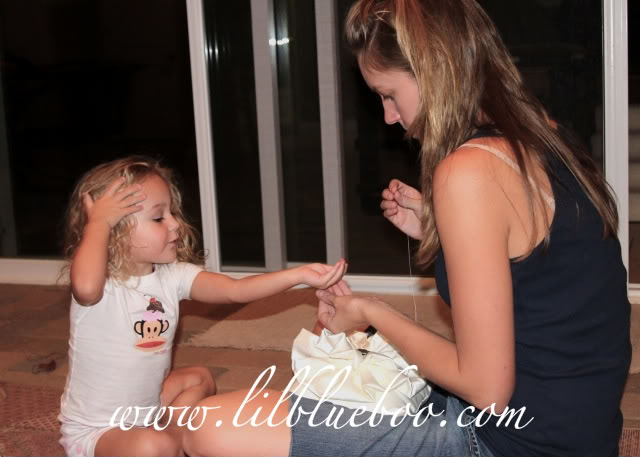 Lastly, I sewed a small ribbon between the ruffle layers for the rings to be tied on with.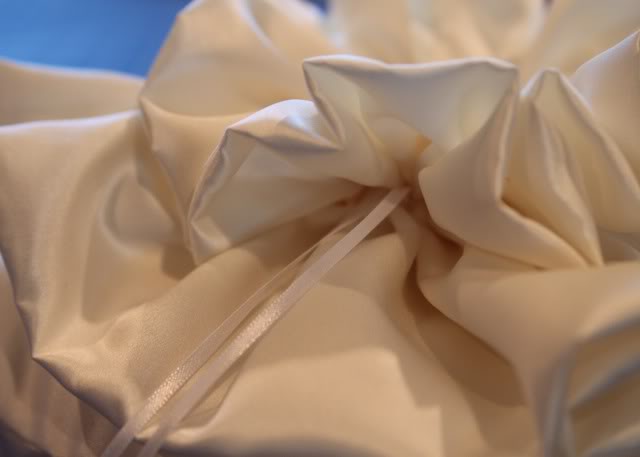 One ring pillow finished!

Next project: Sienna's Flower Girl Dress….I'm drowning in tissue paper….this is scary….I can't even figure out how to cut the fabric!