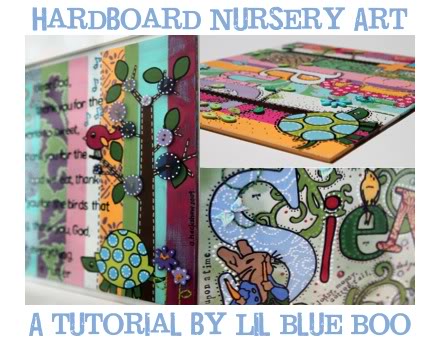 While I don't have a tiny baby of my own anymore, I still have the opportunity to make things for my baby nieces, nephews and my friend's babies.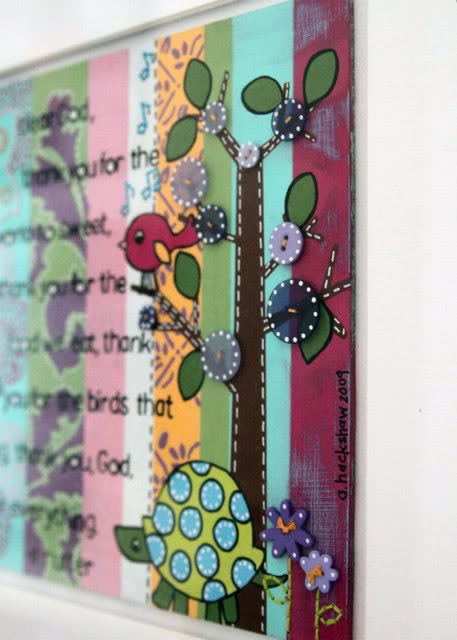 I love making elaborately layered personalized nursery art pieces…..unique to each child.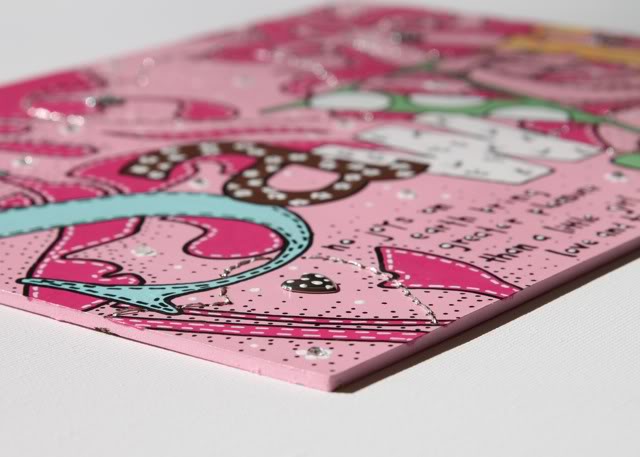 The secret is the layering of paint, buttons, brads……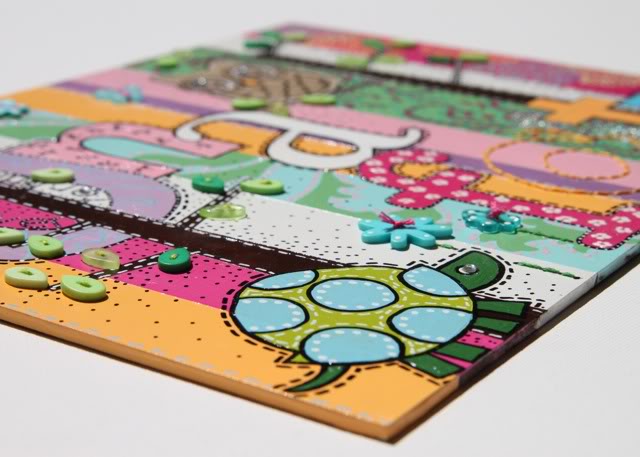 …stitching, tiny bows, decoupage, stamping….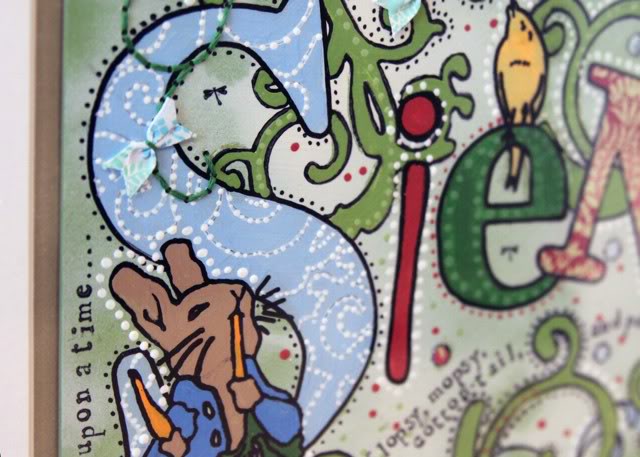 ….resulting in a truly unique piece of art for a special little one!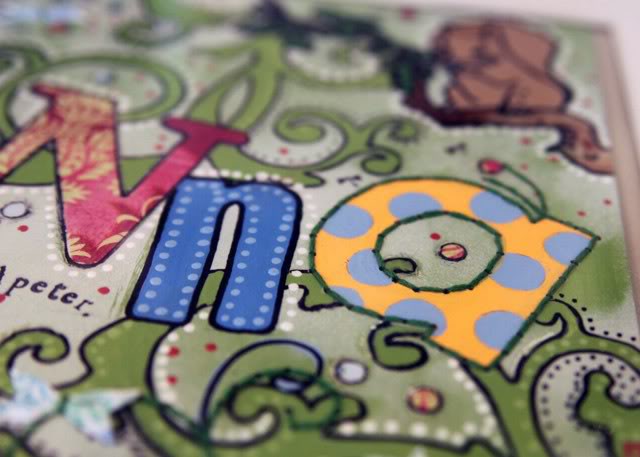 I always start out with a ready made (and matted) frame. Custom framing can be ridiculously expensive…I once asked a store to custom cut a mat for me (JUST the mat)…and they quoted me $90! So I decided to start making my little paintings to fit frames that I could buy right off the shelf!

You'll want to use a hardboard or Gessoboard (gesso means it is pre-primed) for your painting. It won't warp and it doesn't have sap or woodgrain. It is also thin enough to frame under glass. You can buy it in several sizes. For the 6×8″ frame shown above I would typically use a 5×7″ piece of Gessoboard. You want there to be a small gap between your mat and painting because the painting will be "float" float framed in the middle.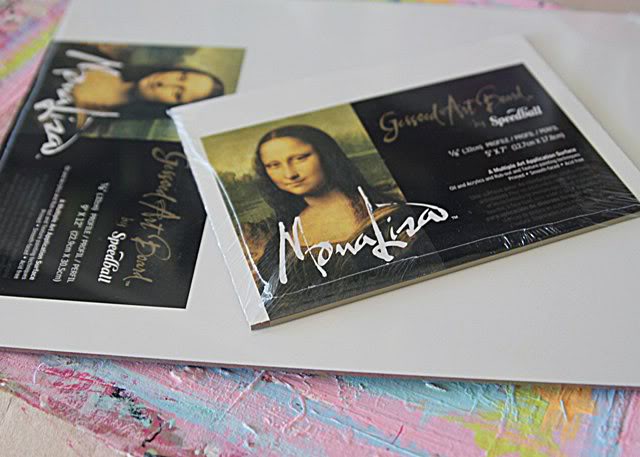 For the frame I use in this example (5×7″), I had to custom cut my board to 4×6″ so it would fit.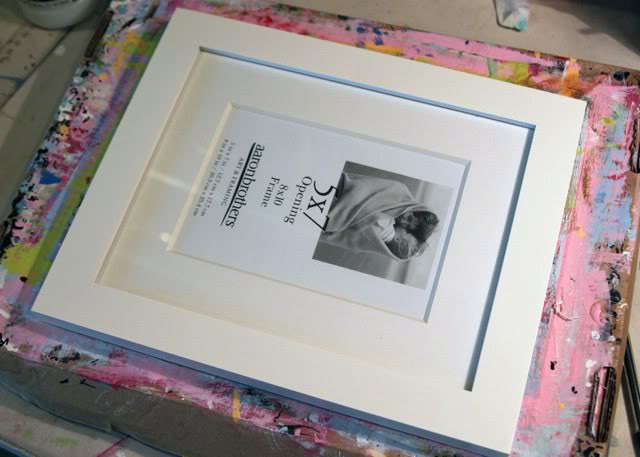 Cutting a custom hardboard piece:
I use larger hardboard pieces so that I can cut several pieces out and reduce waste. First, I measure the 4×6″ shape out: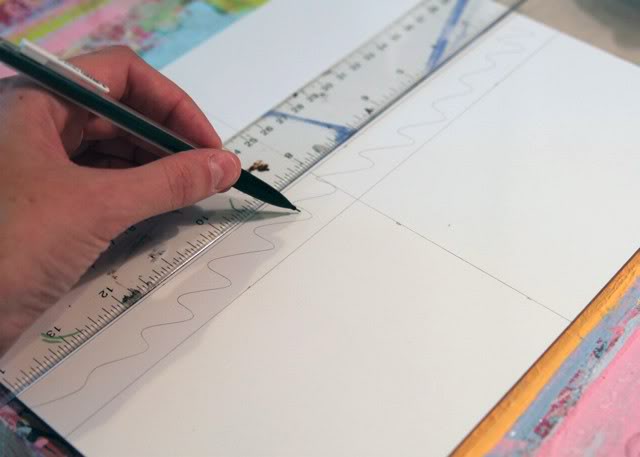 Then I attach a metal ruler using small C clamps: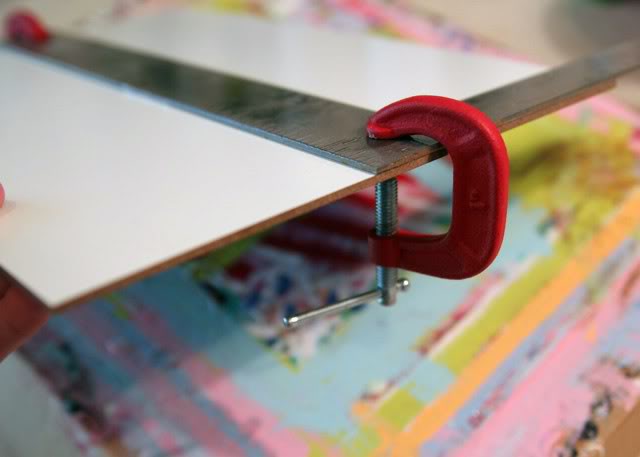 I use a hand skill saw……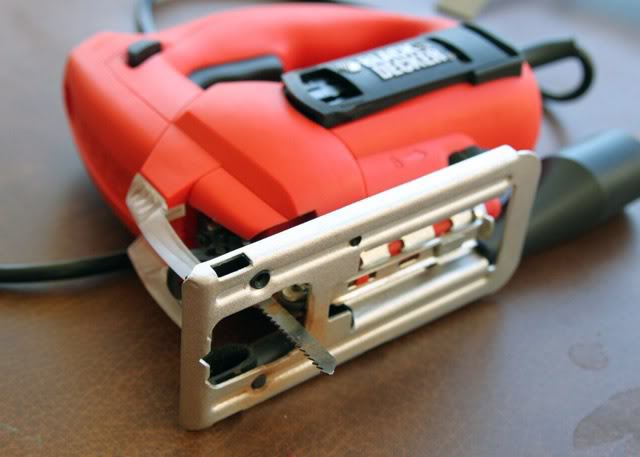 ……to carefully cut against the ruler: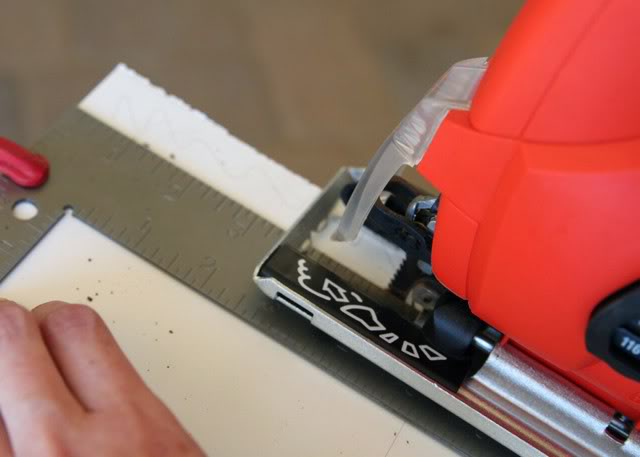 Then I use a sandpaper block to fix any edges: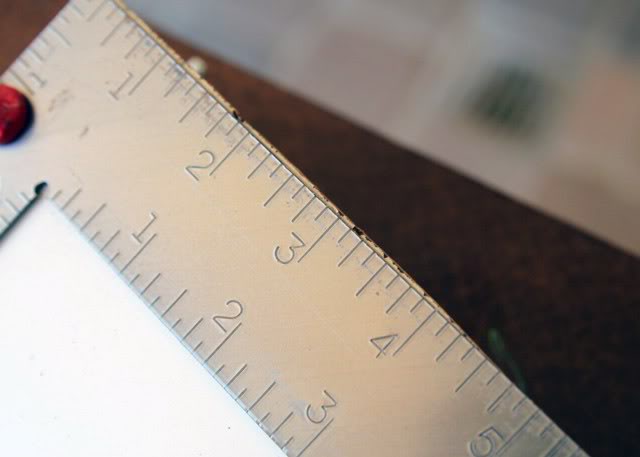 Starting the design:
I started with my piece of Gessoboard. This is pre-primed…..if you are just using plain hardboard then you'll need to prime it with Gesso first. You can even add some paint to your Gesso for your background color.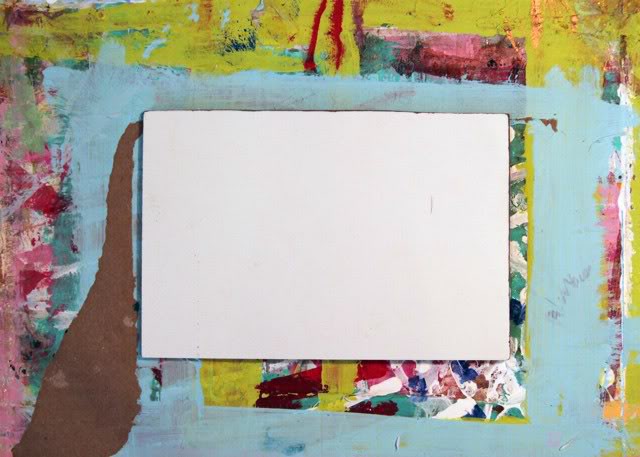 I painted my background with acrylic craft paint (mixing a little Gesso in with my paint to make it more opaque for less coats):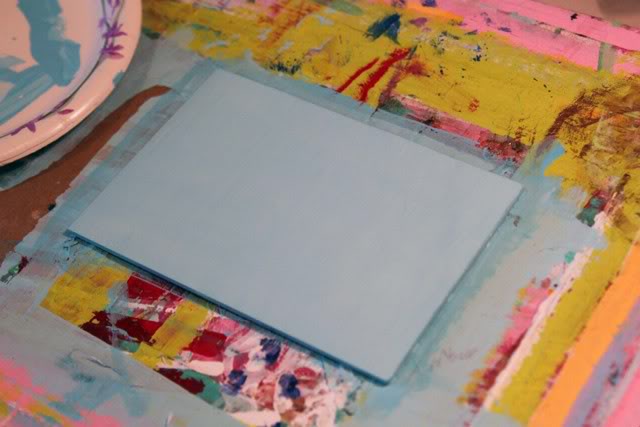 The easiest way to draw a design is to print out the name and use graphite transfer paper to transfer it onto the board: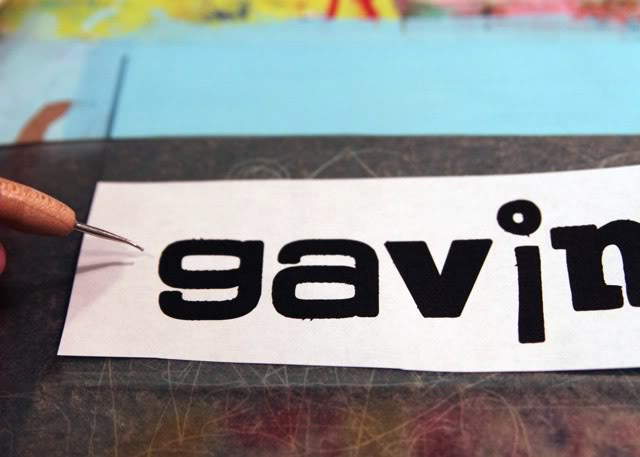 I use a piece of tracing paper to draw in my other designs……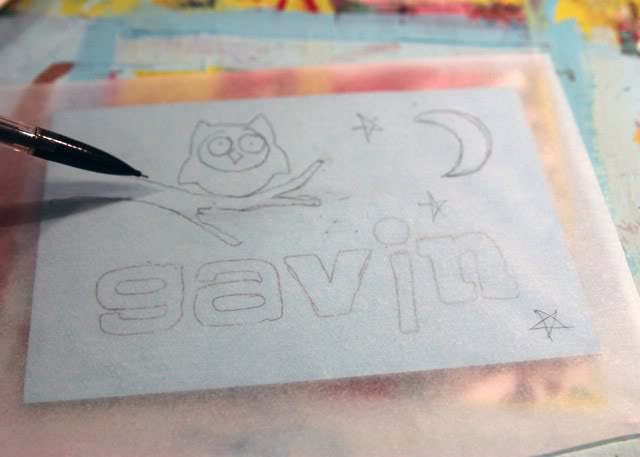 …..and then transfer them with graphite transfer paper too.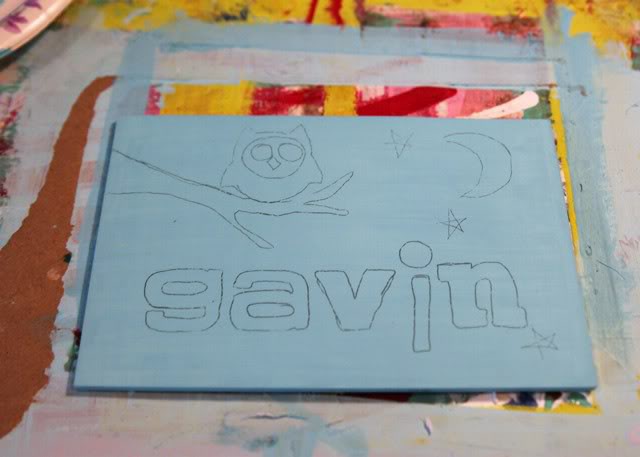 Painting and decorating the piece:
First I block in the colors…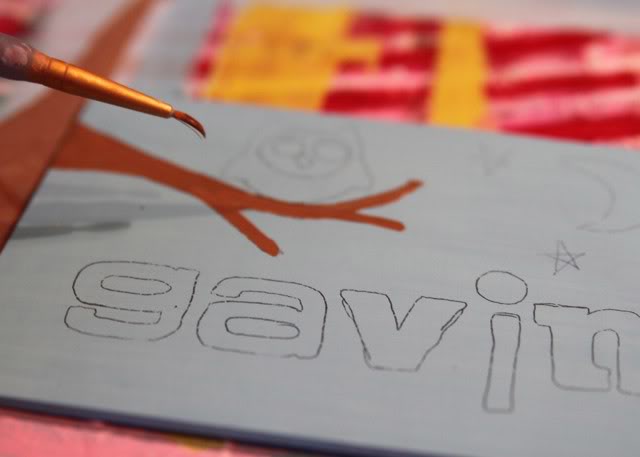 …..these don't have to be perfect because I'll be outlining and adding to them: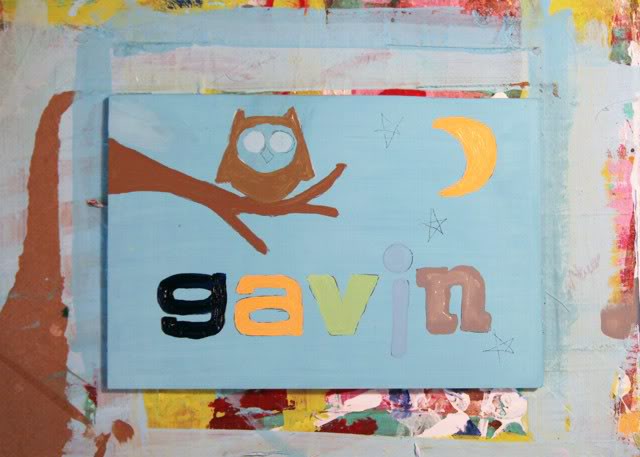 I outline all my letters and designs using a black paint pen.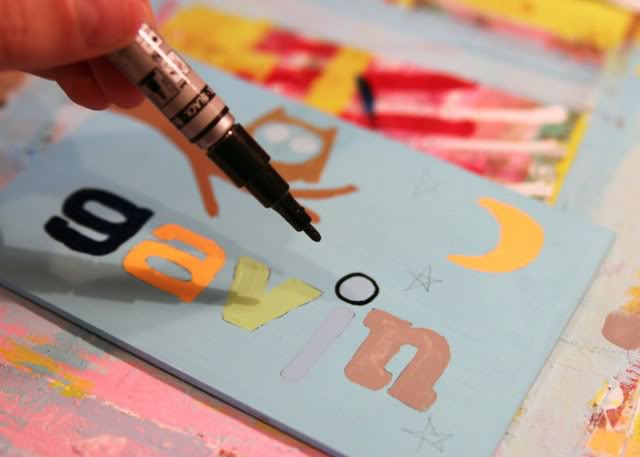 This is the best paint pen I've found: the Zig Painty Twin…it writes very smoothly….as if I was hand painting each detailed letter:
A little trick: Once your paint pen tip starts to become rough and at its end, pull it out and stick it in the other way….you'll get paint all over your fingers, but you'll have a new pen!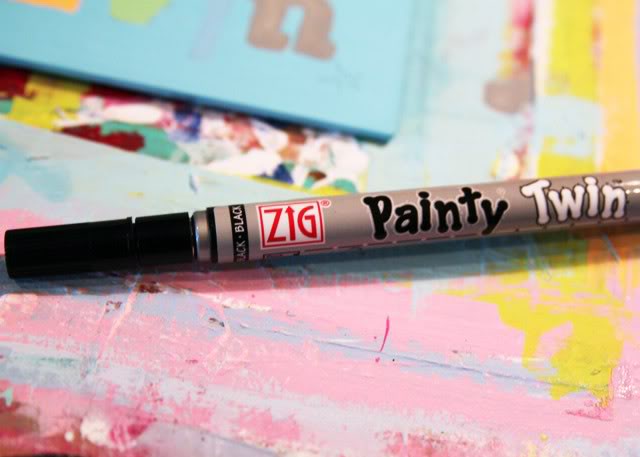 To make the entire design more cohesive I take a decorative stencil…….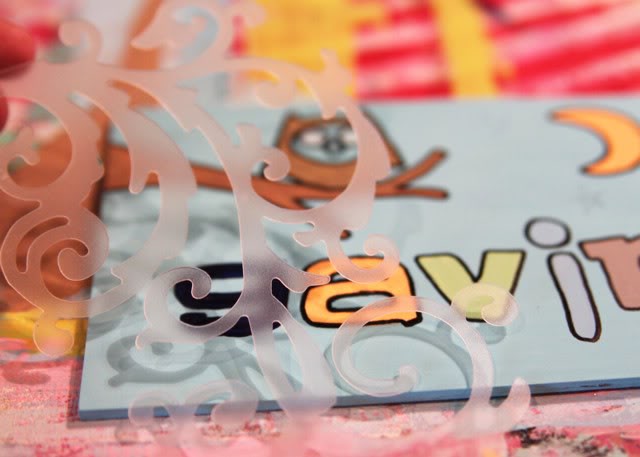 …….and draw it into the background in several places. Then I outline it with black paint pen too.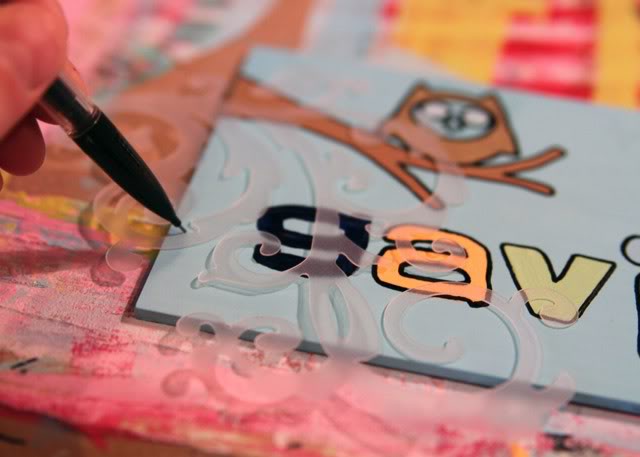 I add in "faux painted" stitching around many of the designs and letters: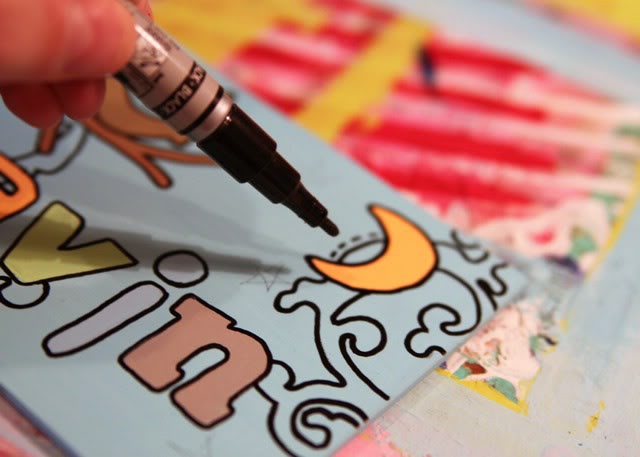 I begin to decorate each of the letters slightly different….here I added some white dots to mimic stars and constellations: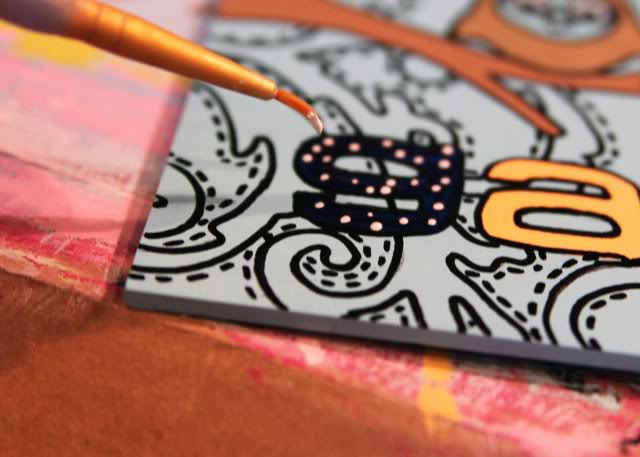 I love adding sparkle paint to some of the letters and images:

Here is what the painting looks like at this stage: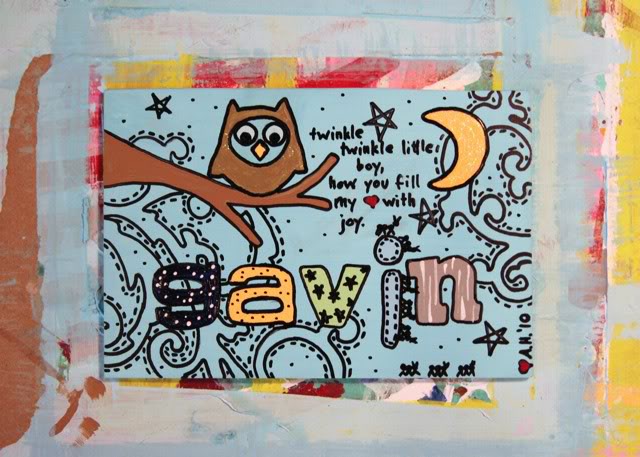 Before adding my three dimensional details, I apply a glossy acrylic varnish coat to the painting: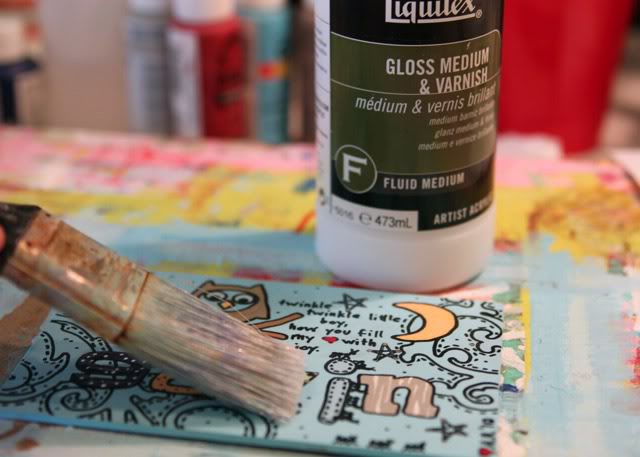 Adding three dimensional details:
To add buttons, stitching and brads I use a tiny drill bit with a regular household drill. (I use either a 3/64″ or a 1/16″…..just make sure your needle will fit through the hole.) You might want to take your drill to the hardware store with you when buying the bits….some cheaper household drills can't grip the small bit tightly.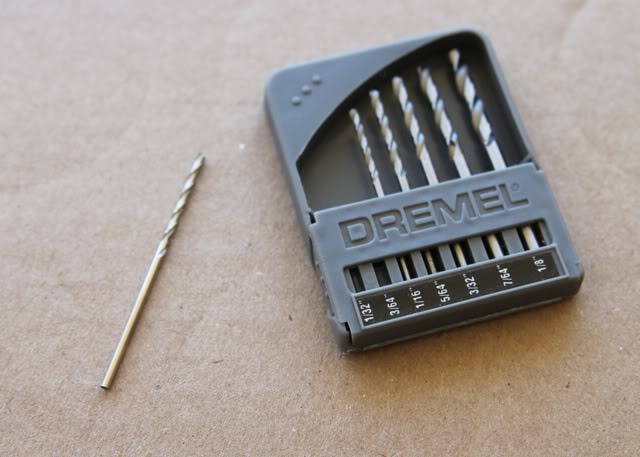 I set the painting on top of a box top (from a pack of sodas or a file box) so that I don't drill into my table…..and drill each tiny hole that I need: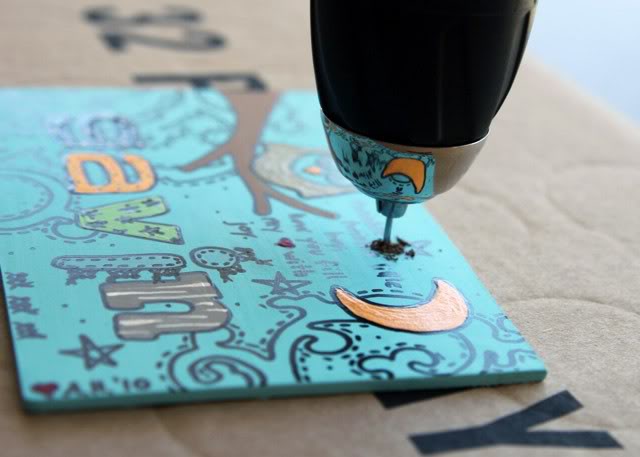 I use metallic or regular DMC thread to sew around letters or to attach buttons…..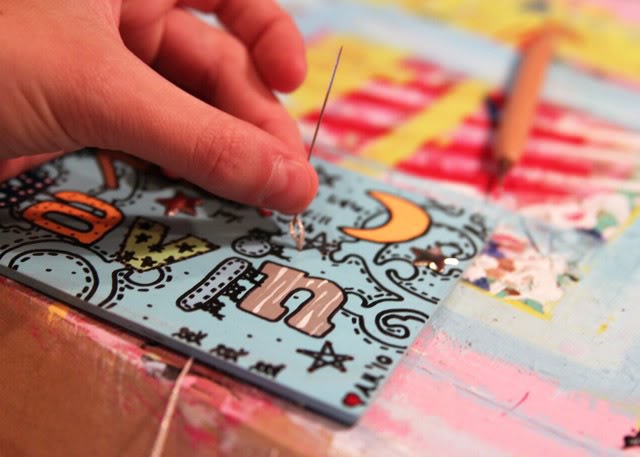 ….and tie them off tightly in the back.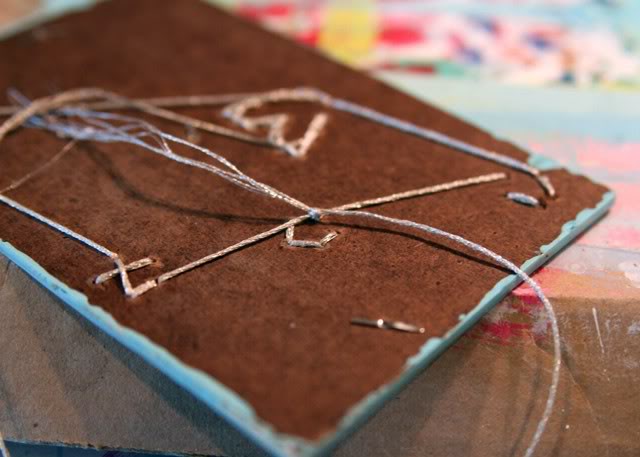 Adding these tiny details completes the painting!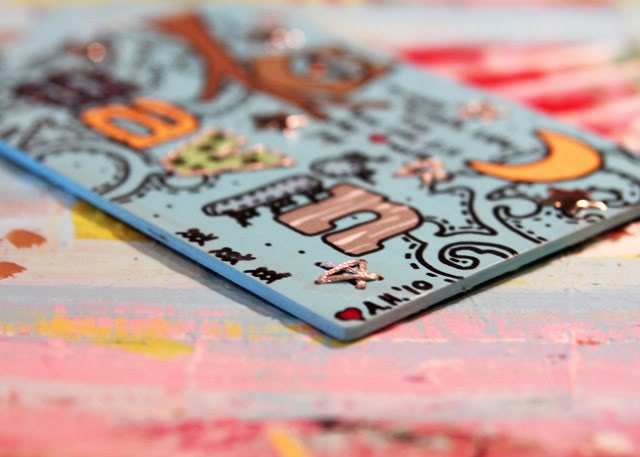 Float framing your final piece:
I take apart my frame and add a decorative piece of paper to the cardboard backing using double sided tape: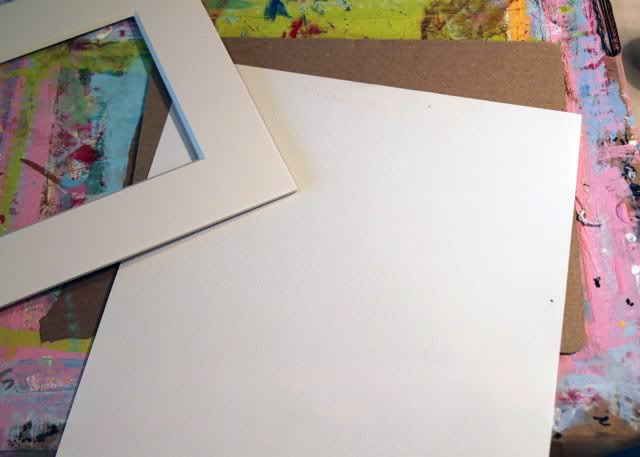 I add adhesive spacers to the back of the mat so that it will be raised slightly from the backing (you can find these in your scrapbooking section of your craft store):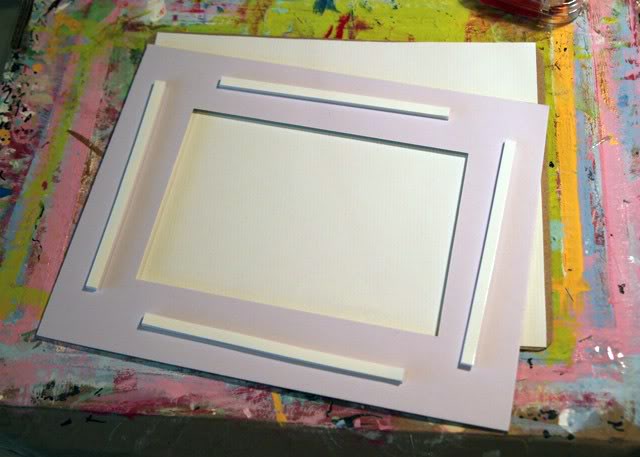 I use a heavy duty double stick tape on the back of the hard board…..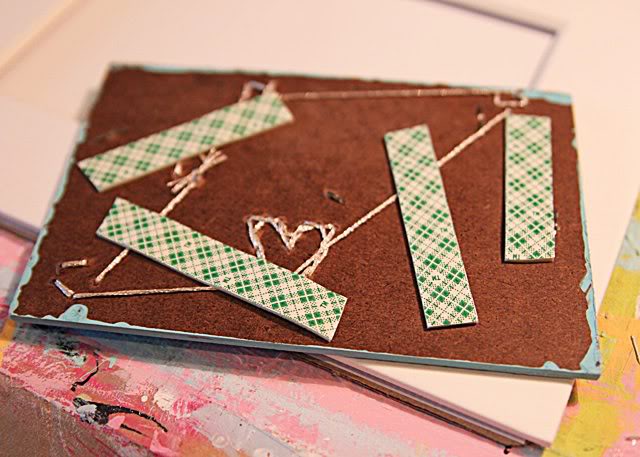 …..and place it directly in the center of the mat.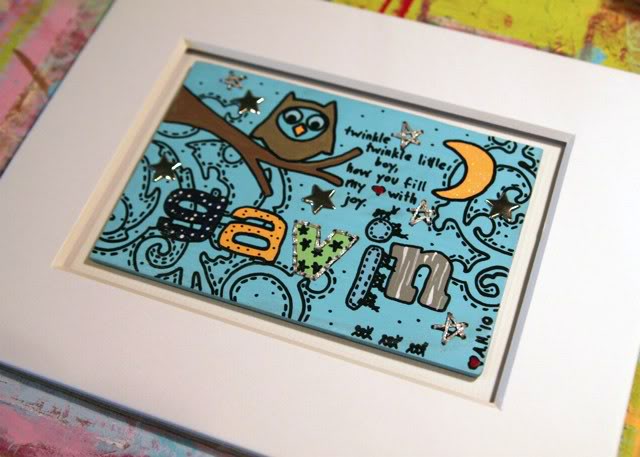 The reassembled frame and finished piece!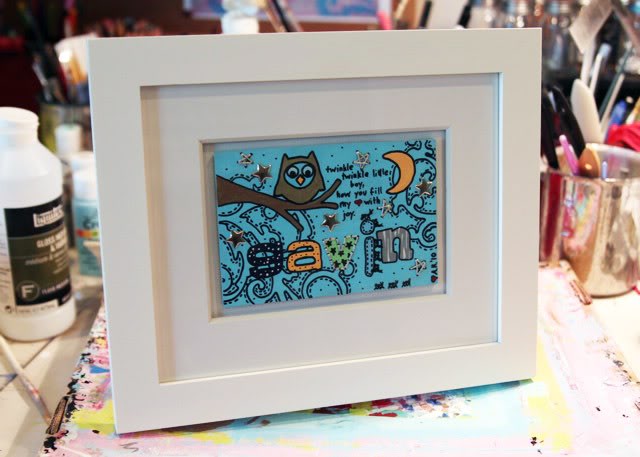 Perfect for a nursery wall or a shelf!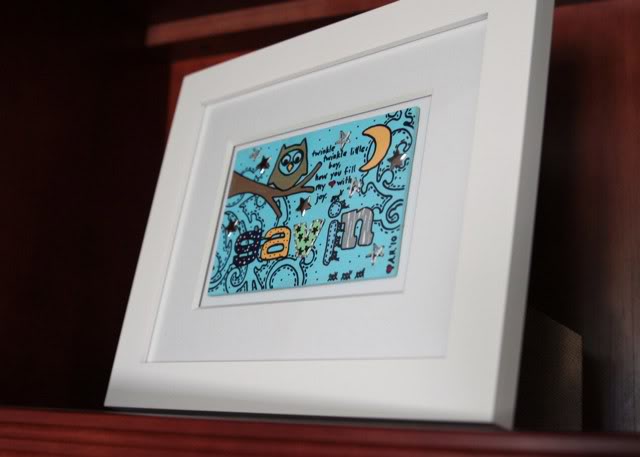 Variations:
You can decorate a plain white backing behind the painting with stripes: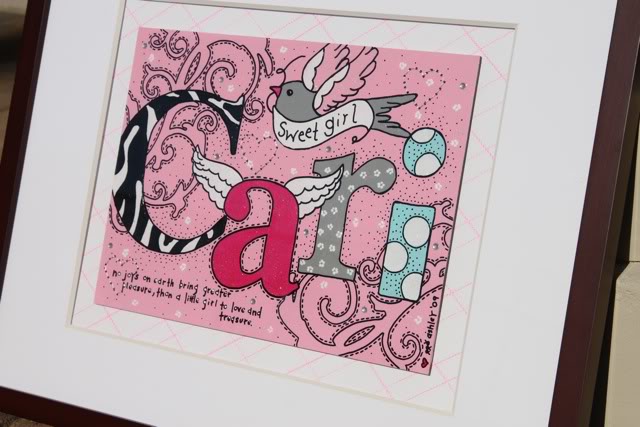 ….or checks: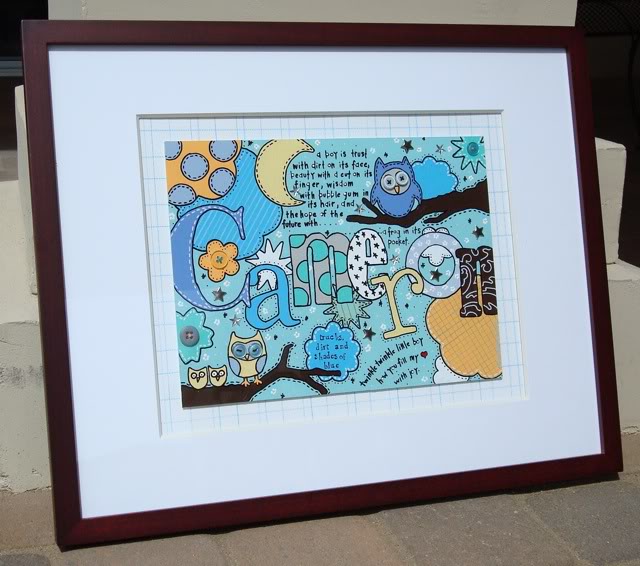 Decorate a plain outer frame with hand painted polka dots……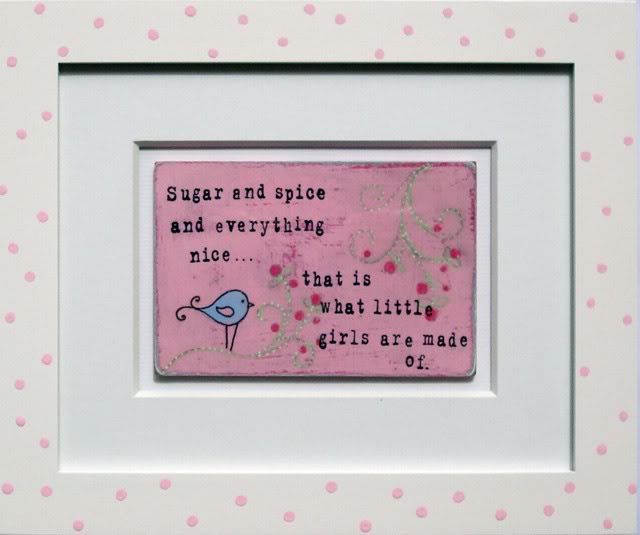 …..or use tiny cork stamps to stamp a design….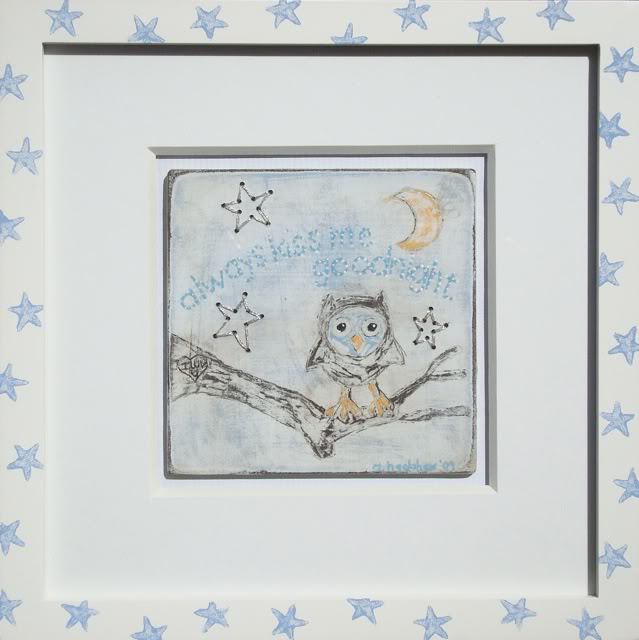 …..or a stencil to paint flourishes: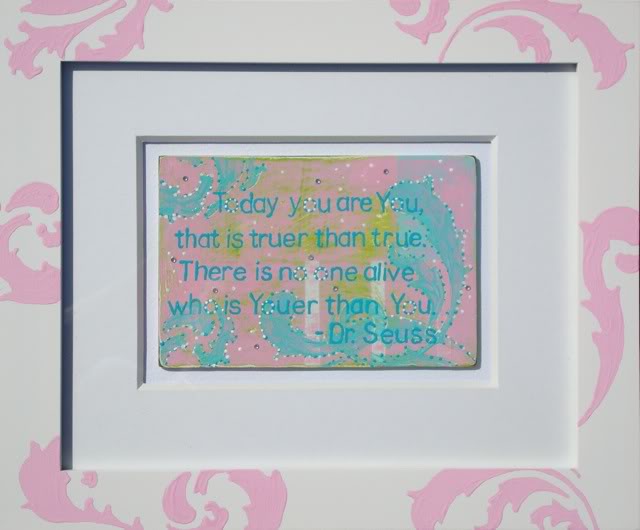 A gift they'll treasure forever!
Visit this tutorial for more layering techniques: