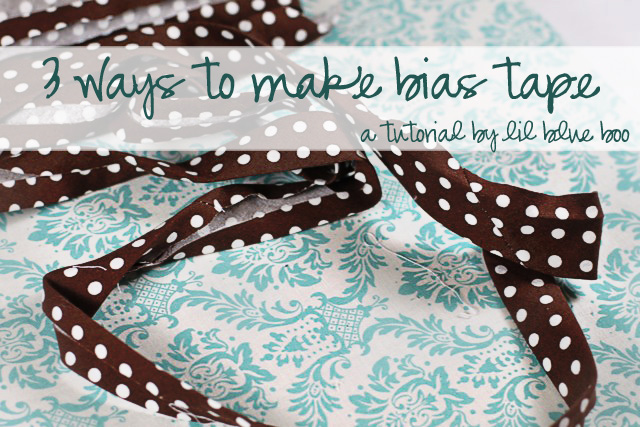 I love bias tape….but I seriously dread making it. My bias tape machine makes it a little more fun…..and Boo LOVES watching it work (I do too).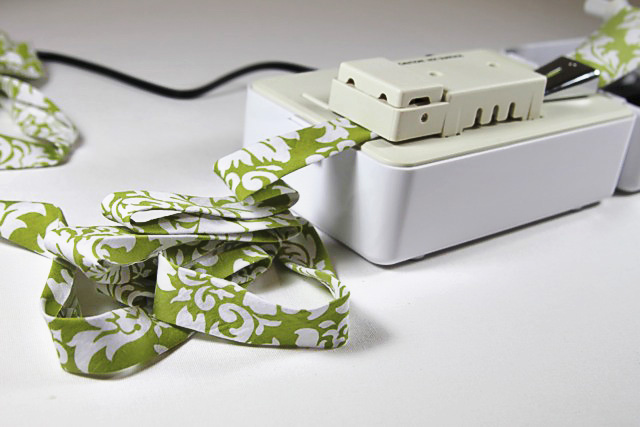 Sometimes I just buy plain colors from the store…..but it's so much prettier to use your favorite fabrics.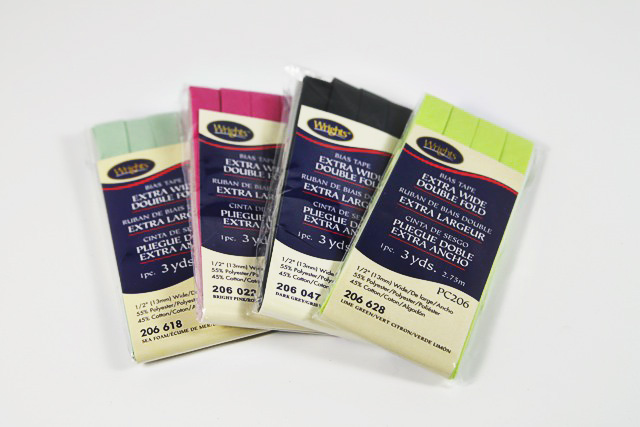 If you've never made bias tape before it's pretty simple. Basically, bias tape is a strip of fabric that's been cut at a 45 degree angle to the weave or grain. Placing your fabric flat you will fold one corner down at a 45 degree angle so you make a triangle shape like so: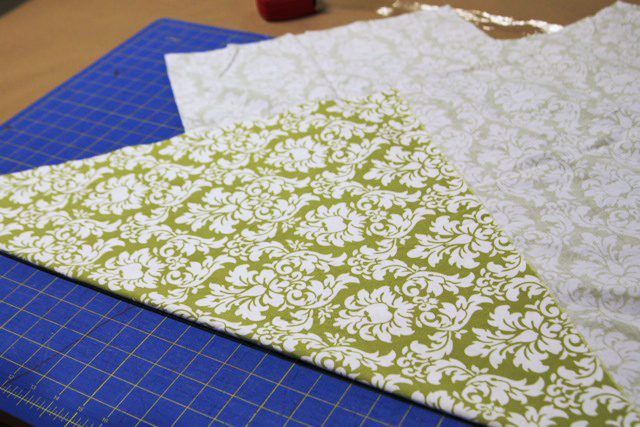 I like to trim off the folded edge so I can start cutting from that end: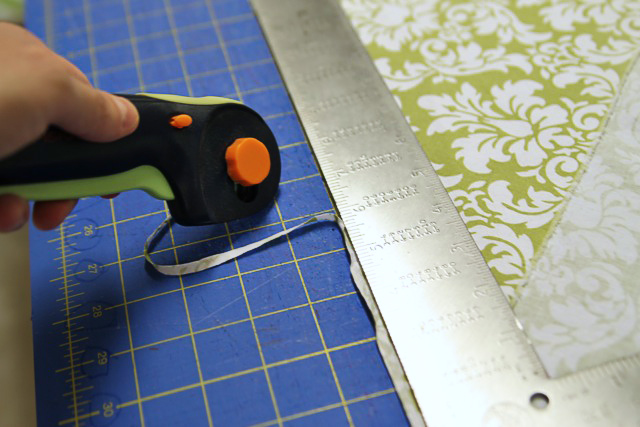 In this example I'm making 1/2″ wide double fold bias tape. So the strips of fabric I need to cut are 2″ wide:
I'm lucky that my big ruler is exactly 2″ wide….it makes it easy to cut continuous parallel cuts: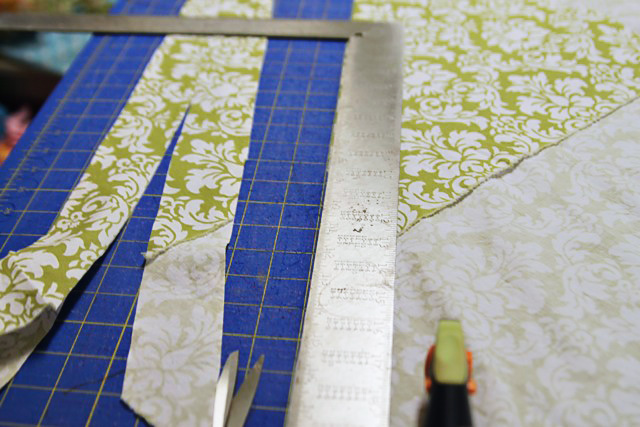 Bias tape needs to be in one long continuous strip so you'll need to attach as many pieces as needed until you get then length you need. Place two strips on top of each other right sides together as shown and sew straight across where the arrow is with your sewing machine: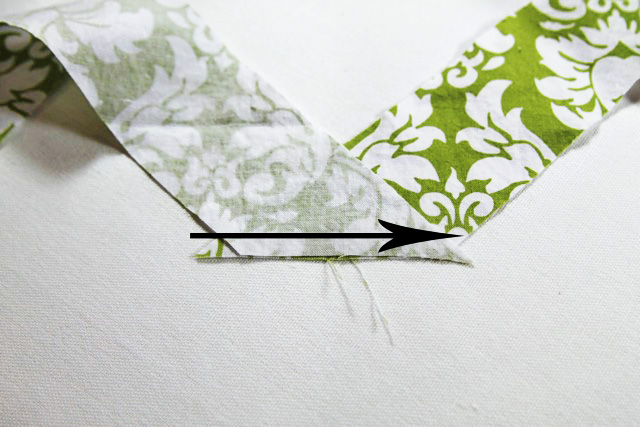 Iron the seam flat: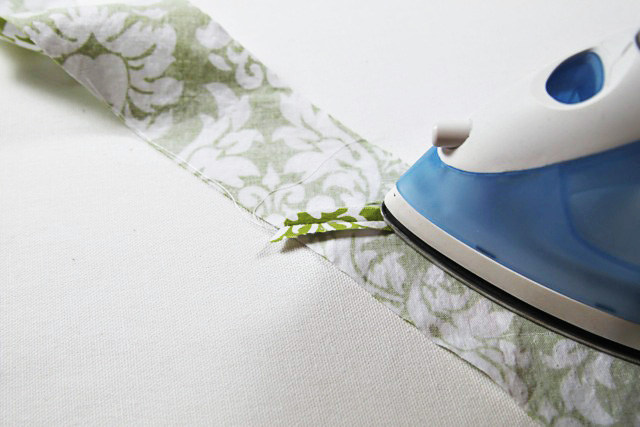 And trim the edges flush: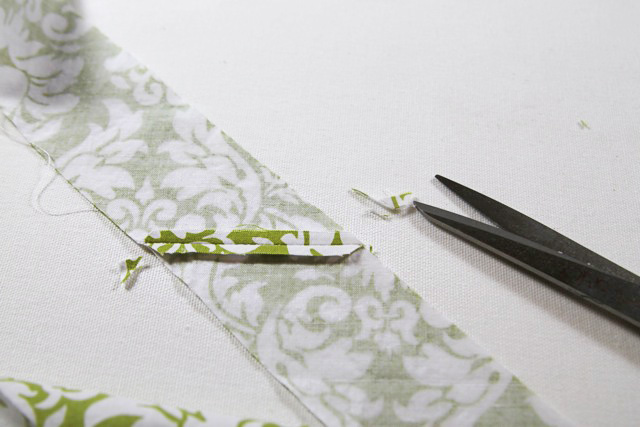 Here are several pieces sewn together into one long length: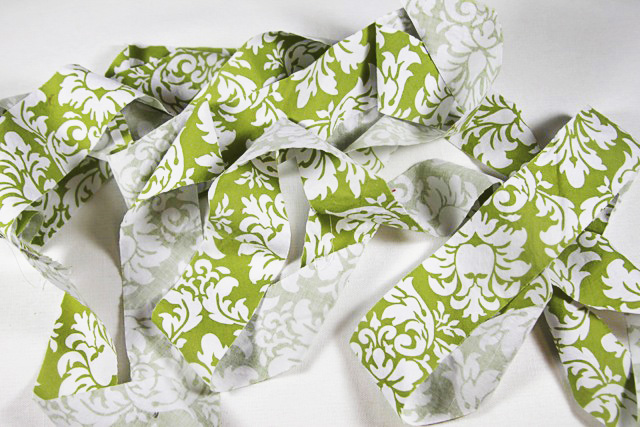 So now what? Make your bias tape!

This is my favorite method for making the bias tape….the bias tape machine. You just roll your fabric around the small dowel and feed the end through the bias tape folder…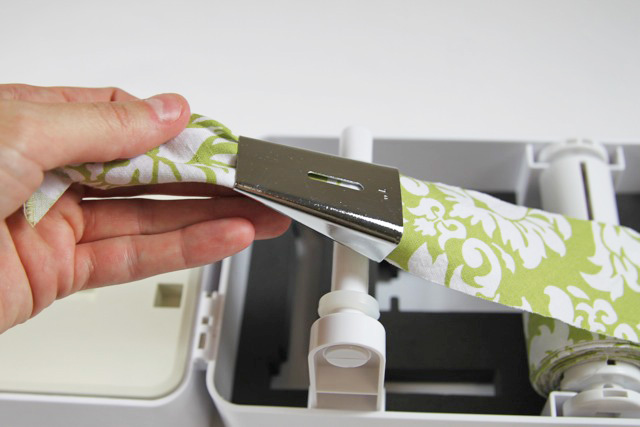 ….then the fabric goes through the machine across an iron….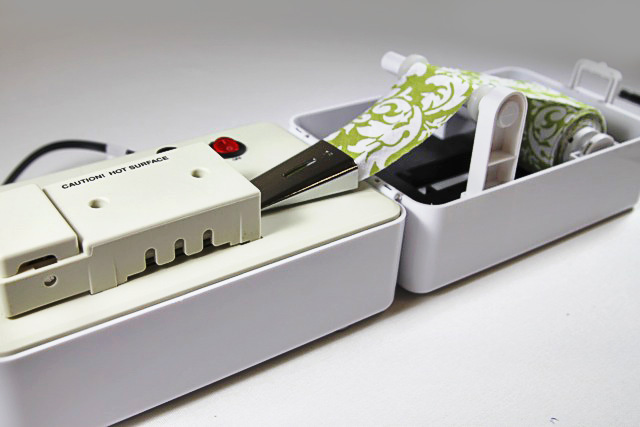 ….and comes out perfect on the other end!  Like magic!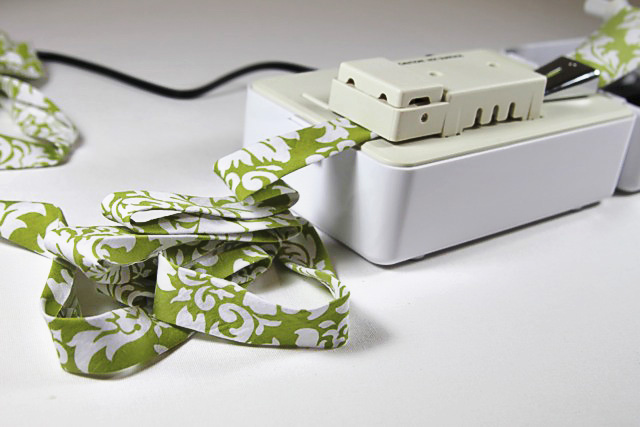 You can use an extra long needle on your ironing board to  make bias tape too! In the example below I inserted the needle as shown so the gap between the two arrows is a tad bit over an inch. This will create 1/2″ double fold bias tape: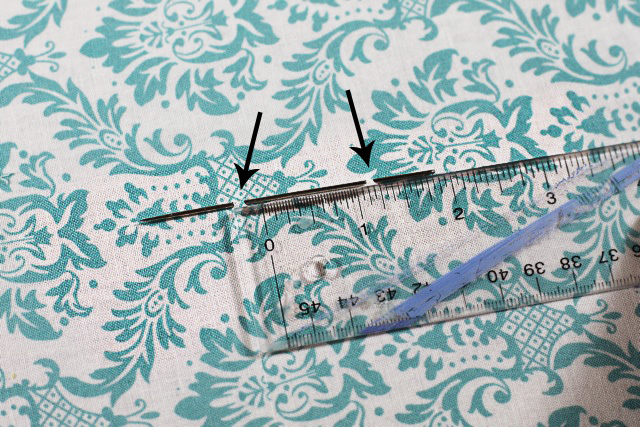 Once my needle is ready, I cut the end of the long strip into a point:
I insert the point under the needle and pull carefully so the fabric begins to fold on either side: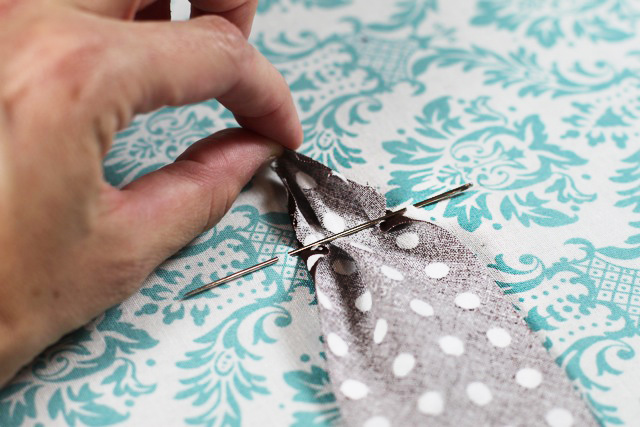 Here you can see the bias tape being formed……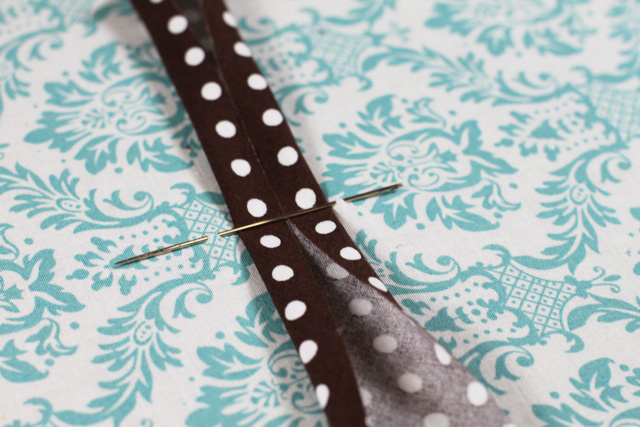 …and just iron it as it comes out the other side of the needle!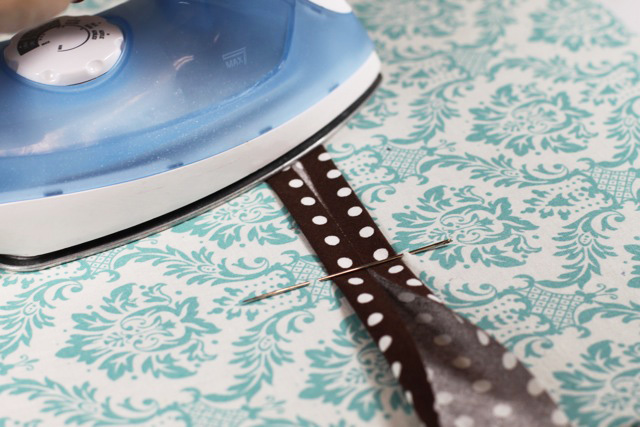 I guess the truly old school method would be to fold your bias tape manually….ugh, could you imagine? But here is a basic bias tape maker: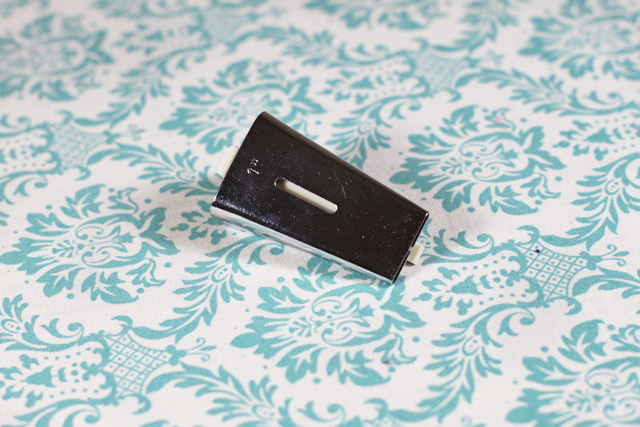 All you do is pull the fabric through and it folds the fabric nice and neat and you iron it as it comes out the other side: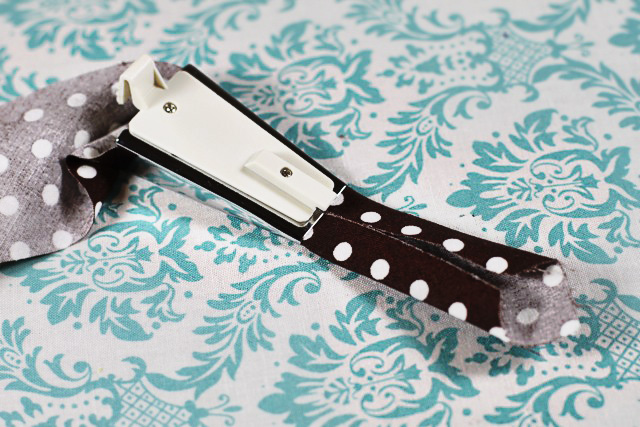 Which method will you use? If you are making a ton of bias tape I definitely recommend the bias tape machine! It's made me much more excited about projects recently.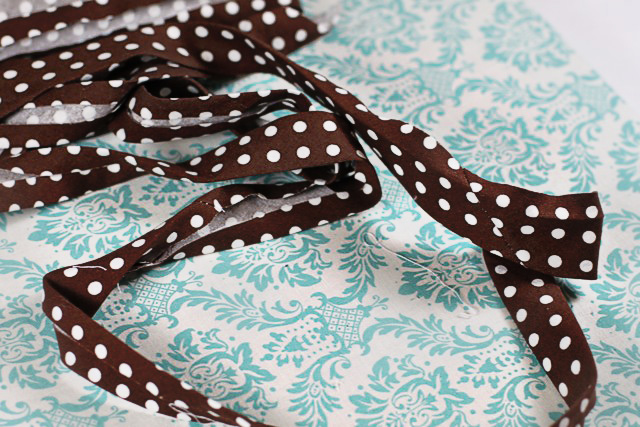 Here are some fun projects from around the web using bias tape! Enjoy!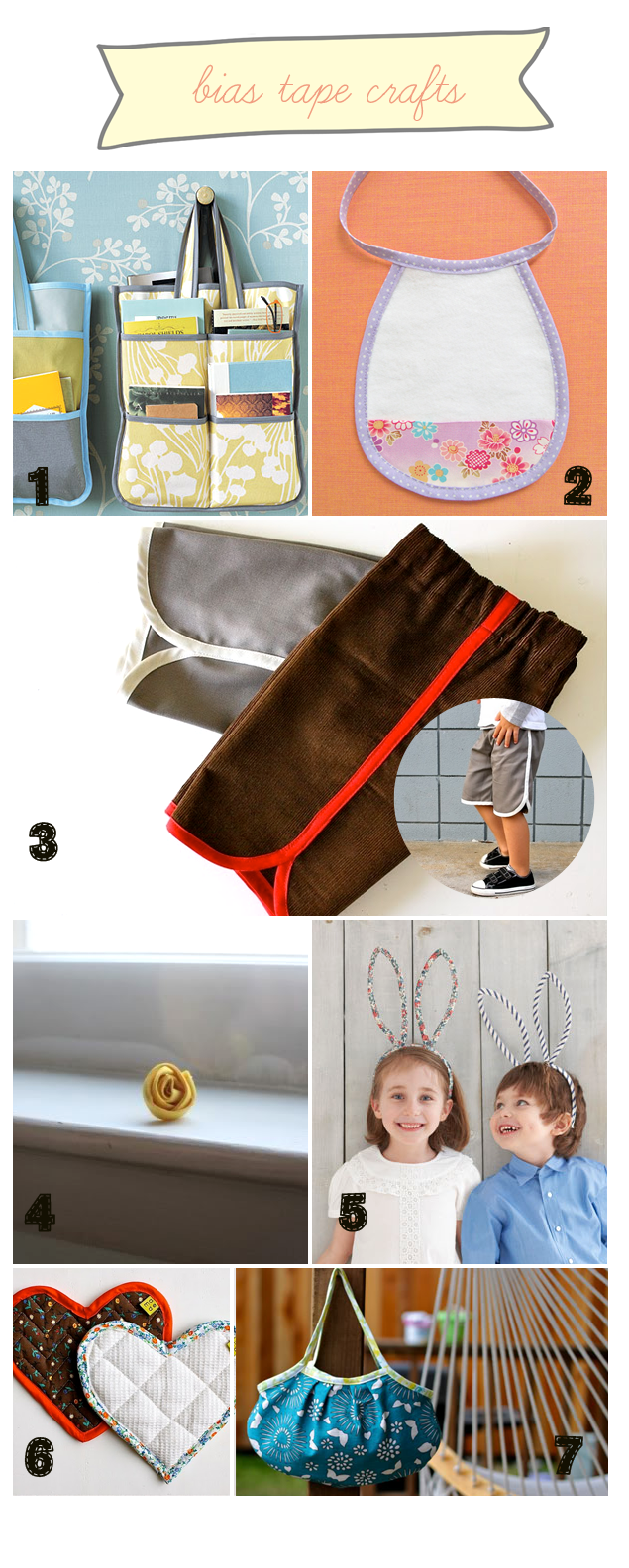 1. Bias Tape Tote Bag from Martha Stewart
2. Bias Tape Bib from The Purl Bee
3. Retro Racer Shorts from Made
4. Bias Tape Rosette Earings from Take Heart
5. Bias Tape Bunny Ears from CountyLiving
6. Heart Hotpads from Made
7. Beginners Bias Tape Bag from Prudent Baby
This post is part of a new ongoing series: