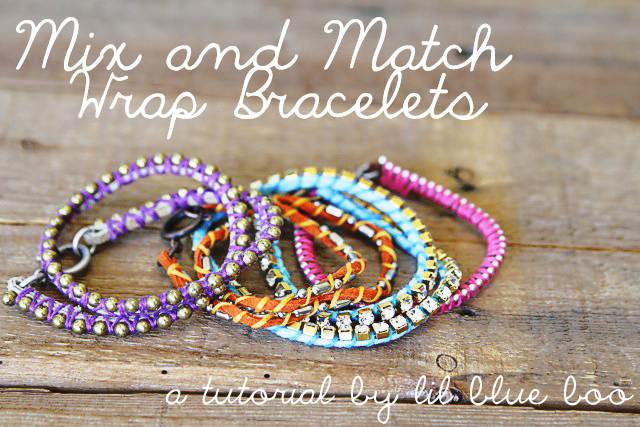 Obviously I'm reinventing the "DIY bracelet" wheel, but I like the way these turned out using different kinds of ball chain (it's also a much more simplified version of the leather and bead ones from last February). Anyways, I mixed and matched a bunch of different chains, rhinestone strands and chunky clasps to get a funky, layered bohemian look. Make sure to check out the long-short ball chain towards the bottom….it results in a "twist" effect.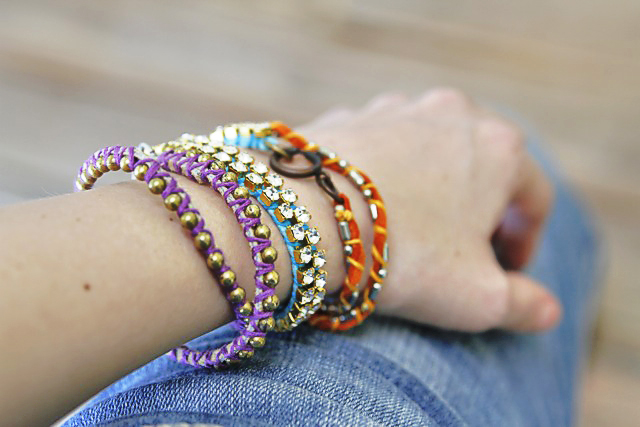 Here's how I made them……
First, you'll need leather and/or suede lacing, various rhinestone strands and ball chain, chunky lobster clasps and embroidery thread (which I forgot to include in the photo):
Note: I picked up my lacing and chains at Target Trim in L.A.'s fabric district. Update: I found Ornamentea tonight, and they have a big selection if you want to order online.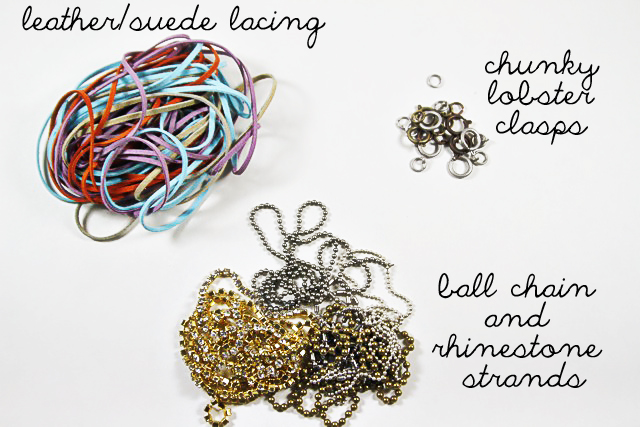 Step 1: Cut a length of leather or suede lacing (for a double wrap I cut mine in 16″ lengths). Fold leather/suede lacing over the o-ring side of the lobster clasp as shown.  Knot a piece of DMC embroidery thread around the leather to hold it in place:
Step 2: Lay your rhinestone strand  or ball chain on top of the lacing and begin wrapping the thread around it to secure them together: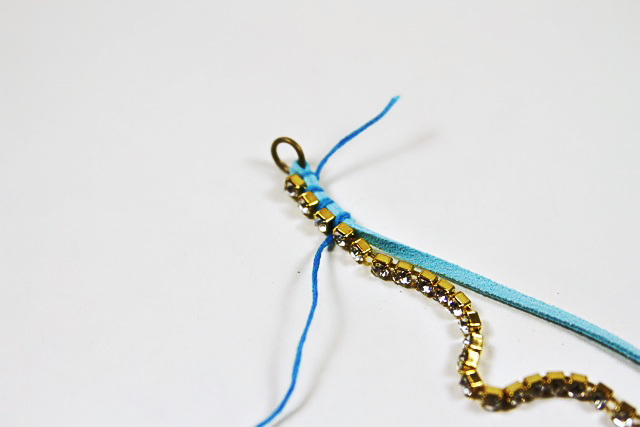 Step 3: As you get about 2″ from the end of the lacing add on your lobster clasp.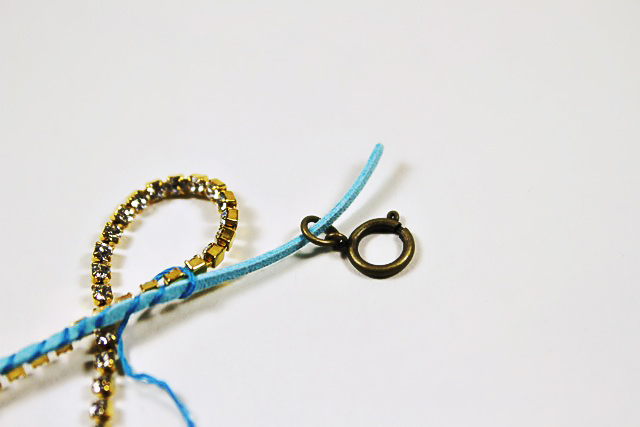 Step 4: Fold the lacing under the bracelet and continue wrapping the thread until you reach the end.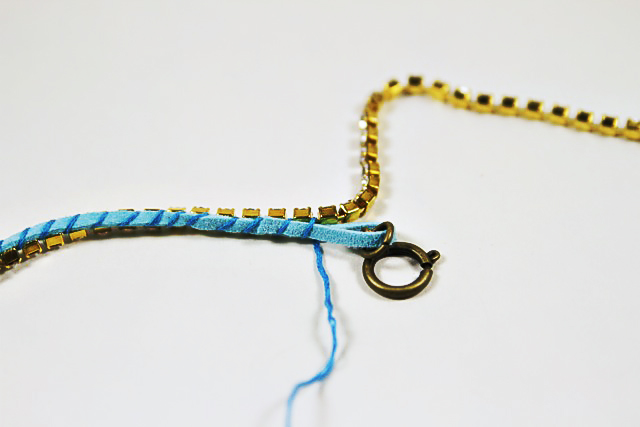 Step 5: Using metal cutters, cut the rhinestone strand or ball chain so it ends just before the fold.  Knot your thread securely around the last section of chain.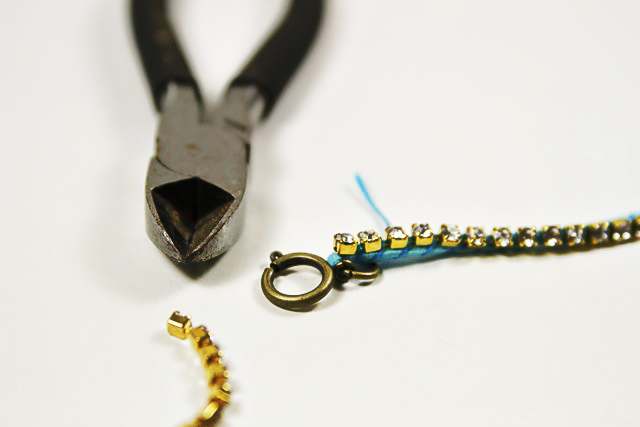 Step 6: Use a needle to thread the end of the thread back down into the bracelet.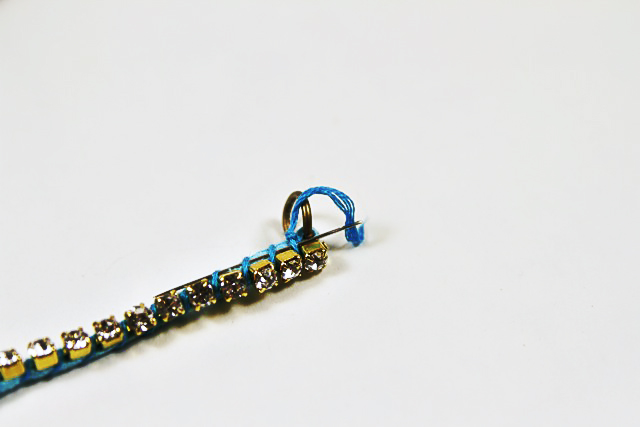 A finished bracelet!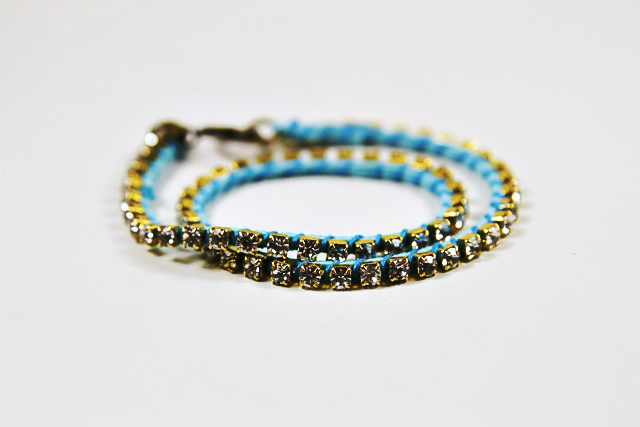 I made one of the bracelets using a large ball chain….like the kind you would find on a lamp.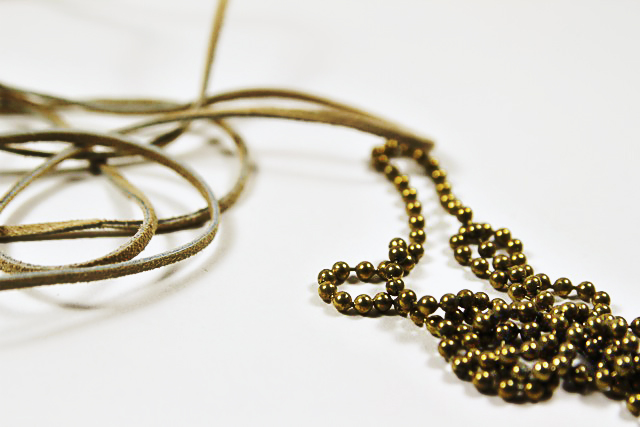 I double wrapped this one with thread to get a different look: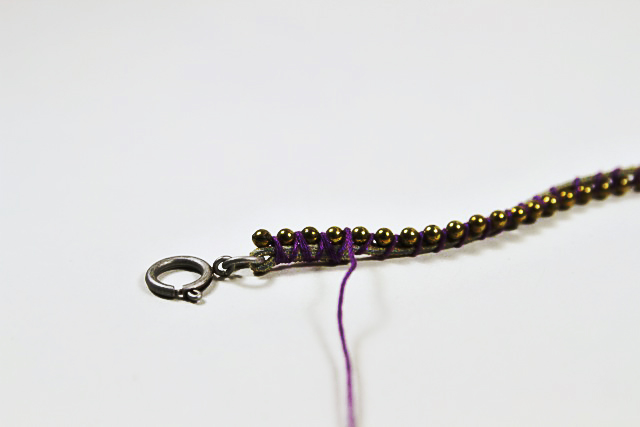 The finished double-wrapped ball chain bracelet: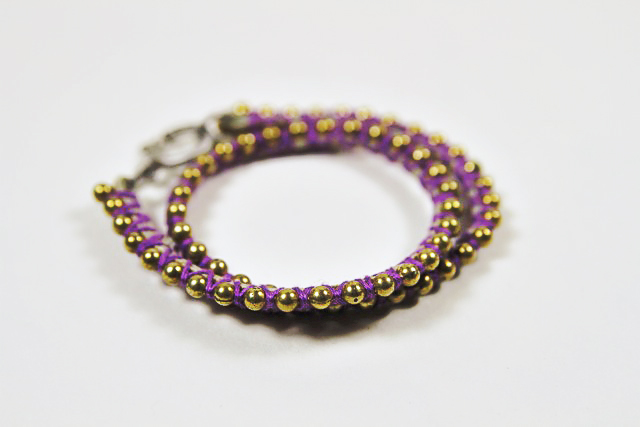 My favorite is the long-short ball chain: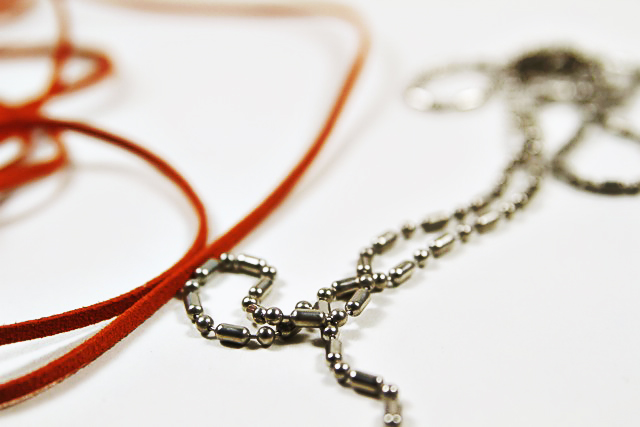 Because of the alternating sizes of balls, the result is a perfectly consistent twisted look once you wrap it with thread: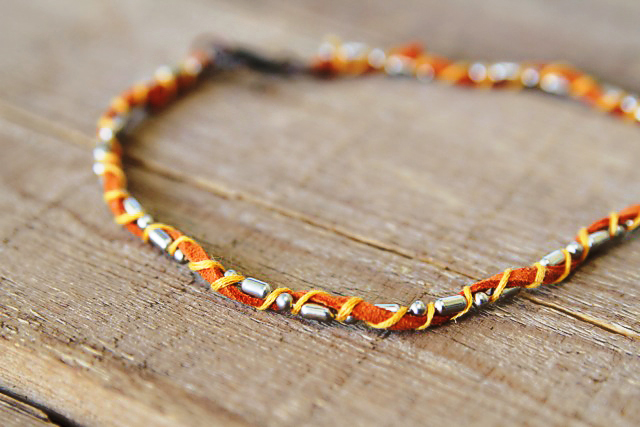 All alone they look like your basic wrapped bracelets: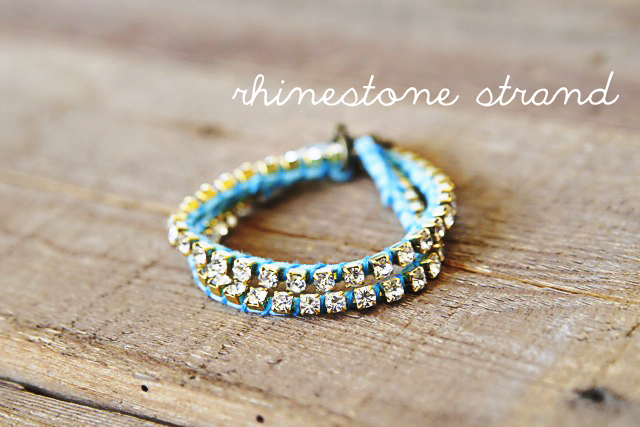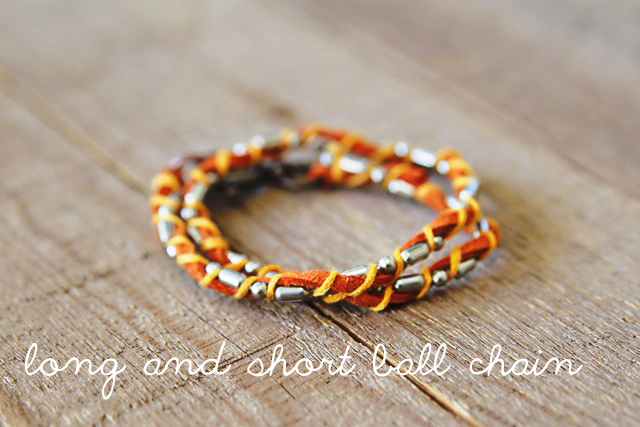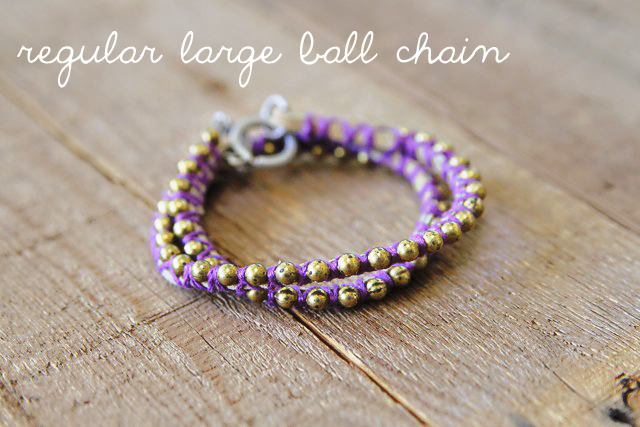 I wear mine all connected together into one large strand…….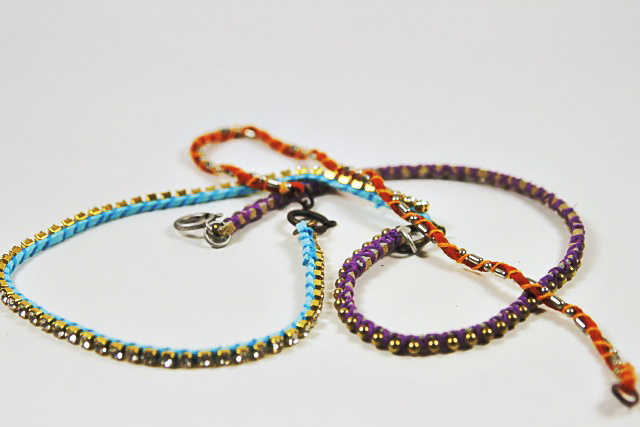 …..resulting in a funky, chunky, colorful wrap bracelet: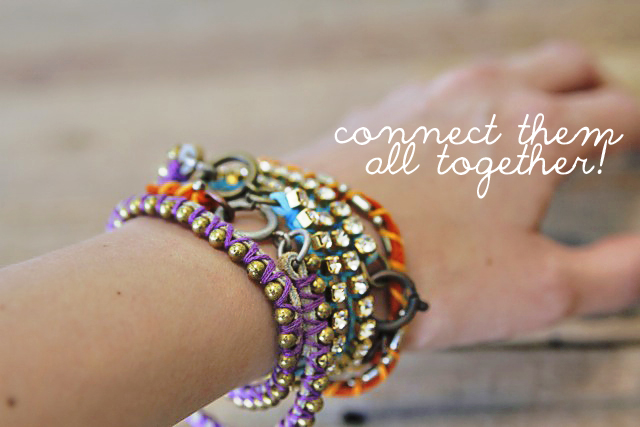 Click below to check out the leather/bead tutorial.….it involves a little more attention but they are still pretty easy!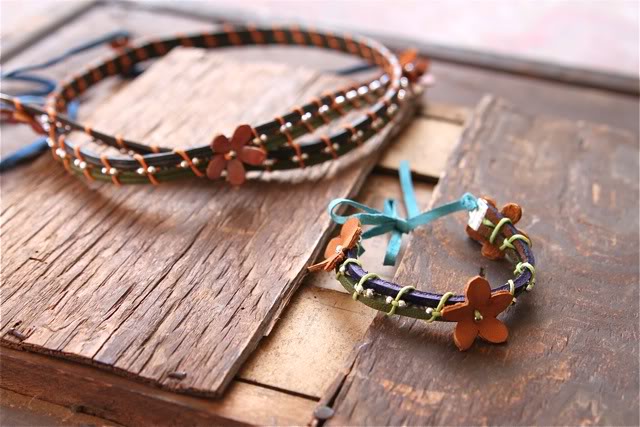 My little bohemian Boo wore them as a headband for this photoshoot: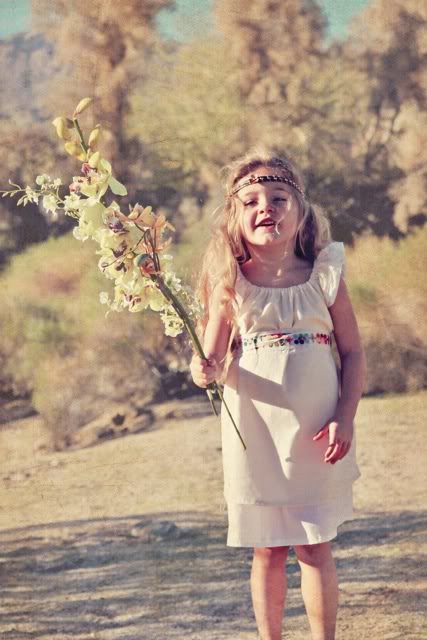 Check out all Lil Blue Boo accessory tutorials here!
Next up…..hex nut accessories.  Just kidding.